Tensions Run High Over Proposed Middle School in District 20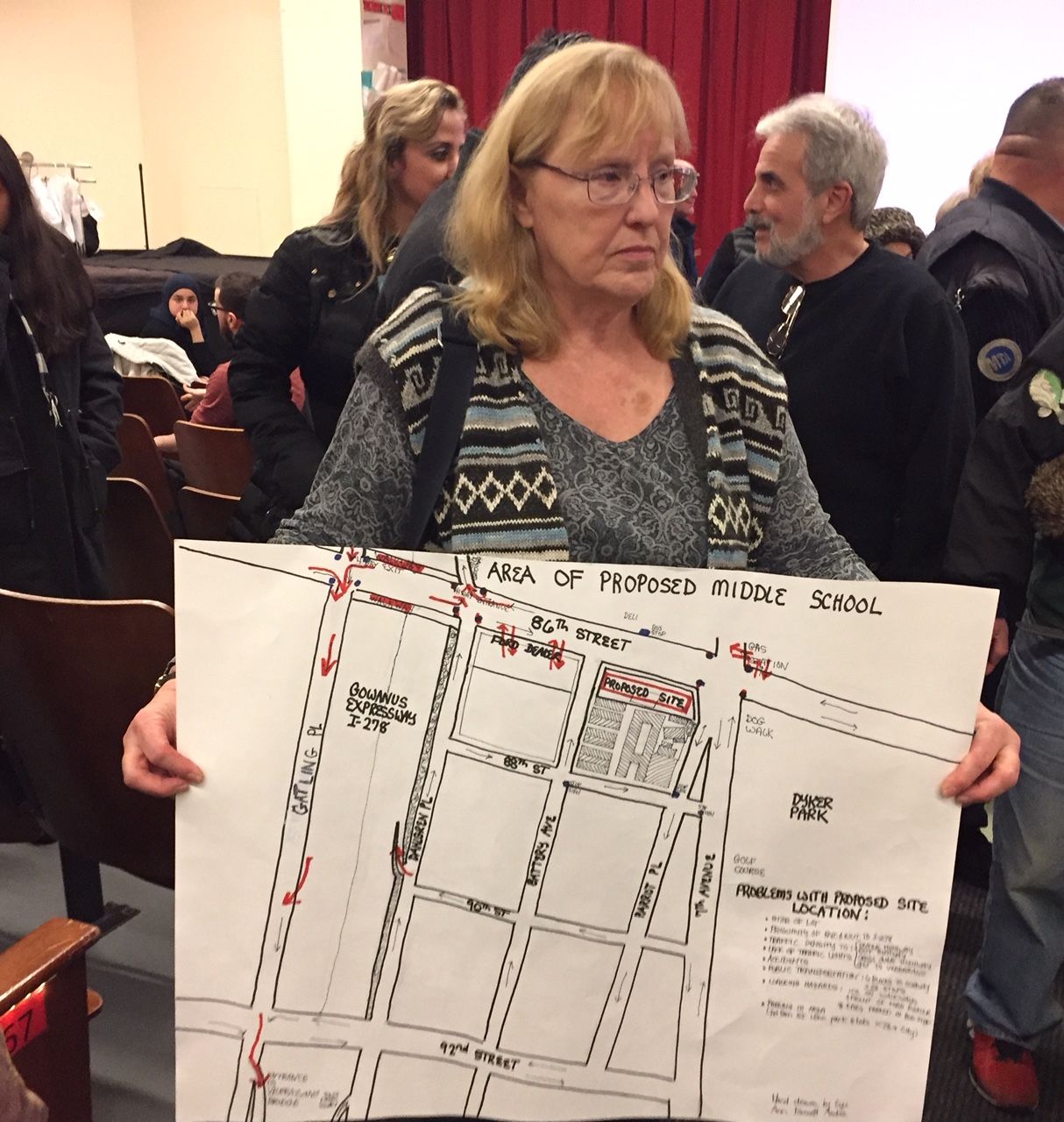 BAY RIDGE – About 50 residents of Community Board 10 (CB10) gathered last night at Bay Ridge's PS 264 auditorium for a presentation of a middle school to be built in school District 20 (D20). In one of the most overcrowded districts in Brooklyn, the demand for more schools is high but available sites are seemingly low. This particular school is being proposed in Dyker Heights at 650 86th Street, where a Nathan's recently shut down.
There was a lot of opposition to this idea at the meeting. Arguments, yelling and even a warning to call in security and end the meeting early occurred. In the end, the meeting only lasted a little less than an hour with much dissatisfaction in the air.
"It's a very hard decision to make," said Barbara Vellucci, the chair of CB10's Education Committee, once the presentation was over. "I know the need. I'm an assistant principal. And I understand the safety concerns and congestion. It's a difficult choice."
The presentation, hosted by CB10, included two representatives from the School Construction Authority, Tamar Smith and Steven Gonzales. It started off with Josephine Beckmann, the District Manager of CB10, explaining the proposal was for a 592-seat middle school. She then passed the microphone to Vellucci.
Vellucci told the audience that there was a need for schools in the district. She told them by 2023, it is expected there will be over 12,500 middle school-age students, which is beyond what D20 could handle.
"There's a 113% utilization of our schools," Vellucci said. "That's 13% over what schools [were built to] accommodate. With this school, that number would be reduced to 107.83%. All of our current schools are overutilized. Gyms, libraries, offices have been converted into classrooms."
Other location sites have been considered in the area, she went on to say. That includes a few spots in Bay Ridge, a two-story medical building in Dyker Heights, and the famous Angel Guardian Home, which was met with some sad groans from the audience.
Next, Tamar Smith of the SCA spoke. She explained there was no opening date, though 2023 would be the target date. She also admitted there was a lot to consider for this proposed site.
"For one thing, there's a lot of concerns for traffic safety regarding kids," Smith said. "I fully understand your concerns. Safety is always put into this. We consult with the DoT on this. Everyone is invested to make sure schools stay safe. It matters to us a great deal."
Smith brought up the current construction of a school on 59th Street and 3rd Avenue, which has been considered controversial for its location. "By the time doors open, things will be worked out. We'll do the same for this one."
With that, the floor opened to the public. There was a sign-in sheet at the auditorium's entrance, and Vellucci went by that list. Many attendees were more than eager to voice their concerns, as well as speak their minds.
The most common concern last night was traffic congestion and the lack of traffic safety along 86th Street. A few wondered why couldn't a supermarket be placed there instead. A few more asked why closing Catholic schools in the area were not considered, which was met with applause. When Vellucci tried to explain that arrangements had to be worked out with the Diocese and it would not happen overnight, there were several attendees who loudly disagreed.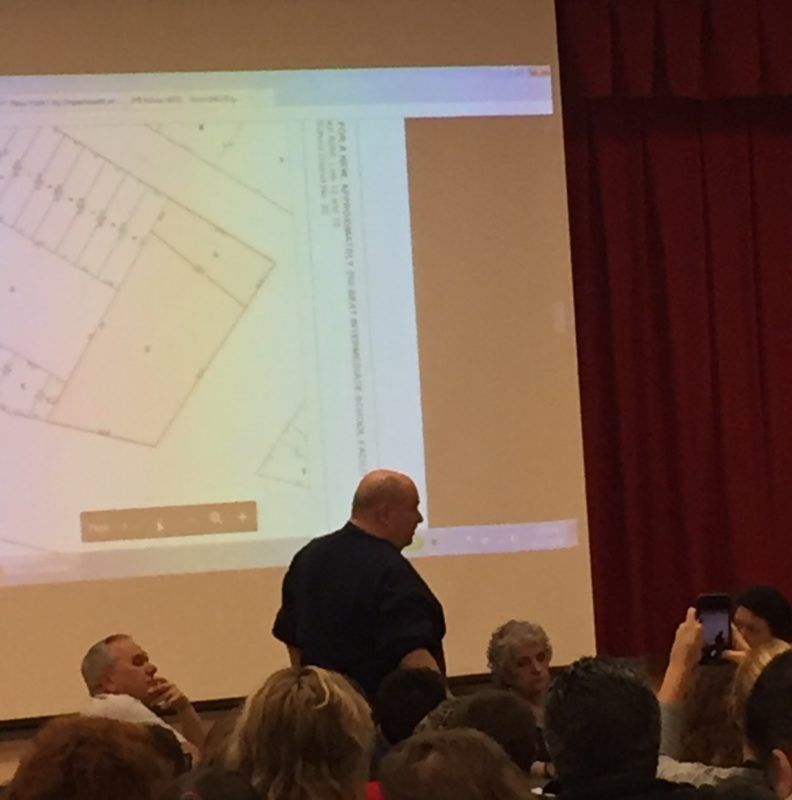 A man named Anthony, who said he lived near the proposed site on Battery Avenue, stood up and came to the front of the auditorium so he could point to the map of the lot projected onto a screen. He asked the crowd how many lived near the same spot. Nearly half of them raised their hands.
"How many accidents have you seen?" He asked them. "Accidents take place almost every month."
Anthony went on to explain that there is only one stop sign that many drivers go right through. The cars coming off the ramp from the Verrazano Bridge do not stop, he said. He received loud applause but eventually was told to sit down, to his dismay.
The biggest moment of the night was when another man spoke of the district's scarce schools. He then tried to say that a lot of Brooklynites do not drive. That comment was met with an immediate response from a good number of the crowd, who vehemently disagreed. Near chaos ensued with attendees yelling at each other. Vellucci had to demand a few times for everyone to calm down.
"Calm down or leave," she said. "This is not what we are as a community. This is not a shouting match."
She went on to say if the meeting got out of control again, she could call in security and even close the presentation down.
"People have the right to have their views heard," Vellucci insisted.
For the remainder of the evening, attendees spoke of traffic problems that already exist along 86th Street and could get worse if a school were to be at the proposed site. They also complained about limited parking spaces and how vehicles going to and from the Verrazano Bridge during morning commutes were going to be a problem.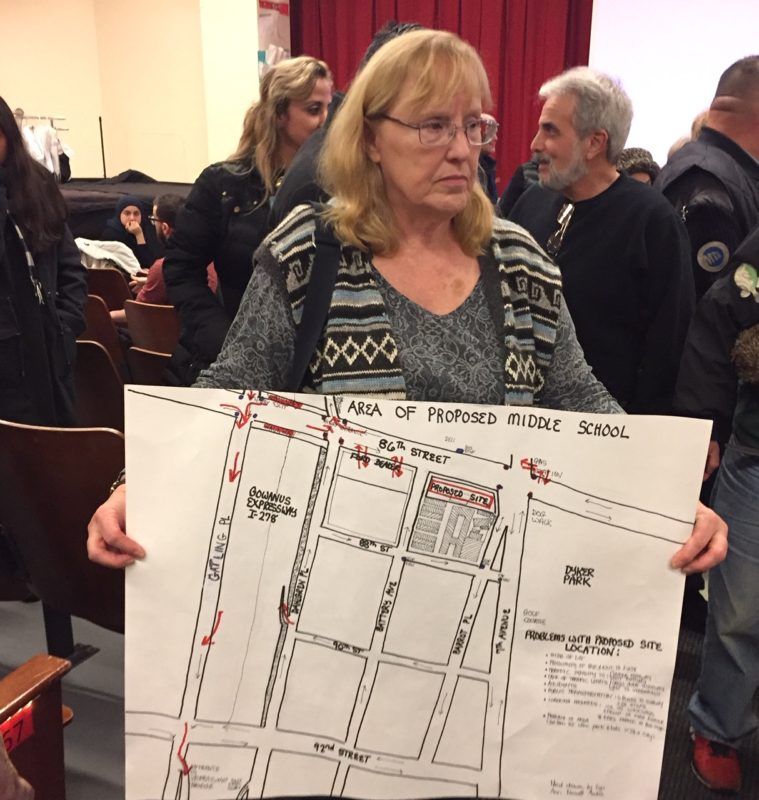 One woman, named Ann Fawcett-Ambia, came with a map she made to indicate the aforementioned traffic issues. She tried to go to the front of the auditorium to show everyone but Vellucci would not let her. As Fawcett-Ambia described the specific traffic sore spots, Vellucci was soon saying, "We know what's here; we live here."
"You know?" Fawcett-Ambia said incredulously. She then added she did not want to see a student get killed and that lot, which measures 0.57 acres, was too small for a school of 592 students.
One prominent member of the community, Fran Vella-Marrone, the President of the Dyker Heights Civic Association agreed that a school was needed. "But this is really a poor location. Do you have a traffic mitigation plan?"
Tamar Smith answered her calmly, "There are studies being done right now. The DoT knows, we know. We will address the concerns. We are going to work this plan out." Many audience members grumbled their doubts.
More of the people continued to express their disagreements. One person pointed out the illegal conversion of homes was the cause of the district's overcrowding. Another wondered what would happen to 86th Street if the construction of the school were to take place.
The final person allowed to speak was a young man who said he was the father of 4-year-old twin girls who will benefit from such a school.
"We're overpopulated," he said. "What's your solution?" He was met with fierce opposition.
With that, Vellucci ended the presentation. Among her final words were, "Where do the children go?"
As mentioned at the beginning of the meeting, the School Construction Authority is soliciting comments on this proposed site. Anyone who would like to voice their opinion could submit an email sites@nycsca.org or mail in a letter to  New York City School Construction Authority 30-30 Thomson Avenue Long Island City, NY 11101 Attn: Melanie La Rocca.
Comments are open until April 18th.