Teenager Wins $1,000 For Life At Sheepshead Bay Gas Station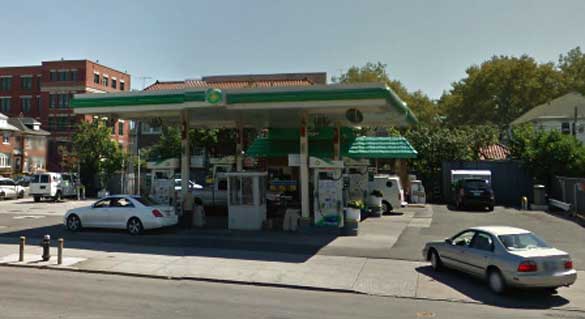 A high school senior from Brooklyn was awarded "At Least One-Million Dollars," from the New York State Lottery on Tuesday, after he won $1,000 for life from a lottery scratch-off ticket, which he purchased in a Sheepshead Bay convenience store.
Eighteen-year-old Robert Salo, a resident of Sheepshead Bay and high school senior at James Madison High School,  said that his acquisition of this winning ticket was a stroke of luck.
"I just had a feeling," Salo told Vosizneias. "It was like I was in the right place at the right time."
He is one of several winners from Brooklyn, Queens and Long Island, who also received their checks at the ceremony on Tuesday. The prizes given over at the ceremony totaled $7 million.
Salo said that he immediately showed his lucky ticket to his mother and uncle, and then kept it with him for the entire night. According to the Daily News, it seems as though Salo is  the youngest person to win the lottery's grand-a-week-for-life contest.
As winner of the top prize of the "Win $1,000 A Week For Life Scratch-off," Salo will receive at least $1 million over 20 years, according to Vosizneias. Once he has been granted the $1 million prize, he will be granted a yearly check for $52,000 every year for the rest of his life.
"We were kind of worried about paying for college," Salo's mom, Rabia, told the Daily News . "I said if I had to work two jobs I would do it, but he's going to the school he wants."
Rabia Salo, a single mother, certainly does not have to worry about funding her son's college education any longer. These winnings have Salo set for college, graduate school, and the rest of his life. Salo still plans on attending college and becoming an electrical engineer, yet his is happy he can do so with the winnings in his pocket.
"Of course I'd like a Lamborghini or Ferrari, but I think a new BMW is more in my price range," sais Salo to Vosizneias. "Eventually, I'd like to buy a house, but for right now, I just want to enjoy life to the fullest."
After winning, Salo said that he couldn't eat, sleep, or do anything but pace around his house.
"I felt like it was a dream," he said.
The Daily News identified the convenience store at which the ticket was purchased as the store on the corner of Avenue T and Coney Island, by the BP gas station.