So Much Hate: Swastika Found In Brighton Beach Playground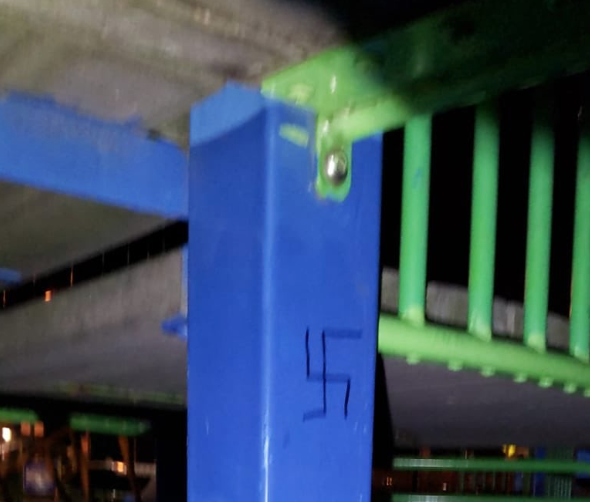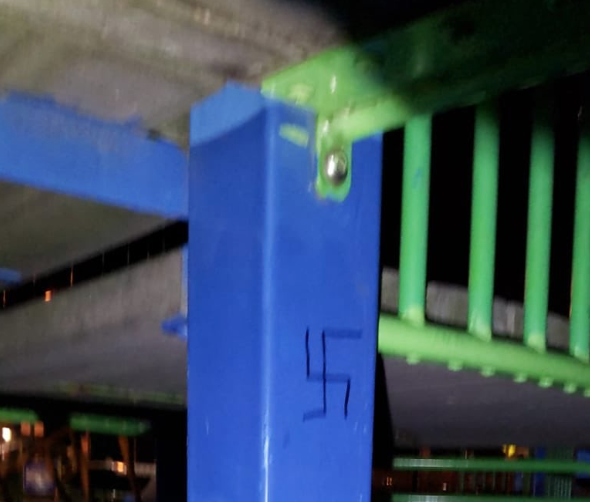 BRIGHTON BEACH – Hate only seems to be getting stronger. More swastikas were found in Southern Brooklyn, this time drawn on playground equipment over the weekend.
The horrible incident took place at the Brighton Beach Playground, located at Brighton 2nd St & Brightwater Ct. Council Member Chaim Deutsch's office tells Bklyner that as of 1 a.m., the swastikas at the Brighton Beach playground were still there.
Borough President Eric Adams has this to say: "Anti-Semitism is disgusting. I condemn the pattern of swastikas that have been drawn in public spaces across Brooklyn, from the Newkirk Avenue station in Ditmas Park to a playground in Brighton Beach. We need anti-bias education, and we need arrests. One Brooklyn stands as tall and resolute as ever in combating hate, no matter whoever tries to incite fear and division in our diverse communities."
Just last Friday, swastikas and the term "Heil Hitler" were found drawn at the P.S. 139 playground in Rego Park, Queens.
In Brooklyn, this comes after a swastika was found on a pole at the Newkirk Plaza Subway Station. And just last week, vandals shattered the windows of Chabad of Bushwick synagogue.
Deutsch went on to Twitter to express his anger.
"If it seems like every morning you're waking up to news of another hate crime in New York City, well, that's actually accurate," Deutsch said. "In the 56 days since 2019 started, there have been at least 62 reported hate crimes. That's a 55% increase as compared to this time last year."
"With hate crimes – particularly anti-Semitic motivated crimes – on the rise, it's clear that the time for talking has passed. We need decisive action, and we need it now."
Deutsch noted that the City Council passed several bills that would create a new mayoral office of Hate Crime Prevention, responsible for "conducting outreach and education throughout New York City about the dire impacts of hatred, bias, and anti-Semitism. This needs to be implemented quickly, and I call upon the Mayor to make it his top priority." he said.
"The proliferation of anti-Semitic hate crimes has created an atmosphere of fear among Jewish New Yorkers," Deutsch said. "It's unconscionable that in the most diverse city in the world, residents are frightened that they are being targeted because of their religious identification."