Spoke The Hub Hosts Oktoberfest Fundraising Events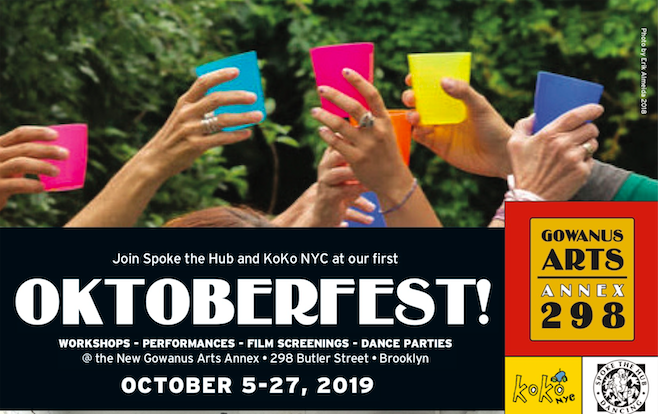 GOWANUS – As Spoke The Hub readies to open its new 2,900-square-foot home at 298 Butler Street, the organization is planning a month of Oktoberfest events to celebrate its grand opening and help pay for the costly renovations at the space.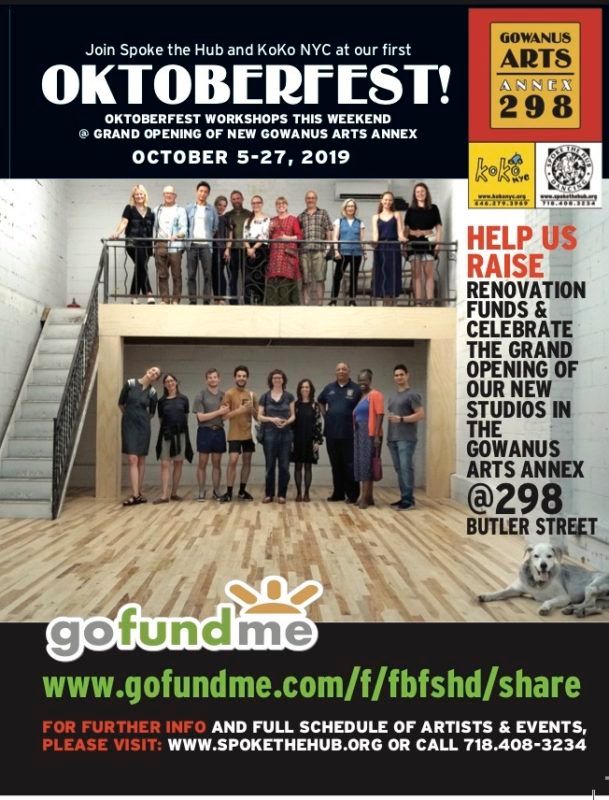 From October 5 through October 27, Spoke the Hub will host a variety of classes, performances, screenings, and parties at the new Butler Street building, dubbed the Gowanus Arts Annex 298.  "An important goal of our Oktoberfest festivities is to raise money to complete the renovation…as well as introduce Spoke the Hub's and Open Source/KoKo's new community arts facility and programs, and a bevy of local artists of all disciplines, to local residents and the general public," Spoke the Hub Founder Elise Long explained in an email.
Spoke the Hub recently celebrated 40 years of dance classes, performances, and community programming in Park Slope and Gowanus. Long purchased Spoke the Hub's original Gowanus location, known as the Gowanus Arts Building, at 295 Douglass Street in 1985. She also purchased a location in Park Slope at 748 Union Street in 1995.
She closed the Douglass Street space two years ago as renovations to upgrade the facility with an ADA-compliant theater, green roof, retractable seating, and new stairs introduced numerous problems. Spoke the Hub moved into a temporary location at 234 Butler Street, the Gowanus Station Building, however that building was seized via eminent domain by the NYC Department of Environmental Protection earlier this year and is slated to be demolished as part of the Gowanus Canal Superfund cleanup.
After being pushed out of 234 Butler Street, Spoke the Hub was forced to find another temporary home. Long signed a ten-year lease for 298 Butler Street in the spring, but the building needed $150,000 in renovations to accommodate the programming offered by Spoke the Hub (and KoKoNYC and Open Source Gallery who were also forced out of the Gowanus Station Building). On top of that, due to escalating costs, Long now has to sell the Gowanus Arts Building on Douglass Street.
Spoke the Hub's Oktoberfest events at Gowanus Arts Annex 298 include singing, filmmaking, and kimchi making workshops; a ballroom dance crash course; a new performance showcase; a film night; happy hours; and a Saturday night dance party.
As part of the upcoming Gowanus Open Studios weekend (Oct. 19-20),  Spoke the Hub will host live music, a houseboat building workshop, an exhibit of Miho Suzuki's photographs, and an open community dance and music improvisation with scenery created by artist Cecilia Schmidt.
KoKoNYC and Open Source Gallery will also debut a new studio space at 298 Butler Street. Some of their kid-friendly Oktoberfest offerings include Building Ramps & Skateboards (Oct. 5); a costume and set design workshop (Oct. 13); and KoKo Tiny House painting sessions (Oct. 26 & 27).
The Oktoberfest celebrations come to a close on October 27, with a Happy Hour & Tea Party (5pm to 6pm). All of the events have a suggested donation, and since Spoke the Hub is trying to raise $150K, please be sure to contribute whatever you can.
Ever the fighter, Long is determined to raise the funds needed to pay for the Gowanus Arts Annex 298 renovations so she can continue providing dance classes, performances, and children's programming to the community as well as offering affordable work space for artists.
Learn more at spokethehub.org.