Speed Camera Data Shows Increase In Tickets, Fewer Crashes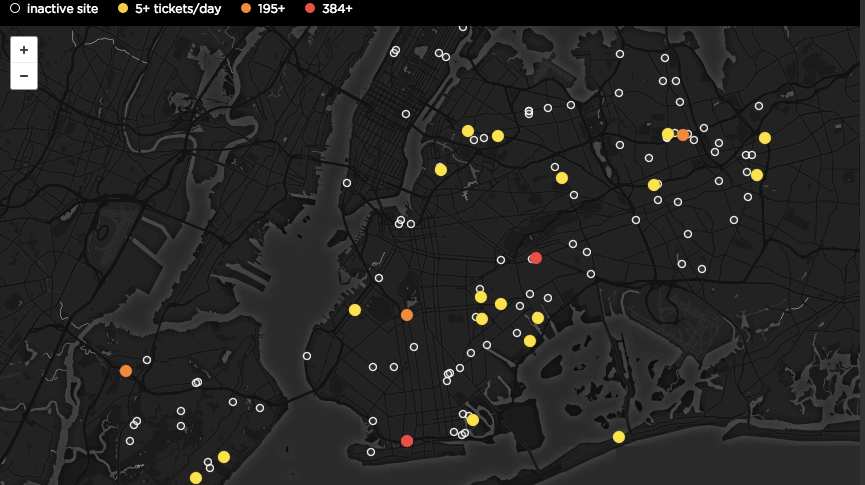 It's been a year since speed cameras were placed at intersections and highways throughout the city and the results confirm what residents have simultaneously feared and cheered: speed cameras have issued nearly four times as many tickets as human officers — generating over $23.5 million in fines for the city — and vehicle crashes and crash injuries near these cameras have declined.
According to data culled and mapped out by WNYC, the three cameras located in Fort Greene and Clinton Hill generated the following stats:
Park Avenue between Carlton Avenue and Navy Street: 1,111 tickets over 18 active days (most recently January 6, 2015)
Eastbound Flushing Avenue between North Elliott Place and Carlton Avenue: 19 tickets over 1 active day (most recently March 25, 2014)
Westbound Park Avenue between Washington and Vanderbilt Avenues: 124 tickets over 1 active day (most recently March 28, 2014)
Brooklyn also is home to the highest revenue-generating camera in the city, over in Sheepshead Bay on Shore Parkway and West Street. That camera at that location produced 55,719 tickets over 90 active days in 2014, at an average of 619 tickets per day, generating approximately $2.8 million in revenue from drivers.
As of today, that amount has gone up to 60,325 tickets over 105 active days, at an average of 575 tickets per day.
The next highest revenue-generating camera is in Queens on the eastbound lane of the Horace Harding Expressway at Peck Avenue producing a comparably paltry 36,860 tickets over 102 active days.
According to WNYC, there are three types of camera styles used by the city: "money-making 'speed trap'" for "catch[ing] drivers exiting highways where there is no pedestrian crossing," those stationed at busy intersections, and those attached to roving police cars or other vehicles for a day or two at a time.
The Fort Greene cameras appear to be for busy intersections and temporary mobile units.
Assemblymember Walter Mosley noted that he is "a supporter of slow zones and Vision Zero" and that while he "will always continue to weigh public safety and punitive measures, public safety always trumps."
"If we can lower automobile fatalities in our borough, it's the right thing to do," he said.
Browse all the camera locations and ticket numbers below. What locations, if any, would you like to see speed cameras at?