Sites For Ai Weiwei's Citywide Public Art Exhibition Announced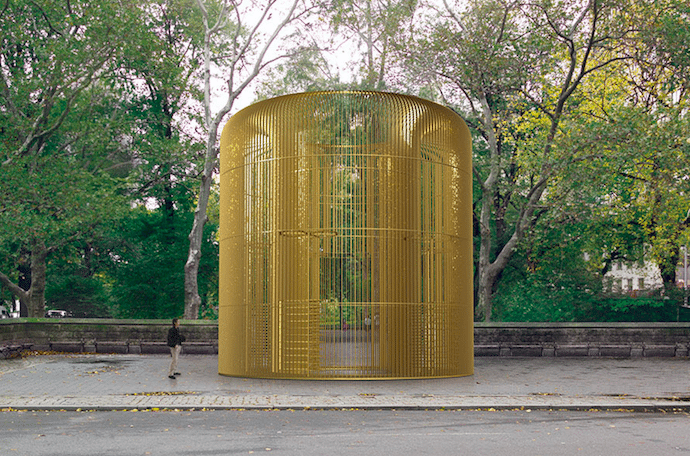 As reported earlier this year, the Public Art Fund will commemorate its 40th anniversary by presenting Good Fences Make Good Neighbors, a city-wide, 300-plus site installation by world-renowned artist and activist Ai Weiwei.
Inspired by the international migration crisis and the current global geopolitical landscape, the artist will reinterpret and transform the security fence into a powerful social and artistic symbol with sculptures and "interventions" displayed across New York City.
The Public Art Fund announced on Tuesday the locations where Ai's large-scale, site-specific, freestanding security fences will be installed. In partnership with NYC Parks, these main pieces will be exhibited at Doris C. Freedman Plaza at Central Park, the Washington Square Arch in Greenwich Village, and the Unisphere at Flushing Meadows Corona Park in Queens.
Site-specific interventions will be displayed on top of and in between buildings located across Downtown Manhattan at 48 East 7th Street, 189 Chrystie Street, 248 Bowery, Essex Street Market, and The Cooper Union.
In partnership with the NYC Department of Transportation, sculptural interventions will also be installed around ten JCDecaux bus shelters in Downtown Brooklyn along Fulton Street and other major roads, as well as in Harlem. The sculptures will incorporate additional seating to serve as functional artworks.
In addition to the sculptural pieces, the artist will present a series of 200 two-dimensional works featuring portraits of immigrants that will appear on lamppost banners in all five boroughs. He will also showcase on bus shelters, newsstands, and LinkNYC kiosks located across the city, a new series of more than 100 documentary photographs featuring quotes about global displacement.
"Good Fences Make Good Neighbors utilizes diverse sites across the city – in locations both iconic and community-oriented – that connect Ai's personal story as an artist, activist, and immigrant, to the broader history of immigration in New York," according to the Public Art Fund's announcement. "These locations also highlight the city as a site for artistic intervention, and the charged socio-political moment reverberating around the world."
Each of the works will use the existing urban infrastructure as its base, illustrating the "role of the fence in dividing people." The artist will create different variations of the fences using different materials such as metal chain link and synthetic netting to "form interventions that adapt to their sites, as if growing out of urban space and changing how we relate to the fence and our environment."
Good Fences Make Good Neighbors will be on view from October 12, 2017 through February 11, 2018. To learn more about the exhibition, Ai Weiwei, or the Public Art Fund, visit publicartfund.org.