On Sheepshead Bites' 5-Year Anniversary, A Thank You To Our Readers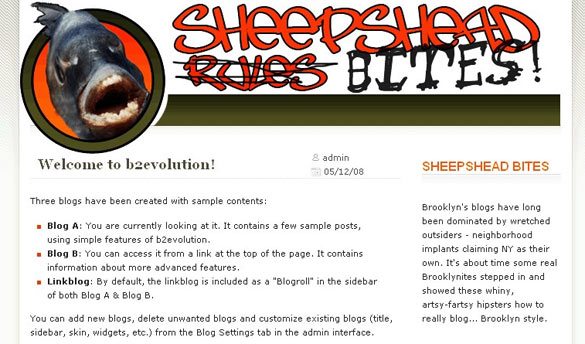 Happy anniversary to us!
On Sunday, May 12, Sheepshead Bites marked the fifth anniversary of its first post, published on May 12, 2008.
The post was simply an "About Sheepshead Bites," where I scribbled some of my ideas about why I started the site and what we'd be doing. And, although we've changed our about page several times and rewritten our mission ad nauseum, the core of what we do has not changed. Going back and reading this again for the first time in years, I can say, with pride, that we've stayed the course for five long years.
Many of Brooklyn's neighborhoods still filled with genuine Brooklynites feature local characters and compelling, complex issues, but are going under-reported in both the established media and the nebulous Brooklyn blogroll. And while most of our neighbors sink further into either apathy or Monday morning quarterback-style governance, our communities are going on without us. They're leaving their flair and character behind and moving forward in erratic, worrisome ways.
… Community meetings, development issues, local politics, interesting people, happenings and cool new places — these are just some of the topics the Bite will sink its teeth into. And what will set us apart from any other great blogs in the area is our humor and irreverence, blended in with the same passion and concern that comes from our colleagues.
While I originally intended to put together a long post – or even a series of posts to run throughout the day – filled with flashbacks, story highlights, reflections and more – I think something a little more simple is in order: a thank you.
Because of you, we're at a great place, and heading towards something even greater.
For starters, our numbers speak for themselves.
We went from publishing a handful of stories a week to now averaging 125 stories a month – not to mention those we do on our sister-site, Bensonhurst Bean. Our readership has grown from two or three digits a day in our first few months to thousands – and often tens of thousands – a day, and more than 125,000 visits a month.
It's even more impressive when seen over time. In the five years since launch, more than 1.5 million people have logged into Sheepshead Bites, devouring 6.5 million pages.
We've published just shy of 6,800 stories about you and your neighborhood, and accompanied them with countless photos and videos.
For our work, we've received praise. In 2010, The L Magazine named Sheepshead Bites the best local blog in Brooklyn and Manhattan. In 2011, CBS News editors picked us as their favorite source for local affairs coverage. And in 2012, I had the extraordinary honor of being included in the coveted City & State "40 Under 40" movers and shakers list.
But our success isn't just in the numbers or acclaim from legacy media. The greatest gratification of all is from what I hear from neighbors, community leaders and business owners in the streets – and they often reveal where we've helped the most.
Often I am stopped on the street, thanked for the work of my team on covering mega-stories like Superstorm Sandy, where we were the lone news outlet providing up-to-the-minute details about what our neighborhood was experiencing, and organized information to help your recovery. There was also the blizzard of 2010, when several feet of snow cut our neighborhood off from the rest of the city for as long as a week. While Mayor Bloomberg said all is well, our team, with help from the community, sounded the alarm and brought vital attention from larger media and city agencies into our corner of the borough.
Putting the spotlight on our neighborhood and getting us the attention we deserve is one of the areas in which we excel. We showed that in our coverage of the B4's service cuts, and our advocacy to get it restored – which we did. We showed it when we made waves about construction on the B and Q line that would cause chaos for commuters – earning a promise from the city that work here would be done on-time – which it was, while similar projects elsewhere have been delayed. We showed it with our endless harping on garbage issues, which has helped spur the Department of Sanitation to make more pickups along commercial corridors. And then the traffic changes, street repairs, policing issues and on and on and on.
We show it every day, when our stories filter up to the city's media and ensure our neighborhood is not forgotten in the larger narrative of New York City's history.
It's not just about making changes to the physical landscape or policy-making, either. When a stabbing or shooting happens, or a bad fire, or a madman like Maksim Gelman puts our neighborhood in lockdown, we've been there to explain it to our readers, give them up-to-the-minute information, and comfort them with a healthy dose of knowledge.
How many people panicked at the site of hundreds of police vehicles descending on Sheepshead Bay in February 2011, when Maksim Gelman began his murderous rampage through our streets? Although we could do no more than inform our readers, a little bit of knowledge went a long way to bringing peace of mind and a measure of security to our neighbors.
We've also advocated tirelessly for our small businesses, the backbone of any community. Whether it was being the watchdog that said the government should do more in the wake of Superstorm Sandy, or fighting to keep parking spaces when city agencies seek to gobble them up, Sheepshead Bites has stood shoulder-to-shoulder with our friends in small business. And we've sought to develop events, like A Taste of Sheepshead Bay, that remind our community of the great treasures just feet from their doorsteps.
And all of this – all of it – is thanks to you and to my team. I am nothing but a maestro waving a baton. If it were not for my team – those who help me now, like Robert Fernandez, Erica Sherman and Willie Simpson, or in the past, like Ray Johnson and Laura Vladimirova or any of the many others – I would be a maestro without an orchestra.
And if it were not for the community contributors and tipsters and business owners and neighbors and community leaders whose daily prattlings form the notes of the indefatigable melody of life and living in Sheepshead Bay, I'd be a maestro with no song to play.
So thank you. The last five years have been enormously fulfilling. You inspire me every single day, and your support, acknowledgement and enthusiasm remain the fuel which drives us.
We don't know what the future holds. It is a difficult present for all in the wake of Superstorm Sandy. But, regardless of what it holds, the last five years of this hobby-turned-obsession is but a prologue. We look forward to your support as we  march forward, into whatever dark corners, natural calamities and manmade mayhem is in store for our community, shining a light where it is needed, and celebrating that which is already bright.
Once more, thank you.
Your humble editor,
Ned Berke