Select Bus Service B82 on Kings Highway Launches on Monday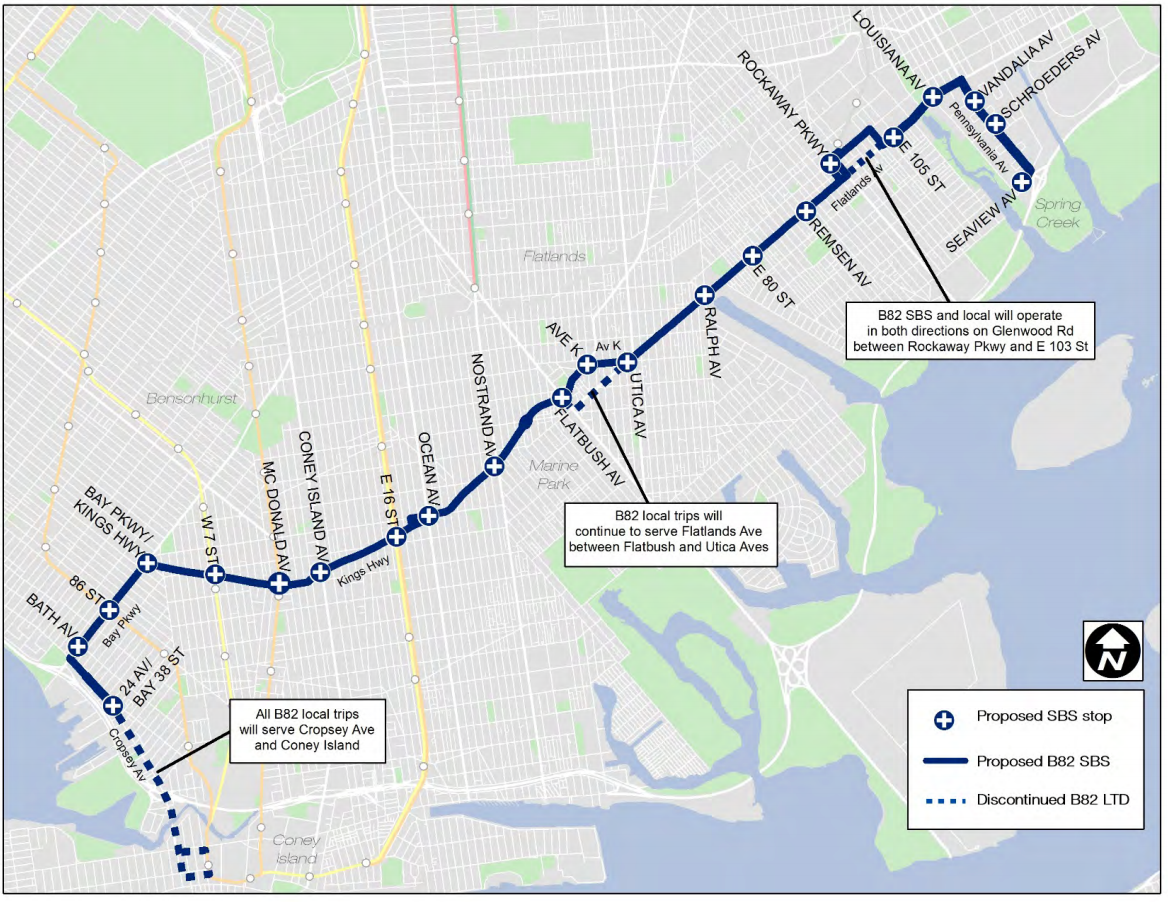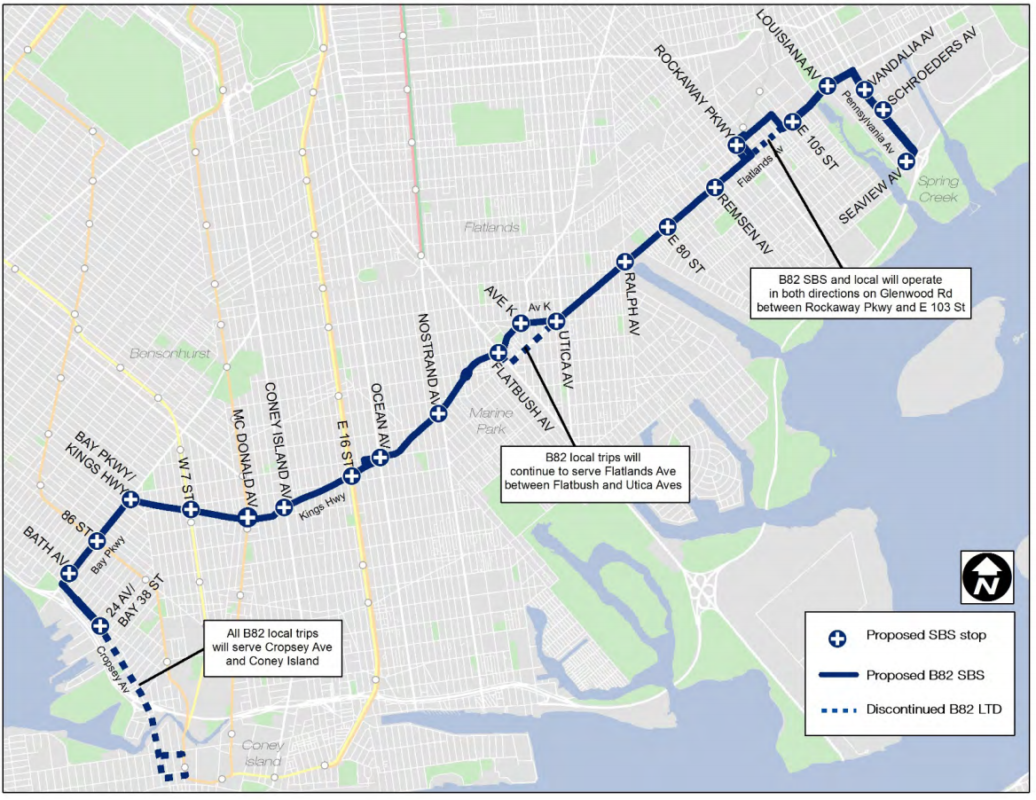 KINGS HIGHWAY – Starting Monday, October 1, 2018, tens of thousands of commuters from Bensonhurst to StarrettCity/Spring Creek Towers that use bus service along Kings Highway will be able to enjoy a faster ride thanks to the new SBS route. Or at least we can all hope so, given the number of changes and modifications the plan has undergone to preserve parking on the narrowest stretch of the road.
B82 will continue to make all local stops as before, connecting riders to 6 subway lines and 21 bus routes, while the SBS will only stop as follows: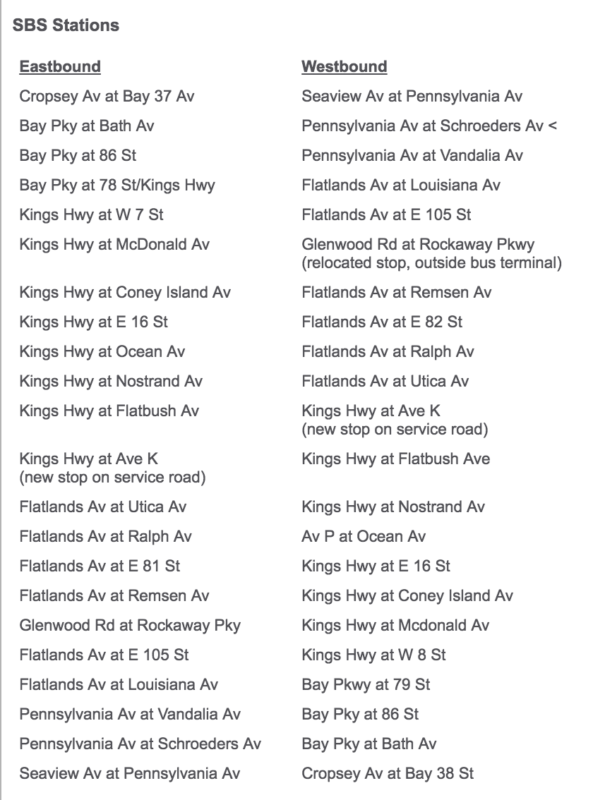 The B82 SBS will replace current Limited service but will operate every 8 to 9 minutes during the morning and evening peaks, and every 10 to 12 minutes at off-peak times with something tehy call enhanced hours – so more than just peak. We are clarifying if that means 7 am to 7 pm every weekday, as per parking restrictions on bus lane. The annual operating cost for the new service is just about $3 million dollars.
B82 SBS will have enhanced bus stops at Cropsey Ave/Bay 37 St, Kings Hwy/Flatbush Ave and Kings Hwy/Nostrand Ave.
According to the MTA, there will be three route changes:
"With a westbound bus lane installed on Glenwood Rd, the service will operate in both directions on Glenwood Rd from Rockaway Pkwy to E 103 St, eliminating the circuitous route the westbound B82 uses to access the L station, and saving several minutes in travel time. The B82 Local and B6 will also operate via Glenwood Rd in the new bus lane. In the first weeks of service, this routing will be modified due to ongoing construction by NYC DDC on Glenwood Road.
The SBS service will also operate via Avenue K, between Kings Highway and Flatlands Ave. This will allow the B82 SBS to avoid the turns associated with the current "dog-leg" routing via the congested intersections of Flatbush Ave with Flatlands Ave and Kings Highway. The B82 Local service will continue to operate on the existing route via Flatlands Ave and Flatbush Ave, to maintain service at existing stops.
The western terminal of SBS service will be at Cropsey Ave and Bay 37 St, at a new boarding island built by NYC DOT. This will help to improve service reliability, and bus operations in that area. Customers wishing to go to Coney Island will still be able to take the B82 Local service, as well as multiple subway routes that intersect the B82."
To use the Select Bus Service, riders must pay their fare at one of the fare machines at each stop. Bus stops usually have three fare machines, two of which accept MetroCards and one that accepts coins and student half-fare MetroCards.
Once you pay, you get a ticket as proof of purchase, and you must keep it for the length of the trip. You can board the bus through any door, and you do not need to show your ticket to the bus driver. The only time you need to show your ticket to the driver is if you need a paper transfer. "For customers using a MetroCard, transfers work the same way as other bus routes," MTA explains.