Expanded Speed Camera Law Now In Effect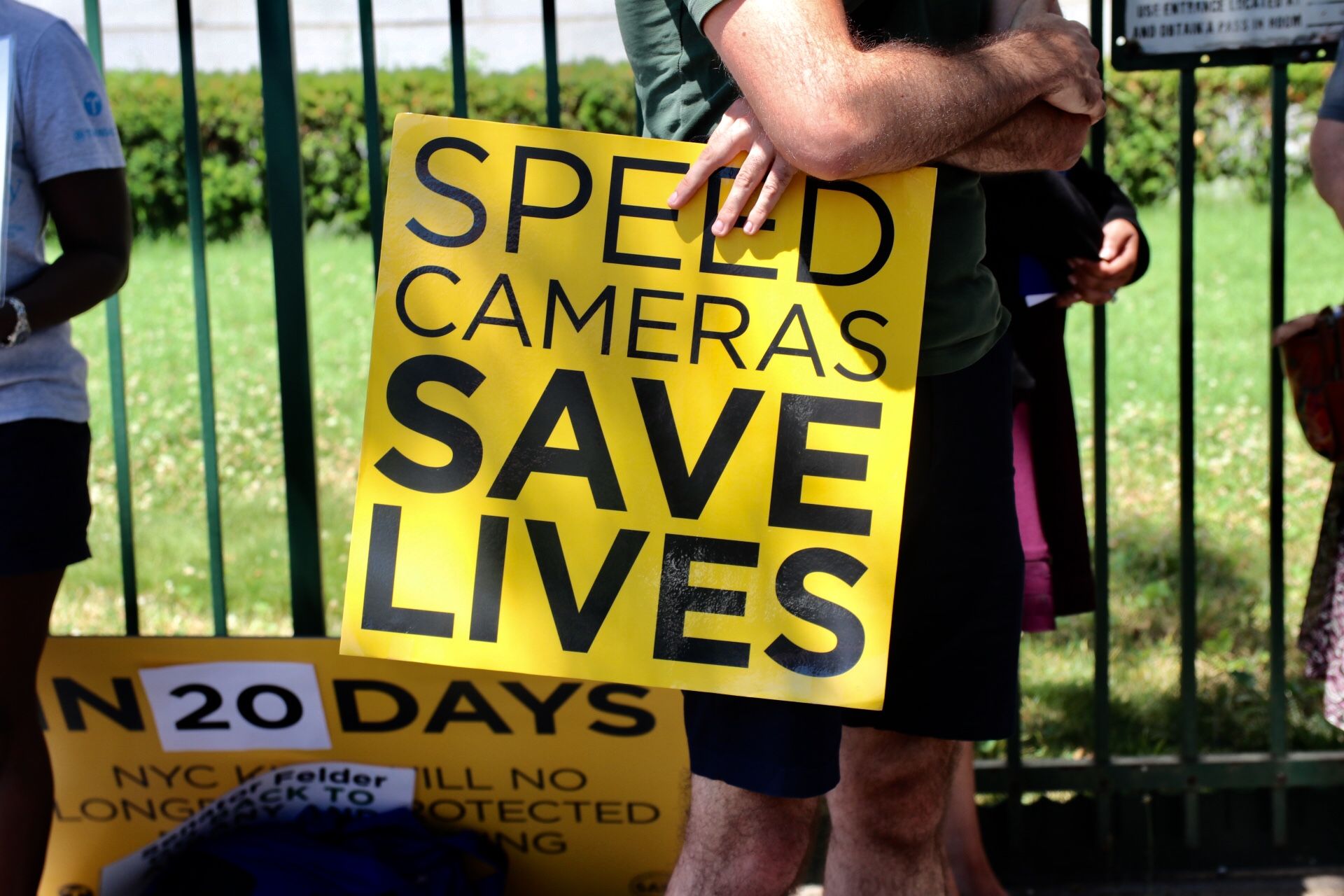 As part of the city's Vision Zero program to reduce traffic deaths, the new and expanded speed camera law went into effect on July 11.
Speed cameras in school zones have been in NYC since 2014, but there were only a few—140 to be exact. A new law passed in March and signed in May expands the number of cameras to 750. Aside from the increase in cameras, the hours the cameras will operate has also been increased. They will now operate year-round on weekdays from 6 a.m. until 10 p.m., including during summer and school vacations. The zones of the speed cameras were also extended to a 1/4 mile radius from a school (instead of "the previous restriction that the camera be no more than a 1/4 mile of a school along an abutting street.") According to the Mayor's office, this allows cameras to be installed near hundreds of more schools.
"This is a major step toward our goal of achieving Vision Zero," Mayor Bill de Blasio said. "Speed cameras are an invaluable tool that help us save the lives of countless children every year. We're sending a message to all our motorists: drive at a safe speed or pay the price."
Last summer, the New York State Senate failed to pass legislation to continue the speed camera program, which expired in July 2018. This led to an outcry from residents, transit activists, and local politicians. In Brooklyn, much of the ire was focused on State Senator Marty Golden, prompting protests outside his Bay Ridge office.
"Given the recent spate of traffic fatalities, it is critically important that this law is now in effect in New York City. The school zone speed camera expansion slows traffic and saves lives, plain and simple," State Senator Andrew Gounardes said. "I am glad we are prioritizing the safety of millions of pedestrians over reckless drivers. No parent, child, senior or pedestrian of any age should live in fear of crossing the street because of speeding traffic, and this law will make a big difference in preventing the scourge of traffic violence."
According to Transportation Alternatives' Interim Executive Director Ellen McDermott, this was a long time coming.
"New York City's speed safety camera program has proven to save lives, so we're glad to see this unbiased, unflinching enforcement technology being deployed in so many more school zones across the five boroughs," McDermott said. "We have no doubt that this newly-expanded program will help us move even closer to reaching the goal of eliminating traffic deaths and serious injuries on our streets."
Council Member Ydanis Rodriguez, who is also the chairman of the Transportation Committee, agreed about the importance of the expansion.
"These cameras have proven to lower speeding by more than 60 percent. The added cameras will add an additional layer of protection year-round for our children walking near schools," Rodriguez said. "I thank our State legislators and advocates for all the hard work that was put into passing this lifesaving legislation that allows us to provide protection at 600 more school zones."
The City plans to install about 40 cameras per month through 2019, then 60 per month next year. The goal is to have all 750 speed cameras up and running by June 2020.
"I lost my six-year-old son, Dante Curry, when he was killed by a speeding, reckless driver in the Bronx. Even though it's been over 20 years since Dante was killed, I live with the pain every day. My doctor doesn't believe me, but I think I'm dying of a broken heart," Evelyn Cancel, a member of Families for Safe Streets said. "No parent should have to bury their child just because someone wants to get to their destination a few minutes faster. Speeding is a deadly act and needs to stop."