Puerto Viejo: A Very Happy Hour
Ever go on a kick? The Elena Ferrante scandal has me devouring her oeuvre all over again. Meanwhile, a visit to Cultura tossed me onto a different kind of kick, where I've been after Latin American cuisine. I've always found word of mouth to be the best way to discover new places, so when a friend recommended Puerto Viejo, off I went.
Puerto Viejo (564 Grand Avenue between Dean Street and Bergen Street) is just a couple of blocks south of Atlantic Avenue and well worth the trip out of Clinton Hill. The restaurant is well appointed, with a large bar that dominates the room and was filled with young folks taking advantage of the best happy hour special I have ever seen. Happy hour is Monday through Friday, from 4pm to 7pm and it includes $1 empanadas.
My server told me that the roast pork was their most popular item and her favorite, but I decided to opt for the bistec encebollado, a steak and plantains. I asked about the stunning design, and she told me that while Puerto Viejo has been in business for around 30 years, there was a significant renovation about four years ago. Much of the decor is recycled, according to Puerto Viejo's website.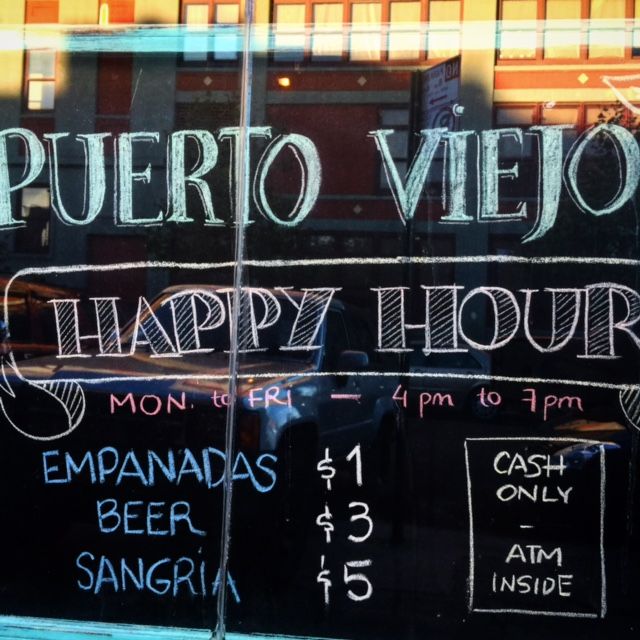 I started my meal by taking advantage of the happy hour special. I ordered a pair of empanadas, in chicken and beef. A cheese empanada was also available and I regret not indulging in it.
The chicken empanada ($1 during happy hour) was significantly better than the beef variant. While the beef empanada ($1) was a bit bland and a touch dry, the chicken empanada proved luxuriant in its juiciness. The empanadas aren't very big, so order several if you plan to stick with them.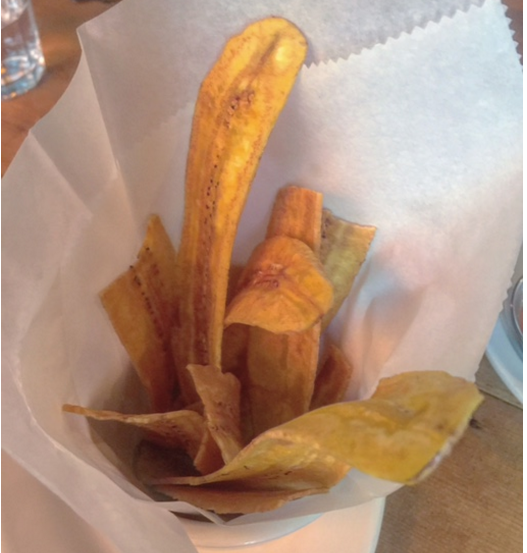 While I waited for my next course, I was given some plantain chips to nibble on. I did far more than nibble on these crunchy snacks, which had a pleasant bit of sweetness. They are paired with a garlic sauce reminiscent of toum. While the chips were good, the sauce was genuinely spectacular in all its unabashed, garlicky glory.
Puerto Viejo describes the bistec encebollado ($13) as "a palomilla steak  marinated with a garlic-oregano mojo, sautéed with onions and red wine served with tostones." Tostones are flattened green plantains, and they were a wonderfulyl crunchy, thick, heavy accompaniment to the steak.
The steak itself was good, but not spectacular. It was cut very thin and served in layers, which meant there was plenty of surface area to absorb the marinade. It was well-complimented by the onions, which added a bit of crunch to the sometimes chewy steak. Fortunately, there was more garlic sauce. Oh, that garlic sauce. I might have moved on to a garlic kick.
Puerto Viejo's prices are reasonable and its food is very good, so I certainly recommend going but happy hour is definitely the best time to venture over.
Puerto Viejo
Address: 564 Grand Avenue between Dean Street and Bergen Street
Phone: (718) 398-3758
Try: The chicken empanadas. Make sure to get there during happy hour.
Avoid: The beef empanadas.
Kids: It's a very child friendly environment.
CASH ONLY