Photos: 27th Annual Holocaust Memorial Gathering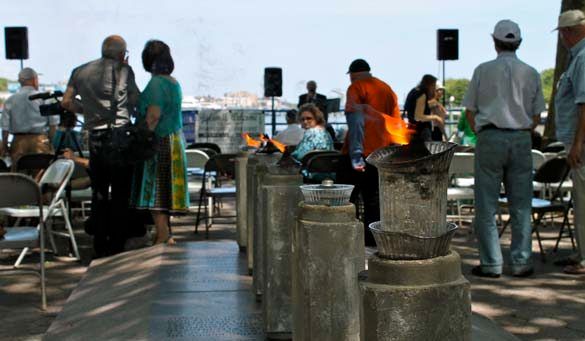 Approximately 200 people gathered together at the Holocaust Memorial Park on Emmons Avenue and Shore Boulevard in honor of the 27th Annual Holocaust Memorial Gathering this past Sunday, honoring and preserving the memories of those who perished in the Holocaust.
The audience was filled with people of all ages. There were leaders and members of Russian Holocaust Survivors group, and the Veterans group. According to Inna Stavitsky, president of the Holocaust Memorial Committee, many young individuals were present as well, as the theme of the afternoon was "The Generations After: Passing the Torch."
Various elected officials attended, including Senators David Storobin and Diane Savino, as well as Assemblymembers Steven Cymbrowitz, Helene Weinstein and Alec Brook-Krasny.
A candle lighting ceremony and musical performances were held in memory of the millions of people murdered by the Nazis.
The event also featured several speakers, among them, Joseph Spitz, the Israeli Consulate Director of Academic Affairs, Lev Katzin, the publisher of two Russian language newspapers, and David Widawsky, the founder of the March of the Living.
All photos by Joe Comperiati: