Pet Day And Costume Contest At Deno's Park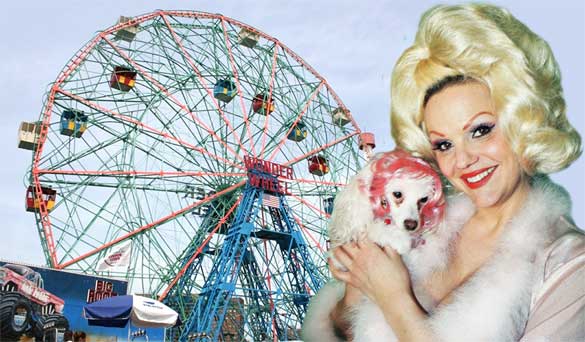 Deno's Wonder Wheel Park by the Coney Island boardwalk is set to hold their second annual Pet Day and Costume Contest on Saturday, June 16.
From noon through 7 p.m., all pets will receive a free ride on the park's Wonder Wheel when escorted by their owner. At 2 p.m., the Coney Island Pet Costume Contest, hosted by the world renowned "BOB," will take place on the boardwalk. All pets are invited to participate and others may join to watch and enjoy.
Judges of the contest will include Bambi, the Mermaid of Coney Island, Miss Cyclone, Angie Pontani, and Bunny Love, all of whom are proud owners of pets. Pets dressed in the most excellent costumes will certainly be rewarded, as will their owners! First prize includes a season pass for Deno's Wonder Wheel, and a $150 gift certificate to Petco. The second prize winner will be given day passes to Deno's Park and a $75 gift certificate to Petco. Finally, the third prize winner will acquire day passes to Deno's Park and a $25 gift certificate to Petco.
The contest will be followed by a pet march through Wonder Wheel Park.
If you are the happy owner of a pet hurry up and register, for the costume contest is limited to 25 entries, and registration operates on a first-come-first-serve basis. To pre-register or download an application, go to www.wonderwheel.com. Forms can be faxed to (347)- 789-6564, or emailed to jen@thirstygirlproductions.com. Registration will also be opened from 12:30 p.m. to 1:30 p.m. at the boardwalk, across from Deno's Park, near the stage.
All those who register must pay an entrance fee of two cans of cat or dog food. This food will be donated to "The Sean Casey Animal Rescue," an organization that helps unfortunate animals, and specializes in the rescue, rehabilitation, and placement of reptiles and domestic animals. The organization will place an animal adoption vehicle on 12th Street for the day.
The precise location of the event is at West 12th Street and the Coney Island Boardwalk, in front of the entrance to Deno's Park. In the case of rain, the event will take place on Sunday, June 17.