Park Slope Resident Gets Run-Around After Gas Turned Off For Weekend
[UPDATED: Wednesday, August 7 at 3:25pm] National Grid provided the additional statement after publishing: "718-643-4050 is National Grid's general number for customer service inquiries and emergencies. We apologize for the inconvenience and will reinforce proper procedures; we're committed to enhancing our customers' experience."
PARK SLOPE – Several Park Slope residents living near DDC's BED798 construction site unexpectedly lost their gas service last Friday afternoon, leaving them without gas or hot water until Monday morning.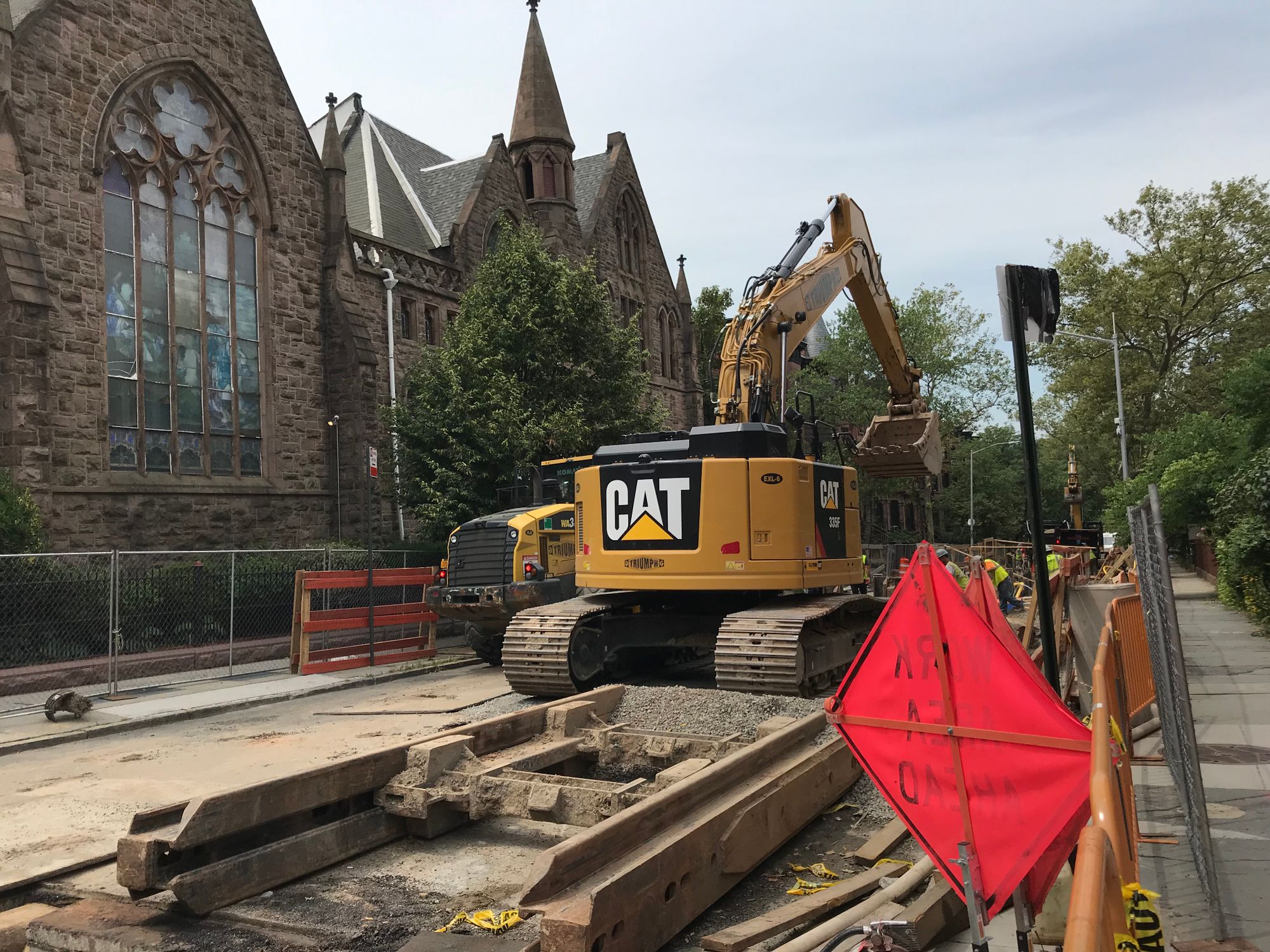 Domna Kelly and her husband have lived on St. John's Place between 6th and 7th Avenues for about 4 years. The couple has a 16-month-old son. They moved into the neighborhood just before work began work on BED798, a years-long project to update water main lines in the area. The Department of Design and Construction (DDC) began work on the Department of Environmental Protection-designed project in January 2018 and is scheduled to finish by Summer 2021.
The Kellys are accustomed to the construction, noise, loss of parking, and regular utility shut-offs caused by the project. Their gas/hot water was also switched off without notice the previous Friday (July 26), but Kelly's husband was able to catch workers outside to ask them to switch it back on before they left the site that day.
Kelly says she and her husband understand that this is New York and that construction occurs everywhere, but losing gas service for an entire weekend was "horrible," as was National Grid's response.
Kelly said she called National Grid at approximately 4:30pm on Friday, August 2 when they first noticed their gas/hot water was turned off and construction crews had already left for the weekend. She was told by a National Grid operator that someone would be dispatched to assist them. By 7pm, no one showed, so she called back and was told that a National Grid worker had come but no one answered the door or telephone. Kelly said either she, her husband, or their babysitter would have been home throughout the day on Friday and added that she was actually on the phone with National Grid at the time they claim to have arrived at her building.
Kelly also called the Public Service Commission, which oversees NYS utilities, but the office was already closed for the weekend, so she filed a complaint online. Kelly called 311 multiple times throughout the weekend to no avail. One 311 operator suggested she call the Public Service Commission after she had already done so.
She was eventually assured by a National Grid operator that someone would come to her building on Saturday, August 3, between 8am and 8pm. When she called on Saturday morning to confirm, she could not reach anyone on National Grid's main line, so she tried the "Report a Gas Emergency" option and was told by an operator that a gas shut-off is not an emergency.
Along with more calls to 311 on Saturday, Kelly also tried calling and emailing Niel Patel, DDC's Community Liaison for the BED798 project, but could not reach him. She also emailed Community Board 6 and received a reply suggesting that she try contacting Patel. A 311 operator provided the name of Triumph Construction, the contractor listed on the DOB permit for the work being done on St. John's Place. Kelly tried contacting Triumph with no success.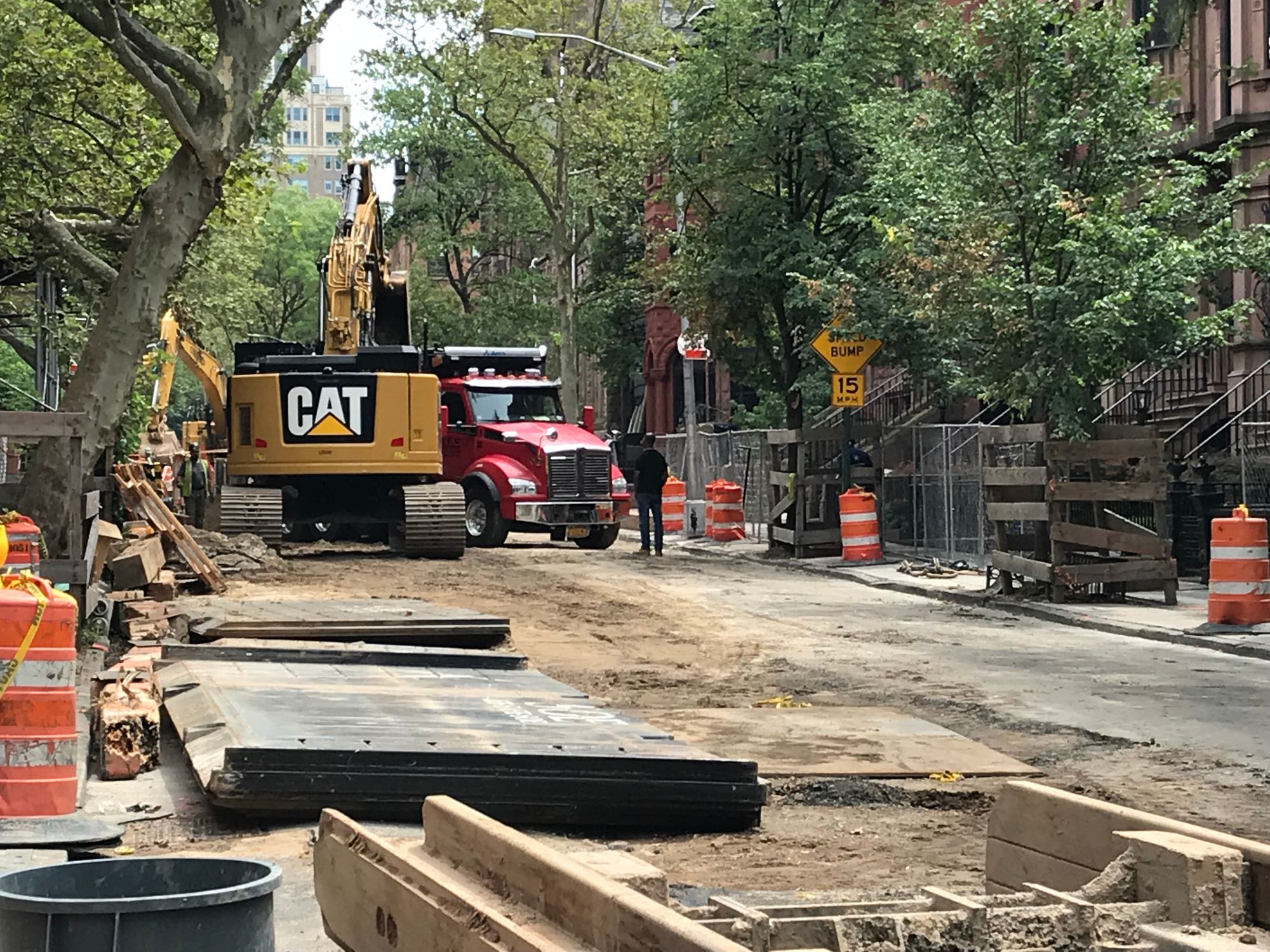 At approximately 3pm on Saturday, a National Grid worker showed up to a neighbor's home to respond to their call about the shut-off. According to Kelly, at least three other buildings, along with hers, were impacted. The worker told both Kelly and her neighbor that it was the contractor's responsibility to turn the gas back on. When the two residents asked the National Grid employee whom they could contact, she said she did not know and would ask her supervisor. They never heard from her again.
Frustrated with the run-around and unable to cook for or bathe their young son, the Kellys decided on Saturday evening to drive to Long Island to spend Sunday with her parents. Their son had already missed a Saturday afternoon birthday party since his parents had to spend the day waiting on National Grid.
The family arrived home late Sunday evening only to find that the gas was still off.
On Monday, August 5 at 6:30am, Kelly and her husband stood outside their building waiting for construction crews to arrive. They approached the workers for help along with other neighbors. The Triumph crew members immediately called National Grid and a trio from the utility quickly arrived and turned the Kellys' gas back on within minutes—putting an end to their three-day ordeal.
When Kelly asked the Triumph crew why their gas was not turned back on before the team took off Friday, they told her that she was not home when they came around to restore service. She did not argue with them even though she knew someone was home all day.
A DDC spokesperson told Bklyner that workers must enter homes when turning the gas back on, in case an oven is in use when service returns. This is also noted on the National Grid website.
The DDC representative also noted that the BED798 project is very complicated, with a massive trench dug in the middle of the street—between homes and gas line connections—for installation of the new water main. He added that a National Grid representative should be on-site every day that construction crews are working to oversee any gas-related issues and to notify locals when gas is scheduled to be turned off and back on.
He added that National Grid is a 24-hour service and residents should call the utility or 311 when they experience service disruptions. National Grid's website states: "Emergency support is available 24 hours a day, every day."
Patel, DDC's Community Liaison for the project, did not respond to Bklyner's request for comment. Triumph Construction also did not respond prior to posting.
Kelly said that the National Grid staff who restarted her gas line on Monday were apologetic and were surprised she did not receive any help over the weekend. According to Kelly, they told her that National Grid has on-call weekend staff to handle such situations.
"This experience was frustrating beyond words and a horrible experience for a mother with a young child," Kelly told Bklyner. "We wasted our entire Friday night and Saturday waiting and begging National Grid for help, only to be told that they weren't responsible for the problem. There needs to be a way to address disruptions or problems on the weekend." On Monday afternoon, Kelly said she was relieved to have her service back but wants to know whom specifically she can call if this problem should happen again.
National Grid provided Bklyner the following statement about the weekend gas shut-off on St. John's Place: "National Grid is moving 44 gas service lines in the area, which require planned service interruptions, to accommodate the City's sewer and water main upgrade project. Moving the gas service lines is a two-phase process, requiring two planned service interruptions. Our process is to contact customers 24 to 48 hours in advance of each service interruption, a note is posted to the property and crews go door-to-door," the company explains.
National Grid's statement notes Phase I was completed mid-July, in which service was restored for residents the same day. This past weekend's incident was part of Phase II.
"During Phase II crews were not able to restore service within the same day for three properties — they were not able to gain access to the locations to re-light the customers' appliances and on a follow-up attempt the curb valves, which are required to turn on service, were not accessible to the night crew. Service was restored first thing Monday morning. We apologize for the inconvenience."
National Grid did not provide an answer when Bklyner asked why the weekend gas/hot water shut-off was not considered an emergency. They also did not offer a phone number/email address for residents to contact should they face the same problem on another weekend.
"Safety and customer service are our top priority. We encourage customers to call 911 or National Grid at 718-643-4050 if they smell gas inside or outside of the home, we will respond and investigate," the company's statement concludes.
This gas outage comes just weeks after thousands of Brooklyn residents lost electricity following a storm last month. In that incident, Con Edison cut power for 30,000 Brooklynites in order to make repairs and avoid a wider outage.