Parade, Hurricanes, Haiti, Scandals, Beaches, and more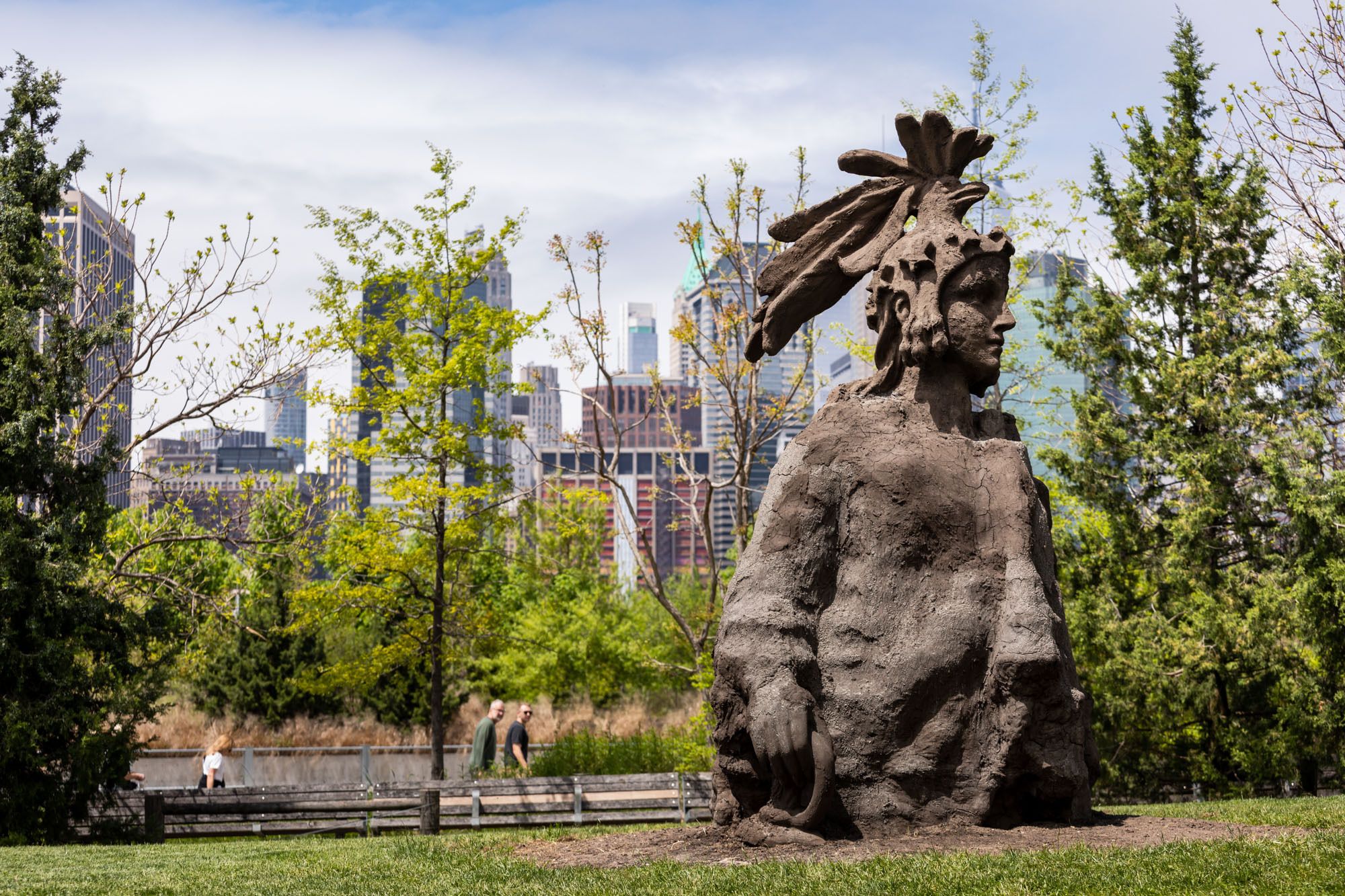 The cannons at Fort Hamilton fired yesterday morning as ships sailed under the Verrazzano bridge into New York harbor, marking the beginning of the Fleet Week. Church bells rang 21 times today to remember the lives lost in the school shooting in Texas. Congressional and State Senate lines were finalized, and Monique Chandler-Waterson was elected to represent AD58 in Tuesday's special election. Hurricane season will be another bad one, and streets around schools are actually more dangerous. But - there is more good food in Brooklyn, from taverns to pizza to odd spots like Patti Ann's. That and more, below.
Memorial Day
Brooklyn's 155th Memorial Day Parade will take place in Bay Ridge, rain or shine, starting at 11:00 am at 3rd Ave and 78th St, and will proceed along 3rd Ave to Marine Ave, up to 4th Ave, and over to John Paul Jones Park at 101 st St. for a post-parade Memorial service.
This parade originated when Brooklyn was an independent city and remains the oldest continuous large city Memorial Day parade in America.  
---
Politics
Special Election AD58 (East Flatbush/Brownsville/Canarsie): Monique Chandler-Waterman, the establishment pick supported by the Working Families Party and Public Advocate Jumaane Williams, won Tuesday's special election with 1,896 votes or 80% of the votes cast. Hercules Reid, who had Mayor Adams' support, received 431 votes. The election was yet another spectacular failure of the democratic process as just 3.02% of the district's 78,793 registered voters showed up. Both Waterman and Reid will face off again in the Democratic primary on June 28.
AD57 (Fort Greene/Clinton Hill/Crown Heights): "Phara Souffrant Forrest has been a dynamic force in Albany in her first term. The party establishment wants to make it her last," writes The Indypendent. "The main two camps — aligned with either Rep. Hakeem Jeffries or Assemblywoman Rodneyse Bichotte Hermelyn, the party boss — are coming together to support Olanike Alabi's bid to unseat Phara Souffrant Forrest, the first-term assemblywoman who  belongs to the Democratic Socialists of America."
CD10 (Park Slope/Lower Manhattan): Former Mayor Bill de Blasio, Congressman Mondaire Jones, and Assemblywoman Yuh-Line Niou may be the highest-profile candidates but not the only ones vying for the open seat.
CD11 (Staten Island/Bay Ridge): Nicole Malliotakis, Max Rose, and Brittany Ramos DeBarros are running for the now more Republican-leaning seat.
The rally in Bay Ridge last weekend to mark Nakba amid anger over the recent killing of Palestinian-American Al Jazeera journalist Shireen Abu Akleh drew some two thousand people, Zainab Iqbal reports for the Middle East Eye.
Flatbush Tenant Coalition rallied on Tuesday in front of Target at the Flatbush Junction to demand that their NY State Senator, Kevin Parker, sign on to RTCNYC Coalition's bill to provide free attorneys to income-eligible tenants facing eviction across New York State. Parker is the only local NY State elected representative in Flatbush who has not yet signed on in support.
---
Schools
Scandal: THE CITY dug into how and why NYC schools paid $25 million for a site to build a school in Bay Ridge. The old Nathan's Famous hot dog location was flipped and netted almost 10 million in easy money at taxpayers' expense. And that location was not the only one. The main characters in the story are Carlo Scissura and Ziff Realty.
Gifted & Talented Programs: Officials are adding more than 1,000 seats across the city, most of them as new programs that start in 3rd grade. Parents can begin applying for spots on May 31. Virtual information sessions will take place on May 24, May 26, and June 1. To register for a session, click here.
---
Hurricane Season
Hurricane season here starts June 1 and goes through the end of November. In NYC, August through October tend to be the more active months. The NOAA forecast is not encouraging with up to 21 named storms and three to six of the hurricanes expected to be major ones (categories 3-5). If you live in an evacuation area, be prepared, and if you experienced flash flooding from Ida - you too should be prepared. Here's how, because this will be the 7th straight year of the new normal.
Beaches
Memorial Day Monday is expected to be a scorcher so it's perfect that the beaches open for the season this weekend. But what would the city be without more controversies - this time, it's about lifeguards. "According to the 20-page Department of Investigation report, the Parks Department allows the unit overseeing lifeguards to operate as its own fiefdom, with poor oversight," THE CITY reports.
---
Real Estate
Landlords: Brooklyn residents live with mice and mold in the shadow of a luxury building, NYDN reports. The two buildings in Bed Stuy are both owned by the Borough Park-based Bushburg Properties. Why is it that Fulton Park Plaza is allowed to have 80+ violations while 180 Bainbridge, located just across the street, has none? One is not a luxury development.
As violations accrue at Fulton Park Plaza, Bushburg and the Moinian Group have secured a $105 million construction loan to finish their mixed-use residential project at 2840 Atlantic Ave in East New York, The Real Deal reports. The 14-story building will have 320 rental units, from studios to three bedrooms, including some designated as affordable. The project includes a historic renovation of the landmarked former Empire State Dairy Building. Bushburg and Moinian previously partnered on PLG, a 26-story project in Prospect Lefferts Gardens that opened in 2020.
---
Records: A Fort Greene passive house is about to break the neighborhood sales record just a few months after it was set, The Real Deal reported, saying that a renovated townhouse at 6 South Oxford Street went into contract last month for roughly $1 million over the $7 million asking price, after being on the market for barely a week.
---
NYCHA Renovations: A $434 million full-scale revitalization of nine public housing developments across Brooklyn was completed under the Permanent Affordability Commitment Together (PACT) program this week. Known as the Brooklyn Bundle II, 37 buildings with over 2,600 apartments are home to more than 6,000 NYCHA residents. The nine developments are managed by the PACT partner team, which includes the Arker Companies, Omni New York LLC, Dabar Development Partners, and the Bedford Stuyvesant Restoration Corporation.
---
Parking Lots: The NYPD uses 145 vacant, city-owned lots for parking — just over half of which could be better used as affordable housing or manufacturing and commercial space, according to a report by the East New York Community Land Trust. The not-for-profit collective of East New York and Brownsville residents wants to acquire title to some of the lots - Streetsblog has more.
---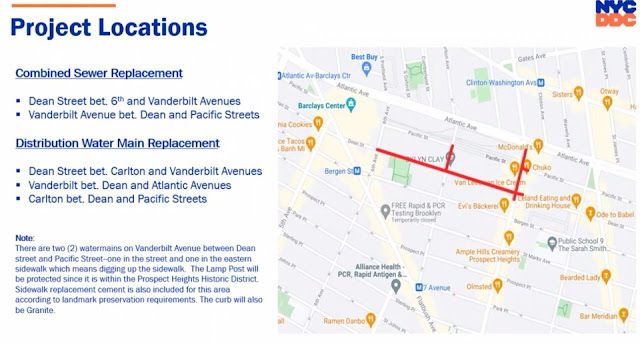 Atlantic Yards: Water and sewer work around the Atlantic Yards project site has tripled in cost and is now projected to start this fall and last three years, Atlantic Yards Report reports. However, the buildings that need the increased capacity are expected to open next year—no answers to why the work was not started sooner.
---
Gowanus Arts Center: The newly renovated Bat Cave is getting ready to reopen as Gowanus Arts Center, Brownstoner reports.
---
Streets & Schools
Streetsblog studied data on nearly one million car crashes in New York City from July 2015 through November 2021. They found that on school days, streets near schools are more dangerous on average than other city streets. "During the 8 am hour, when hundreds of thousands of children stream into 1,600 city-run public schools, there are 57% more crashes and 25% more injuries per mile on streets near schools than on the city's other streets. This disparity largely disappears on days when schools are closed."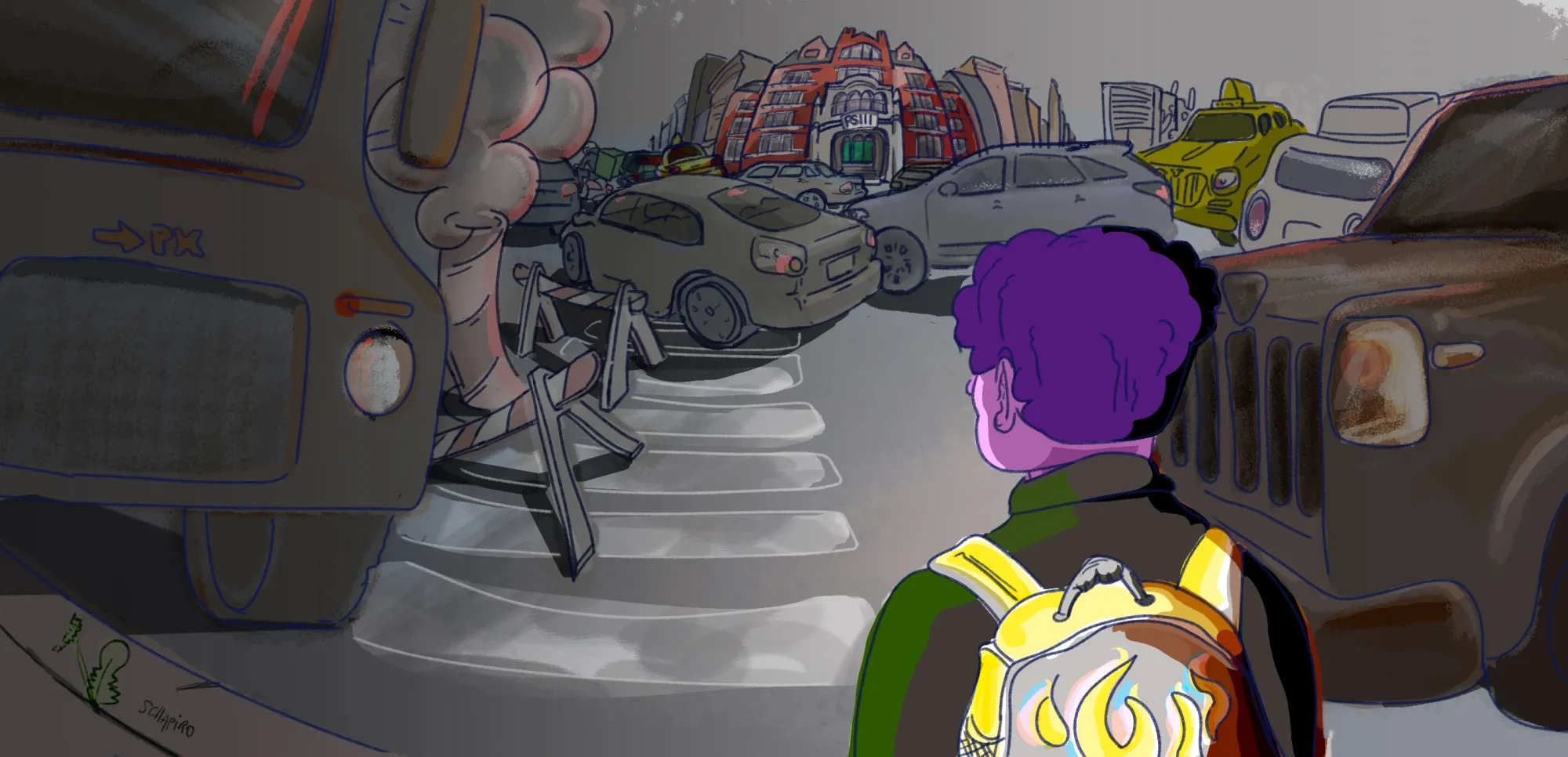 The most dangerous stretch in the city? Flatbush Avenue by Erasmus High School. "City data show there were 481 crashes and 224 injuries outside the campus in the period studied. More than 40 of those injuries were on school days from 7 am to 9 am and 2 pm to 6:30 pm — the most outside any school building in the city. Yet no major street safety improvements were apparent along Flatbush Avenue."
Open Streets: Borough President Antonio Reynoso and vice-chair of the Prospect Heights Neighborhood Development Council Saskia Haegens sat down with Open Plans Jackson Chabot to discuss what has made the Vanderbilt Open Street so successful and the challenges of expanding these programs across more neighborhoods.
---
Crime
Subway riders, in particular, were rattled by the Sunday's shooting on the Q  train as it was crossing the Manhattan Bridge into the city. Park Slope man, Daniel Enriquez, 48, was shot and killed in an unprovoked attack by Andrew Abdullah, who surrendered to cops a few days later - NYP has the details.
There was a rally in Flatbush on Sunday calling on the Mayor to do more to curb the shootings. In Flatbush, shootings are down quite a bit from where we were this time last year. The area is broadly covered by three precincts - 67 for East Flatbush, 70 for Flatbush, and 71 for PLG. As of May 22, across the three precincts, there had been 25 shootings (down from 38) where 29 people were shot (down from 42). There were 11 murders, one more than this time last year according to Compstat. Brooklyn-wide shootings are down significantly compared to last year, while all other crimes are up. The same trend is seen citywide.
Brooklyn District Attorney Eric Gonzalez announced on Monday that Larry Valdemar, 37, an off-duty police officer, had been arraigned on an indictment in which he is charged with attempted murder, assault, and other related charges for allegedly punching, pistol-whipping, and shooting a man outside of a lounge in Canarsie in April.
Mayor Adams promised that the Neighborhood Safety Teams would be different from the NYPD's old plainclothes units, but a roster compiled by New York Focus shows the same officers undergoing the training that worked on plainclothes teams.
---
History
Parts of Flatbush were designated Little Haiti a few years back to recognize the large Haitian diaspora that has settled there in the last 50 years. This week NYT published a long read on the history of Haiti, explaining in great detail - with receipts to show - why this state remains one of the poorest on the planet. A must-read (or listen) to understand the suffering of our neighbors. The link should be free to read.
A controversial street at the Fort Hamilton Army Base was renamed - General Lee Avenue is now John Warren Avenue to honor First Lt. John Earl Warren Jr., a Black Brooklynite who died saving others in Vietnam. NYT has more on who John Warren was. Stonewall Jackson's name will also soon disappear from the base to become the Washington Drive, and there will be no more streets named after confederate generals in Brooklyn.
Following a two-year hiatus, the New York Transit Museum is bringing back its beloved Nostalgia Rides this summer. Once a month, some of the vintage cars will be back on the tracks for special, ticketed journeys. This year, the museum will be rolling out 1930s R1-9 vintage train cars and the Standard Lo-V car, one of the first "low voltage" cars for the IRT dating back to 1916. (Bring a hand fan, as air conditioning wasn't piloted in subway cars until the 1950s.) The first one is on June 4, and you can find out what it felt like to go to Coney Island back in the day on July 10!
---
Food
Brooklyn Heights: Inga's Bar (66 Hicks Street) gets reviewed by NYT, with Pete Wells dwelling on their celery Victor salad and apple butter cake, remarking that the restaurant, which opened in March in the spot where Jack the Horse Tavern used to be, excels at charcuterie. The review is delightful, describing the space as "something like a tea salon where bohemians of the last century might have fed on cake and existentialism." But Grusbstreet was there first, wondering if gastropubs have finally arrived in New York.
Sheepshead Bay: NYT reviewed Lucia Pizza (2201 Avenue X/East 22nd Street) earlier this month, recommending all of their pizzas. Lucia is Salvatore Carlino's place. "Fresh white mushrooms are cooked and cooked until they taste dark and meaty. That whipped ricotta really is good. Then there are the torn basil leaves tossed on the pies when they leave the oven, along with fine threads of grated pecorino. These are the touches that lift up even the simplest items at Lucia, like the classic New York slice and the margherita, with its fresh mozzarella arranged over the sauce in concentric rings," Wells writes, suggesting Lucia may be the next Di Fara.
Prospect Heights: Patti Ann's (570 Vanderbilt Ave at Bergen)-  where the kids' menu is the only menu, Grubstreet writes - "The room is decorated with all sorts of antic schoolhouse touches (crayon-colored menus, chalkboards and maps on the walls, water-filled milk jugs at every table). The sturdy, wood-topped tables are the kind you might see in a kindergarten classroom, the menu is filled with kids' favorites (pigs in a blanket, macaroni and cheese), and even the $15 cocktails have been named (Field Trip, Ditch Day, Parent Teacher Conference) to evoke the kind of Ferris Bueller reveries we all remember (though possibly never actually experienced) back in high school."  Oh, but there is so much more.
Brooklyn Heights: The folks behind L'Appartement 4F have opened a brick-and-mortar bakery at 115 Montague Street. Brooklyn Eagle covered the opening. I hope that Back Alley Bread follows suit.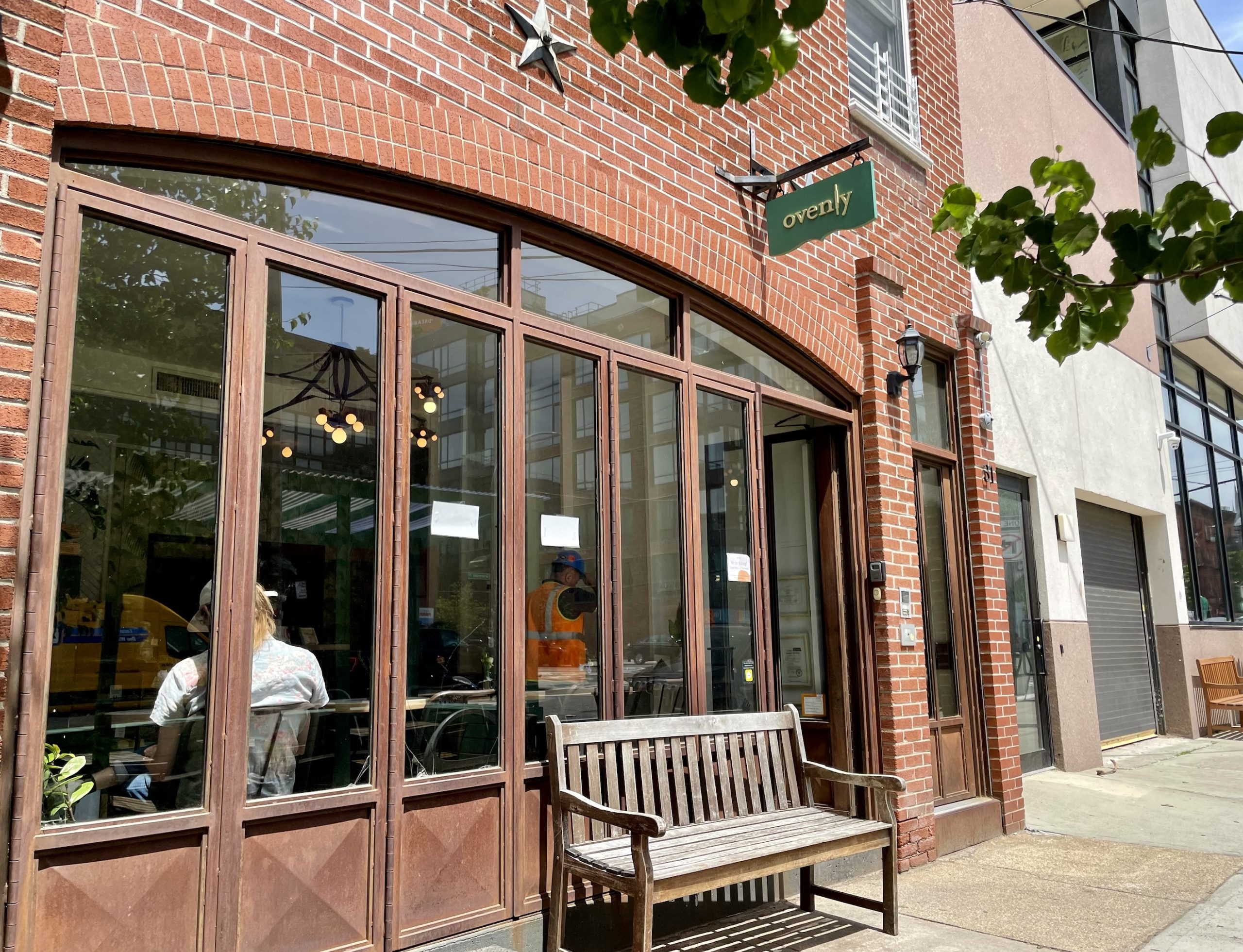 ---
Volunteering
With Pandemic support dwindling, many food pantries will need to rely on more support from their communities. The food pantry at St. Athanasius Parish is one of them. Located in Bensonhurst, it helped about 10 people a week before the pandemic, now they serve some 200 households ar their weekly distribution in the parking lot of St. Athanasius Catholic Academy, The Tablet reports, and are looking for "donations of cash and packaged food items, such as canned goods, cereals, and baking mixes," until they find other, more permanent sources of funding.