Openings and Closings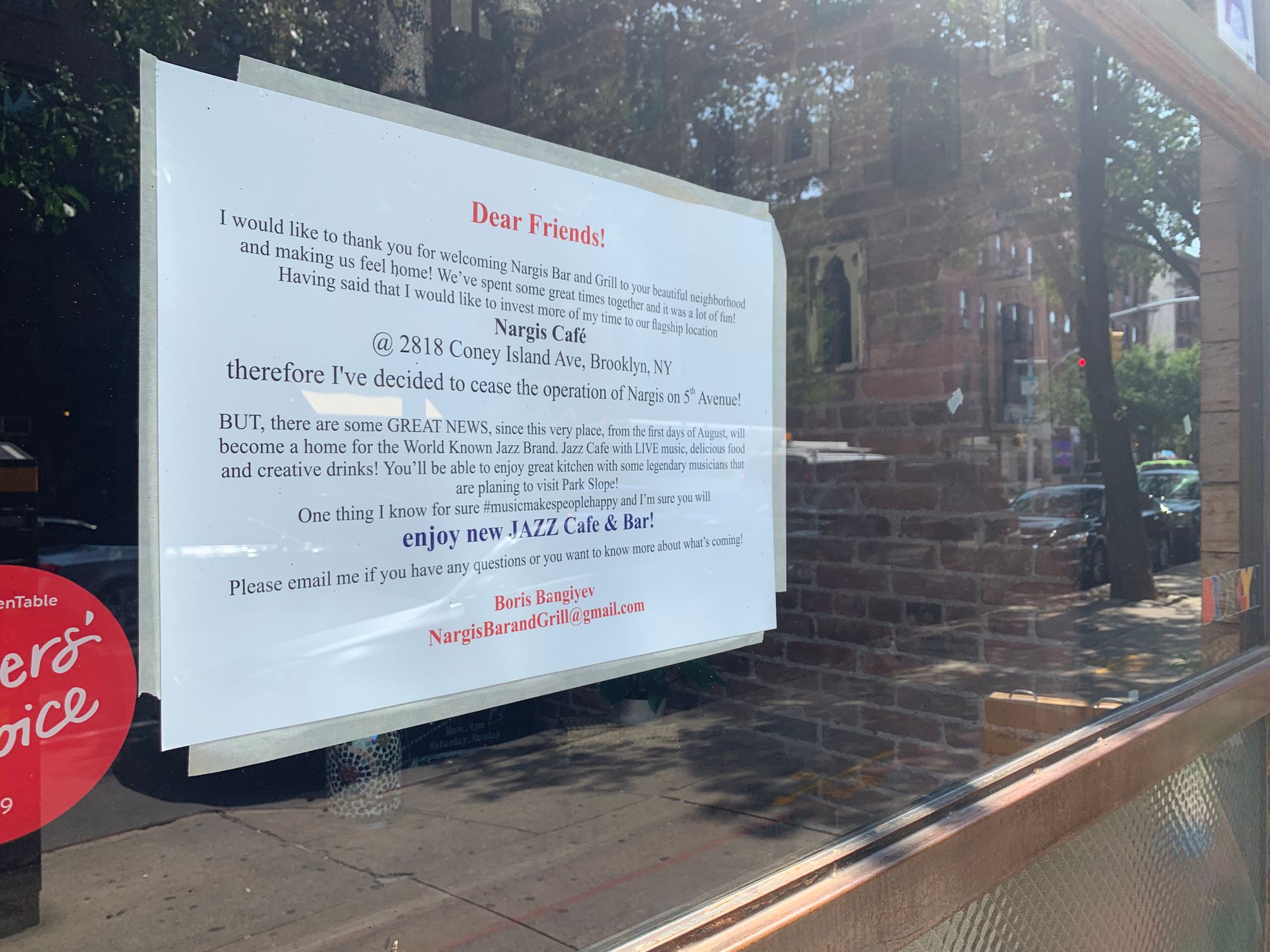 Welcome to another week of openings and closings around Brooklyn. This edition includes a new spot from a Michelin starred chef, the loss of a beloved pie shop, and new things to come for Park Slope's 5th Avenue.
Estuary
159 Bridge Park Drive, between Furman Street and Brooklyn Bridge Park.
This new restaurant from Michelin starred chef Danny Brown is the latest in a crop of new spots at ONE°15. Estuary is on the water and has a private patio off of Brooklyn Bridge Park. They will be serving "quality bistro fare", including three variations on tartare, sweet and savory tarts, and a raw bar, according to a release. The space is large, at 150 seats, and is now taking reservations. Lunch and brunch are still to come.
Ceremonia Bakeshop
743 Driggs Avenue, between South 2nd and South 3rd Streets.
This new Williamsburg bakeshop opened tot he public last Wednesday. They are serving avocado toasts, cakes, cookies, coffees, and other dishes. The space is small and cozy, with pleasant mint-colored walls and cute dishes. The spot already has over 12,000 Instagram followers, and their page features shots of the food and their opening process.
Cena
601 Greenwood Avenue, between Prospect Avenue and East 7th Street.
New Windsor Terrace Mexican eatery finally opened to the public for an extended soft opening on July 12th. They are still serving a limited menu, but will soon have breakfast tacos, sandwiches, smoothies, and parfaits in the mornings, as well as a more extensive dinner and lunch menu. The space is big and airy and serves margaritas made with agave wine, beer on draft, and other unique drink options.
587 Manhattan Avenue, between Nassau and Driggs.
This Greenpoint based wine bar opened its flagship location on the first of May. They serve exclusively California wines, as well as a California inspired menu, which includes dishes such as crispy chicken legs, olive oil cake, and chicken liver mousse.
131 5th Avenue, between St. Johns and Sterling places.
The Philly Pretzel Factory is coming to 5th Avenue in Park Slope, replacing a former laundromat space, Patch first reported. The shop, famous in Philadelphia for its unique figure-eight soft pretzels, is the first to be helmed in Brooklyn, but will likely be followed by other borough locations. No word on an opening date yet- their website simply says "coming soon!".
Pizette
191 Graham Avenue between Scholes and Meserole streets.
Bushwick Daily reports that Pizette has opened softly to the neighborhood. The restaurant serves all kinds of pizza, as well as dollar oysters and a full cocktail list. They also serve brunch, featuring classic like eggs Benedict and ricotta pancakes, and pizzas in both personal and sharing sizes. It is helmed by restauranteur Steve Shake, of Mominette and Bushwick Bakery.
Closings
Rzeszowska
948 Manhattan Avenue, between Java and India streets.
Greenpoint establishment Rzeszowska closed after 34 years in the community, Greenpointers reports. Neighbors found a sign on the door, wishing them all the best and thanking them for their years of trust and cooperation. No explanation yet for why the spot is closing.
Nargis Bar and Grill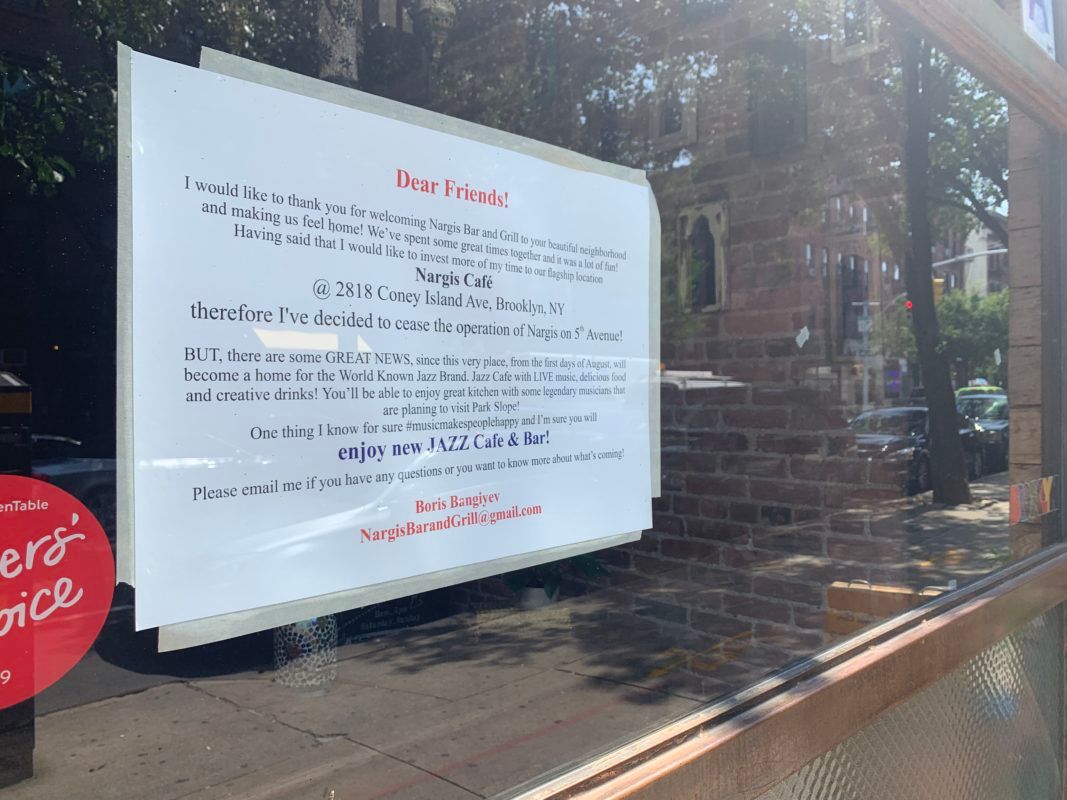 155 5th Avenue, between Lincoln and St. Johns places.
Nargis Bar and Grill, the Uzbek restaurant on Fifth Avenue in Park Slope, will also be closing. A note was found on the door alerting neighbors to a new tenant, who will apparently have live music. According to the sign, the Fifth Avenue space will become home to a "world famous jazz band", and now be a jazz club, potentially called JAZZ Cafe & Bar. They thank customers for their years of patronage and invite them to visit Nargis at their Sheepshead Bay location.
665 Vanderbilt Avenue between Park and Prospect places.
Prospect Heights' premier spot for pies, despite many attempts at staying open and lots of community support, is closing. Owner Meghan Daly wrote on Twitter, "It's truly been a privilege sharing my pies with you all, and I will miss it terribly. Please come by for one last slice before Saturday" [July 27], and linked to this public letter of goodbye.
754 Metropolitan Avenue, between Graham Avenue and Humboldt Street.
Eater reported yesterday that the Williamsburg bagel shop, most famous for their rainbow bagels, was seized by the state and closed due to unpaid taxes. According to them, the shop owes "over $887,000". They posted news of the closing to their 116,000 Instagram followers.
565 5th Avenue, between 15th and 16th streets.
Park Slope gay bar Excelsior will be closing next Wednesday. The owners cited a limited lease, rising property taxes, and liquor license expenses as reasons for the closing. They've been a part of the scene on 5th Avenue since 1999, receiving write-ups in Time Out Magazine and The Village Voice when they first opened. "We're very proud that we've been part of the community for 20 years and watching it grow and change, and that we were able to give people a place that they could feel safe at all times," partner Mark Nayden told Bklyner.