Excelsior Exits 5th Avenue After 20 Years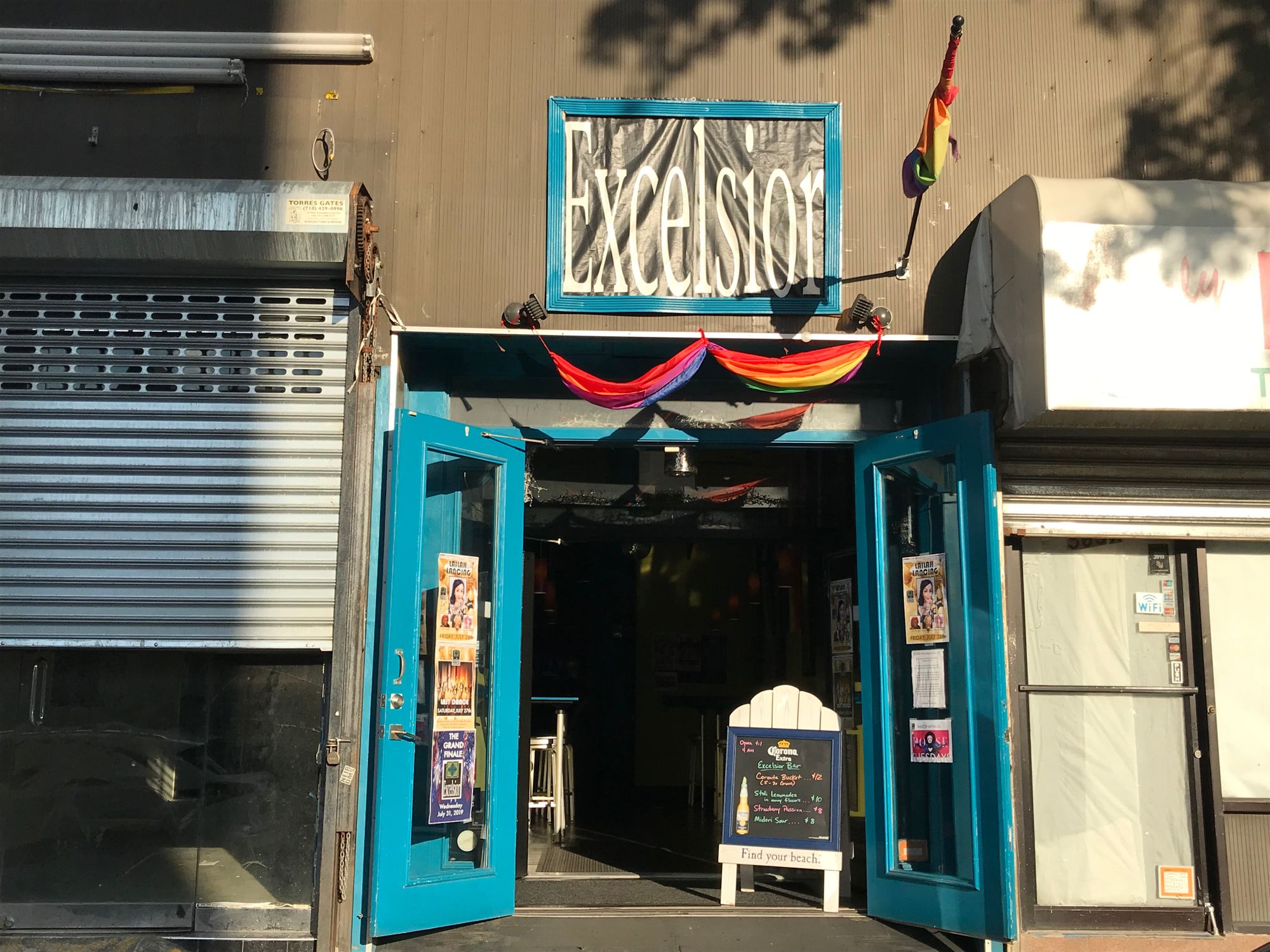 PARK SLOPE – After twenty years on 5th Avenue, neighborhood gay bar Excelsior will pour its last cocktail next Wednesday, July 31.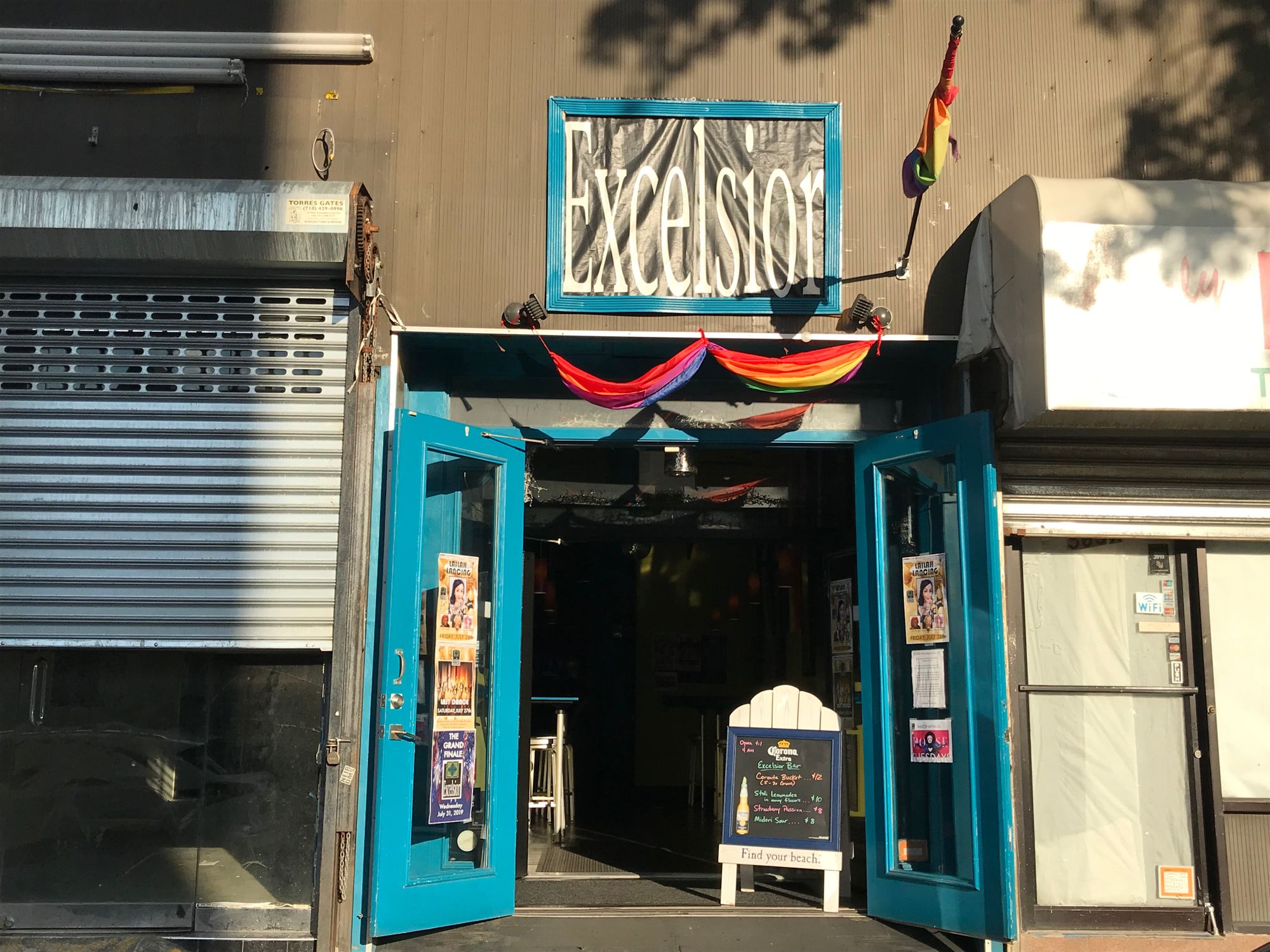 Partners Mark Nayden and Richard Kennedy opened Excelsior in 1999 in a vacant storefront at 390 5th Avenue, in a 700-square-foot space with a large back garden. "That was a rarity at that time. That was a big deal," Nayden said of the outdoor space. "There was a substantial gay and lesbian population and there was a void in the market," Nayden replied when asked why he and Kennedy selected Park Slope for their business. "There was a need."
Before opening their own business, Nayden worked as a set and costume designer and Kennedy was in retail. The two had helped open other restaurants and bars including Carrie Nation, "the previous incarnation" of Ginger's Bar at 363 5th Avenue.
"We really wanted a place for everybody to be comfortable," Nayden explained of their concept. "It didn't matter if you were gay, straight. The idea was that it was an extension of everybody's living room."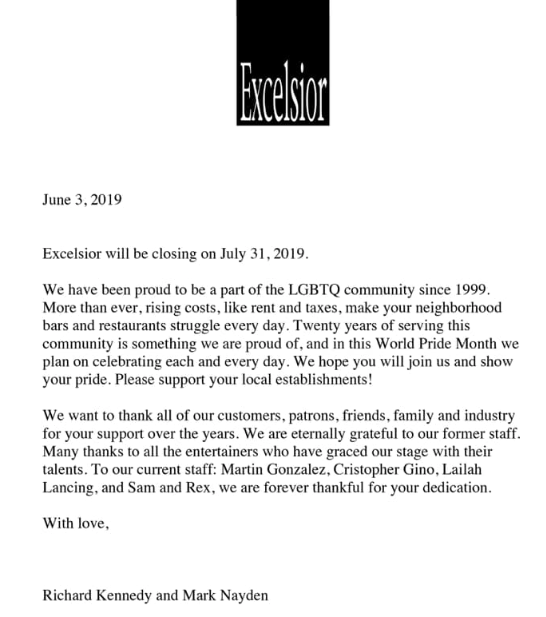 The bar was an instant success. "We had a fantastic reception," Nayden recalled. Time Out Magazine and The Village Voice included Excelsior in their best bars in NYC lists. "We were written up in magazines all over the place. It was a very good reception."
Nayden notes that the nightlife industry has changed significantly since the late 90s. "I think that every bar has witnessed it, be they gay, straight or otherwise, that social media has definitely changed the way people interact or meet," he said. "The purpose of going out was to socially engage with other people and to meet people, as opposed to just meeting them online…. Social media has changed that a lot. People want stuff instantly and then they move on."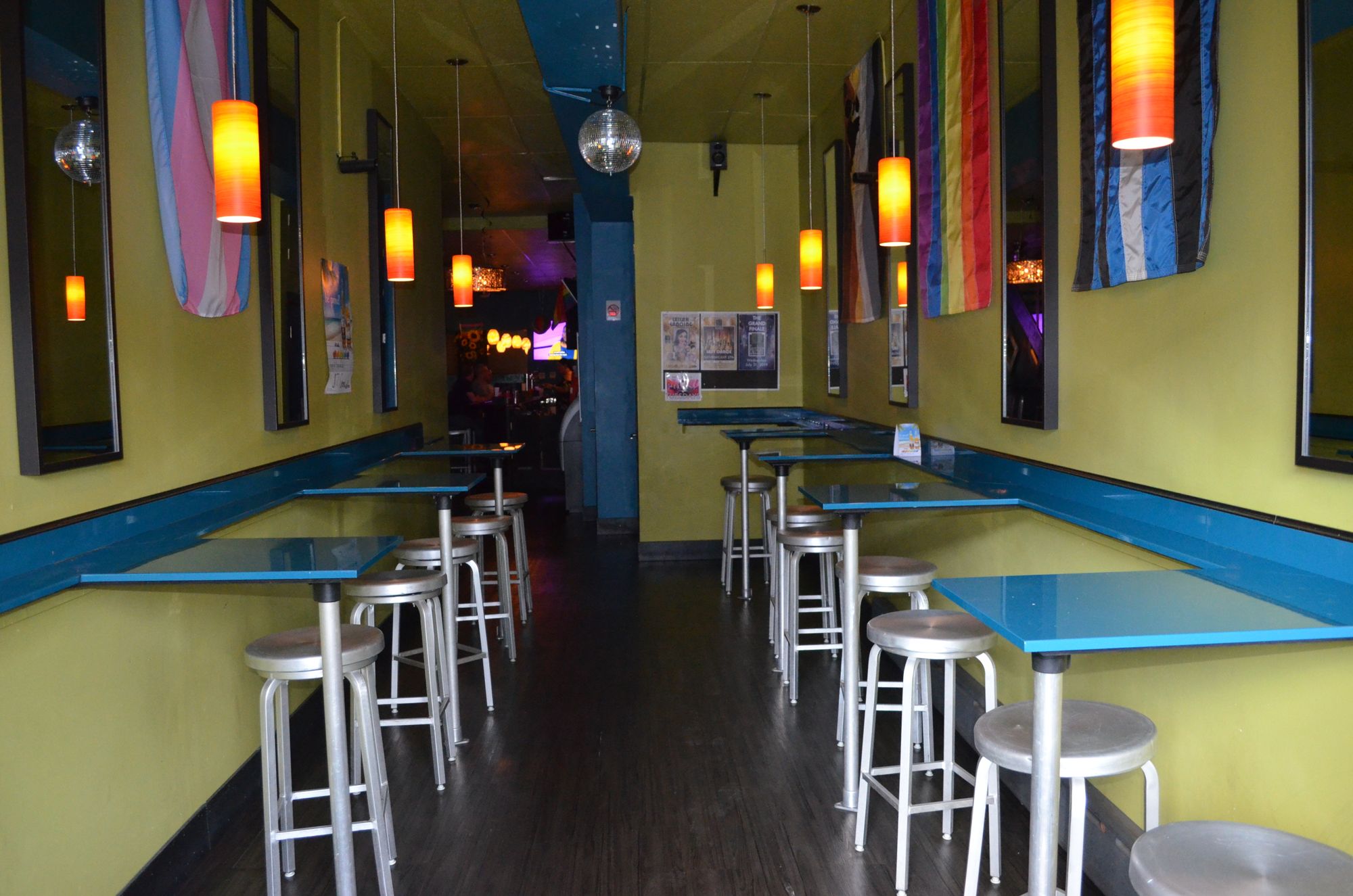 Back when Excelsior debuted, people wanted a place to go to where they could feel part of a community. "In 1999, people loved the fact they could engage and it was a family," Nayden said. "I still feel that way about what we have at Excelsior. There's definitely a core of people that you feel are family."
Nayden and Kennedy cultivated a familial vibe at their venue among their many regulars who have become close friends over the years, as well as their employees. "We've had a fantastic staff who truly I consider more than employees, they're family," Nayden said.
"We're included in everything, like holidays, we've always had invitations to their houses, it's been very inclusive," said bartender Lailah Lancing who's been with Excelsior for four years. "From the beginning this was not like 'you're working here,' it was like 'you're part of this family.'"
"I've been bartending for over 20 years and this, out of my entire time, has been my favorite job, hands down," she added. "So the fact that this is coming to an end is really bittersweet.
"I have met some amazing people, super warm, friendly. I've shared a lot with a lot of people," Lancing continued. "I really would like to thank Richard and Mark for making a place where so many people felt comfortable and everybody's welcome—gay, straight, lesbian, trans."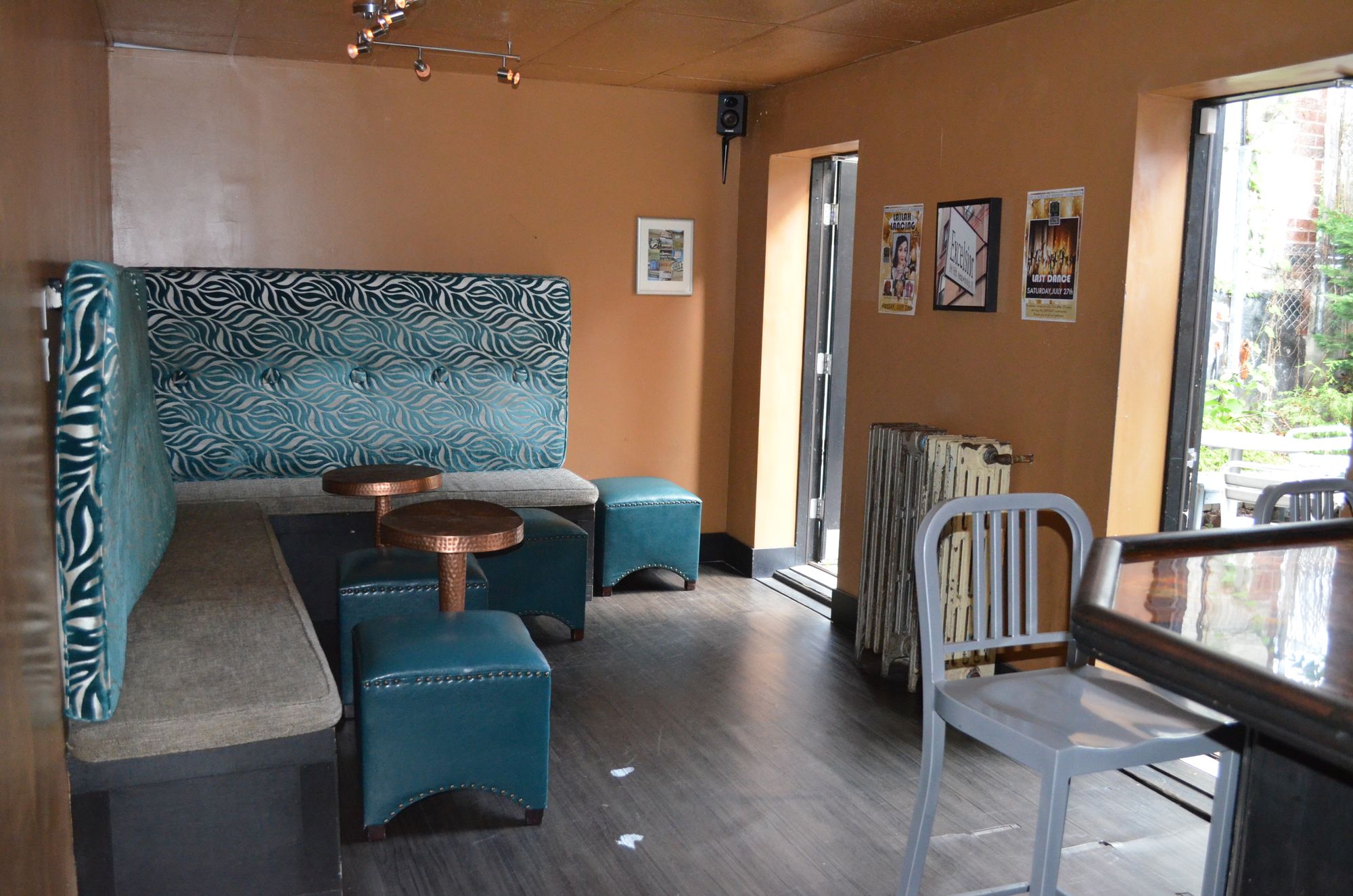 Nayden and Kennedy, who have been together for 29 years, married in 2014. The couple had their wedding ceremony at Stone Park Cafe (324 5th Ave) with friends and family and had an after-party at Excelsior at 390 5th Ave—just a few weeks before closing the old location.
"We were there for 15 years, our lease was coming due that year. We started negotiations with the landlord to extend our lease. He had voiced some interest that he wanted to sell the building," Nayden recalled. "We came to a verbal agreement that he was going to give us a five year extension, and then we went on our honeymoon and came back to a voicemail saying that he had sold the building and that we had to get out."
The newlyweds signed a five-year lease on their current location, 563 5th Avenue, in October 2014 and after extensive renovations, reopened in August 2015. With double the space and two levels, the business owners were able to give their customers what they wanted in the new venue. "They were looking for more performances and a variety of spaces," Nayden said. "They wanted to be able to have a conversation there and have an entertaining area and have a dancing area…. We had a bar upstairs and a bar downstairs, we had the capability of doing private parties upstairs, and also doing shows—karaoke, drag shows, live singers, or comedy. We ran the gamut."
With their current lease at 563 5th Avenue now coming to an end, Nayden said that the landlord was only willing to renew for one more year. "The rent was becoming prohibitive," Nayden noted, and property taxes on the building, which the business owners contribute to, have "gone up exponentially in the 5 years." Along with having to renew their liquor license for two full years while their lease is good for only one more, "expenses were just adding up," Nayden said, so he and Kennedy decided "this is the time we should bow out gracefully."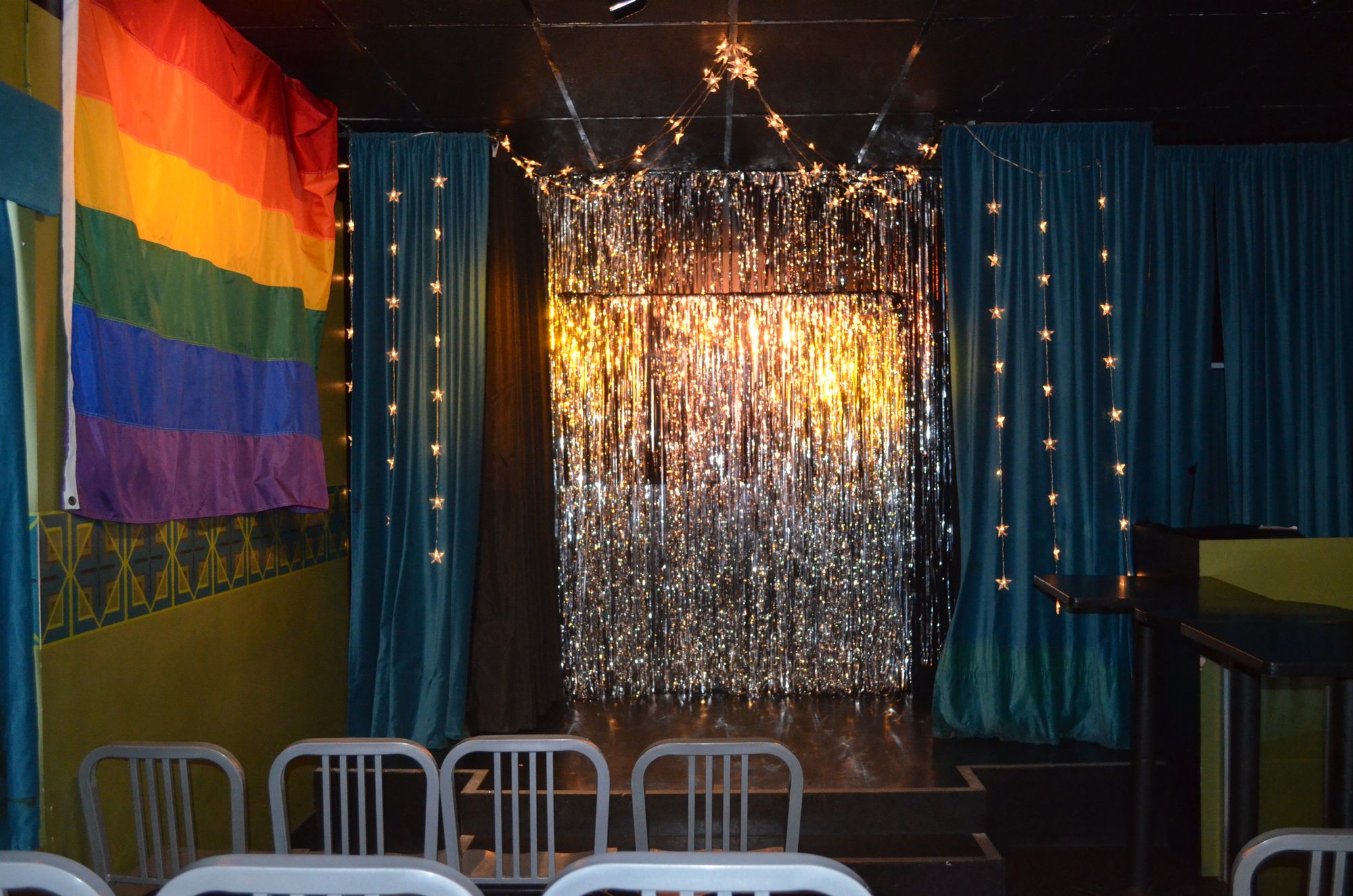 Halloween has always been a highlight at Excelsior over the years. "Every one of our Halloween contests was pretty memorable. People would come from all over for the contest," according to Nayden. The theme for one year's contest was "Gays in History." "I was Elton John and Richard was David Bowie. We had a Freddie Mercury, a Leigh Bowery, a Divine. Amazing costumes," he remembers. "Bloody Red Carpet" was the theme for another year. "We introduced people in Hollywood/Halloween costumes on the red carpet," Nayden said. "I was Joan Rivers."
Brooklyn Pride is another favorite memory for Nayden. "Our Brooklyn Pride celebrations over the years have been memorable also. Watching that whole event grow into what it's become, from when it was something quite small, it's wonderful, and it's something we can all be proud of," he said.
The year following the 2016 Pulse shootings in Florida, Excelsior hosted a candlelit vigil to honor the 49 victims. "People just stood and talked for hours about what Excelsior meant to them in terms of it being a family community," Nayden said. "To me, that's the most important thing about why we opened Excelsior, that we created a family, a safe place for people to be themselves."
Tommy Flowers, as he is known at Excelsior, has been a regular since it first opened 20 years ago. "I had my 45th birthday there, my 50th birthday there," he said over a beer. He visits the bar at least twice a week.
"They're going to go on to whatever they must do," he said of Nayden and Kennedy. "They're being realistic. Money is a factor…. This whole neighborhood is dead. The rents are getting totally outrageous. If landlords were a little fairer, they'd still have good businesses."
"The old Excelsior space is still vacant," Lancing added from the other side of the bar.
"The people who work here, the people who come here," are what keep Flowers coming back. "The people who own the place, Richard and Mark, are really, really nice people, and the whole staff here."
"We have a humungous regular base," Lancing said. "When I first started working here, my big worry was not bartending my first night, but memorizing the names of all the regulars."
Flowers, a florist—hence his nickname, said he was honored to have designed the flowers for Nayden and Kennedy's wedding. "We've had the laughs, the cries. We've had it all."
"We're very proud that we've been part of the community for 20 years and watching it grow and change, and that we were able to give people a place that they could feel safe at all times," Nayden said.
The business owners are not yet certain of their future plans. "We need to let some of the dust settle and figure out things," said Nayden. "We're going to take the time to clear out the space in the next two months and figure out what the next stage of our life is."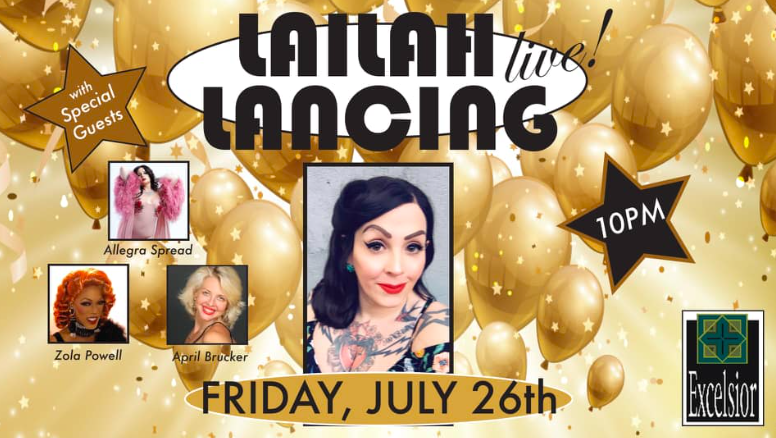 One thing for certain is the Excelsior farewell celebrations begin tonight, July 26, with a show hosted by Lancing with guest performers starting at 10pm. A dance party is happening on Saturday night starting at 8pm, while The Grand Finale on Wednesday night will likely be more low-key.
"I'm anticipating that Wednesday, the final day, will be a lot more reflective," said Nayden. "We want to be there and share with the community as much as we possibly can, but who knows? That could turn into a big dance party too. And I wouldn't be opposed to that whatsoever."