Cena Opens to Eager Crowds in Windsor Terrace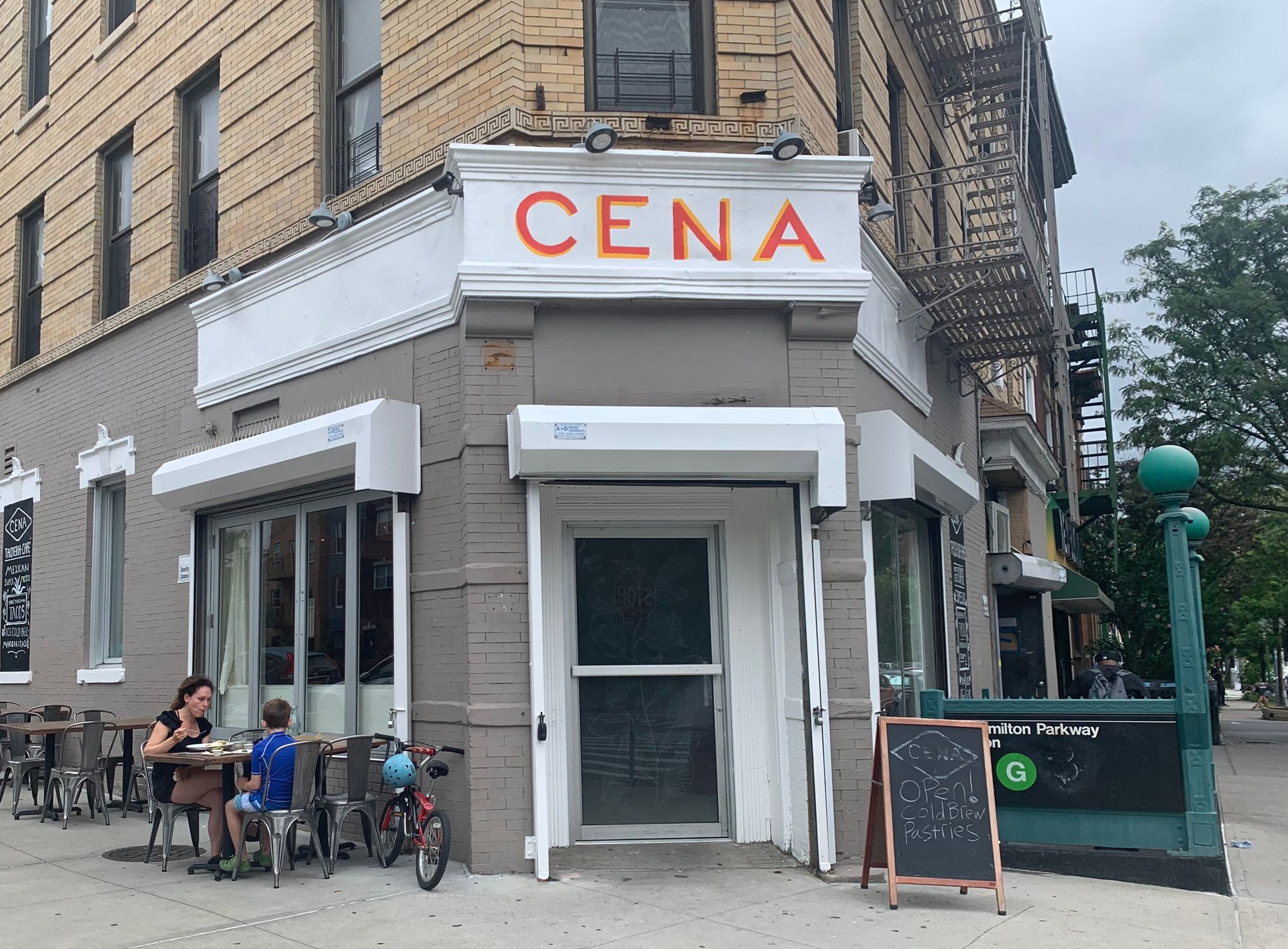 Cena, a new Mexican eatery and coffee shop in Windsor Terrace, opened on July 12th and neighbors could not be more excited.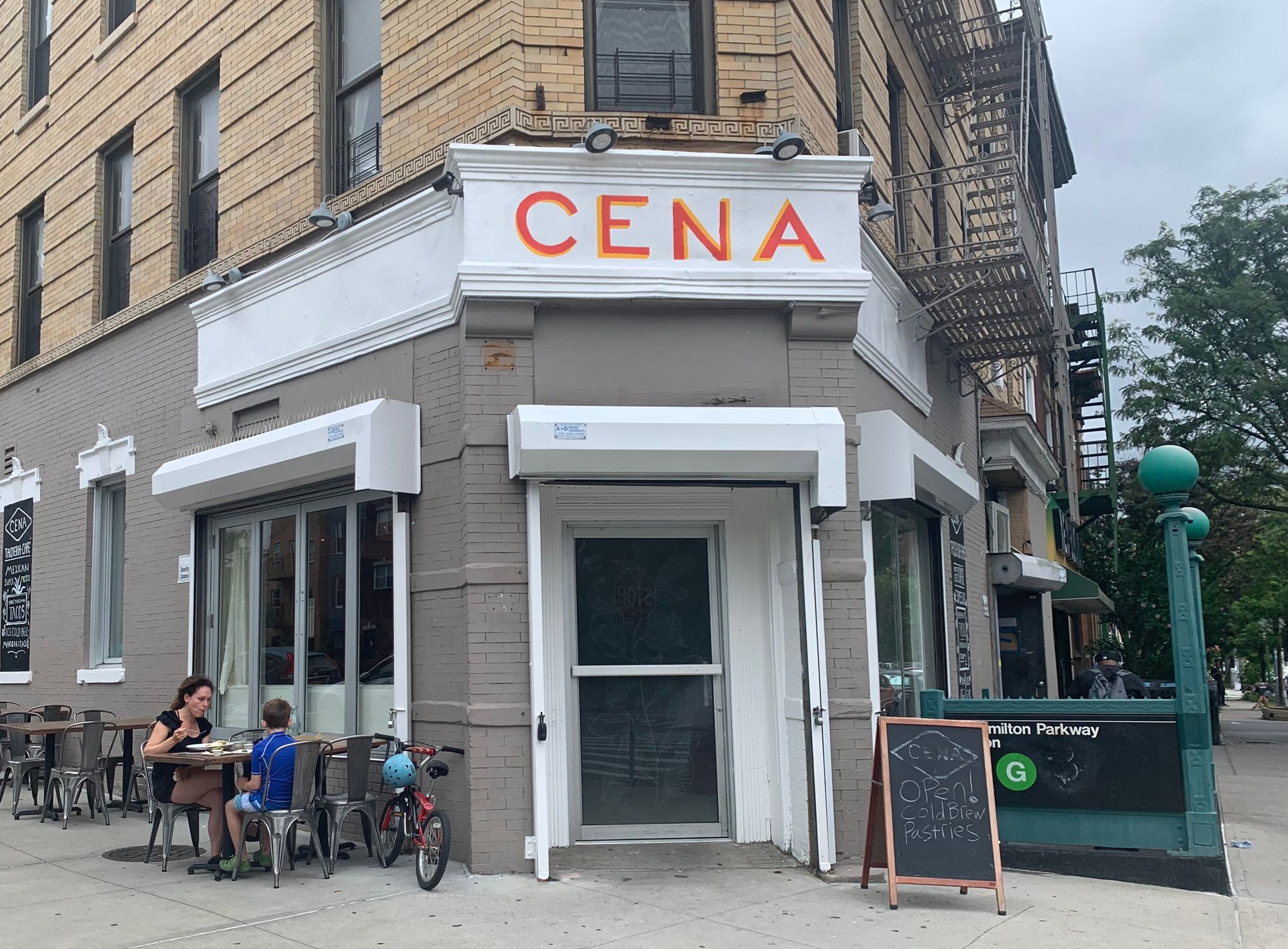 "That first weekend was bananas. We put it out on Instagram – 'We'll be open today at noon'," Aron Watman, one of the partners at the new venture, said recalling that Friday. "Everyone [was] already outside. When we opened the door at noon, every table was full. We ran out of food by about six o'clock, so we had to close. Then we reopened on Saturday at two and, same thing. People were here waiting, every table was full, and we ran out of food that day at about 8:30 or so. So, [we] sold out both days," Watman said.
The restaurant is still in its soft opening phase, serving a limited menu, but hopes to be fully open by the end of the summer.
Watman is not a stranger to ownership, and also owns The Folly in Soho, Hill & Dale, and The Brooklyneer in the Village – not to be confused with our paper, he laughs. Cena is the first venture that the three partners, Juan Gomez, Aron Watman, and Oliver Rivera, have taken on together.
Gomez worked as a barback and bartender at Watman's bar The Brooklyneer. Watman says the pair have known each other for over nine years and remained in touch. When Watman heard Gomez and Rivera, who are cousins, were looking to open a Mexican restaurant in Queens, he stepped in.
"I said to [Gomez], 'Hey, you want to do a Mexican restaurant in Queens? Don't do it in Queens, I've got a better location'. I brought this spot, and certainly made him a believer out of how busy it's been," Watman, who lives in the neighborhood, said.
The corner space in which it resides, formerly Brooklyn Commune, was always part of a two-building set-up, with a single kitchen in the middle forcing one of the two spaces to be closed while the other was open. When Watman first asked the landlord about this, he wouldn't budge to give them the single corner space. Then, the landlord realized that he had hosted his holiday party at Watman's East Village bar Hill & Dale, and had a change of heart.
Juan Gomez has a brother who is in construction, and Watman's wife is a designer, both of which allowed the space to be able to come together.
"We didn't do this thing for very much money. Juan's brother did all the construction and my wife did all the design. We did a lot of the construction ourselves, like the painting, putting together the furniture. I hung all these plants in here, and all the light fixtures. It was very much a 'do it yourself' restaurant," Watman said.
Cena, which is directly next to the Fort Hamilton Parkway F and G stop, remains a coffee shop in the morning, and will soon serve breakfast tacos, smoothies, sandwiches, and parfaits in addition to the Colson pastries and full coffee service it has in the mornings now.
Their soft menu focuses mainly on appetizers and classic tacos, but there is more in the works.
"We'll have enchiladas and chili relleno and fajitas and some other more creative dishes. There will also be salads and stuff like that, some healthy and vegetarian-friendly options. Then once we get those things kind of settled, we're going to try to open up for brunch on the weekends," Watman says, listing expected dishes like mexican french toast, huevos rancheros, and chilaquiles.
The restaurant is just wine and beer, but serves margaritas made with agave wine, which taste exactly the same, Watman says. Their list includes eight beers on tap, with a Cena Pilsner and Pacifico returning to the running soon. There are 50 seats inside and 16 outside, and the space is family-friendly with a kid's play corner and upcoming children's menu.
The community so far has been extremely supportive, Watman says.
"Everyone is just overwhelmingly excited, people kept coming in while we were building it and just being like 'when are you guys opening, we're so excited'. And once we got open they just couldn't wait to get in here and just try it. They're really supportive, and I know we have a lot of kinks to work out with the menu and with the service and the staff but they've been really patient," Watman said.
The chef, Julian Gomez – of no relation, has also received positive feedback from those visiting the restaurant.
"The most important thing is that you work together and think about other people. That's most important. Two nights ago [a customer] was telling me, 'thank you for coming to this area,  the food is so great'. I feel great, but it's not me. I have my team. It's not only me, it's my team too," Julian said.
Cena is located at 601 Greenwood Avenue, between Prospect Avenue and East 7th Street. They are open Monday-Thursday from 7:00am-11:00pm, Friday from 7:00am-12:00am, Saturday from 10:00am-12:00am, and Sunday from 10:00am-11:00pm. They will soon be available on Caviar and Grubhub for delivery. You can find them on Instagram, @cenabrooklyn.