Openings and Closings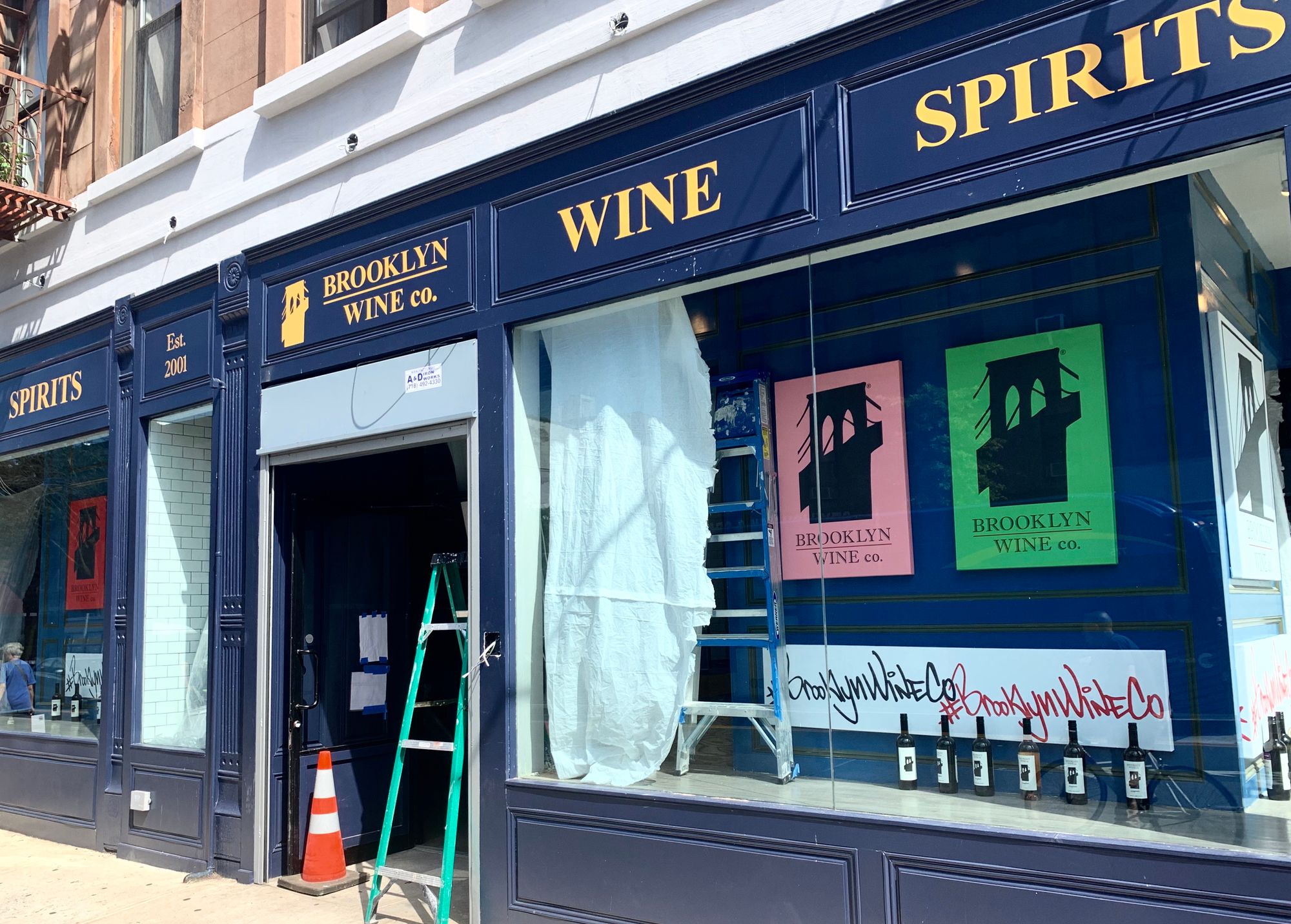 This week's openings and closings bring lots of new finds to Williamsburg and food halls, and pizza (we aren't complaining). Say goodbye to a favorite Bushwick vegan bar, and welcome new Latin spots.
Park Slope
Brooklyn Wine Co.
205 Fifth Avenue, between Union Street and Berkeley Place.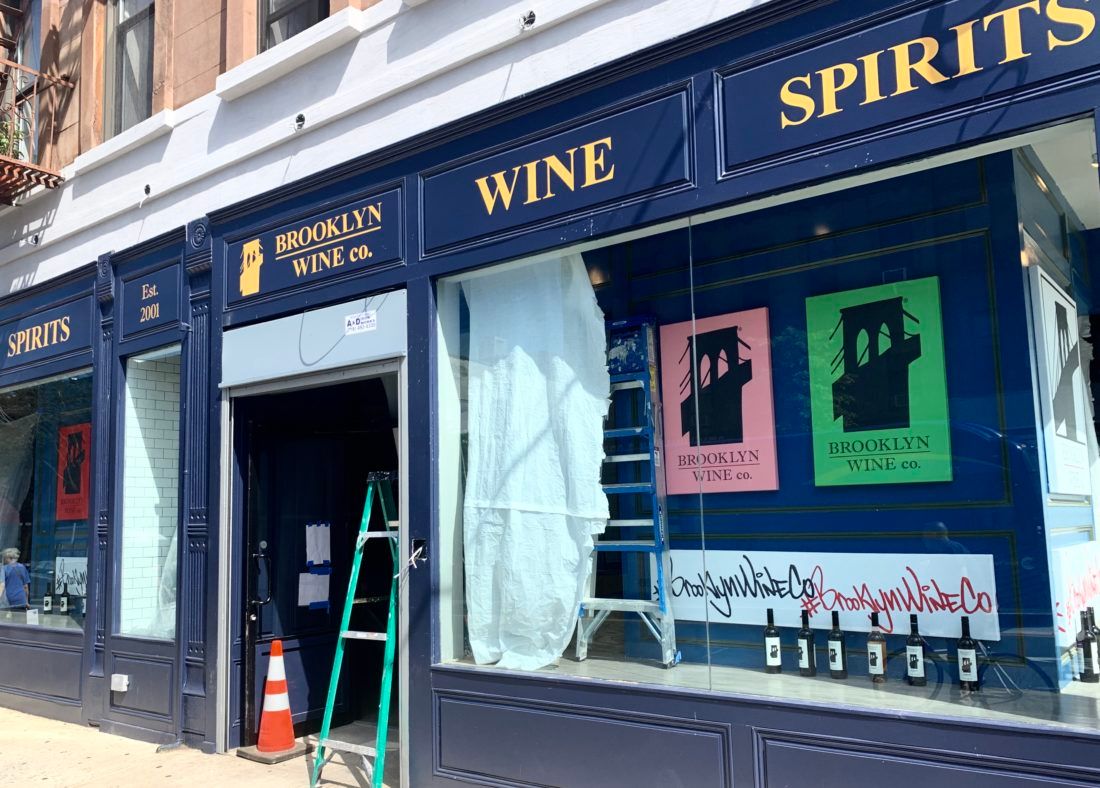 The navy blue storefront and colorful window displays popped up in Park Slope this month. The new location will be home to Red, White, and Bubbly under a new name, as it moves just a few doors down the street. A peek through the window shows rows and rows of wine storage, in a space that is one of the biggest on the block, and definitely an upgrade for the shop.
Miss American Pie
86 Fifth Avenue, between Prospect and St. Marks Places.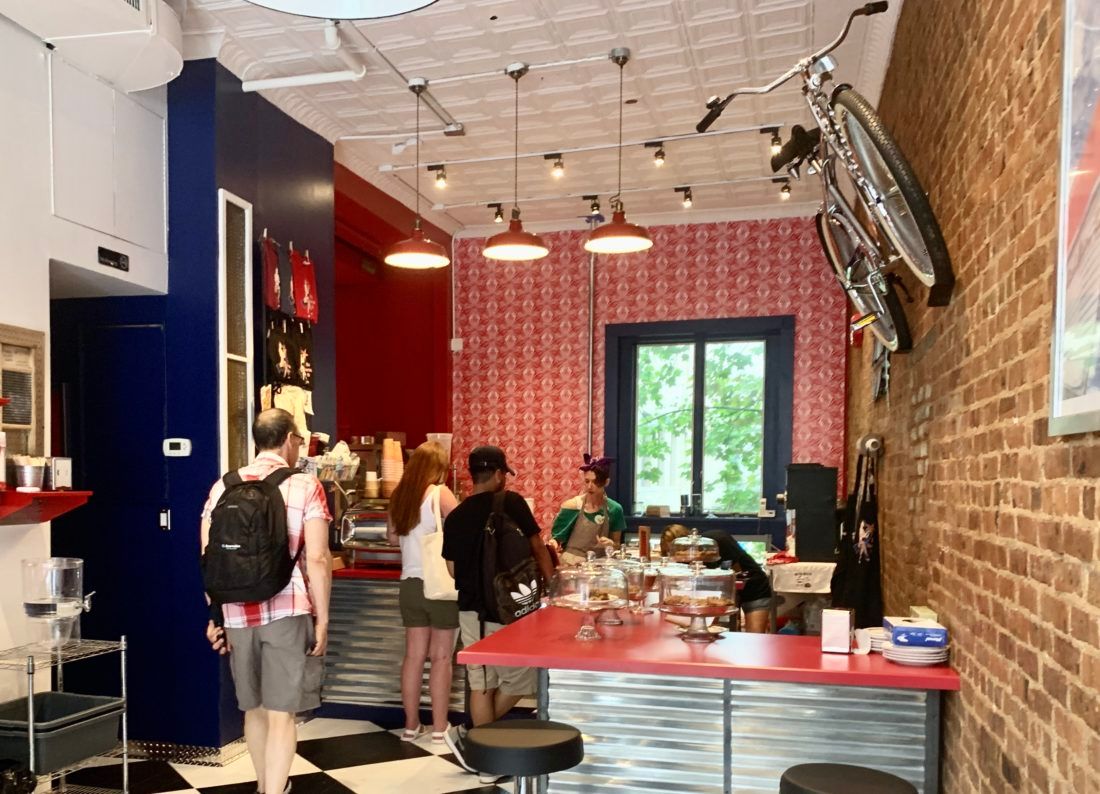 This online-order-only business turned brick and mortar on August 18th, offering both sweet and savory pies. Owner and operator Lindsey Hill told Bklyner that she has big plans for the future of the space, potentially including cooking classes, ice cream socials, and monthly meals for the homeless. When we visited we loved the chili casserole and the signature pie, and more options are still on the way as Hill gets into her groove.
East Flatbush
Lips Cafe
1412 Nostrand Avenue, between Martense Street and Linden Boulevard.
Mother-son duo Jamane and Donna Weekes opened Lips Cafe to the public on Monday, August 26th. The coffee shop, housed on Nostrand Avenue, serves Brooklyn Roasting Company coffee and Brooklyn Tea, as well as Dough donuts and Caribbean dishes like salt fish roti. In the future, they hope to apply for a wine and beer license. Art enthusiast Jamane has big plans for the space as a hub for creatives, and his mother, the designer behind Ethel Fashions, will sell her pieces at the shop as well.
Downtown Brooklyn
Norm's Pizza
345 Adams Street, between Brooklyn Bridge Boulevard and Pearl Street.
The team behind Midtown's Upside Pizza will be opening this new "little brother" spot in Williamsburg in early September. According to a release, the interior of the space will take inspiration from the 60s and 70s, with "old-school formica counters", "pegboards", and a "fluorescent-lit menu board". Upside Pizza gained notoriety when it first opened as a result of the partners, brothers Eli and Oren Halali, who own the dollar-slice joint 2 Bros. They will also be partners at Norm's, as the group branches out into the borough.
Brooklyn Heights
San Blas Latin Cuisine and Cocktail
140 Montague Street, between Henry and Clinton Streets.
Montague Street has gained a new Latin restaurant that combines elements of a variety of cuisines. They are hoping to get a liquor license any day now and told Bklyner that they plan to have live music, art, and other cultural events in their second-floor space. The menu includes mofoguitos, arrepitas, and mofongo de camarones. The highlight of the location has to be the full-length windows at the front, overlooking the street and perfect for people watching while you slurp your soup.
Bed-Stuy
Greenberg's Bagels
1065 Bedford Avenue in between Greene and Lexington Avenues.
The North 3rd Street Market vendor Greenberg's Bagels is planning it's first solo store in Bedford-Stuyvesant this fall. According to a release, co-owner Julain Cavin hoped to use the market as an "incubator" for his menu, ideas, and concept, to see what worked well before branching out. The shop serves bagel classics like bacon egg and cheese, lox and cream cheese, and variations like the jalapeno cheddar cream cheese. The Williamsburg location also collaborates with it's "booth neighbor" Di Farra, to make pizza bagels.
Williamsburg
Sushi on Jones
97 North 10th Street, between Berry Street and Wythe Avenue.
Sushi on Jones, known for its 30-minute omakase menu, is opening a Williamsburg location this November. This will be the restaurant's first-ever full-service location, with a 40 seat dining room and 18 seat bar. The menu, designed by Corwin Kave, the executive chef, will include tuna belly katsu and Bobo chicken yakitori in addition to their classic 12-piece, 30-minute omakase tasting for $58. The location will also have a full cocktail program.
Carneval Brooklyn
507 Grand Street, between Union Avenue and Lorimer Street.
Carneval had their grand opening event in Williamsburg on August 8th, The Infatuation reported, bringing a new option for Latin fusion cuisine to the neighborhood. According to their website, the eclectic menu is inspired by carnivals from all over the world and features dishes like clams casino, empanadas, and Chinese rice. Carneval also serves a pre-fixe brunch menu and a full cocktail list.
Montesacro
432 Union Avenue, between Devoe Street and Metropolitan Avenue.
This Williamsburg pinseria opened in June. They serve modern takes on the traditional Roman pinsa, a type of flatbread, with flour imported directly from Rome. The menu also features pasta, meat and cheese boards, and a variety of starters including buffalo mozzarella and tomato basil rice croquettes. They serve brunch, lunch, and dinner in their modern space, which features a skylight and a long bar.
Amor y Amargo
188 Havemeyer Street, between South 3rd and 4th Streets.
Eater reported that this East Village cocktail bar is opening a much larger location in Williamsburg the first week of September. This new location will have 24 indoor and 10 outdoor seats, and will serve a "mostly new menu", according to the report, as well as some food.
Sunset Park
Tiger Sugar
5903 8th Ave, between 59th and 60th Streets.
This new Sunset Park bubble tea shop had their grand opening on August 18th, and was met with long lines, according to multiple Yelp reviews, tweets, and YouTube videos. The shop is famous in some circles for its brown sugar bubble tea, and is operating out of a small storefront. Their Flushing opening earlier this year drew similar crowds and long waits.
Sahadi's
Sahadi's Industry City, 34 35th Street at Third Avenue
Sahadi's is opening their second location this Thursday, August 29, at Industry City, New York Times reports, noting it will also have "a bar and cafe serving mezze like falafel and grilled shrimp, with Lebanese and Moroccan wines and beer and a chef, Alexander Dinnerstein, in charge."
Renegades of Sunset
254 36th Street, between 2nd and 3rd Avenues.
Industry City Food hall got a new vegan eatery this August. Renegades of Sunset features dishes like "The Renegade, with a beet & mushroom patty, mac and cheese with nut-free "cheeze sauce", and a "cheezesteak" made with seitan steak. According to their website, everything they serve (but the bread) is made from scratch.
Prospect Lefferts Gardens
Amy Thai Bistro
545 Flatbush Avenue, between Lincoln Road and Maple Street.
Flatbush Avenue's latest Thai restaurant opened on August 9th. Their modern space features light yellow booths and stylish blue chairs. Their menu features Thai classics, like tom kha soup, pad thai, and pad see yew, as well as mocktails like virgin Pina Coladas and lychee lavender lemonade. They deliver and are open for lunch, brunch, and dinner.
Carroll Gardens
Mama Capri
247 Smith Street, between Douglass and Degraw Streets.
This new Carroll Gardens spot features a healthy take on Amalfi coast cuisine, serving items like homemade pastas, stuffed calamari, and sauteed eggplant. They opened in early August, The Infatuation reported, and occupy a brightly colored space reminiscent of their coastal inspiration, featuring brick accent walls and blue chairs. The space also boasts a sunny backyard, complete with string lights and even more blue furniture.
Red Hook
HoeK Brooklyn
117 Ferris Street, between Coffey and Van Dyke Streets.
Red Hook's newest pizzeria, HoeK Brooklyn, opened on August 2nd, according to their Instagram. They serve Roman style pizza, cooked in a brick oven on site. The restaurant boasts high ceilings, brick walls, and large wooden dining tables. The menu features a variety of bruschettas, meats, cheeses, and of course, pizzas, as well as cocktails, beer, and wine.
Brighton Beach: Net Cost Market / Gourmanoff
1029 Brighton Beach Avenue
On Sunday, August 25, NetCost Market celebrated the grand re-opening of their 6th store in Southern Brooklyn. Assemblyman Steven Cymbrowitz was there to help cut the ribbon, along with Mariya Markh from the Mayor's Community Affairs Unit, and Pat Singer, executive director of Brighton Neighborhood Association. Store Hours at 9am-9pm.
Closings:
Walter Foods
253 Grand Street, between Driggs Avenue and Roebling Street.
GrubStreet reported that this Williamsburg favorite closed for good on July 28th after 11 years. According to the report, the owners plan to hold the space for a new upcoming venture, due in early fall. Walter Foods has another location still open in Fort Greene, and served raw oysters, deviled eggs, and other classic dishes.
Precious Metal
143 Troutman Street, between Wilson and Evergreen Avenues.
The Bushwick Daily reported that vegan bar Precious Metal closed its doors on August 10th. The report cited technical problems, like a melted glycol system and low sales as reasons for the bar's closing.
Fawkner
Smith Street's Fawkner has closed suddenly. Comedians who do a regular show there posted that the show would be canceled due to the venue's closing, and the space confirmed the closing on Instagram, saying that it was "with great sadness".
Correction 8.28: A previous posting misspelled "Sahadi's" on one occasion.