An Ode To The Academy Restaurant
I know from diners; I am of New Jersey. Fort Greene is home to a damn good diner.
The Academy Restaurant (69 Lafayette Avenue between South Elliot Place and Fort Greene Place) is a consummate diner, the sort that sticks with you (and to your ribs) through thick and thin. I've written a lot lately on standbys, but is there any greater comfort than a good diner?  In that spirit, today's review encompasses multiple visits, taking us from the start of a workday to its end.
"I like the turkey clubs and the philly cheesesteak on heroes. Old school," said Sandra, who was my waitress on both visits. Sandra said Academy has been open since 1984. She's been a waitress for most of her adult life and said the people order the same things at Academy they do anywhere else in the city.
I ambled into Academy on a weekday morning, tired as I ever am, sidled up to the counter. I decided to go big on breakfast. Sandra said most of the orders revolve around bacon. However, I had a sweet tooth and, given that breakfast is basically dessert anyway,  I decided on French toast with eggs and turkey bacon.
My order came with coffee, which came instantly and was refilled persistently. The coffee is exactly what you'd expect from a diner,  it's not too strong but it's very satisfying. The saucer was lined with a small army of ice cold creamers in preparation of the refills to come.
My breakfast also came with about a double shot's worth of orange juice. This juice wasn't special, but it was cold, sweet, and refreshing.
"You can't make this at home," said Sandra as she served my French toast with two eggs ($8.25) and turkey bacon ($2 extra), stretched across two plates.
I ordered my eggs over medium and that's precisely how they came. Like the coffee and juice before them, these eggs were instantly familiar and special only insofar as they were the platonic ideal of an order served the way it was requested. The turkey bacon was unusually thick and crispy. I did not expect this meal to include some of the best turkey bacon I'd ever had, but even diners can surprise sometimes.
The French toast was very thick, dusted with powdered sugar and served with butter on the side. It was very light and fluffy, with no pretense about whether or not it was good for you. I wish all food was this honest. I had leftovers following this breakfast and that's not something I can say very often.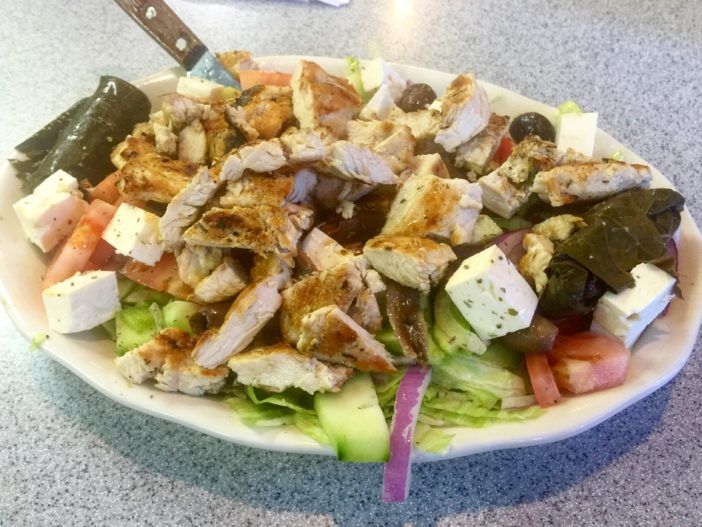 Diners hum with work, whether it's folks stopping in before a long day or for a brief respite during or after their toils. I stopped at the Academy around dusk. I was told the Greek salad with grilled chicken was one of the best sellers, so I placed my order.
While I waited, I was offered a newspaper while WCBS-FM played over the speakers and for a brief moment, I felt like I was back in the Garden State. For once, I put my iPhone down and, with it, the tinder of pinging, ghosts, and everything else.
The Greek Salad ($9.95 with an additional $4 for chicken) was brought promptly. It has everything you'd expect, right down to the salty Greek olives and anchovies. The ample chicken was warm and well seasoned, while the feta provided a light rejoinder. The grape leaves were especially good, contributing a bit of mint. This was a lot of food and I finished every bite. While it wasn't particularly cheap, I felt like it was a good value.
Fort Greene is, of course, evolving and the Academy Restaurant not only predates that change, but seems immune to it. It is well-worn, but authentically and very pleasantly so.
The Academy Restaurant
Address: 69 Lafayette Avenue between South Elliot Place and Fort Greene Place
Phone: (718) 683-9905
Try: Stick to the classics.
Avoid: Nothing, but I also wouldn't get too adventurous. You can.
Kids: Perfect for them.
CASH ONLY