NYPD's 78th Precinct Rolls Out Neighborhood Coordination Officer Program At Brooklyn Museum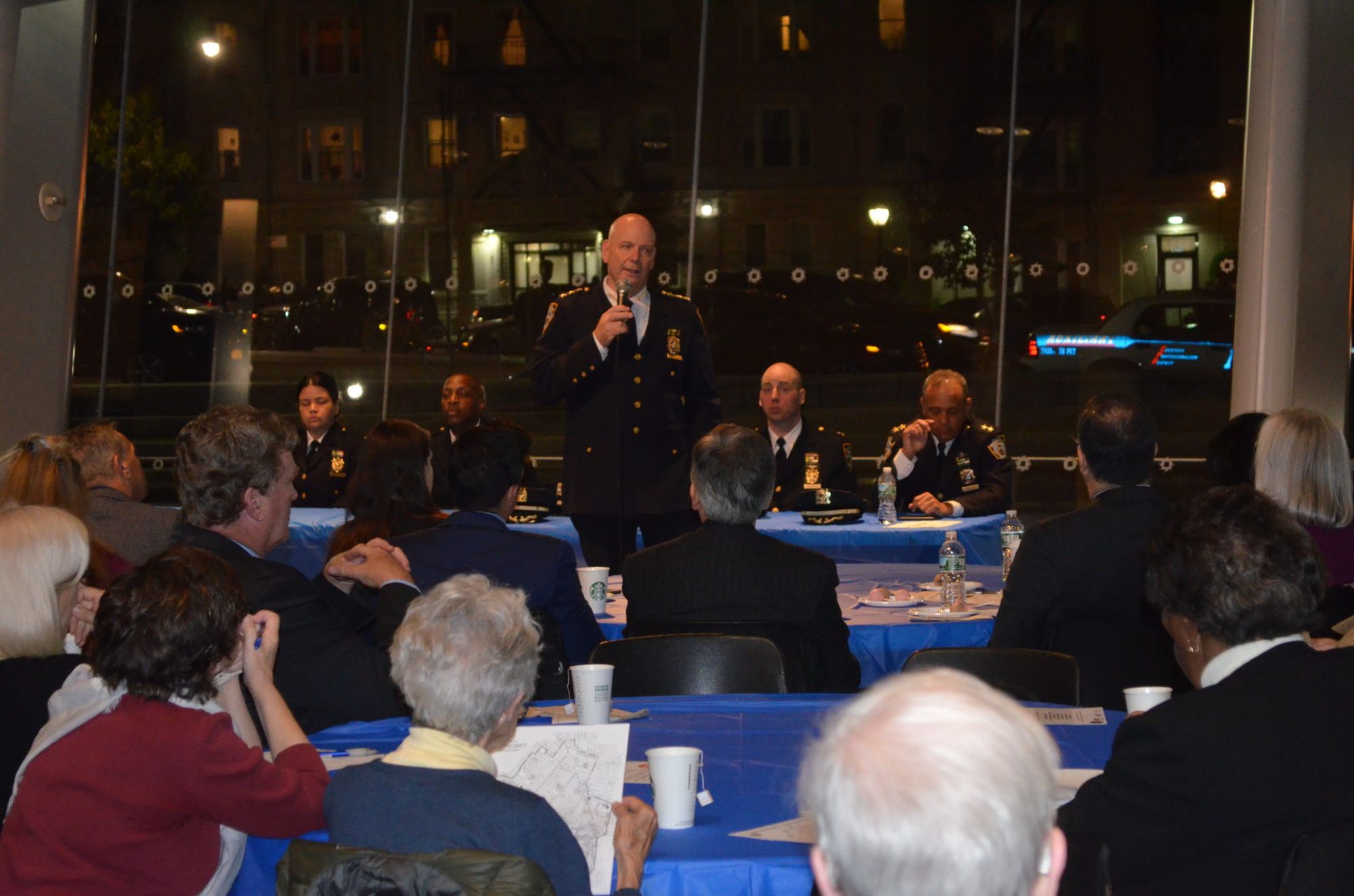 PROSPECT HEIGHTS – The lobby of the Brooklyn Museum was a sea of blue Tuesday evening as the NYPD's 78th Precinct hosted an event to roll out its Neighborhood Coordination Officer (NCO) Program.
NCOs are officers assigned to specific neighborhoods or sectors in their precincts who dedicate their time in engaging with the local community, getting to know their neighborhood, and serving as direct contacts for residents and business owners to help solve problems in their area.
Chief of Patrol Services, Terence Monahan, introduced the program to the dozens of neighbors, business owners, and community organizers who attended last night's event. For years communities have accused the NYPD of "policing at them and not with them," he said, explaining, "the idea of neighborhood policing is that we join together and decide what is best for your neighborhood," adding that the NCOs and community members will decide what police services are needed in their areas.
The most important function of the NCOs, "their number one responsibility," is to "control crime and disorder" in their sectors. The 78th Precinct is divided into four sectors—A (Adam), B (Boy), C (Charlie), and D (David)—with two NCOs assigned to each.
Each sector will have ten officers regularly assigned to it. In addition to the sector cops the two NCOs will work to connect with the community. "It's their responsibility to go out and get to know the people in the neighborhood and work together to figure out what needs to be done," Monahan said.
"If you're not safe in your home, if you're not safe in your business, if you're not safe at your house of worship, we fail," Monahan added. "Crime has to continue to go down, people have to be safe, but we have to do that in a way that we're working together with the community and that's what the NCO's responsibility will be."
Along with regular sector meetings, each NCO will provide his/her cell phone number and email address to residents and business owners in their areas (their email addresses can be found on the 78th Precinct's website), ensuring that they are "your cop in your neighborhood," whom the community can reach out to whenever necessary.
Monahan explained in order to successfully implement the NCO program, it was necessary to redeploy the precinct's officers. "In the past, we were a very specialized police department. Cops only did certain things," he said, explaining that officers had previously   been assigned to deal with specific issues, such as quality of life matters, school conditions, street narcotics, etc. With the NCO program, officers will be aware of all matters within their sectors. "This is their neighborhood, they should be able to handle whatever the issue," Monahan said.
Twelve new police officers will be joining the 78th Precinct later this month, and an additional six will come on board in December. New officers will now receive special training that teaches them "how to be a better cop" by effectively communicating with the public and resolving conflicts—"basic skills every cop needs," Monahan said.
Crime has been slowly declining in the city since the NCO program was initiated in Spring 2015 in Washington Heights and in the Rockaways, Monahan said.
Last year was "the first time ever we ended up with under 1,000 shootings in the city of New York," he said, comparing that number to 5,400 shootings in the city in 1990. So far this year, there have been 335 homicides, in comparison to 2,000 homicides in 1990.
"This year we're down more than 180 shootings already and we're down 67 homicides based off of last year's numbers," according to Monahan, who noted that this recent decrease in crime proves that the Neighborhood Coordination Officer program works.
Following Monahan's presentation, the eight NCOs introduced themselves to the audience. The teams displayed a natural rapport, camaraderie, and respect for one another—a reassuring sign that they are well-suited partners in fighting crime.
78th Precinct Neighborhood Coordination Officers
NCO Supervisor – Sergeant Chet Wakie
Sector A (Adam) – Officers John Sears and Joseph Swicicki
Cover approximately west of 5th Avenue to the Gowanus Canal between Atlantic Avenue to 15th Street
Sector B (Boy) – Officers Elizabeth Medina and Maureen Marzano
Cover approximately west of 7th Avenue to 5th Avenue between Union and 15th Streets
Sector C (Charlie) – Officers Michael Bergmann and William Gonzalez
Cover approximately Vanderbilt Avenue to Fifth Avenue between Atlantic Avenue and Union Street
Sector D (David) – Officers Vincent Lau and David Mancuso
Cover approximately 8th Avenue and Prospect Park West (between Flatbush Avenue and 8th Street), and Prospect Park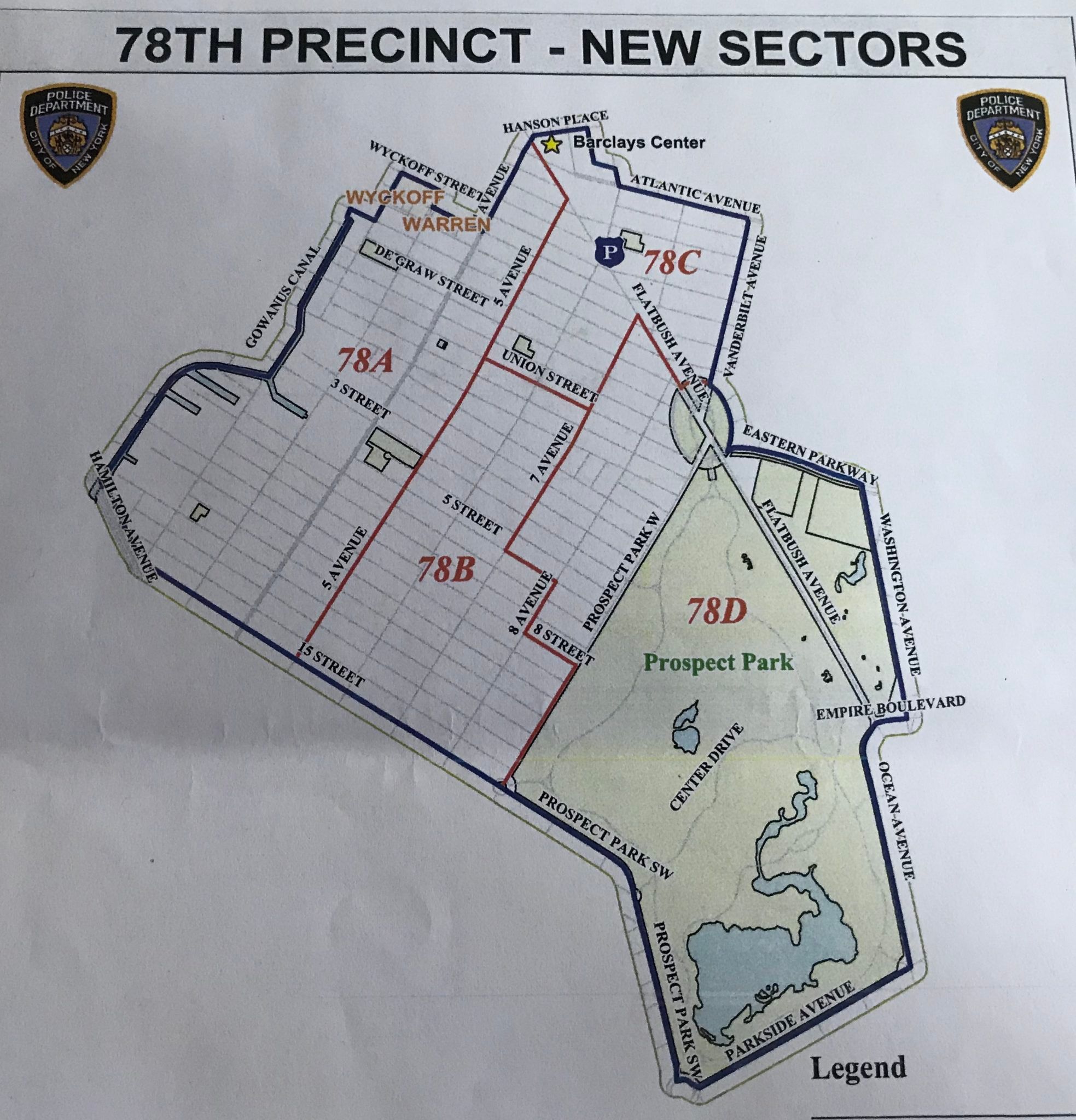 Search your address on the map below to find out which sector you are in.