Not Just Chocolate: New Park Slope Shop Creates Edible Works of Art
PARK SLOPE – A new shop in Park Slope offers a selection of chocolate masterpieces that look almost too beautiful to eat.
Not Just Chocolate officially opened at 537 5th Avenue (at 14th Street) last Saturday, October 19, inviting neighbors to shop its selection of handcrafted chocolate dogs, cats, bunnies, and cars sprinkled with gold (edible luster dust).
"Most of them were saying 'welcome to the neighborhood' and 'we are happy you are here,'" shop owner, Sergi Potekin, said of his first customers. "We are happy that we are here. We  like the Park Slope area. The people who live here are very friendly."
Potekin opened the shop with his wife Helen, who is responsible for creating the intricately detailed sweets. Originally from Russia, Helen trained at the Barry and Callebaut Chocolate Academy in Moscow. The couple opened their first chocolate shop in St. Petersburg in 2008, which Sergi's sister continues to run.
The Potekins first visited New York in 2015, they told Bklyner on Thursday morning, and knew immediately that they wanted to move here. After subsequent visits each summer, they finally relocated to Brooklyn in March 2018. While the couple initially considered opening their business in Manhattan, a friend working on 6th Avenue in Park Slope convinced them to change their minds. "She told us that this neighborhood is really nice, and while visiting and walking around, we found that, yes, we do like Park Slope, so we started to focus on  7th Avenue and 5th Avenue." Sergi explained. "We're happy that we found this place." Their 5th Avenue storefront formerly housed Slope Nutrition.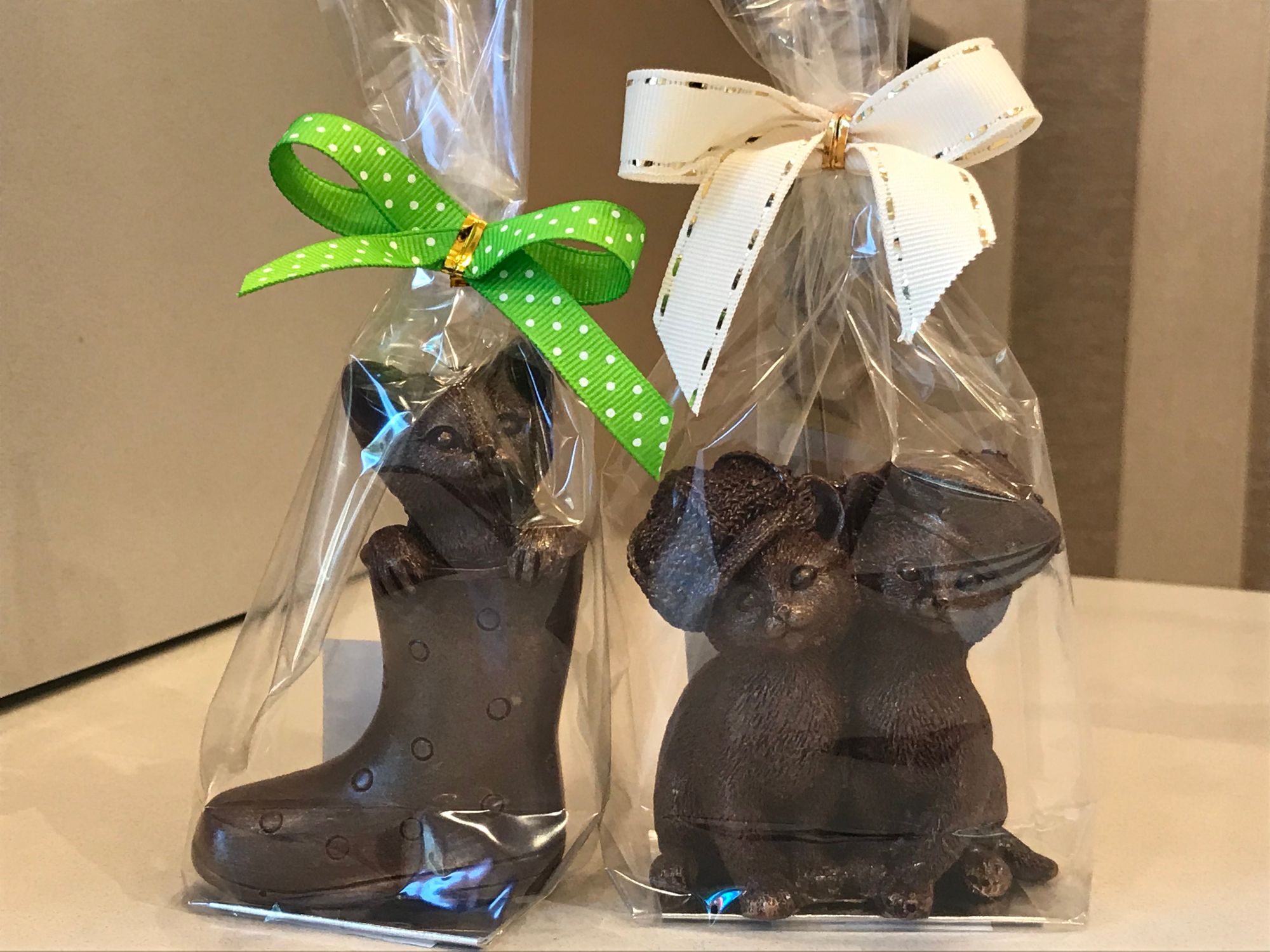 Helen creates the edible works of art from a kitchen in the back of the shop. The white, pristine, organized space looks more like a laboratory than a commercial kitchen. She uses Barry and Callebaut Belgian chocolate, with 33% cocoa for the milk chocolate and 55% for the dark. Customers are invited to try samples by the counter which are smooth, rich, and delicious.
When pressed for details on how the tiny works of art are made, the couple was not willing to reveal their secrets. "It's not simple to make these figures, it's very complicated," Helen said. "There are several steps to it."
"They are all handmade of course," added Sergi. "We combine several different techniques. Every piece, depending on the size and how complicated it is, may take from 40 minutes up to two hours to make."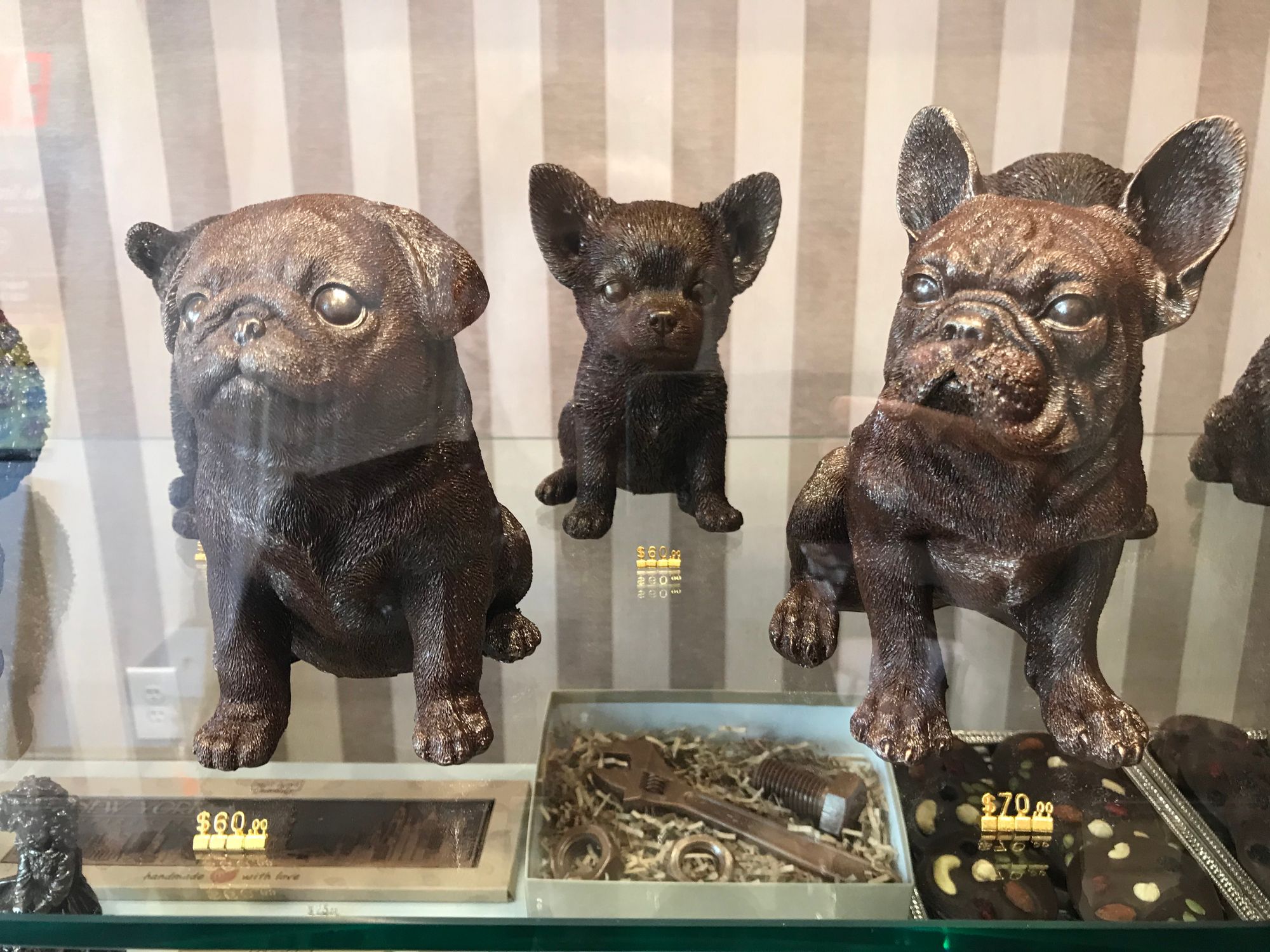 For those who find the chocolates too precious to eat right away, Sergi recommends storing them at room temperature and says that they will keep for at least six months. He also insists that they should not be refrigerated, explaining that the humidity will cause the chocolate to turn white.
Not Just Chocolate also offers coffee drinks and teas as well as pastries baked offsite but given a chocolatey touch. The Palmiers ($1.50) are dipped in chocolate and the croissants ($2.50) are filled with a smooth and creamy chocolate ganache.
Popular items at the shop so far include the hot chocolate ($3.50 for a 10 oz cup), which is rich and not too sweet. "It is homemade chocolate, we don't use powder. We make it with the dark chocolate that we sell," Sergi explained. "Our hot chocolate is the right balance—not too sweet, not too bitter."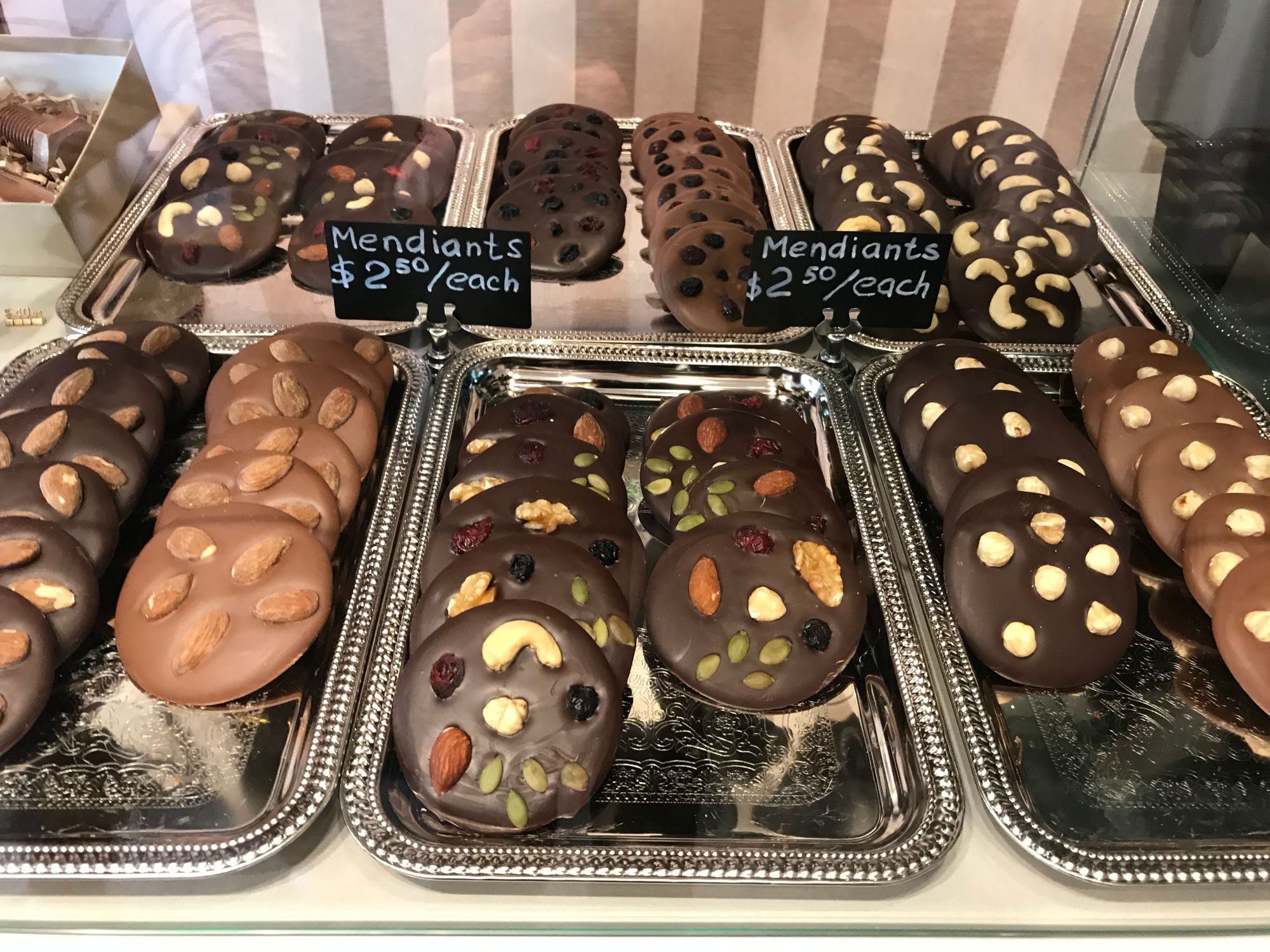 Another top-seller are the mendiants ($2.50/each, $23 gift box), milk or dark chocolate circles topped with cashews, almonds, pumpkin seeds, or berries. Wild Cards are chocolate squares that come in 12 different designs. "They are wrapped. You pick one, but you never know what's inside. Every time you can get a new image," Sergi explained. The couple are working on creating more designs, for a total of 30, to package in a box so customers (who have restraint) can enjoy a square a day for a month.
"There will be 30 bars and you can take one every day for a month," said Sergi. "We designed it in a small size, it's only one ounce…so it's enough for the morning. With morning coffee, it should be very nice."
The shop also sells a collection of large rectangular 5 oz bars ($25) designed to resemble postcards bearing messages like "Get well soon." One even explains the health benefits of chocolate, reading: "Real chocolate causes the release of endorphins which are hormones that bring you to the height of happiness. Real chocolate also contains antioxidants, anti-aging agents which protect cells against destructive free radicals." Sergi noted, "This is a five ounce piece of harmony and happiness because you get all this from this bar."
As if we need an excuse to eat more chocolate!
Not Just Chocolate
537 5th Avenue (between 14th & 15th Streets), Park Slope
Monday to Wednesday & Friday: 7am-7pm
Thursday: 7am to 6pm
Saturday & Sunday: 10am to 6pm