Not Enough Cooks In The Kitchen: "First Course NYC" Will Pay You To Train As Line Cook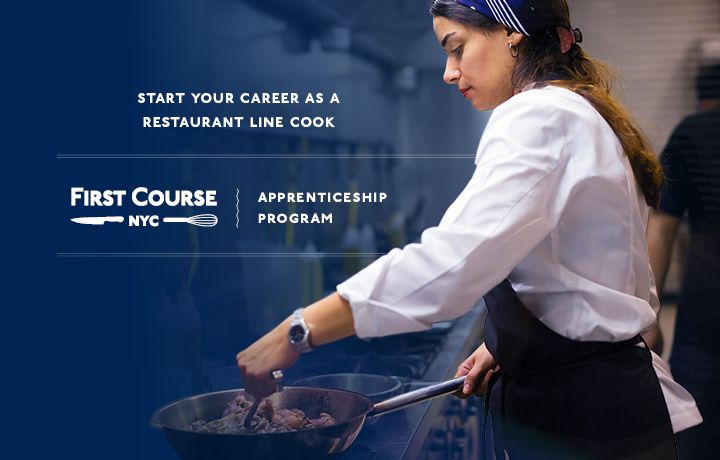 Nightlife is booming. There are over 24,000 restaurants in New York City, and Brooklyn has seen the fastest growth in establishments. And if folks are not eating out, they are ordering deliveries, helped by the proliferation of apps like Seamless and GrubHub.  But there simply are not enough cooks in the kitchen – in 2017 there were over 720 line cook vacancies in NYC and year to date there are over 850, NYC Small Business Services informs us.

"In 2017, the National Restaurant Association reports, 37 percent of its members said labor recruitment was their top challenge, up from 15 percent two years ago. With low profit margins leaving little room to do what most businesses do in tight labor markets — increase wages — restaurant owners are having to find other ways to attract and hold onto workers," New York Times wrote in 2018, three years after they wrote about the lack of cooks in the kitchens across the country, as the economy was recovering and national obsession with fine dining exploded.
The Food & Beverage Industry Partnership's industry advisory group, the NYC Hospitality Council, has made clear that with the steady rise in the NYC minimum wage to $15/hour, restaurants are seeking more highly qualified individuals to staff their kitchens.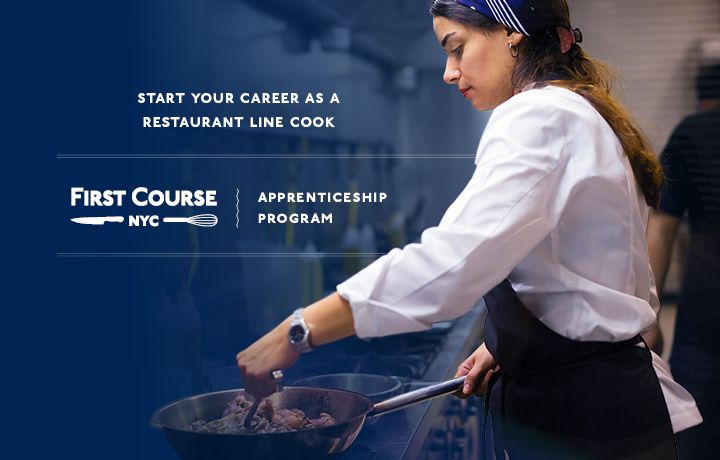 The city is stepping up to help by establishing a culinary apprenticeship, First Course NYC, because, in the words of Chef David Waltuck, the Director of Culinary Affairs at Institute of Culinary Education,  "while there is a huge need for trained cooks in New York, most culinary programs are financially out of reach for many qualified and motivated candidates."
"New York City's restaurant industry is vital to the local economy," said Gregg Bishop, Commissioner of the NYC Department of Small Business Services at the launch of the program last Friday. "Empowering residents with the skills needed to succeed in the ever-evolving food landscape gives them the opportunity for growth and prosperity in the future."
The 14-week program involves eight weeks of classroom kitchen training at the Food Arts Center in midtown Manhattan that will teach participants the basic skills necessary to be an entry-level professional line cook.
This will be followed by six weeks on-the-job training in respected NYC restaurant kitchens. "Participants will be paid a weekly stipend of $125/week during the initial 8-week training and will then be hired as an apprentice by a restaurant partner, at $16/hour, for the 6 weeks of on-the-job training." The city hopes that apprentices who successfully complete their training will continue as full-time entry-level line cooks.
Interested? You have to attend a mandatory info session before you can apply, details below:
Brooklyn Workforce1 Career Center: 9 Bond St, 5th Floor, Brooklyn, NY 11201
Tuesday, October 1: 10 – 11:30 a.m. ET
Friday, October 4: 1 – 2:30 p.m. ET
Tuesday, October 8: 3 – 4:30 p.m. ET
Friday, October 11: 10 – 11:30 a.m. ET
Tuesday, October 15: 9 – 10:30 a.m. ET
Friday, October 18: 1 – 2:30 p.m. ET
Upper Manhattan Workforce1 Career Center: 215 W 125th St, 6th Floor, New York, NY 10027
Monday, September 30: 9 – 10:30 a.m. ET
Monday, September 30: 3 – 4 p.m. ET
Monday, October 7: 9 – 10:30 a.m. ET
Monday, October 7: 3 – 4:30 p.m. ET
Monday, October 21: 9 – 10:30 a.m. ET
Monday, October 21: 3 – 4:30 p.m. ET
For more information or to sign up for an information session, visit nyc.gov/firstcourse or dial 311 and ask for "First Course NYC."