Nightlife Is Thriving In Brooklyn, But Pay Is Less Than In Queens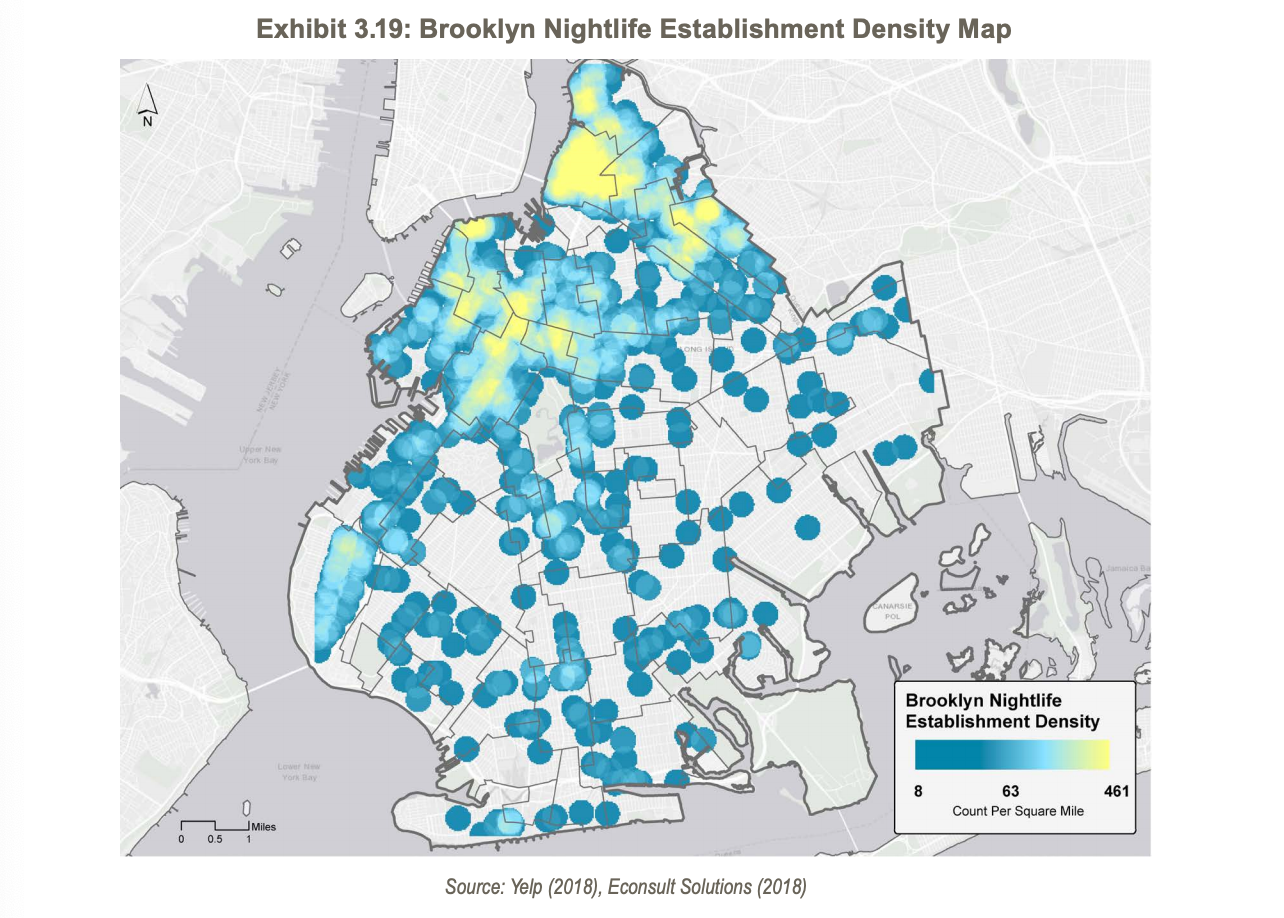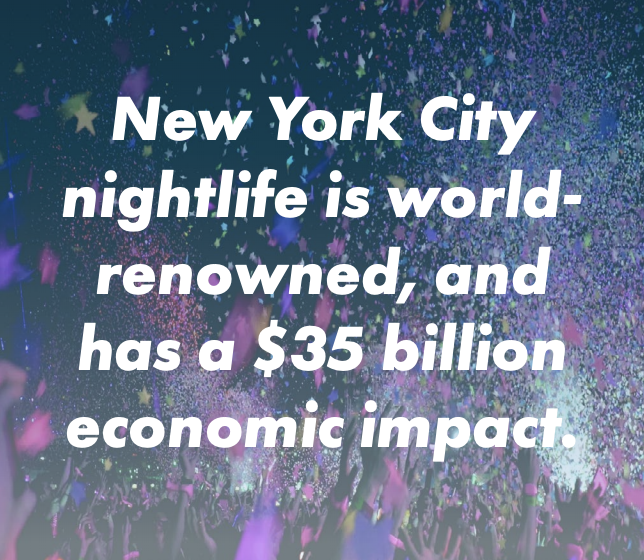 Old-timers may lament the death of New York nightlife, however, those reports are, perhaps, just a bit, exaggerated. While Manhattan still dominates the industry, Brooklyn and Queens are growing into destinations of their own, with liquor licenses to prove it.
Last week, the Mayor's Office of Media Entertainment released a detailed economic impact study of city nightlife. Distilling information from 2016, the most recent year where standardized data was available, the report evaluated the economic performance of 25,000 establishments that conduct "activity occurring between the hours of 6 p.m. and 6 a.m. in five key subsectors – Food Service, Bars, Arts and Culture, Venues, and Sports and Recreation." The study concluded that nightlife accounted for $35.1 billion in total economic output that year, supporting 299,000 jobs with $13.1 billion in employee compensation, and yielding $697 million in tax revenue.
The job growth rate in nightlife outpaces the city's overall rate, and industry wages have been rising as well.
"Nightlife is thriving in the five boroughs, as New Yorkers find places to come together, to let go, and to celebrate life," said Ariel Palitz, the Senior Executive of the Office of Nightlife, in a statement. "We are excited to use the valuable insight provided in this study as well as our recent listening tour as we pursue policies and programs to help nightlife thrive."

The news was even better in Brooklyn.
According to the study, the borough's nightlife is experiencing the largest growth when compared to the other four. Brooklyn boasts 5,500 nightlife establishments, as of 2016, with that number increasing at a rate of 5 percent annually. "There were 31,100 direct nightlife jobs supporting $608 million in wages," the report said, "with annualized growth rates of 10 and 15 percent, respectively – double the citywide rate." (A 2017 report from the Brooklyn Chamber of Commerce also said similarly that "tourism and entertainment" account for nearly 10% of all the borough's private-sector jobs.)
"We knew that nightlife was blossoming in Brooklyn, but now we have the numbers to back that up," Palitz said in an email to Bklyner. "The borough is outpacing the rest of the city by almost every metric, doubling the citywide growth in jobs and wages in the nightlife sector."
That said – from the numbers it looks like the jobs in Queens were better paid than those in Brooklyn.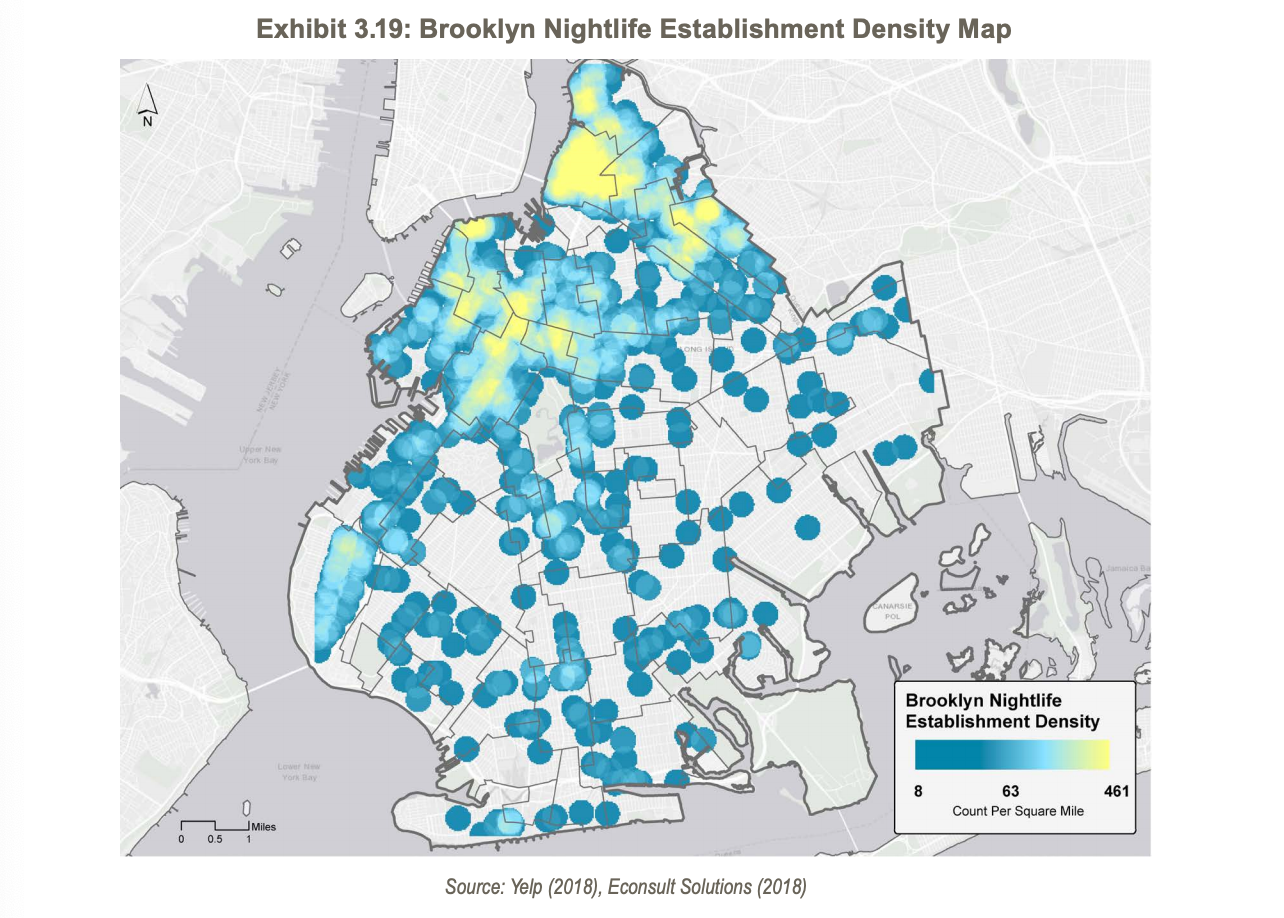 Total liquor licenses have grown in Brooklyn at an annualized rate of 4 percent since 2000, as well. Last year there were 2,586 active liquor licenses across the borough – double that of ten years ago. A heat map of Brooklyn's nightlife establishments included in the study (see above) shows the densest concentration around Williamsburg, moving into Greenpoint to the north and Bushwick to the east. DUMBO, Downtown Brooklyn, and Park Slope also show a bright concentration of nightlife destinations.
With this uptick in nightlife, Brooklyn has seen a stark increase in the volume of taxi and for-hire-vehicle activity. In Bushwick alone there was an astounding 92 percent annualized growth in cab trips logged between 12 a.m. to 4 a.m. according to the study, while Williamsburg saw a 33 percent annualized growth in the same area – undoubtedly having an adverse effect on traffic, a citywide problem that one recent CityLab article called "unsustainable," especially in light of the meteoric rise in ride-sharing app engagement.
Unsurprisingly, the study also confirmed that Brooklyn is the second-most popular borough for artist residence, with 23 percent of the city's artists living in the borough. (Manhattan is host to 39 percent of them.)
"In Brooklyn, jobs in the Arts account for 15 percent of NYC's total," the report said, "and have seen an annualized growth rate of approximately 10 percent between 2011 and 2016."
"Home to a wide range of performance venues, including a vibrant DIY scene, as well as small neighborhood bars and incredible restaurants," Palitz added in her email. "Brooklyn boasts great destinations for those who enjoy the night."
Cheers to that!