North Flatbush Avenue Safety Upgrades Almost Complete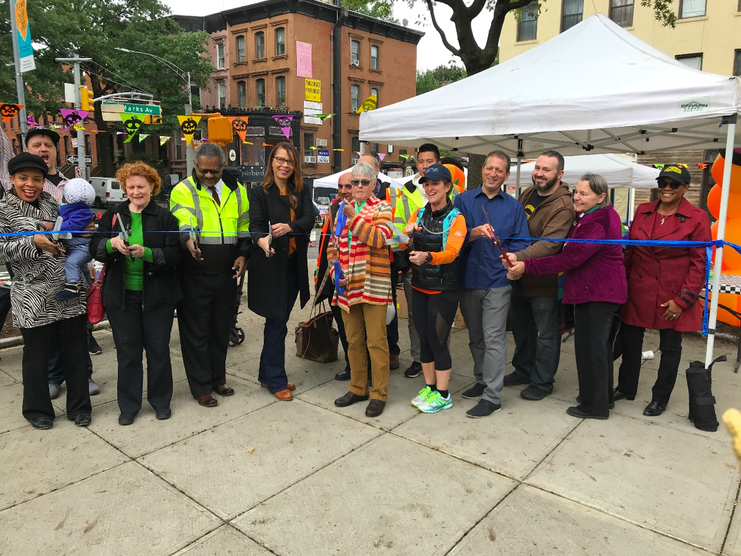 PARK SLOPE/PROSPECT HEIGHTS – The North Flatbush Business Improvement District (NFBID) was joined by the NYC Department of Design and Construction (DDC) and the NYC Department of Transportation (DOT) on Saturday during the BID's annual Fall Festival to celebrate the completion of the triangle green space at Flatbush and 6th Avenue.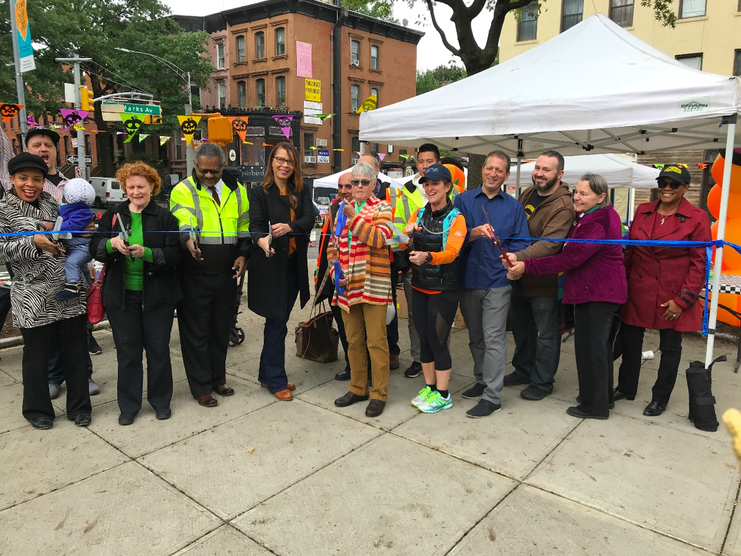 Back in March, the DDC began work on the North Flatbush Reconstruction Project to transform three traffic triangles—where Sixth, Seventh, and Carlton Avenues meet Flatbush Avenue—into pedestrian-friendly green spaces, repairing sidewalks and adding benches, signage, and greenery.
Council Members Laurie Cumbo and Brad Lander, as well as Assembly Member Jo Anne Simon, attended a ribbon-cutting ceremony during Saturday's event to mark the completion of the 6th Avenue Triangle.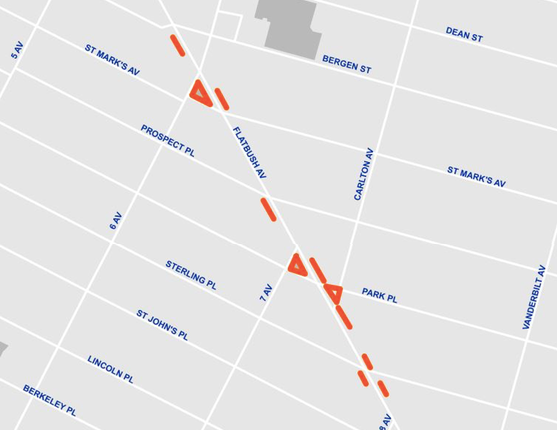 The upgrades to the three triangles are part of a $10 million capital project to improve safety and install new infrastructure along Flatbush between 5th and 8th Avenues.
Curb extensions will be installed at the three triangles as well as at four additional Flatbush Avenue intersections—Bergen Street, St. Marks Avenue, Prospect and Park Places. The  "bumpouts" should calm traffic and reduce crossing distances for pedestrians.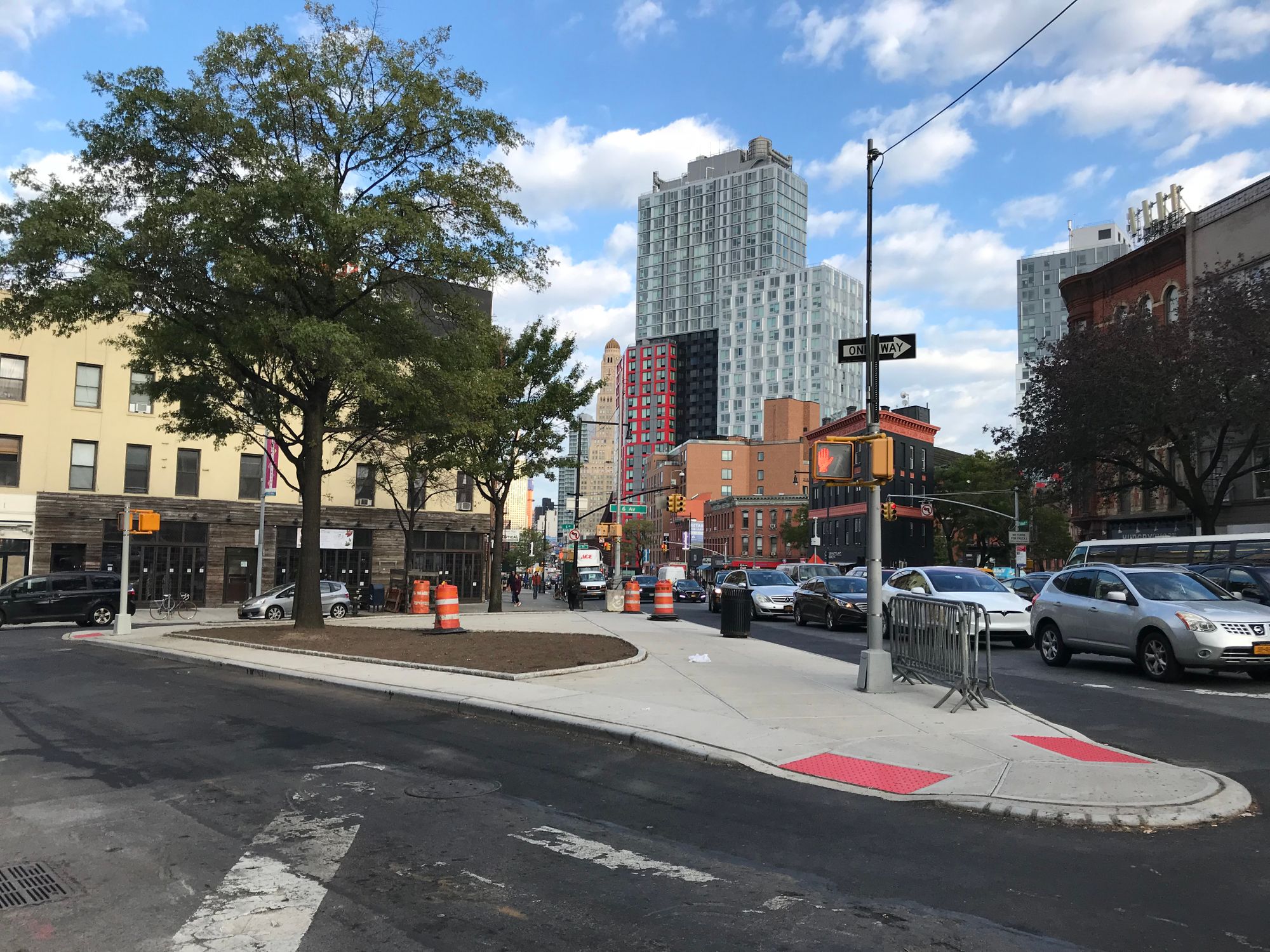 The project also includes the reconstruction of more than 2,000 feet of curb and 18,000 square feet of sidewalk. Nine fire hydrants will be replaced and 3,270 feet of water mains will be installed as well as a dozen new catch basins for street drainage. The project is slated to be completed by November.
"Brooklyn neighborhoods are in constant flux," James Ellis, Executive Director of NFBID, said in a statement. NFBID initiated the Flatbush Avenue improvements in the mid-2000s. "The North Flatbush BID has spent countless hours over the years advocating for district improvements to respond to the community's desires for improved pedestrian access and usable public space. As we 'open' the 6th Avenue triangle, we look forward to safer streets and dynamic spaces to host events like the NFBID Fall Fest."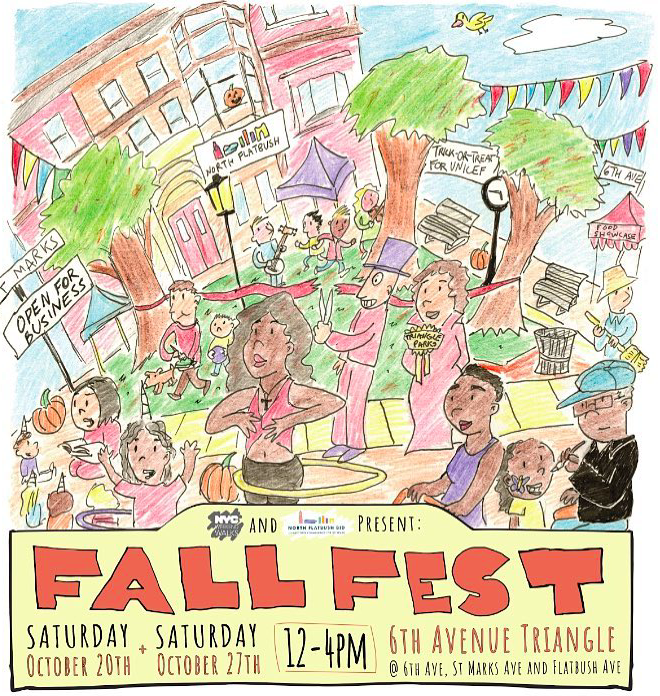 Check out the improvements this weekend when the NFBID hosts the second part of its Fall Festival on Saturday, October 27 from 12pm to 4pm. Learn more at @northflatbushbk on Facebook.