No CSO! Activists Evoke Gowanus Canal 'Poonami'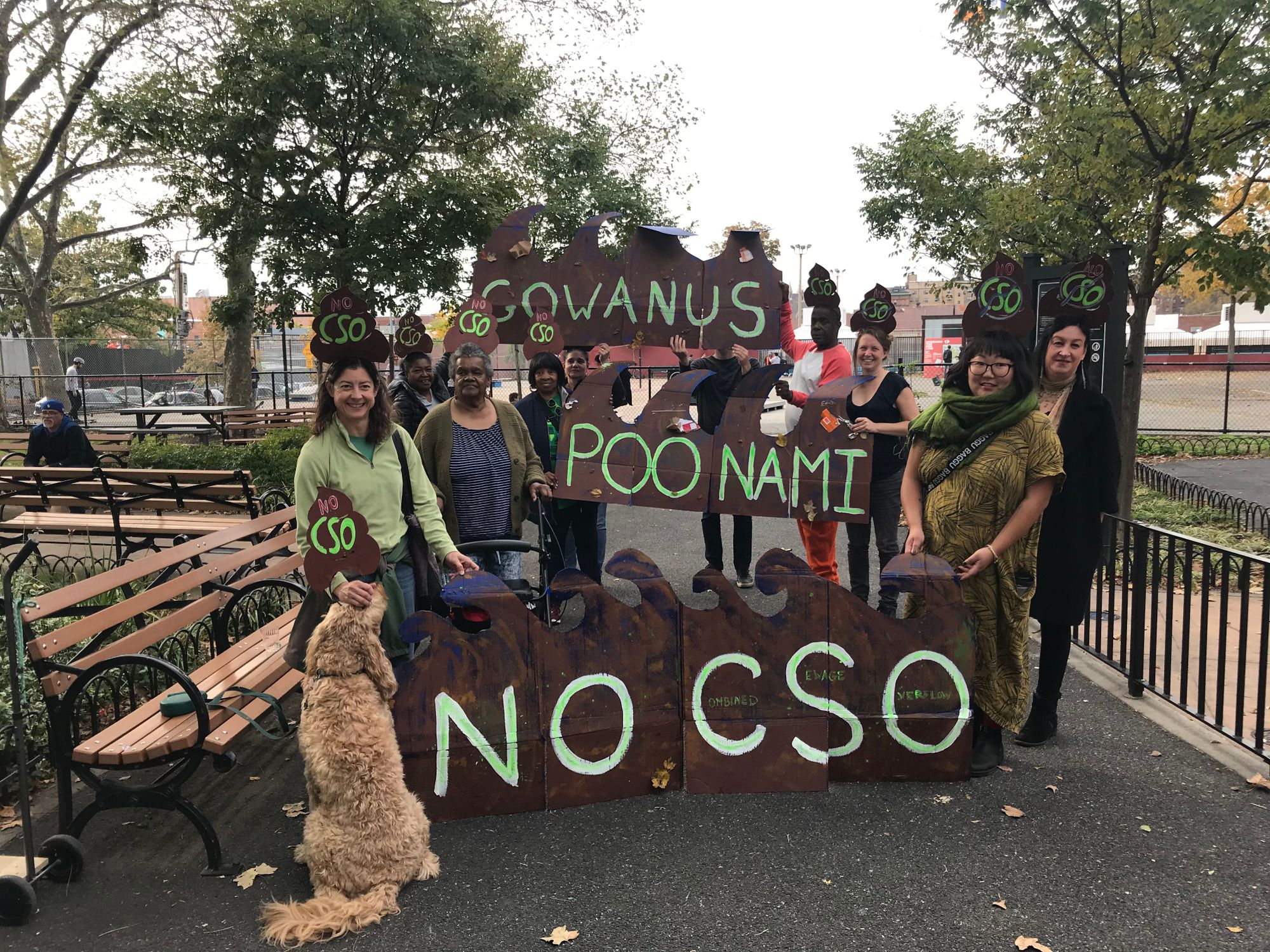 GOWANUS – In an effort to bring attention to the area's Combined Sewer Overflow (CSO) problem, activists marched at Thomas Greene Playground on Saturday with reminders of the notorious Gowanus Canal "Poonami."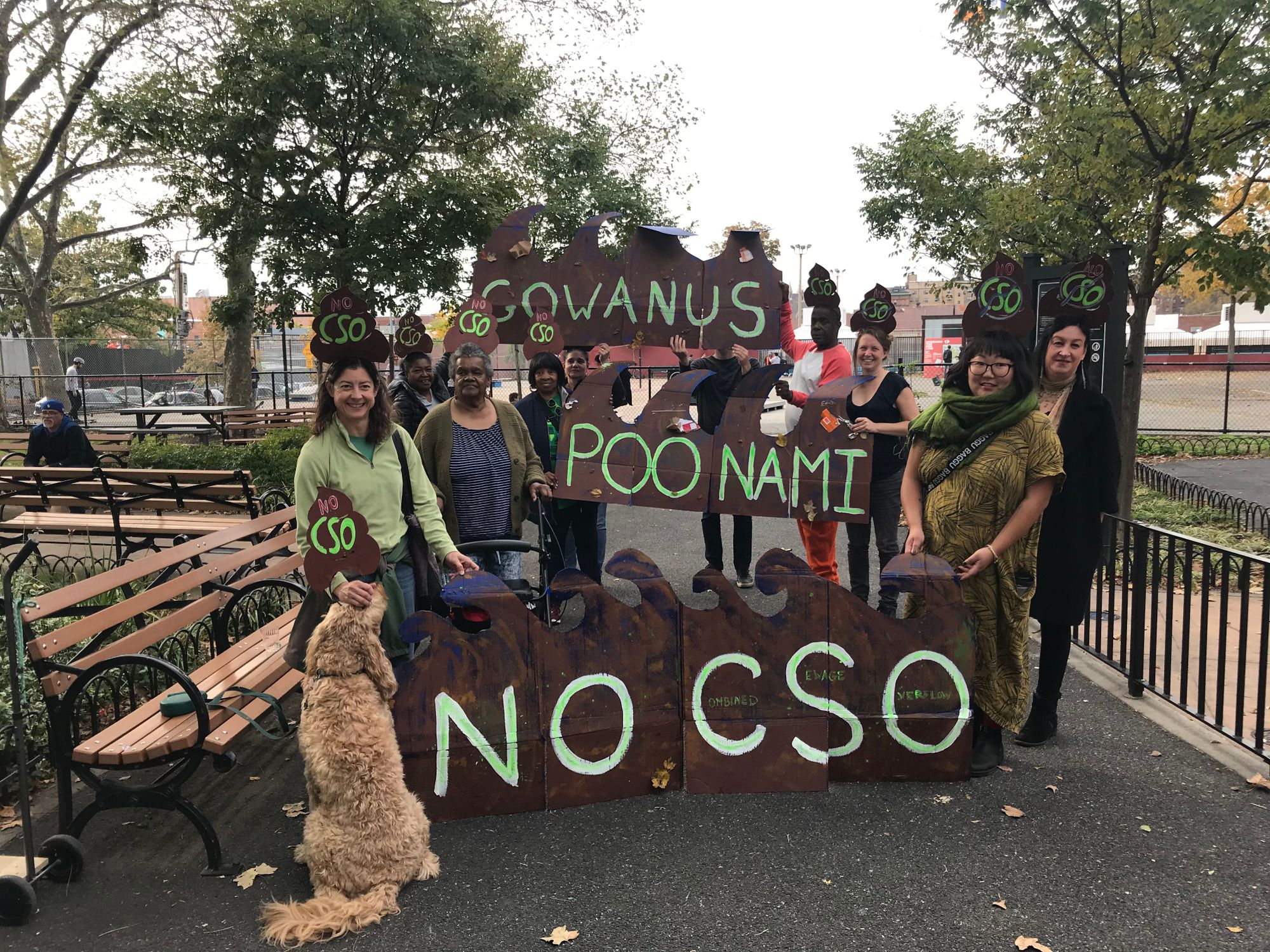 The Gowanus Neighborhood Coalition for Justice (GNCJ), an advocacy group made up of residents and community organizations concerned with the city's planned rezoning of the neighborhood, donned poop-shaped headwear and created a cardboard version of the fetid wave of human excrement and garbage that poured into the Gowanus Canal following a storm in September 2010. "The sewer system became completely inundated and it was literally a brown wave of water that came out right here at the head of the canal, which is our most notorious combined sewer overflow point for this geography," said Sabine Aronowsky, a community organizer and member of GNCJ.
"Gowanus has a pretty extreme Combined Sewage Overflow problem," explained Andrea Parker, Executive Director of the Gowanus Canal Conservancy and GNCJ member. "There's a mixture of waste water, which means everything that you put down the toilet or in the sink in your house or your business, and everything that goes into the drain on the street, that all mixes together in one pipe. Normally that pipe goes to a waste water treatment plant, however, when it's too full, when there's too much in the pipe, it overflows, and it overflows directly into the canal."
Since the canal is a "narrow, shallow, long waterbody with a lot of twists and turns," it is impossible for dilution—a "solution to pollution"—to occur, Parker explained. "That's what makes it so disgusting."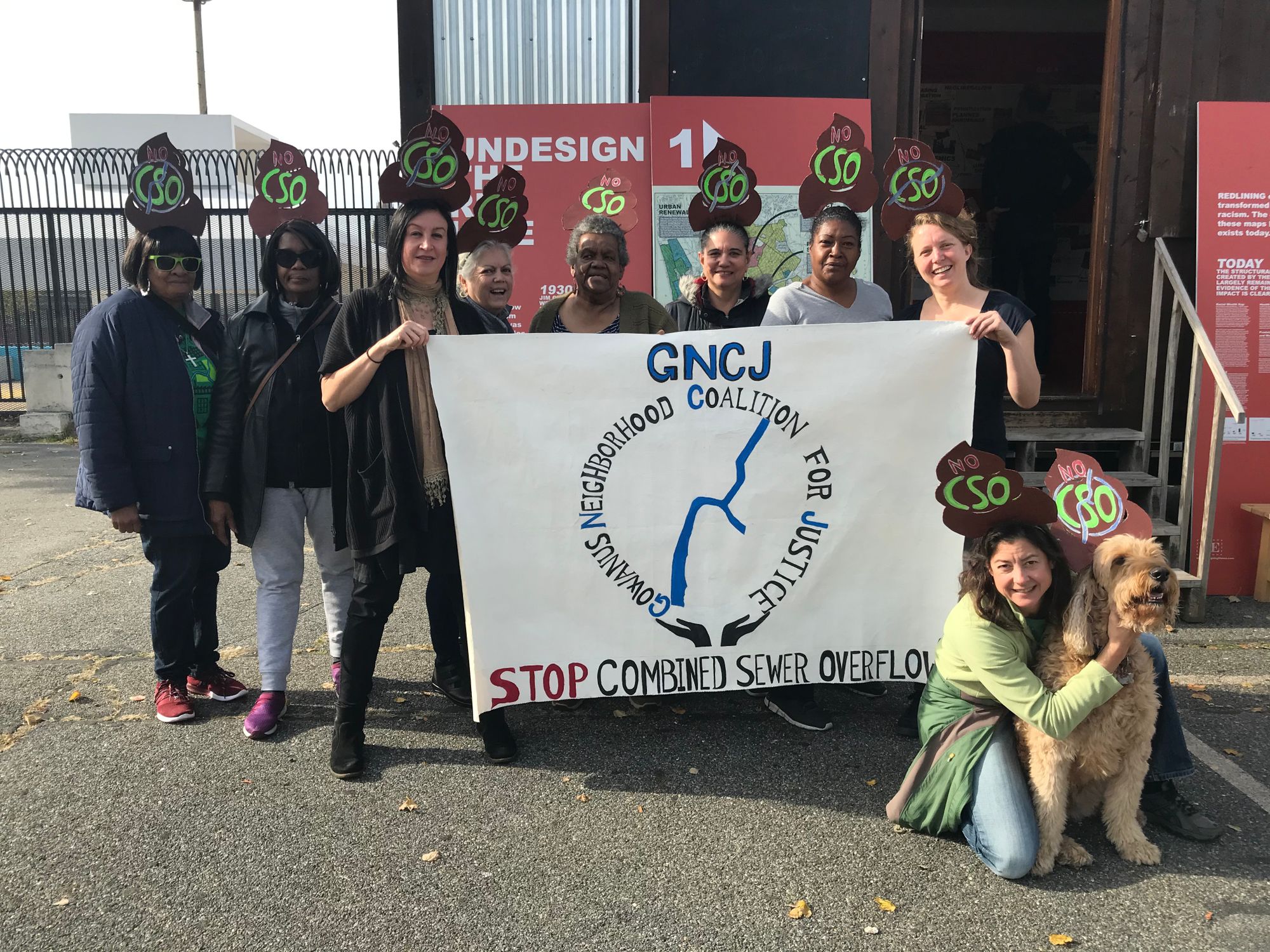 The "Poonami" incident can be viewed on You Tube. "You can literally see a wall of brown water, garbage bags…the smell was wretched," Aronowsky said. "That really helped to draw attention to the issue of the combined sewer overflow in our neighborhood in addition to the other toxicity in the water here." Mixing with the sewer waste in the canal are toxic materials that were dumped into the waterway by multiple manufactured gas plants that formerly operated along the canal. "Black mayonnaise," composed of industrial waste such as coal tar produced by gas plants, can also be found on the bottom of the Gowanus Canal. The EPA designated the Gowanus Canal a Superfund site in 2010.
"Fortunately, the EPA-led Superfund is going to be cleaning up the historic industrial contamination, so that is going to be gone," noted Parker. "The ongoing issue is going to be the Combined Sewage Overflow."
"The City is going to be constructing the two large retention tanks, that are going to help quite a bit, but they're not going to solve the issue entirely," Parker continued. "We also want to make sure that what they're doing to help the issue isn't then compromised by new residents coming in and adding more sewage to the system. That's why the coalition is advocating for no net increase in combined sewage overflow through the rezoning, so that new development that comes in doesn't make the situation worse." The Department of City Planning's (DCP) proposed Gowanus Neighborhood Rezoning would bring approximately 18,000 new residents to the area.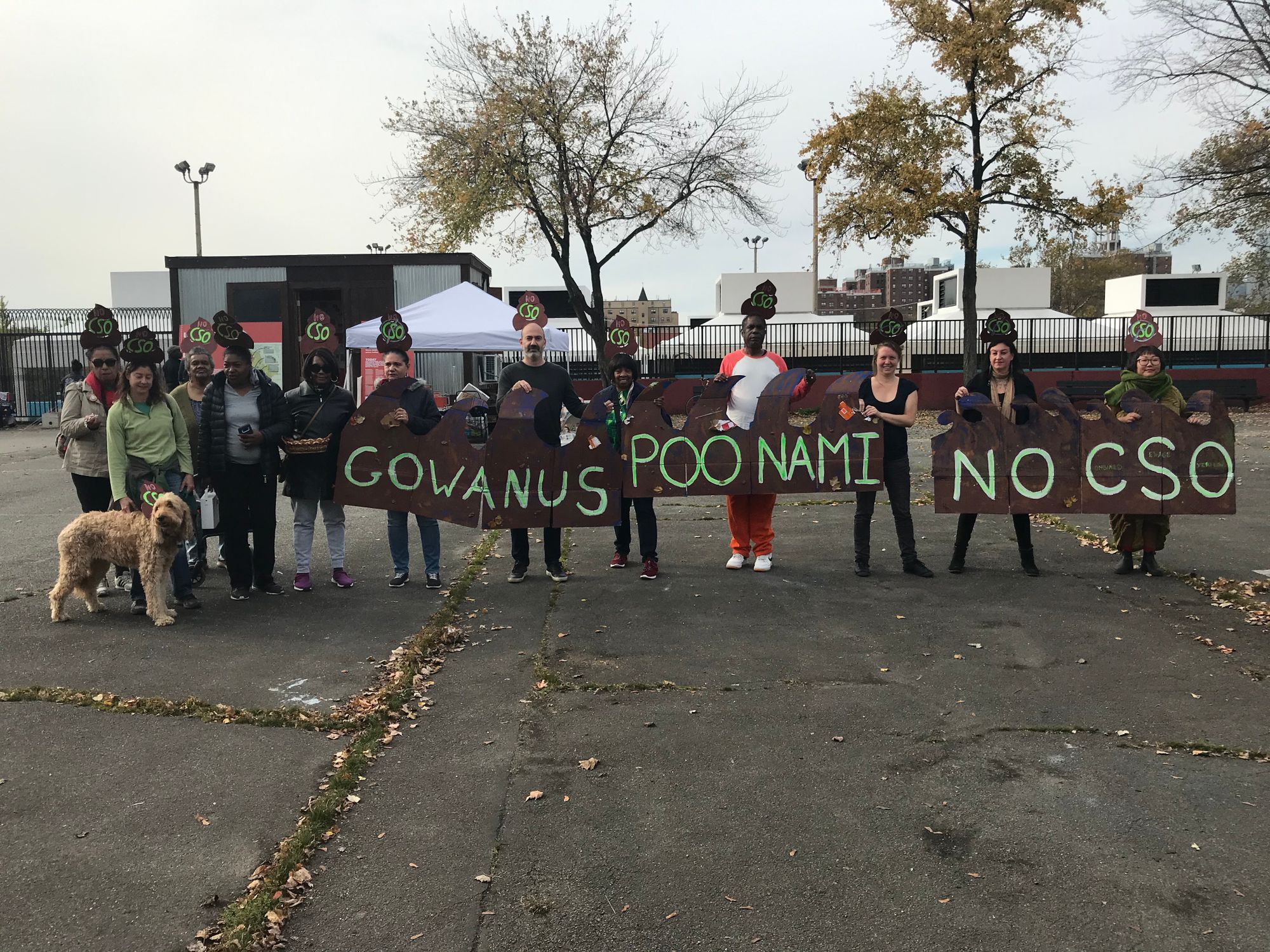 So why the poop-shaped hats and march? "What we're here today doing…is bring[ing] attention to the issues of combined sewer overflow and the fact that there is a Department of City Planning neighborhood-wide proposal for rezoning in this area," said Aronowsky. "One of our top concerns as a coalition is around new development and what that might mean in terms of additional combined sewer overflow for our community." She added that GNCJ wants to ensure that developers who plan to build in the neighborhood will work with the city and the community and build responsibly. GNCJ is also calling on the city to provide funding for the additional infrastructure needed for the anticipated population spike "to avoid further creating environmental burden for our community."
"I wish…DEP [Department of Environmental Protection] and all these agencies [would] come together [for] a solution to what they're going to do with that impact, because it's going to impact a lot of people, especially public housing," said Sandra Garcia, Vice President of the Warren Street Houses Tenant Association. GNCJ is also working to ensure that the three NYCHA developments located near the Gowanus Canal—Warren Street Houses, Gowanus Houses, and Wyckoff Gardens—are not left out of the city's plans for the neighborhood.

"We want to know clearly what the hydrology looks like in this area," added Karen Blondel, a community organizer and member of GNCJ. "We want to know where the sewage is going, what the increase is going to be. And if [the overflow] is not going to go into the canal, exactly how are they going to mitigate that increase in an area that's going to get 8,000 new [residential] units."
Blondel noted that along with raising awareness about the CSO problem that GNCJ wants to "educate the public on how to properly dispose of [cooking] oils and grease and baby wipes which also exasperate the [sewage] system." She'd also like to see locals "take stewardship over their drains and their catch basins prior to a storm," clearing away leaves and debris from drains so streets do not continue to flood during heavy rains.
In terms of additional steps the city can take in preventing an increase in CSOs in Gowanus, Parker says there are many technologies that developers can use which the city needs to encourage while providing resources and technical assistance to builders. It will be on a "site-by-site basis," she noted. "Some developments—it's going to make sense for them to manage more storm water than they're required to, to actually take storm water off of the street. That's going to reduce what goes into the sewer system and then offset the sewage that they're adding," she explained. For other buildings, it may be more suitable to install water reuse systems, she said, "which are actually managing the sewage on-site, cleaning it, and then reusing it in systems throughout the building. There's a great example of this in Battery Park City, The Solaire. It's a high-end building that completely reuses all of the water."
"What we're asking for in the rezoning is that the city really take some leadership here," Parker said. "We're asking DCP to work with DEP to figure out how to make this work."
Learn more about sewage systems and Combined Sewer Overflow in the above video showing a brief presentation given on Saturday by Aronowsky and Michael Higgins, Jr., Lead Organizer for Families United for Racial and Economic Equality (FUREE) and GNCJ member.
You can see the GNCJ's "Poonami" march in Thursday's Park Slope Halloween Parade which appropriately has the theme "Mother Earth" this year. Learn more about the Gowanus Neighborhood Coalition for Justice at gncj.org.