Nightlight: A Candle Inspired By Tom Fruin's Water Towers
CLINTON HILL – Local design studio and fragrance brand Joya has teamed up with artist Tom Fruin for a true Brooklyn collaboration—a colorful, lightly-scented candle inspired by his iconic plexiglass water towers.
Fruin's Watertower (2012), displayed atop 20 Jay Street, is visible from the Manhattan-bound side of the Manhattan Bridge and his Watertower 3: R.V. Ingersoll (2014), on the roof of 334 Furman Street, can be seen from the Brooklyn Heights Promenade and the BQE. Learn more about the Gowanus-based artist and see photos of his work here.
While living in the Lower East Side, Joya founder Frederick Bouchardy would admire Fruin's artwork as he commuted to Brooklyn via the Manhattan Bridge. "It's actually kind of a part of my life," he said. About a year ago he passed Fruin's water tower while driving on the BQE. "Passing it, I thought, 'What a fool I am. I've driven past this so many times.'" he recalled. "At the next red light, I googled it. I landed on his site, and I emailed him," he recalled. He asked Fruin if he was interested in collaborating on a fragrance project.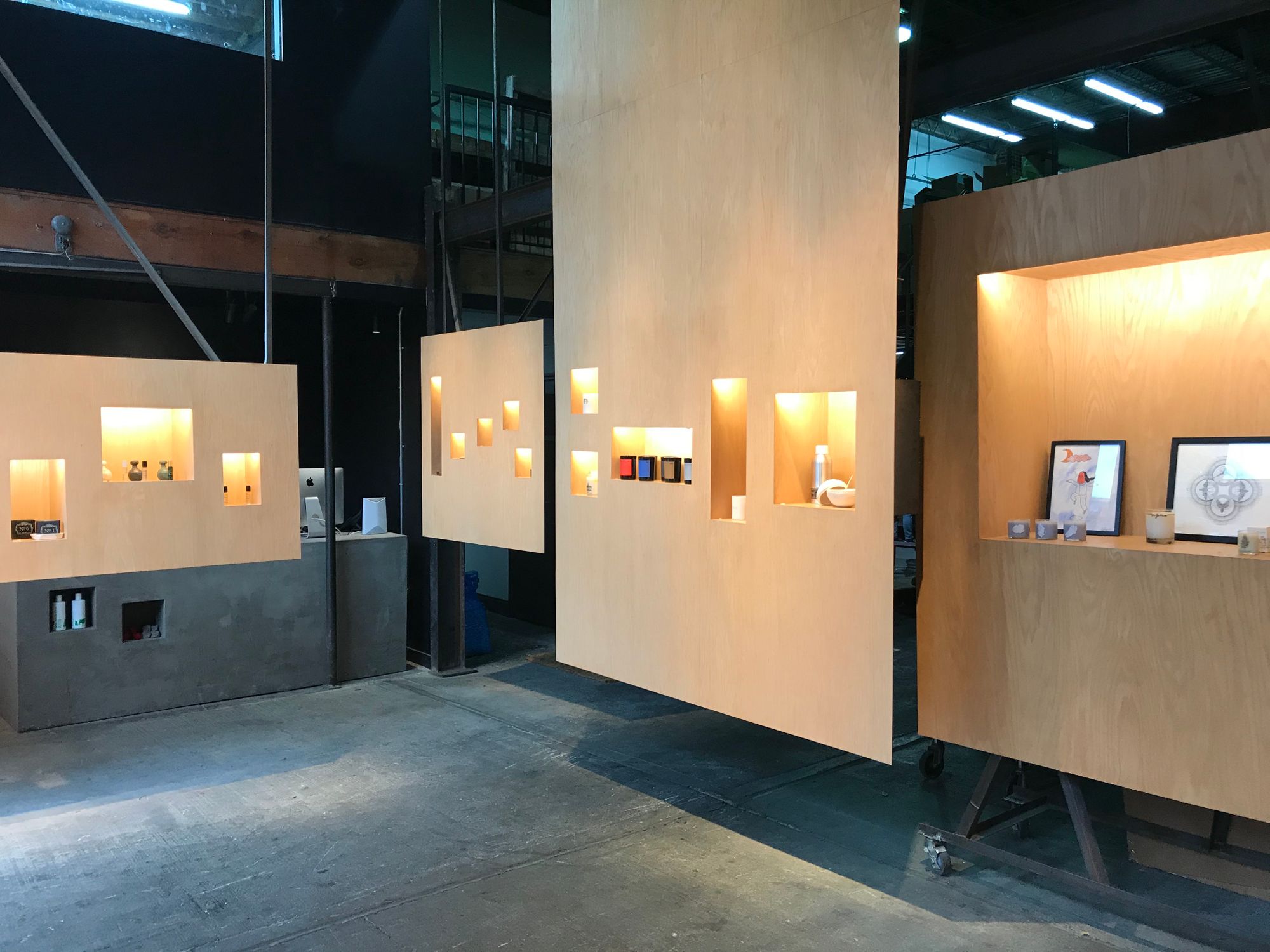 While Fruin was intrigued, he informed Bouchardy that he and his wife are actually sensitive to fragrance. The two visited each other's studios and discussed the project, ultimately creating Nightlight, a beautiful, subtly scented candle. "The scent is quite light…the profile of the scent is quite sheer," Bouchardy explained. "It's mostly water, cedar, and the wood pieces that make up the water towers," with "very light florals" including chamomile, clover, jasmine, azalea, fig and violet leaves.
Fruin designed the pattern on the glass containers that are made from up to 50-percent recycled glass. The 11-color heat transfer artwork—applied to the glassware by hand and fired in kilns at Joya's Clinton Hill studio—casts colorful patterns when the candle is lit. The charming glass replica of Fruin's water towers can be repurposed once the candle is finished. Joya produced only 500 Nightlight candles for the limited edition collection.
A specially designed sleeve wrapped around the box for the candle features a colorful disk that can be cut out and crafted into a candle cover. The box is made from up-cycled materials because "we like to not waste," Bouchardy noted.
A native New Yorker, Bouchardy launched Joya in 2006 in East New York. The Yale alum worked with a graphic designer friend on a fragrance project which inspired Bouchardy to create one as well. The pair produced a scented candle made with a sustainable wax base that was carried at Saks Fifth Avenue and other high-end retailers. He trained with a family friend who had worked as a "nose" at a major fragrance company, learning directly from a veteran of the perfume industry.
After moving to a larger studio in Bed-Stuy for a few years, Joya eventually settled into its current Clinton Hill home at 19 Vanderbilt Avenue—a 12,000-square-foot former rigging garage. While the business relocated in 2014, it took two years to transform the 19th-century industrial building into a safe and fully operational storefront, warehouse, and factory where 20 employees hand-craft candles, perfumes, soaps, art objects, and more.
Bouchardy worked with Brooklyn-based architects Taylor and Miller on the space, creating a unique and innovative storefront fitted out with sleek wooden displays that slide to reveal the vast and orderly factory behind. "They designed the storefront in relation to how the operations and manufacturing happen," Bouchardy explained of the facility which won a number of architectural awards when it debuted in 2016. "There wasn't a need to separate 'this is the finished product' and 'this is where it's made' because it's all kind of one and the same," Bouchardy added. "Our finished product is so much about how it's made."
Joya's fragrances mix "essential oils, absolutes, resins, concretes and aromas that synthesize molecules found in nature," according their website. "They're pretty genuine…. We're not assigning adjectives to plants that don't exist," Bouchardy noted. All of the brand's scents are phthalate-, paraben-, and silicone-free and are not tested on animals. Joya's bases, waxes, and wicks are produced in the U.S. and the porcelain slip (for the ceramics) comes from upstate New York. Glass containers are made from partially recycled material and are always recyclable, reusable, or collectible.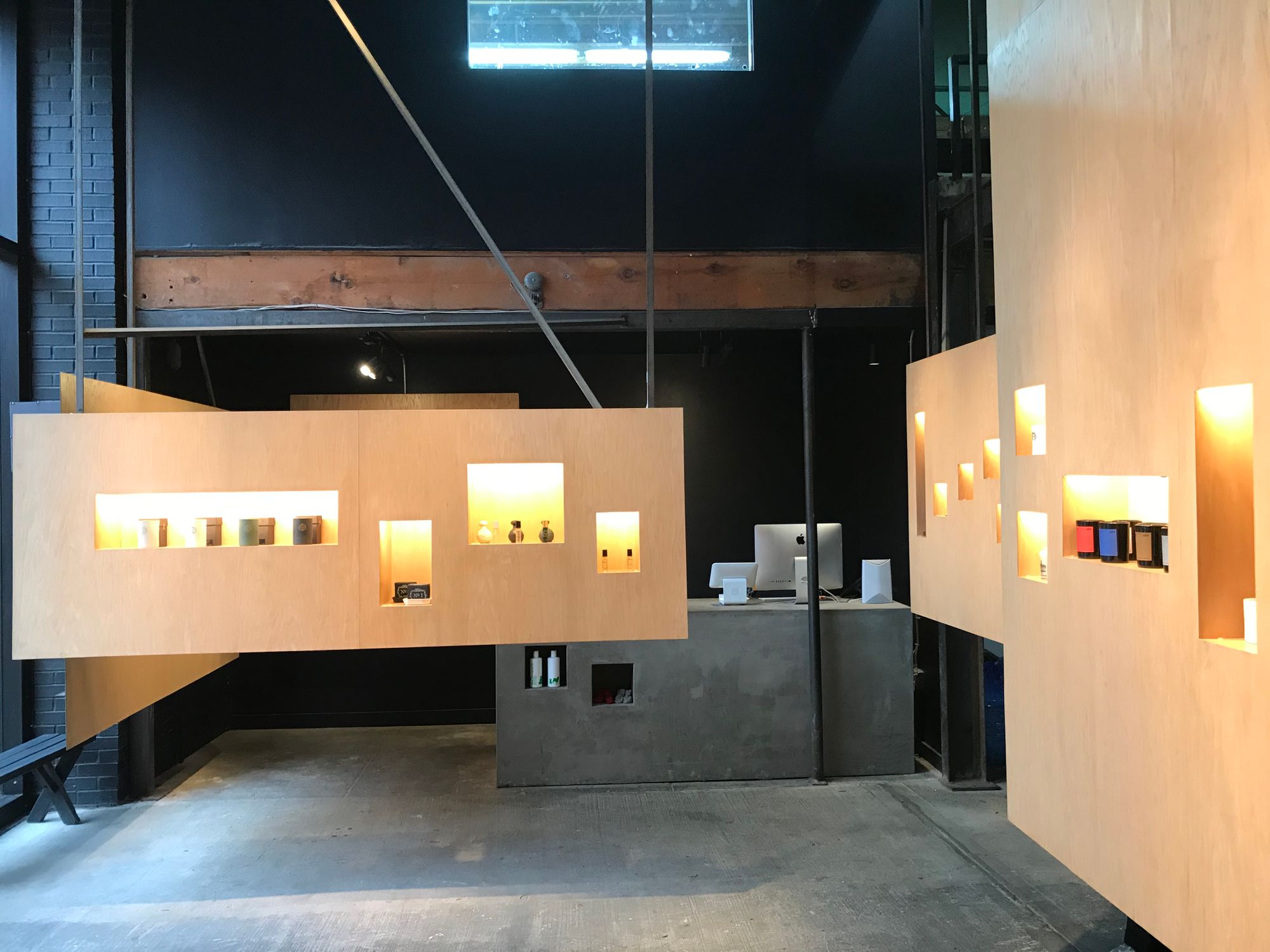 Bouchardy moved to Clinton Hill with his family three and a half years ago. "Suburbs scare me," he said when asked what attracts him to the neighborhood. "The idea of things looking identical, especially people who look identical. I like when things are different, when things aren't expected." He also appreciates the area's proximity to the Manhattan and Brooklyn Bridges, making it convenient to travel into the city, as well as the local green spaces—Fort Greene Park and Commodore Barry Park. He adds that Clinton Hill offers "a little more room to breathe, and think, and work."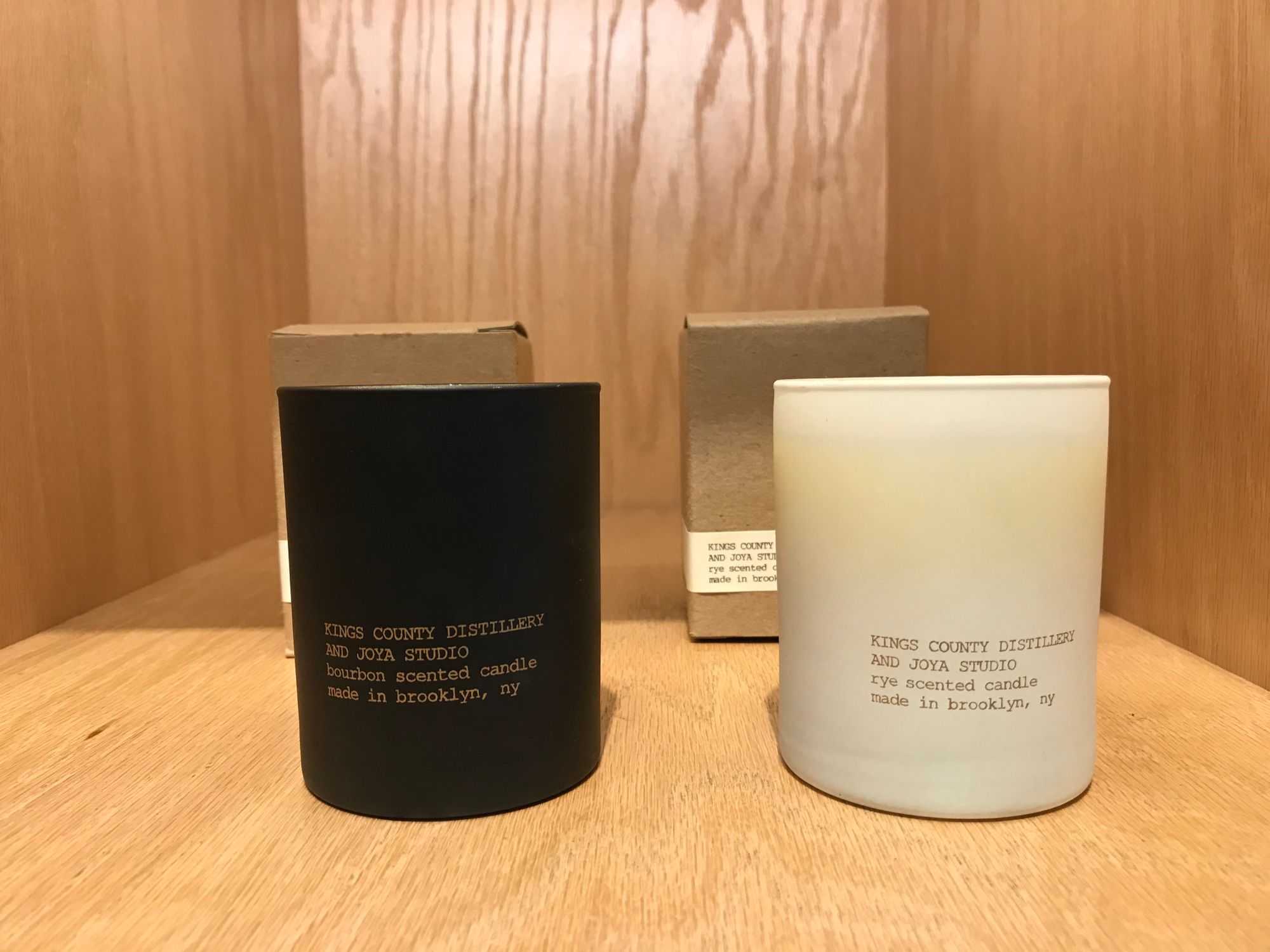 Along with Fruin, Joya regularly collaborates with artists, architects, designers, chefs, hoteliers, and brands. Located across from the Brooklyn Navy Yard, the fragrance studio has worked with a number of creative tenants headquartered at the industrial complex, including Kings County Distillery, creating rye and bourbon scented candles.
Joya is currently working on several new projects, including a short film documenting the behind-the-scenes operations of the studio.
Nightlight by Tom Fruin & Joya is available to purchase starting November 1 at Joya Studio, 19 Vanderbilt Avenue, or www.joyastudio.com. The candle will also be available at various retail locations including A/D/O and Brooklyn Historical Society. [$65]