Meet The Artist Behind Brooklyn's Kaleidoscopic Water Towers
GOWANUS – After more than twenty years of working in DUMBO, artist Tom Fruin  relocated his studio to Gowanus in March.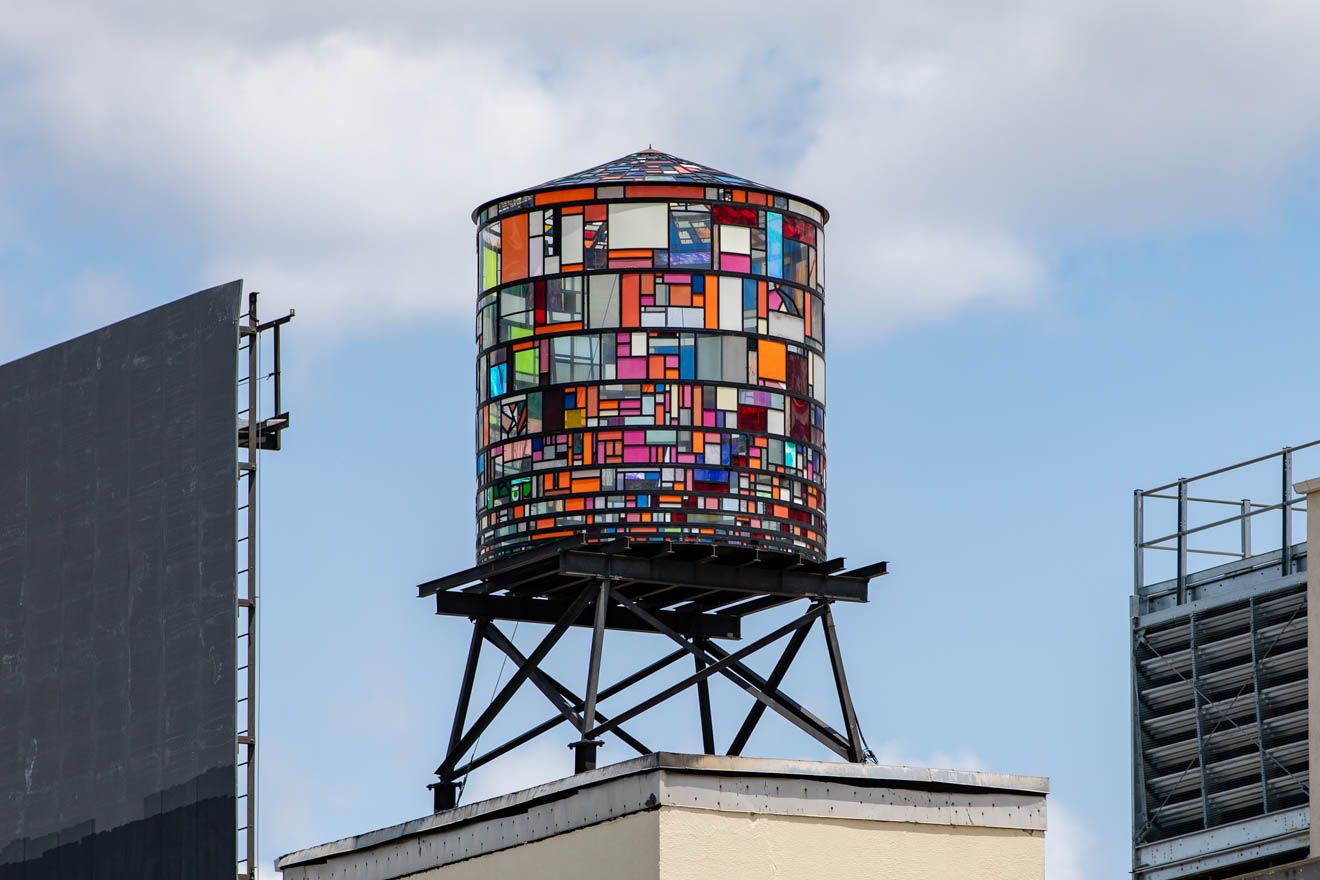 Brooklynites can get a glimpse of Fruin's work while commuting across the Manhattan Bridge. He's the creator of the charming, colorful, Watertower (2012) that sits atop 20 Jay Street, visible from the Manhattan-bound side of the crossing.
"One reason I installed the piece on 20 Jay was so I could see it from the Manhattan Bridge bike path. It was nice to see it morning and night—like bookends to my day," Fruin said of his days cycling between DUMBO and his former East Village home.
Fruin moved to New York City from his native Los Angeles in 1996, after receiving his  Bachelor of Arts from UC Santa Barbara. He shuffled around studios in DUMBO over the years, starting at 35 Main Street, 75 Washington, 55 Washington, then 20 Jay where he settled for almost ten years and installed one of his signature water towers on the rooftop.
Reflecting on the Main Street space he said, "My studio was in the basement which is part of a parking garage. Occasionally there would be a car idling by my studio and we'd all have to leave." Two decades ago, Fruin said his DUMBO neighbors included "some major artists…all scattered around doing their thing," as well as "lots of kids in bands and even marching bands, some crazy stuff was happening there…. It was still pretty raw."
During his earlier years in the neighborhood, Fruin created smaller works, neon pieces or quilts composed of found objects such as Snickers wrappers, drug bags, beer cans, playing cards, lottery tickets, and cigar bands. He even stitched together a quilt made of hundreds of wrist bands from Webster Hall that he'd gathered on the streets when he was living in the East Village.
Fruin's style of work—"where you take a lot of disparate material and you put it together to make a larger whole that's something different"—later "naturally evolved" into his more recent "stained glass" series of life-sized, illuminated water towers, houses, and other architectural structures.
Fruin still incorporates found or salvaged materials into his work. "I've always loved the idea that in New York, everything has a little bit of history to it. Even things that have been cast off—they're imbued with some quality because they have been used. And it's free and it's plentiful, so that's where all my work was sort of from, found materials that I repurposed and combined to make something larger."
He made his first Icon piece in 2010 in Copenhagen, Denmark. It's name, Kolonihavehus, is "the Danish word that means 'community garden shed' basically." He explained that the small houses are built in kolonihaver (allotted colony gardens) which are common all around the Danish capital and serve as popular gathering spots during the summer months. After a tour around Europe, Fruin's Kolonihavehus sat next to Jane's Carousel in Brooklyn Bridge Park for two years before moving to its current home at North Brooklyn Farms along the Williamsburg waterfront.
When Fruin and his wife returned to the states from Denmark, his wife asked him to name a good icon for New York City. "I instantly said 'the watertower,' then I made the first one that's on Jay Street."
Fruin's Icon series is about "transforming your surroundings and your perception," he said, adding that he takes "overlooked infrastructural" items and turns them into something "fantastical…so when someone sees it, it changes their whole perception of their surroundings. What was commonplace is now completely changed."
Along with the type of structure Fruin selects for a piece, its pattern also references its environs. "They're meant to be site specific," he explains. "They're meant to relate to the surroundings, both the shape and patterning."
"I also have a deep interest in making things for the public realm, so that required me to get materials that were more sustainable in that environment—steel and plexiglass and other things," he noted. "I want to get them out there. I like to get them seen," he continued, explaining his location choices for his water towers and houses. "It's to be very accessible, not necessarily physically, but visually. They're out there, like by the BQE, or the bridge, or in a park."
Other works by Fruin currently on view in Brooklyn include Watertower 3: R.V. Ingersoll (2014) atop 334 Furman Street near Brooklyn Bridge Park and visible from the BQE as well as from the Brooklyn Heights Promenade and Watertower 5: Greenpoint (2016) at Greenpoint Beer & Ale. Fruin also created the colorfully illuminated letter signage for St. Ann's Warehouse in DUMBO and the Wythe Hotel in Williamsburg.
From May through mid-June, Fruin's kolonihavehus Maxikiosco (2011) was exhibited at the Empire Stores in DUMBO to help introduce the newly launched Time Out New York Market and activate the adjacent courtyard. His installation Billboards (2017) is on permanent display at The Jackson hotel in Long Island City and his Sail (2019) was recently installed at the Syosett MTA Station in Long Island. In honor of Pride Month in June, Fruin installed both a water tower and a kolonihavehus at Hudson Yards in Manhattan.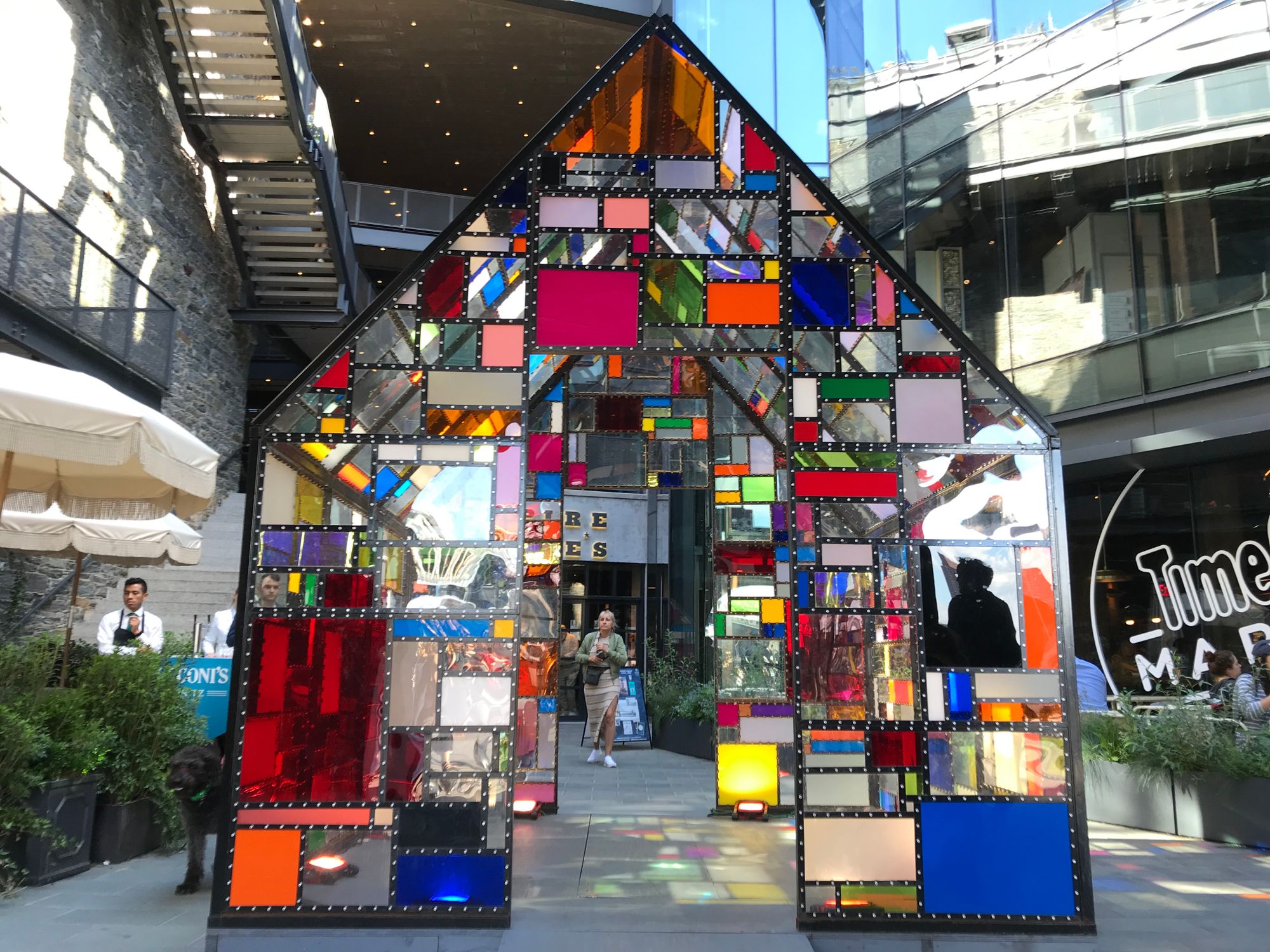 Outside of New York, Fruin's work can currently be seen in Cambridge, Massachusetts; Detroit, Michigan; Lake Nona, Florida; Oakland and Palm Springs, California; Milwaukee, Wisconsin; Buenos Aires, Argentina; and Jeju, South Korea. His 50-foot-tall Windmill (2017) is on display in Fort Worth, Texas—its spinning blades generate the power that illuminates it.
When making the switch to larger sculptural pieces, Fruin realized that he had outgrown his space at 20 Jay. He also found that his neighbors had changed. "Instead of being the crazy marching bands and whatever…they were all app developers and interior designers, so me grinding [machinery] and playing loud music—it was kind of clear it wasn't where I was supposed to be anymore," he said.
Fruin left DUMBO in 2018, first moving to a space at Smith and 9th Streets "in the elbow of the canal" for a few months before finding a 25′ by 100′ garage on 6th Street with towering ceilings topped with a row of skylights, giving him plenty of room to work on his large-scale pieces.
"I love it. I totally do," he says of his new neighborhood. "There's a lot of studios," he noted before listing some of his creative and innovative new neighbors including Griffin Editions, Brooklyn Solar Works, and Oz Steel Works. "I'm really enjoying it. It's almost  like the earlier days in DUMBO when there were a few things popping up here and there. You almost have to discover it."
The father of a six-year-old son and four-year-old daughter, Fruin is excited to explore the neighborhood with his kids. "There's so much stuff…there's tennis and archery and Brooklyn Boulders." Fruin moved from the East Village to Brooklyn Heights after his son was born. "I have one of those Brooklyn dad cargo bikes so on the weekends I'll take them by [the studio] and then I'll put them back on the bike and we'll go to Pioneer Works," he said. "We usually tool around Red Hook. There's no traffic, you kind of meander. There's always something weird right over the fences."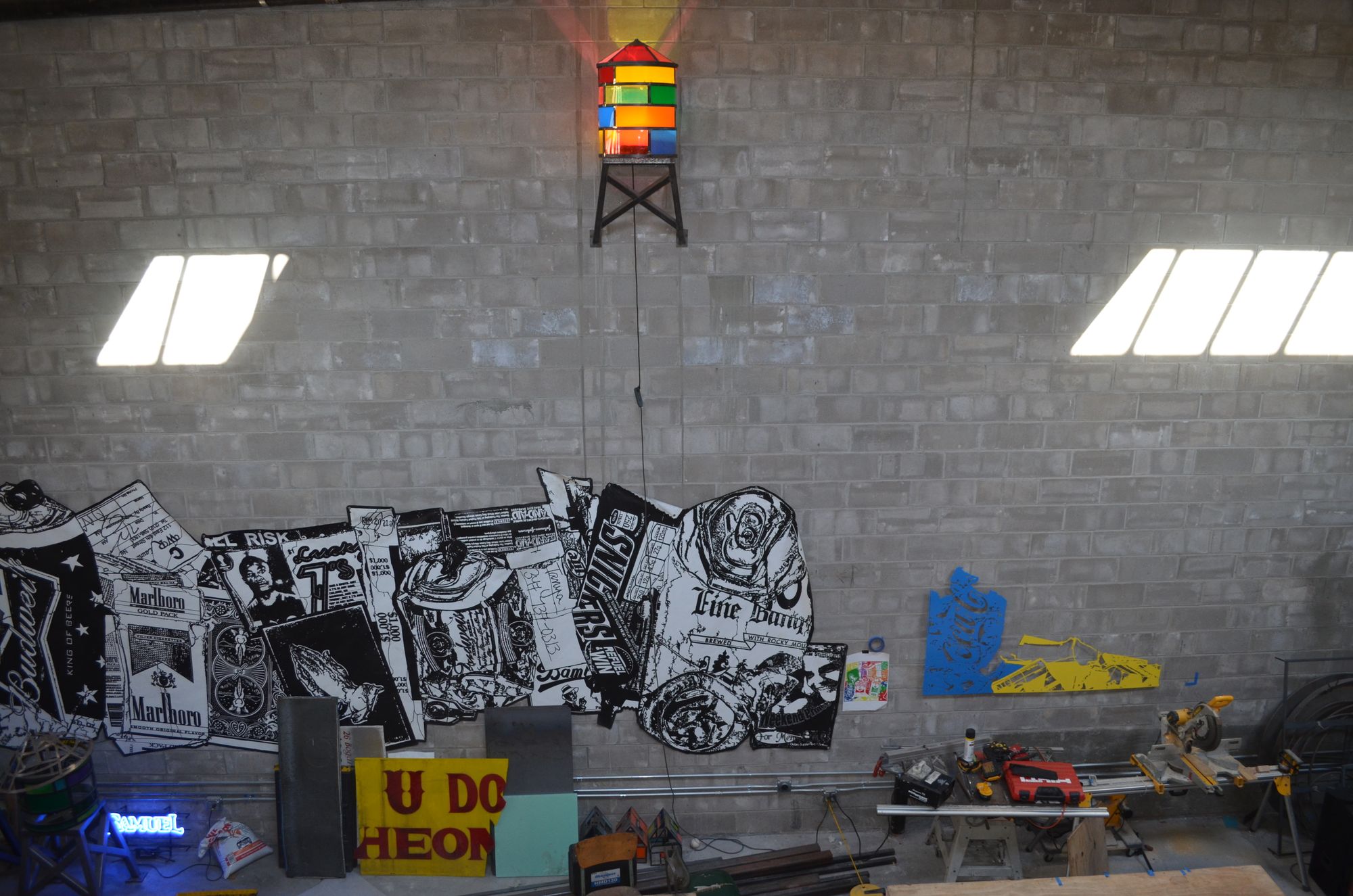 What's next for the prolific Fruin? The artist is currently working on sculptures for the lobby of The Dime Williamsburg, a new 21-story mixed-used development at the site of the former Dime Savings Bank. He also recently finished a collaboration with Joya Studio on a water tower-inspired candle, so fans will be able to enjoy his work without having to traverse the Manhattan Bridge.
Check out more of Fruin's work on Instagram or tomfruin.com.