Neighbors Gather To Learn "What's Next For Atlantic Yards?"
FORT GREENE – The Fort Greene Association, Boerum Hill Association, North Flatbush BID, and North Prospect Heights Association co-hosted a panel discussion Monday evening to inform locals about what's next for the Atlantic Yards development.
Now renamed Pacific Park, the 22-acre mixed-use development which includes the Barclays Center, has been in the works for years and will include a total of 15 buildings offering 6,430 residential units and 2,250 affordable apartments. The project will also create office space, retail, community facilities, and eight acres of outdoor public space.
"If any of you live any place close to Atlantic Yards you will know that the building has resumed," Elaine Weinstein, co-chair of the North Prospect Heights Association, said at the start of the meeting. "There are two large buildings [B4 at the corner of Atlantic & 6th Avenue and B15 at the corner of Dean & 6th Avenue] that are beginning construction so this is a very timely forum. Our goal is very simple. It's to educate, inform and hopefully raise issues that you have concerns about and that you want to become active in resolving."
Weinstein encouraged meeting attendees to sign up for one of the community working groups focusing on density, infrastructure, affordable housing, or accountability concerns regarding the project. Go to http://bit.do/MyBrooklyn to sign up.
While many in the audience have been following the progress of the development for years, Atlantic Yards/Pacific Park Report's Norman Oder, a longtime chronicler of the project, provided a timeline as a refresher.
"I've been writing about this project almost 14 years, there are still things to say," Oder began. The Atlantic Yards project was announced in 2003 with the slogan, "Jobs, Housing, and Hoops," he explained, before noting that to date, only the Barclays Center and four residential towers (461 Dean, 38 Sixth, 535 Carlton, and 550 Vanderbilt) have been completed. "There are at least 11 more towers to go—two just started, two more will probably start next year," he said.
The project was originally slated to be completed in ten years by developer Forest City Ratner, with four office towers designed by Frank Gehry surrounding the arena. "None of that happened," Oder noted.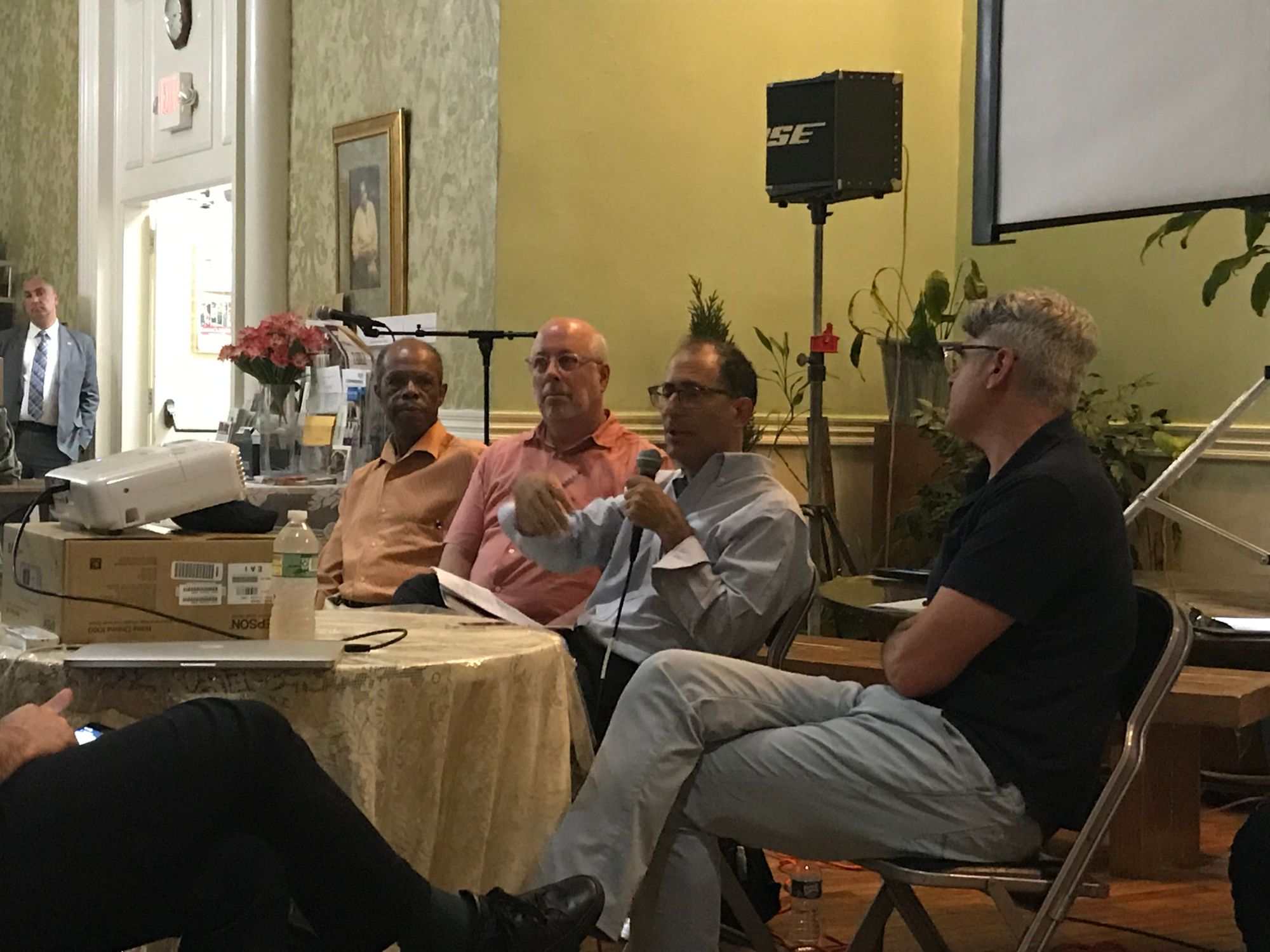 The New York State agency, Empire State Development [ESD], which "overrides the local land use process [ULURP]," approved the project in December 2006, he continued. The project's inclusion of affordable housing garnered support from the public, however "'affordable' just means income-restricted, not necessarily for poor people," Oder explained.
NYS revised the deal for the project in 2009, extending the deadline for completion twenty-five years to 2035. Construction on the Barclays Center began in 2010 and wrapped up in 2012.
In 2013, Greenland USA, part of the Shanghai-based Greenland Group, purchased a 70% stake in the project (excluding Barclays Center and 461 Dean).
Following pressure from BrooklynSpeaks (a coalition of civic, community, and advocacy groups) in 2014, New York State changed the deadline for the completion of all affordable units to 2025. Also in 2014, the project's name changed from Atlantic Yards to Pacific Park.
In 2016, Forest City finalized its sale of the Barclays Center and the Brooklyn Nets to Russian billionaire Mikhail Prokhorov, according to Oder.
In 2018, Greenland USA bought an additional 25% stake in the project from Forest City, giving the company 95% of the joint venture.
Today, two buildings have recently begun construction: B4 (18 6th Avenue), adjacent to the arena, and B15, across Sixth Avenue. The latter will house a new middle school.
Two more buildings (B12 and B13) are expected to break ground next year at the southeastern block between 535 Carlton and 550 Vanderbilt. "Two new developers are involved," Oder added. In September 2018, Greenland Forest City Partners announced that it was selling three parcels of the Pacific Park development to TF Cornerstone (615 Dean Street/B12 and 595 Dean Street/B13) and 664 Pacific Street/B15 to the Brodsky Organization.
"So the big question: how do they meet that 2025 deadline for affordable housing?" Oder asked. He said the developers could build six towers over the two-block-long LIRR railyard east of the arena. However, in order to do so a platform must be built above the yard, he explained. While work has begun on the platform, it is not known when it will be completed.
Oder also noted that the open space promised in the project will not be done until the rest of the project is completed. "The other big question involves Site 5, that's currently home to Modell's and P.C. Richard," Oder continued. While a 250-foot building was approved for the site, this building has been delayed due to legal issues.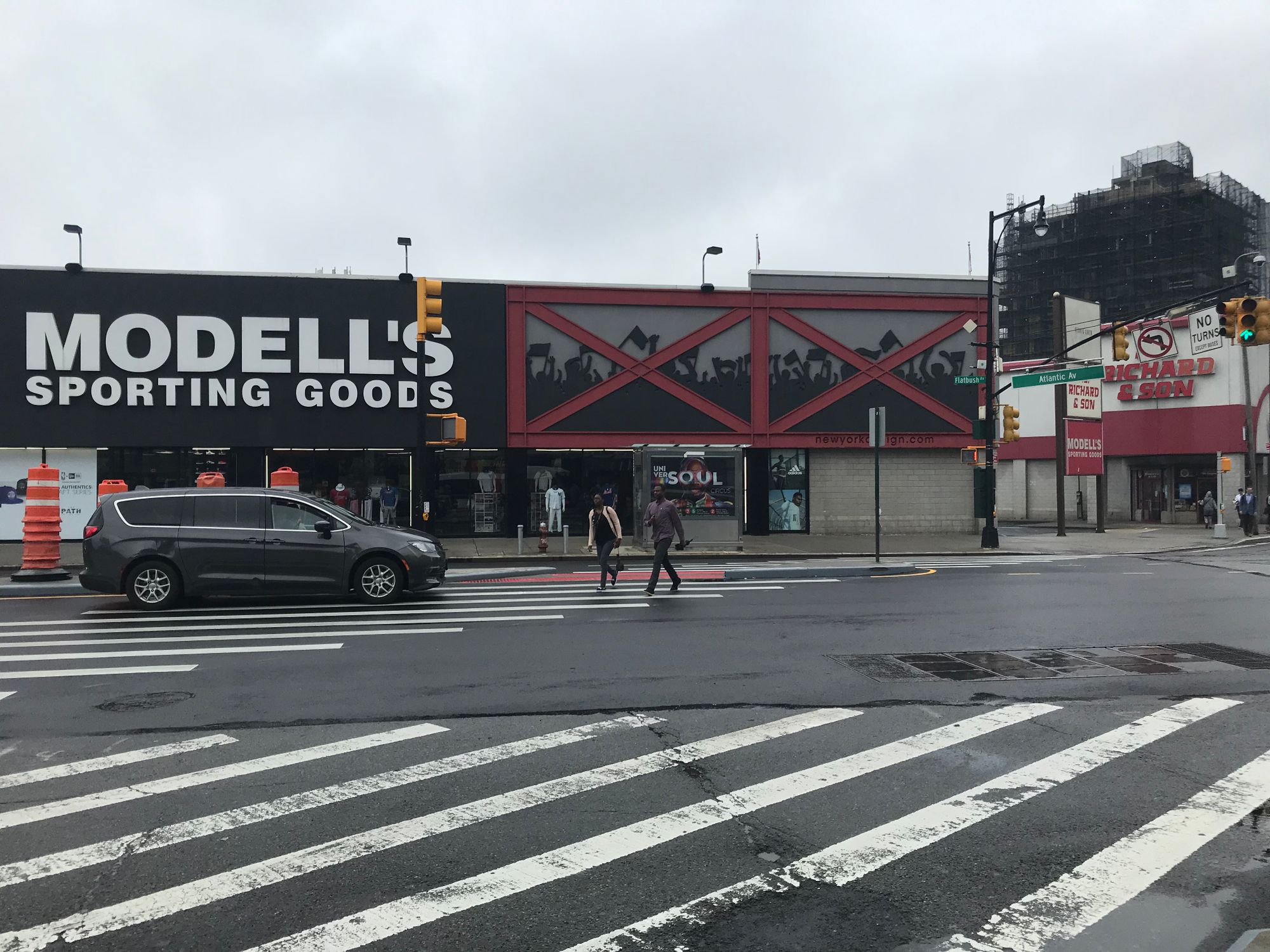 He explained that the 1.1-million-square-foot tower B1, aka Miss Brooklyn—which was planned for what is now the plaza in front of Barclays—was not built in order to leave open space in front of the arena. "No real estate company throws away buildable square feet," Oder said, adding that "most of that unused bulk" will likely be transferred across Flatbush Avenue to Site 5.
"That may be coming," he said, "but they can't move that bulk without a new round of public approvals" and public hearings.
Following Oder's briefing, Community Board 2 and Boerum Hill Association member, Dwight Smith, took the mic to explain two developments. Smith has been attending Empire State Development Quality of Life meetings regarding the development for six years and noted two issues locals regularly raise: the need for real-time responsiveness to neighbors' complaints regarding construction (including air/noise pollution, falling construction debris, double parking) and traffic issues related to events at Barclays Center.
Smith noted that city agencies responsible for many of the concerns do not attend the Quality of Life meetings, making it difficult, if not impossible, to resolve problems. "The good news today is that residents' concerns have finally gotten the attention of the Borough President's office," Smith said.
"Two things have happened just in time for this next burst of construction activity," he continued. These include a Borough Hall representative who now regularly attends the Quality of Life meetings and assists in working with city agencies to resolve issues, and the potential for having Pacific Park issues "included as a permanent quarterly agenda item at Borough Service Cabinet meetings," Smith said. "If approved, this will give [Atlantic Yards/Pacific Park] issues official attention for the first time, and an administrative mechanism through which to get them resolved."
"To the extent [Atlantic Yards/Pacific Park] issues become Service Cabinet agenda items and the Borough President's Office can successfully work through cost-sharing requirements with ESD officials, I'm cautiously optimistic that going forward we can have a mechanism that'll proactively address residents' quality of life and public safety issues during this next construction phase," Smith concluded.
During the Q&A session, one resident said, "I came tonight because I was really expecting that there would be some kind of new information and it seems like there's nothing new…. It seems like we're no closer to having any answers…. Is there anything that suggests there's progress here?"
"Unfortunately there is no new public information," replied Howard Kolins, President of the Boerum Hill Association. "What we have is what's been going on with Greenland now giving up some property and some movement in construction which brings up the question: when does the rest of it get built? 2025 is the deadline for the affordable housing…. There is a cash penalty of $2,000 per unit…that's written and that date is looming."
"It is an election year coming up, so there is leverage," Kolins continued. "We do want answers. We have a different legislature in Albany and maybe there are people willing to listen. The rent regulations that were just instated may give us some perspective."
"Affordable housing always comes with a heinous tradeoff, so when you start moving the height and bulk around, what is the price?" he asked.
Others were concerned about the planned development at Site 5 increasing from the currently approved 250 feet.
"Right now we are in a period in which our elected officials are giving input to the developer and the state about what they envision for Site 5 and the project generally," said Peter Krashes of the North Prospect Heights Association. "It is the most impactful point to give input because plans are not final—they are being shaped. The community needs to work together cooperatively now when it gives input to the elected officials, the developer and the state."
Oder provided more details regarding Site 5. "They began eminent domain proceedings in 2015…they stalled that because P.C. Richard was promised space in the replacement building, so they claimed, they went to court, and that lawsuit was resolved at the first level in January with a victory for P.C. Richard." He added that he believes the case is currently being appealed.
The challenge of Site 5, which could potentially become two towers, is "they wanted that to be Amazon headquarters," Oder continued. "They wanted it to be Panasonic headquarters. If it's going to be an office tower for the 'new Brooklyn economy' they are not going to build it on spec. They need an anchor tenant," he explained.  "Alternatively, they'll build apartments, however…as of now there are a lot of apartments in the Downtown Brooklyn environments, so there's a whole bunch of question marks surrounding it."
Before the meeting wrapped up, Brent Porter, a Pratt architecture professor who studies the impact of shadows cast by towers, stressed the environmental issues Site 5 poses in terms of shadowing and glare. "If you look at those diagrams for Site 5, that huge wallop of sunlight in the afternoon is going to come back out to the community as glare," he noted.
"I suggest as a community we focus on both the process that is ongoing now, and the process that will unfold in the future, with a goal of improving the outcome for the public," Krashes said.