535 Carlton—Pacific Park's 100 Percent Affordable Residential Building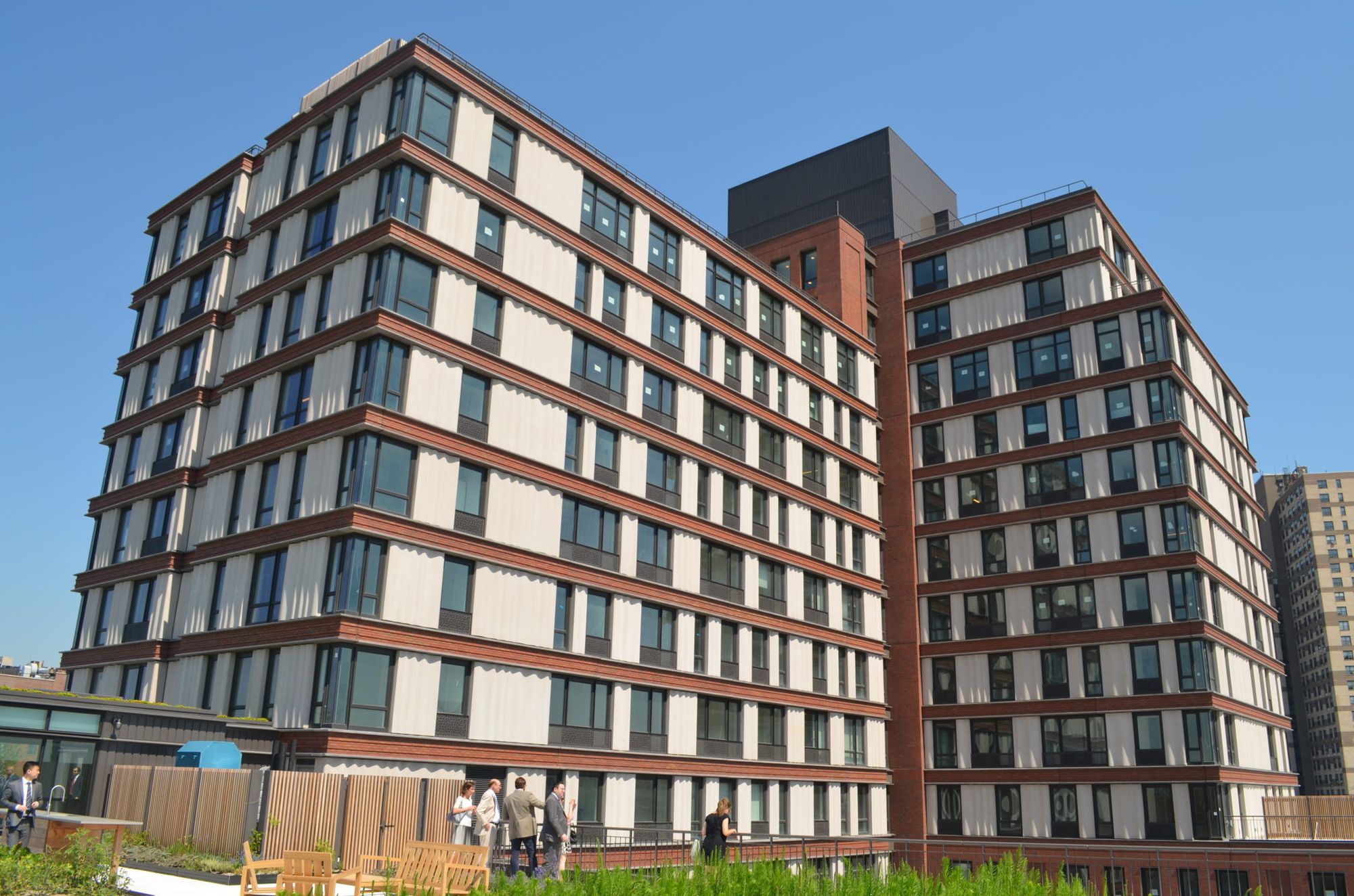 Greenland Forest City Partners hosted a ribbon-cutting ceremony Monday morning to launch 535 Carlton, a 100 percent affordable residential property located at Pacific Park.
535 Carlton, located on Carlton Avenue between Pacific and Dean Streets in Prospect Heights, was designed by the New York-based architectural firm COOKFOX. The 18-story building features 298 below market-rate rental units "designed to address the issues of sustainable, affordable housing in New York City," according to the firm's website.
At the ribbon-cutting, Brooklyn Borough President Eric Adams commended the team behind 535 Carlton, saying, "It really shows how you can have a quality project, that's union built, and that's affordable to the residents."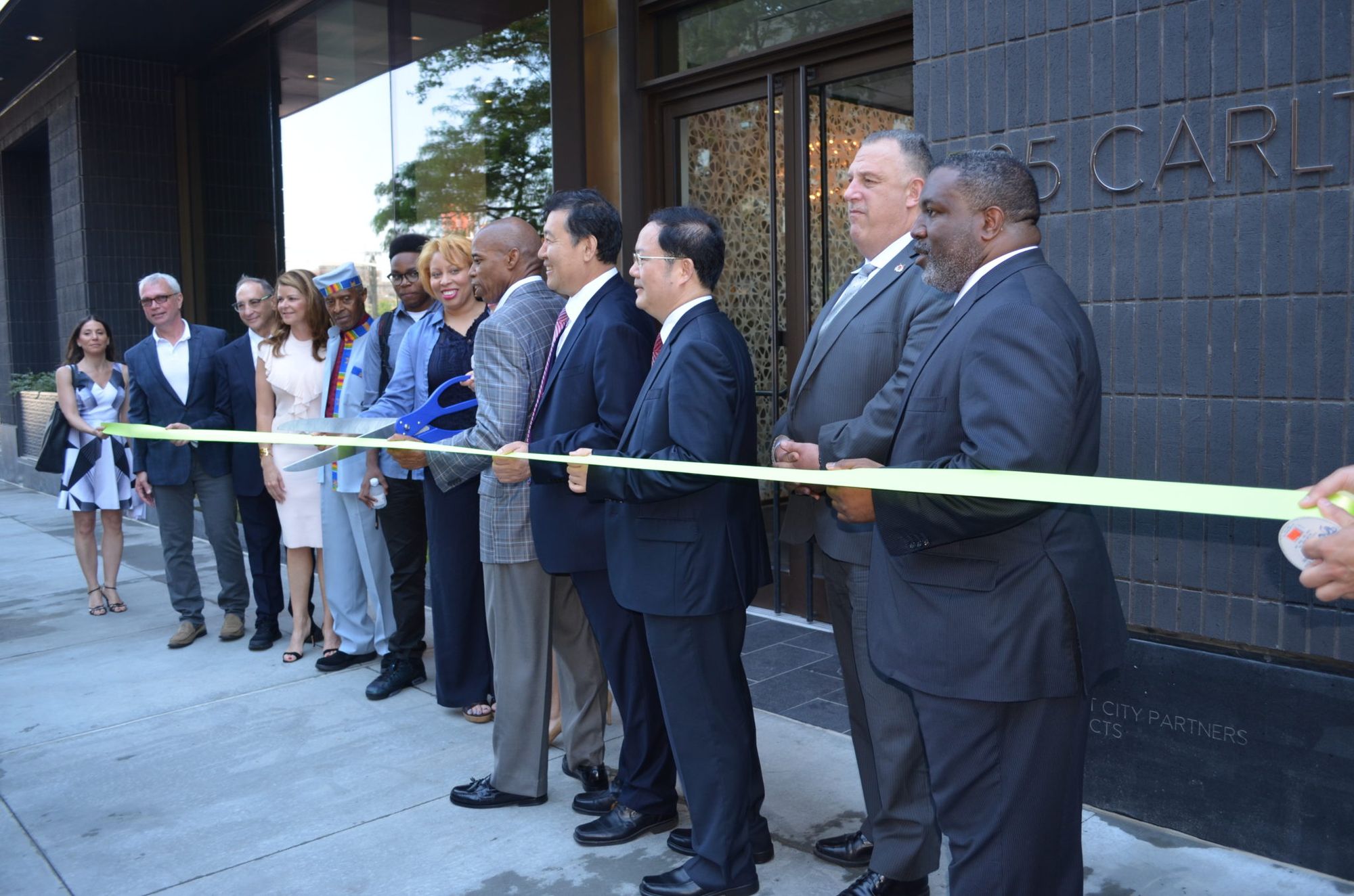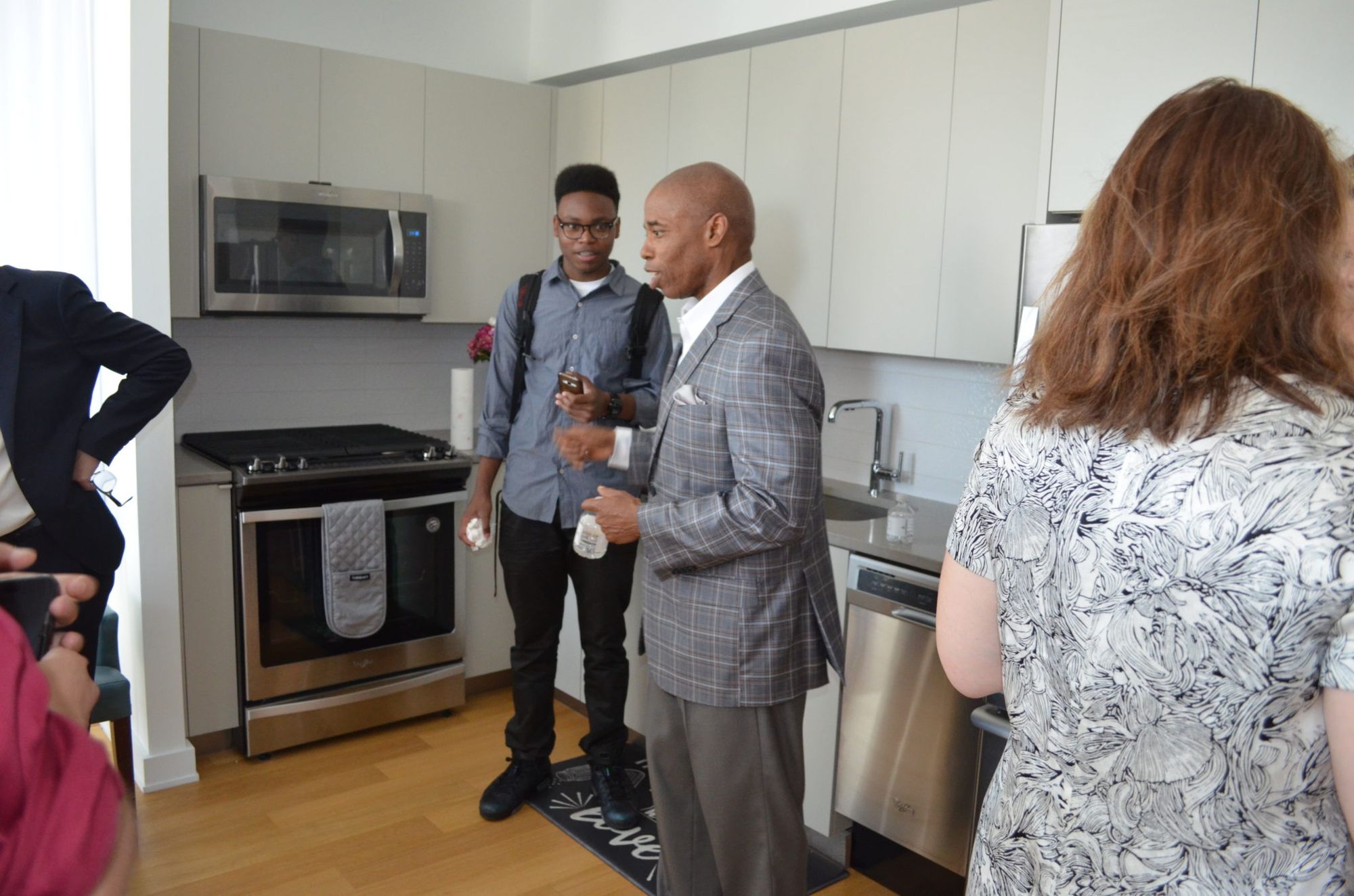 "This building is 100 percent affordable. That affordability allows a diversity, not only in economics, but in ideas," Adams added. "It's a cross-section and pollination of people that make this a great borough and continue to move us in the right direction."
"This is a great win for Brooklyn," Adams said. "It is only the beginning."
The residences include studios, one-, two-, and three-bedroom units with amenities including a fitness center, children's playroom, residents' lounge, laundry facilities on each floor, a bike room, a communal terrace, and a rooftop community garden.
The affordable units are available to applicants with incomes falling within the range of $20,126 to $173,415. Monthly rents range from $548 – $2,137 for studios; $589 – $2,680 for 1-bedrooms; $713 – $3,223 for 2-bedrooms; and $817 – $3,716 for 3-bedrooms.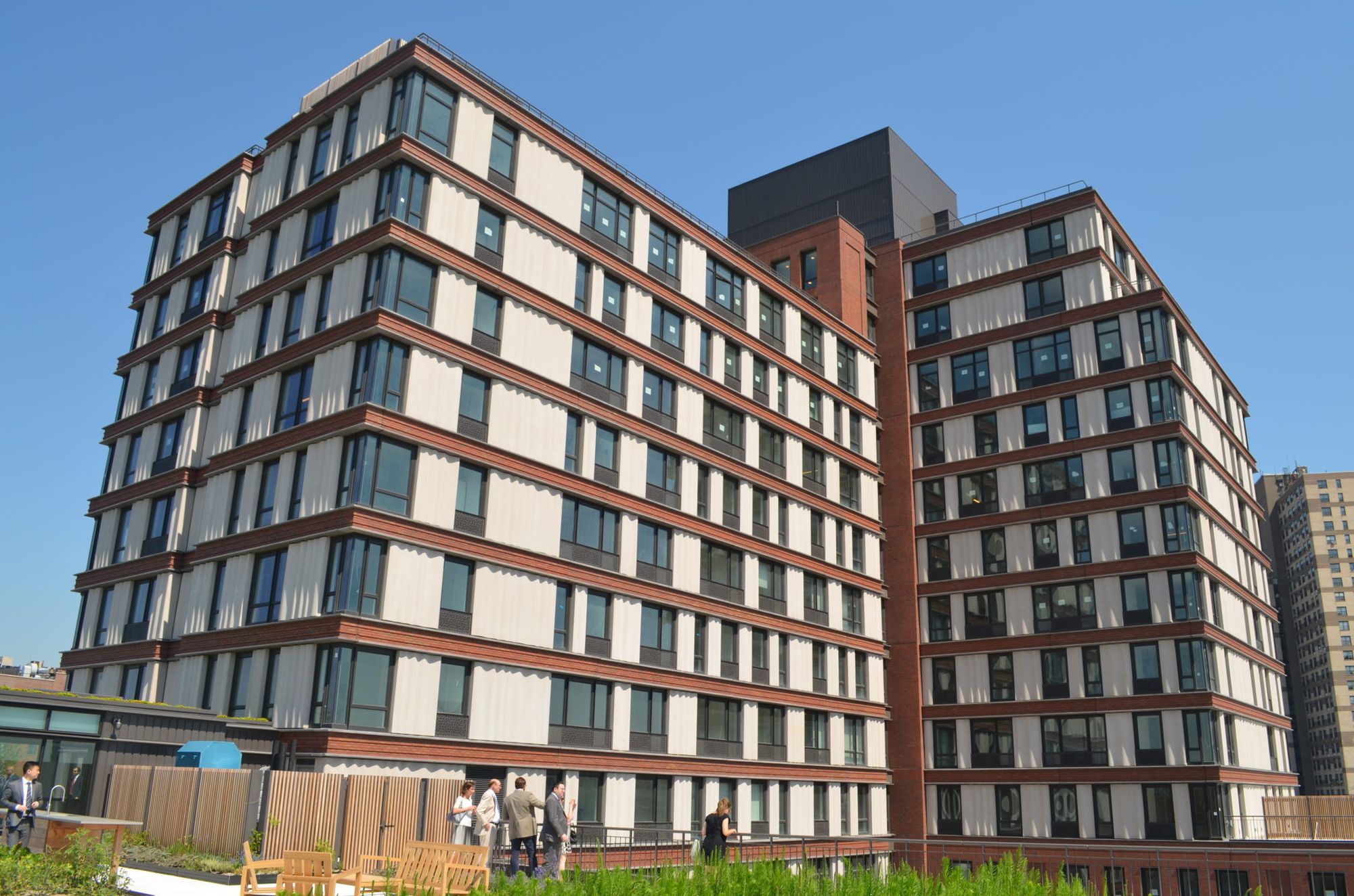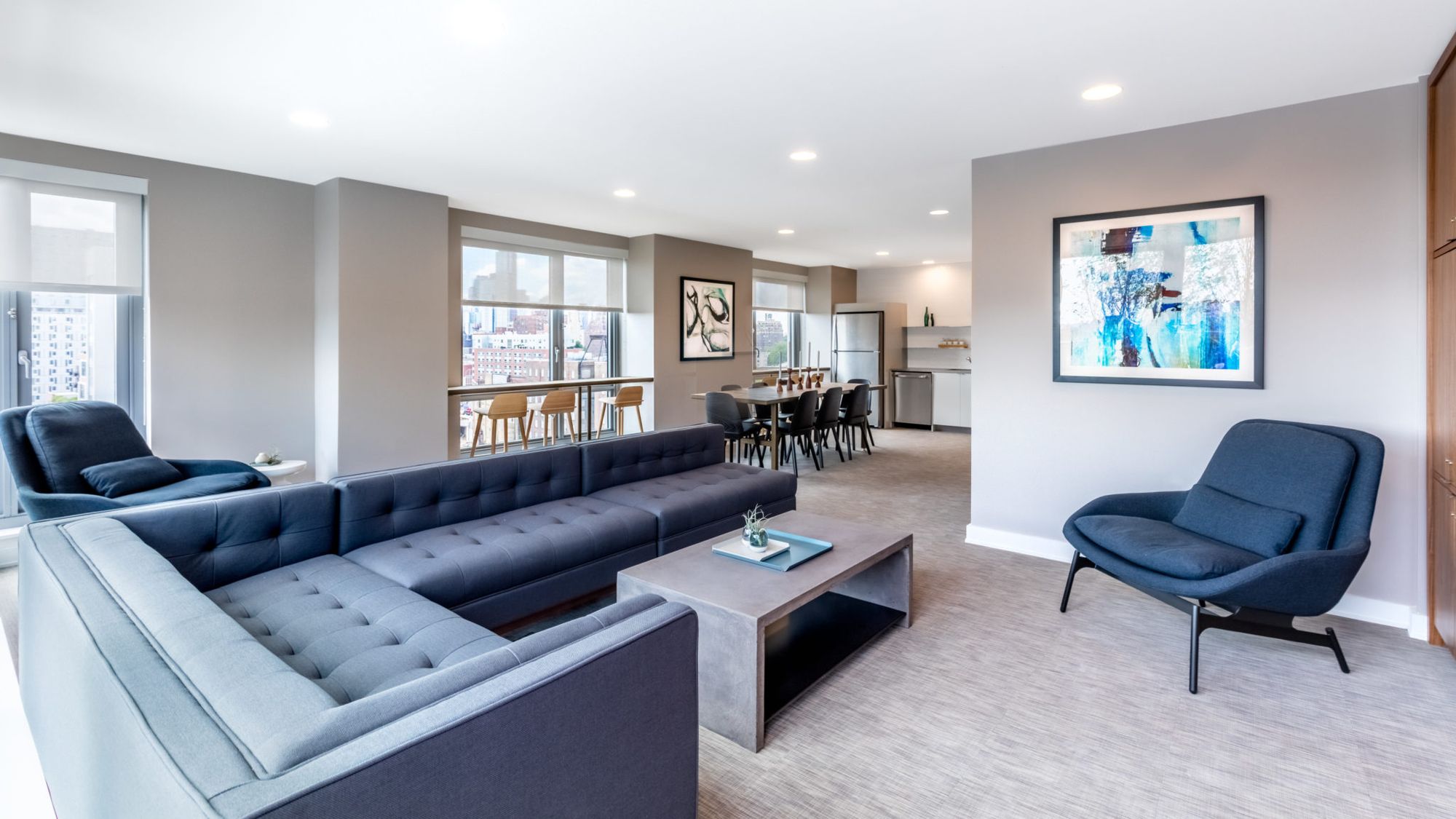 Thirty-five percent of the units are set aside for very low to low/moderate income households. Preference will be given to current residents of Brooklyn Community Boards 2, 3, 6, and 8 as well as to municipal employees and vision, hearing, or mobility disabled applicants.
Approximately a third of the units are already filled, with residents moving into their new apartments in April. Crystal Patterson, one of the earliest residents of 535 Carlton, also spoke at Monday's event.
"I had quite a journey getting here today. I hadn't had a permanent home in close to two years and I had lost my job as a law firm coordinator due to firm-wide restructuring and housing is a challenge in this city, as we all know," she stated.
"I did have faith one day that we, my son and I, would have a place to call home again. I applied for dozens of affordable housing opportunities, and then one day I received an email from 535 Carlton saying, 'Come home,' and it's been fantastic since."
"Twelve or thirteen years ago we had certain commitments—one commitment was to build over 2,000 units of affordable housing. We're now close to 500," said Bruce Ratner, the Founder and Chairman of Forest City.
"I've seen this city get safer over the years, I've seen our education system improve, but the one area that I always felt needed a lot of work was affordable housing and housing in general," Ratner continued. "I want to say this administration is devoted to that concept."
Ratner stressed the rapidly growing city's need for affordable housing and added, "We still have in this borough 700,000 people below the poverty line. We cannot forget that."
"We will begin to address that problem, even in a more intense way," he promised.
After the press conference, Patterson told BKLYNER that she and her son, Trey, love living at 535 Carlton. "The environment. The community. Where the building is located. The people that are here," are a few of her favorite things about living at the new development.
"It's very nice. Peaceful," her son, Trey, an eighth-grader at I.S. 318, added.
Patterson explained that she initially submitted her application for 535 Carlton online last summer after the lottery launched in July 2016. "I applied online. I clicked apply and that was it. It just kind of rolled from there," she says.
She was contacted about a possible unit in October 2016, was interviewed in November, and then a screening process took place over the next few months. "They definitely vet people very well for the building," she said. "I think that that's really crucial so you know who you're living with." She added, "It was well worth it."
Pacific Park Brooklyn is a commitment made by Greenland Forest City Partners with Governor Cuomo, Mayor de Blasio, and local community groups to build 2,250 affordable apartments by the year 2025.
This will be the second residential building to open at Pacific Park, following the November 2016 debut of 461 Dean, a 50 percent affordable residential property. Plans for Greenland Forest City Partners' 22-acre, $4.9 billion Pacific Park Brooklyn project, "an inclusive neighborhood designed for all New Yorkers," include more than 6,000 units of affordable and market-rate housing, with 2,250 reserved for affordable rental units.
"This is like the fruition of our dreams," Patterson said. "To have an opportunity to live in the borough where I was born and raised…it's just fantastic."
Learn how to apply for one of these affordable units at 535carlton.com.
[Photos by Pamela Wong/BKLYNER, except where noted]