Native American Teenager Celebrates Father's Day With Surrogate Father, Gravesend Native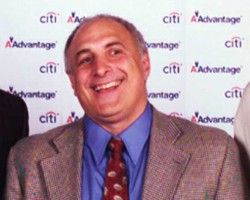 Daily News' source for all things Brooklyn, Denis Hamill, has got a heartwarming Father's Day tale for all of us to learn a little kindnessfrom.
A Native American teenager, who never knew his biological father, celebrated Father's Day with his surrogate father from Gravesend, who helped transform the quality of the teenager's life over the past two years.
Eighteen-year-old Keith Martinez grew up on a poor and corrupt Indian reservation in South Dakota, where he lived with seven other boys in a cardboard trailer. He was sent to Scarsdale to live with Brandon Steiner after he was chosen to participate in his school's STEP program, or Student Transfer Education Program.
Steiner was raised in Brooklyn, and grew up living on the corner of Ocean Parkway and Kings Highway. He is a noted sports collectibles expert.
From the moment Martinez arrived at the doorstep of Steiner's home two years ago, Steiner has worked to assist Martinez in every way possible. When he learned that Martinez was struggling academically, Steiner hired private tutors. Steiner forced Martinez to focus on his education before other extracurricular activities, such as football. He also took him to various places in the city, such as Yankee Stadium and Citi Field, to teach him about life.
Steiner definitely placed Martinez on the road to success. Martinez graduated from Scarsdale High School with a high SAT score and a 3.72 GPA, according to the Daily News. He received 14 college scholarships to several colleges, some of which were extremely prestigious and selective. Martinez, who feels forever indebted to Steiner, expressed his appreciation by celebrating father's day with Steiner in Manhattan.
"I was raised by a stepfather, but Brandon has become like another father to me," Martinez said to the Daily News. "So I will tell him that I'll always appreciate everything he's done for me. On the reservation, we support ourselves running a concession stand, selling soda and candy. Now I'll major in business and marketing at Villanova University, and someday go back to Pine Ridge to build a great company that can provide jobs and services for my people. That's my dream. And one thing that Brandon has taught me is that dreams can come true."