What You Need To Know – The National School Walkout
Students, faculty, staff, and parents from schools all across Brooklyn are participating in a National School Walkout next Wednesday, March 14 at 10 am to protest gun violence.
The walkout will last 17 minutes to honor the 17 victims of Parkland, Florida's Marjory Stoneman Douglas High School mass shooting. Mayor Bill de Blasio echoed his support for the walkout in the Brian Lehrer Show, saying "We're certainly ready for that, I respect it. If I was a high school student today, I'd be walking out."
In a letter Department of Education (DOE) Chancellor Carmen Fariña wrote to parents, the DOE "support[s] students participating in civic engagement and exercising of their First Amendment rights."
"Students will not face consequences beyond a notation in their student attendance record and a conversation with an administrator," she wrote. "Staff members from each school will be assigned outside their school buildings during the walkout to help ensure safety and order."
At 2 pm the same day, Brooklyn Borough President Eric Adams and District 39 Council Member Brad Lander planned a National Walkout School Rally at Prospect Park Bandshell. "At this after-school rally, we will call and write legislators, learn how to speak truth to power, and build a Students' Bill of Rights," Adams said.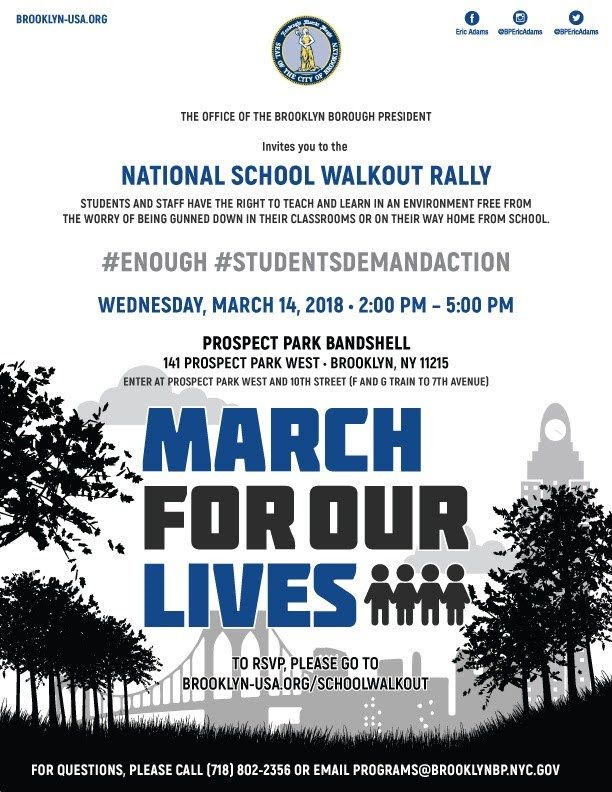 District 43 Council Member Justin Brannan believes the youth taking part in the walkout deserve respect.
"I can't imagine what it must be like to go to school these days with active shooter drills and continual news about the latest mass shooting on television," Brannan told BKLYNER. "The youth speaking out and walking out don't just deserve our respect and admiration but they deserve our undivided attention."
"They get it. Their government has failed them when it comes to gun control and they aren't going to take it anymore. And quite frankly, I don't think anybody can blame them."
District 47 Council Member Mark Treyger, who is also Chair of the City Council's Committee on Education, has this to say: "Our nation has a long history of young people as catalysts for change and progress, and the leading role that American students are taking in pushing for much-needed gun law reform is just the latest example of that."
"I commend students in Brooklyn, in our city, and across the country for standing up and speaking out for what they believe is right."
Adem Bunkeddeko, running against Congresswoman Yvette Clarke for Congressional District 9, says it's "inspiring to see so many students and young people engage in our political dialogue to create change."
"Enough is enough, and this generation has decided to take matters into their own hands when our leaders have made empty promises," he told us. "I fully support their efforts to put pressure on the current administration who have failed to address gun violence in our country. Until President Trump follows through on his promises and signs common-sense gun reform into law, we must continue to demand it. We must do better."
Ross Barkan, a Democratic candidate running against Senator Marty Golden, also had a similar sentiment, saying he's "proud to support all students taking part in the walkout."
"The NRA is a morally bankrupt organization, a cancer on this nation, and young people are rightfully fed up," Barkan told us. "I commend their courage. Gun violence and school shootings don't have to be our future. We can follow the lead of every other industrialized nation in the world and pass real gun control measures to end this madness."
Here is a list of schools participating:
Midwood High School
M.S. 839
Edward R. Murrow High School
Brooklyn Prospect Charter School
P.S. 021 Crispus Attucks
Unity Preparatory Middle & High School
P.S. 321 William Penn
Millenium Brooklyn High School
Brooklyn Urban Garden Charter School
Brooklyn Emerging Leaders Academy
M.S. 51 William Alexander
Brooklyn Apple Academy
Brooklyn Technical High School
Brooklyn Law School
Leon M. Goldstein High School for the Sciences
Packer Collegiate Institute
Kingsborough Community College
Spring Creek Community Schools
P.S. 008 Robert Fulton
High School for Public Service: Heroes of Tomorrow
Brooklyn College
P.S. 282 Park Slope
Sunset Park Prep M.S. 821
Brooklyn School of Inquiry
James Madison High School
P.S. 20 The Clinton Hill School
High School of Telecommunications Arts and Technology
The Academy for Young Writers
Brooklyn Collaborative School
P.S. 039 Henry Bristow
M.S.447 The Math Science Exploratory School
International School of Brooklyn
Prospect Kids Academy in Park Slope
If your school is participating and is not on this list, please do let us know!