Myrtle Avenue Plaza Debuts This Thursday With Free Public Events All Summer
CLINTON HILL – After more than ten years in the making, the Myrtle Avenue Brooklyn Partnership will debut the new $7 million, 25,000-square-foot pedestrian plaza between Hall Street and Emerson Place this Thursday with a ribbon-cutting ceremony and the launch of the free summer public program series, "Move on Myrtle."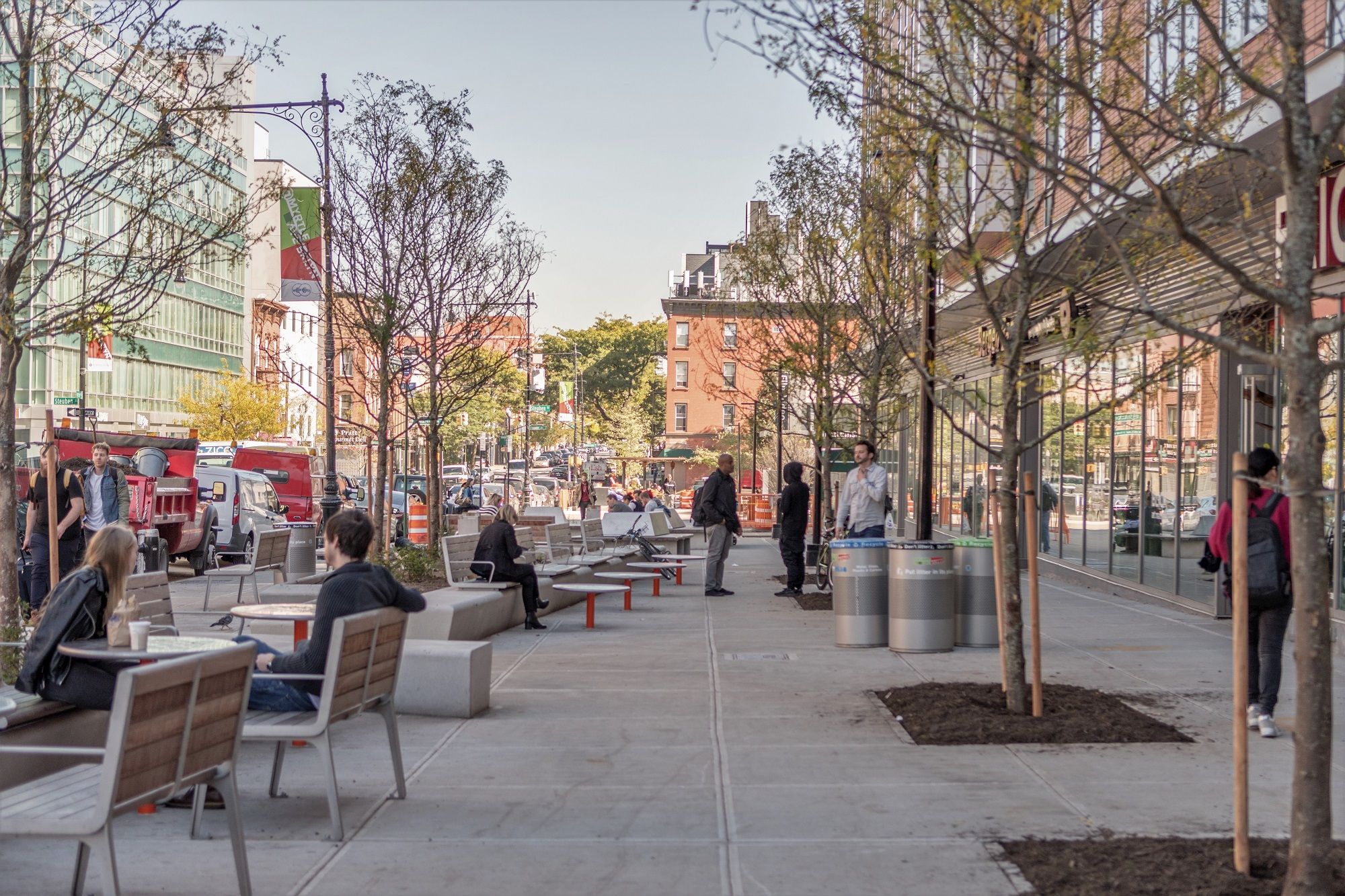 Spanning four blocks, Myrtle Avenue Plaza replaces an eastbound vehicular traffic lane with a tree-lined pedestrian space featuring 50 benches and tables perfect for hosting outdoor community events.
The "Move on Myrtle" series kicks off this Thursday, June 21 with a morning yoga class (7am to 8am) followed by live musical performances from 12pm to 7pm as part of Make Music New York 2018.
Following Thursday's launch, events will be planned throughout the summer until September 21, with yoga classes on Mondays, kids music and dance events on Tuesdays, and a variety of musical programs on Wednesdays including lunchtime jazz concerts, evening dance parties, a community karaoke event, and a rap battle with Miracles Barbershop.
Myrtle Avenue Plaza will also showcase a public art installation by the New York-based artist Matthew Geller featuring three round stools composed of carbon and stainless steel, cast iron, cast glass, and concrete sitting beneath a circular corten steel and hand-cast glass concave canopy, "a 19th-century illuminated manhole cover enlarged to the size of a rose window," according to Geller.
"It's been exciting to watch our vision come to life after years of community outreach, fundraising, design, and construction," Myrtle Avenue Brooklyn Partnership Executive Director Meredith Phillips Almeida said in a release announcing the Plaza's official opening. "We look forward to producing programs this summer in Myrtle Avenue Plaza that bring an element of art and culture to the avenue and that allow us to serve our community as well as attract new visitors to our district."
See the full "Move on Myrtle" schedule here.