Myrtle Ave Brooklyn Partnership Introduces App To Connect Low-Income Residents To Local Benefits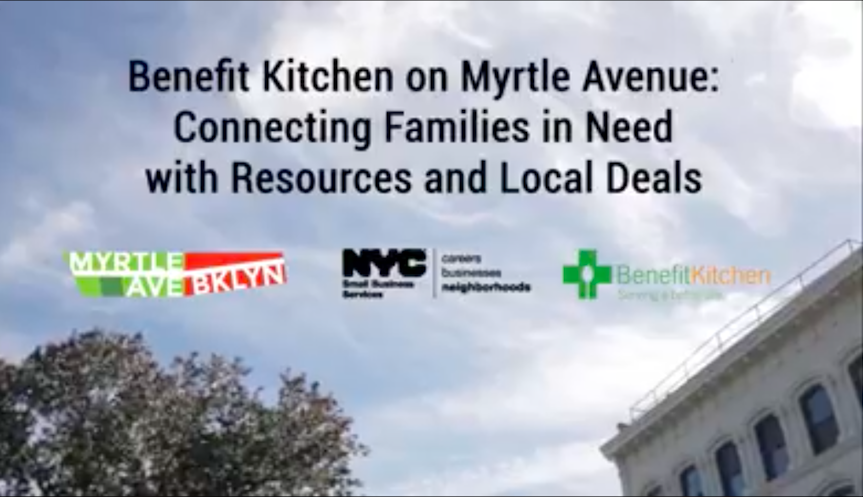 FORT GREENE/CLINTON HILL – The Myrtle Avenue Brooklyn Partnership has teamed up with the tech company Benefit Kitchen to create an app that helps low-income Fort Greene and Clinton Hill residents find out if they are eligible for federal benefits as well as free services and discounts at local businesses.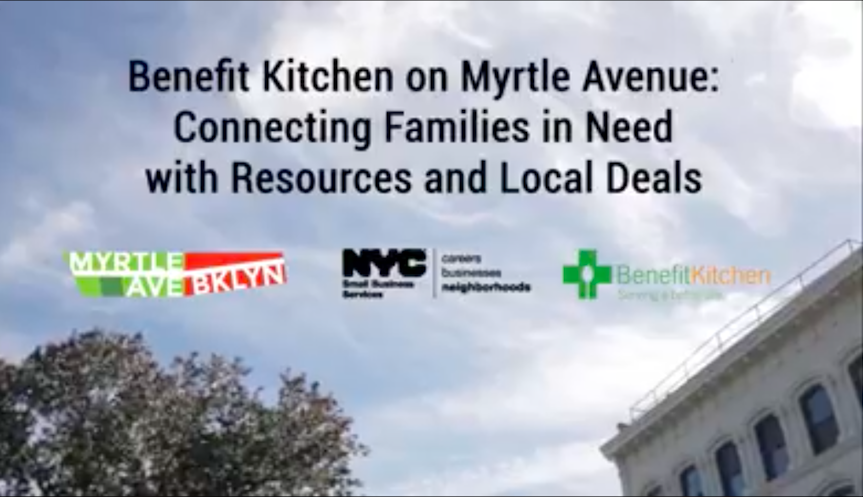 The Myrtle Avenue Brooklyn Partnership and Benefit Kitchen were among five community-based organizations recently awarded a $100,000 grant from the NYC Department of Small Business Services' (SBS) Neighborhood Challenge competition. The SBS competition provides funding to non-profit community groups and tech companies working on developing digital tools that address the concerns of specific commercial districts.
Created by Park Slope residents Dan Beeby and Melanie Lavelle, the Brooklyn-based Benefit Kitchen was launched earlier this year to assist New Yorkers in determining whether they are eligible for more than a dozen federal, state, and local benefits. The tech company's collaboration with the Myrtle Avenue Brooklyn Partnership offers a special hyperlocal feature for residents and business owners in Fort Greene and Clinton Hill.
Over the summer, representatives of the Myrtle Avenue Brooklyn Partnership conducted outreach at the Ingersoll, Farragut, and Whitman NYCHA developments to introduce the program to residents and guide them through the five minute screening process. The web-based screening technology, which can be used on mobile devices and computers, allows users to anonymously answer a few quick questions about their household and find out immediately if they are eligible for benefits and how to claim them.
Some of the information the screening will ask for include: user's zip code, income level, number of people in household, number of people in household who work, number of people in household who require childcare, etc. The program does not ask for a user's name or social security number.
Check out the one minute video below to learn more:
See the list below for the Fort Greene and Clinton Hill businesses participating in the Myrtle Avenue Business Partnership/Benefit Kitchen program and the offers they are providing to eligible users:
Apple Bank – free banking
Citibike -discounts to New York City Housing Authority (NYCHA) residents
dc optics – discounts on eye exams and free eye disease screenings
Sacred Brooklyn – free community yoga classes
Whitman Pharmacy – offering farmers market coupons to qualified customers filling certain prescriptions as part of the NYC Department of Health's "Pharm to Farm" pilot program
"When I learned from the team at Benefit Kitchen that Americans leave nearly $80 billion in government benefits unclaimed each year, I was inspired to figure out a way that this technology could be used to help residents in our district," Myrtle Avenue Brooklyn Partnership Executive Director Meredith Phillips Almeida said in a statement announcing the initiative. "I'm pleased that this program has allowed hundreds of our local residents an opportunity to see how easy it can be to learn about government benefits and the services and deals that our local businesses right here on the Avenue can provide to families."
Visit myrtleavenue.org to learn more about the app and to take the screener.