Hear "Muslims In Brooklyn", In Their Own Voices
BROOKLYN HEIGHTS – "There is no one way to be Muslim," Zaheer Ali, the project director of "Muslims in Brooklyn" said. "Islam is not a box that you put people in. It is a box that people stand on."
Brooklyn Historical Society (BHS) officially presented its "Muslims in Brooklyn" oral history project yesterday, December 7 and it was a powerful event.
"I cannot think of a better place and a better way to celebrate the fifth night of Hannukah," Council Member Brad Lander said. "Hannukah is about a lot of things, but one of them is about what it means to be a religious person in a land with a lot of a lot of other folks who don't observe the same religion. This is a real bright Hannukah menorah for me."
Exactly 237 people from all different faiths and walks of life attended the event yesterday. Deborah Schwartz, president of BHS, spoke about the importance of telling stories of Muslims in Brooklyn. She reiterated that the fifty interviews were not inclusive, but a sampling. You can read more about how the project came about here.
"This is an institution that has evolved. Its founders were primarily white and affluent. The histories they collected in the 19th and early 20th century largely reflect the founders of the institution," Schwartz said. "If we, as the staff and the trustees, had merely chosen to shepherd the early legacy, many of us, quite frankly, wouldn't be here tonight."
"Many of us would have been invisible. Many of us would not have seen ourselves reflected in this institution at all."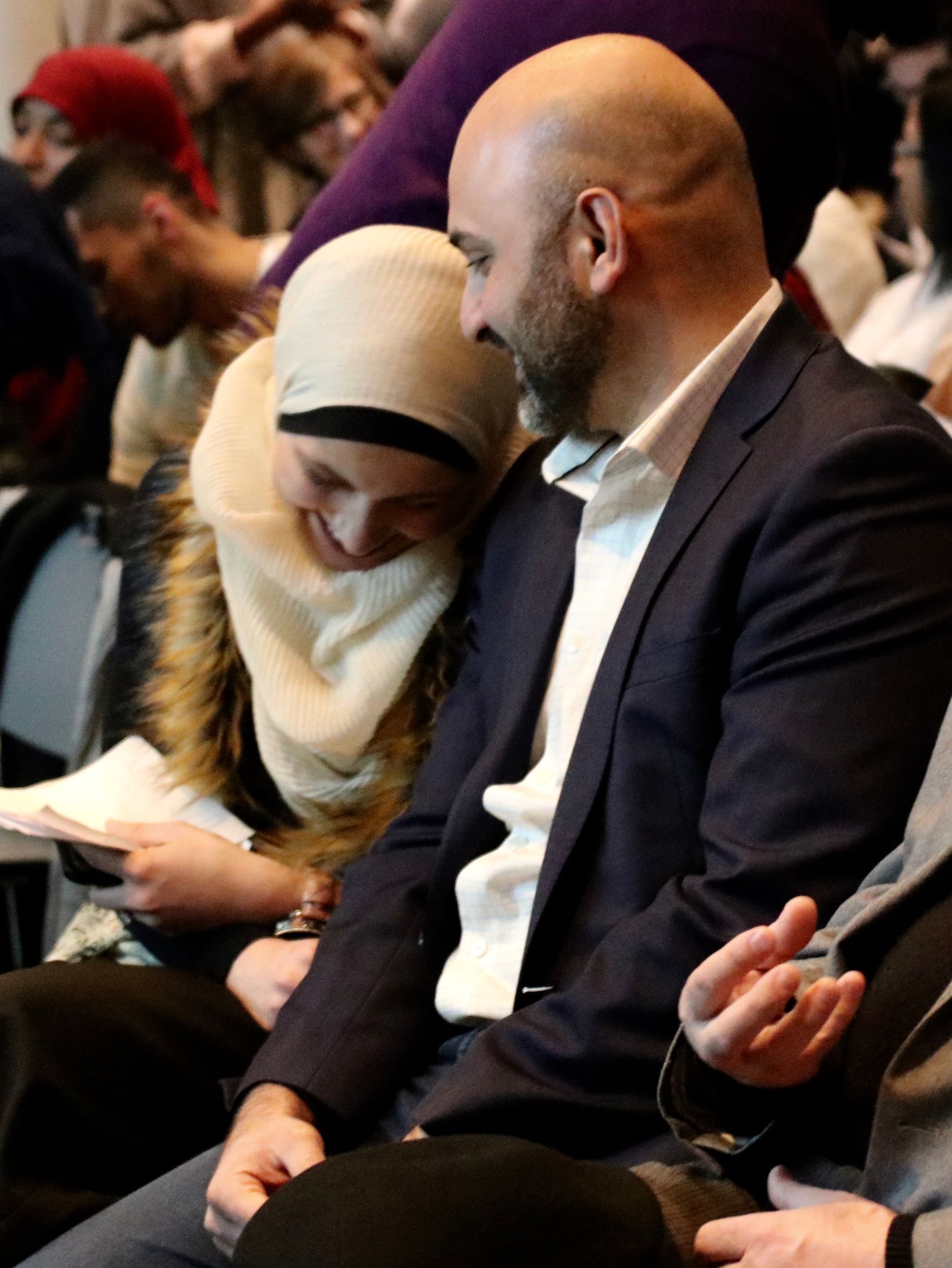 Zaheer Ali thanked BHS for putting its full support and resources into making his project become a reality.
"This project has been important for me as a historian, it's been important for me as a citizen, and it's been important for me because I'm a Muslim and I live in Brooklyn," he said and the crowd cheered. He noted that for the people that were interviewed, Islam was important to them as a foundation, but "it was not the full, total explanation of they are."
"To hear the voice, to hear the rate of speech, to hear the emotion, to hear what they don't say, to hear the silence, to hear the pause; that is when you get an intimate knowledge of the life of the people you've interviewed."
He then identified the fifty narrators in the room, including community activist Debbie Almontaser, Kensington's very own Shahana Hanif, and Brooklyn College professor and writer Moustafa Bayoumi.
"The interview was about four hours long. It felt really cathartic. I remembered a lot of details in my life," Hanif told Bklyner. "It made me appreciate my place in this city. I can't think about being a Muslim without thinking about being in Kensington."
Salima Ahmed is a representative at the Ahmadi Muslim's Women Association at the Ahmadiyya Muslim Community. She has been living in Brooklyn for 31 years. She said that there is religious freedom in this country and if other religions can do anything, so can Muslims.
"We have to remove misconceptions," she told Bklyner. "You are a woman. I am a woman. We are standing here. No one is stopping us. Islam says women can do anything. Yes, we have boundaries, but they are for our own good."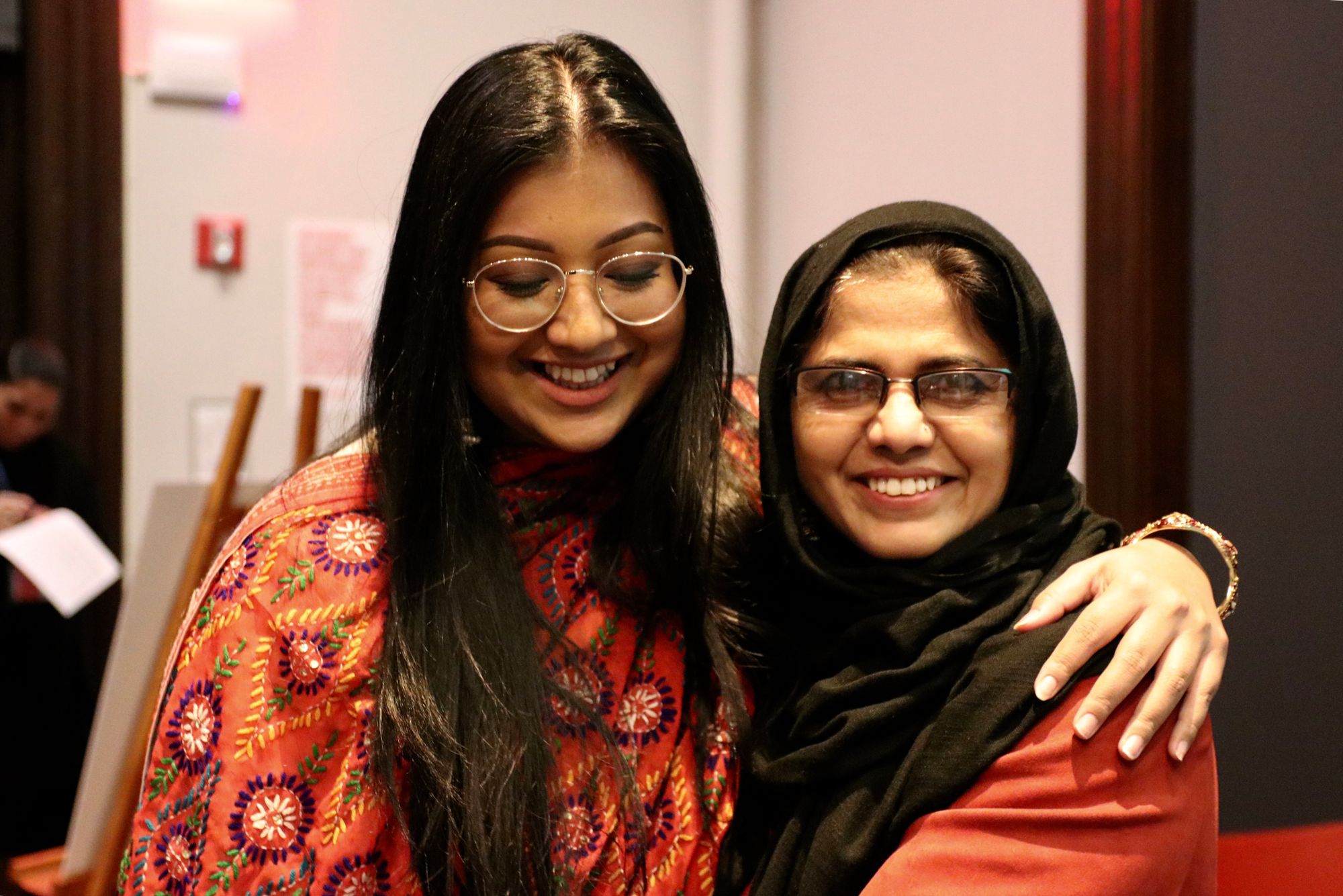 Several of the oral histories were then presented and lasted only about three minutes each. But each minute was powerful.
One of the interviews was of Ahmed Nasser, an NYPD detective who came from Yemen in 1986. He spoke about coming to NY for the first time and seeing it differently than what he had imagined. He held back tears as his voice coming from the speakers reverberated the silent room.
"I think Brooklyn is home for me. Brooklyn is a part of us as we are a part of it," Nasser said in the oral history.
After the end of the first session, which included snippets of two interview, Liz Strong, the project coordinator of "Muslims in Brooklyn" spoke about the importance of silence.
"Oral histories are a little different. There's not the same rhythm of that back and forth [between narrator and interviewer] because the narrator needs the opportunity to explore a memory for as long as it can go; all of those undiscovered corners," Strong said. "So when I am listening to a conversation, I don't need to announce my presence in there. I need to create a presence for you to take up that space. And silence is one of the key tools I used for that."
After a few moments of silence, a few other snippets of interviews were played. After that session, people in the audience were encouraged to speak to their neighbor. My neighbor was a tall black man who was a Vietnam War veteran. He told me he converted to Islam in the 70s. He told me he idolized Prophet Muhammad and was a huge fan of Malcolm X. Both of us were so different, but we were connected– we were Muslims in Brooklyn.
There was a couple sitting behind me, holding a baby. The guy was from Britain and his wife was Italian. The question that Strong posed was, "Did you ever convince anybody to change their mind and it worked?" The guy had raised his hand.
I asked him whose mind he had changed. He laughed and said, "I got her to marry me." Both of them were Muslims and they lived in Queens. I told him I didn't like Queens very much because it's quite a hassle to get there. He said, "I found that people from Brooklyn have a lot of pride. Like, they love to tell everyone they are from Brooklyn. And they all seem to not like Queens."
After the listening sessions, Ali took the stage to do a panel with Hanif and Abdul Rasheed Abdullah, another interviewee. Both of them spoke about just one small story from their oral histories. At one point, Hanif spoke about her love for Brooklyn.
"I am a true Brooklynite who does not travel to Queens," she said and everyone laughed– including the couple right behind me who basically got the confirmation that they were right. "We live here [in Brooklyn], we do everything here. And we definitely hate going to Queens on the train."
Ali ended the evening by offering words of wisdom. He encouraged everyone to be storytellers, but mostly to be story-listeners because that is how empathy is built and how "we bridge the gap of differences we perceive."
"You just got a little insight of what kind of magical, transformative this experience can be," he said. "We hope you come away from this collection as you come away from this evening; not satisfied, but inspired to learn more."
You can listen to (or read) the oral histories here.