Music, Elections, Domestic Workers and more
Good evening.
Today we bring you a bit of everything, including the long-promised in-depth look at the District 38 Council race in Sunset Park.
Piotr OrlovJun 17, 2021 • 9 min read
While much of the nation tries to comprehend its newest national holiday, the Brooklyn and contemporary music communities are already using it to create new levers of support for Black American and African diasporic music. As a local music fan, there are many ways to participate over the next few days. Bklyn Sounds wanted to give a guide to two of them: buying new music from Black Bklyn artists, and going to Juneteenth music events around the borough.
June 18th marks the second Juneteenth edition of Bandcamp Fridays, part musicker community support system, part music consumerist response to #BLMsummer. Bandcamp Friday was initiated on March 20th, 2020 as a way to help musicians who suddenly saw their live performance income disappear as the world shut down, and needed a way to make a living off their music's sales (essentially an impossibility in the modern streaming age). That day, the online music retailer relinquished its usual 10-15% royalties, allowing the artists to keep 100% of the sales revenues; and the artists made around $4.1 million. A pandemic musicker tradition was born, quickly moving to the first Friday of every month, and instigating a lot of new musical releases by artists.
Once the protests kicked off in early June 2020, the first Juneteenth Bandcamp Friday seemed a way to fold together financial support for independent artists, with the acknowledgment that pretty much all American music stems from the Black music tradition; and that having a fiscal holiday centered on Black music served a cultural purpose (at least within capitalist-structure thinking). On Juneteenth Bandcamp Friday, the platform's revenue was given over to the NAACP's Legal Defense Fund (and it is again tomorrow). But it was successful in centering music consumer purchasing power on independent Black musicians.
---
Mukta Ahmad | Jun 17, 2021 • 4 min read
Yesterday was International Domestic Workers Day and domestic workers, many of them members of the Workers Justice Project (WJP) marched across the Williamsburg Bridge from Manhattan to Brooklyn to rally at the Domino Park, Mukta reports.
---
For the last eight years, this complicated district has been represented by Council Member Carlos Menchaca. Those vying to replace him will have to compete for votes across varied constituencies and geographies.
Billy RichlingJun 17, 2021 • 9 min read
Clockwise from top left: Cesar Zuniga, Alexa Áviles, Rodrigo Camarena, Yu Lin, Victor Swinton, Jacqui Painter (Images: Campaigns)
Even in a borough full of complex, multiethnic political constituencies, Council District 38 stands out.
Its boundaries encompass a large swath of southern Brooklyn's industrial waterfront and the residential neighborhood of Sunset Park, which is home to a diverse Latino community, the borough's largest Chinatown and traces of the Arab population centered in Bay Ridge. The district border stretches far enough west to loop in sections of largely Orthodox Jewish Borough Park and far enough north to include the geographically-isolated Red Hook peninsula, where the borough's biggest NYCHA complex is located.
For the last eight years, that complicated mosaic has been represented in the Council by Carlos Menchaca, an aide to former Council Speaker Christine Quinn who jolted the city's political scene when he beat incumbent Sara Gonzalez in a 2013 race for the seat, becoming the Council's first Mexican-American member.
Menchaca defeated Gonzalez (who has Puerto Rican roots) with both a message that criticized her response to Superstorm Sandy and with the support of politicians like Congresswoman Nydia Velazquez and Council Member Brad Lander that opposed Brooklyn Democratic Party boss Vito Lopez, with whom Gonzalez had loose ties. And he collected more votes not only in northern parts of the district like Red Hook but also in Gonzalez's home turf of Sunset Park.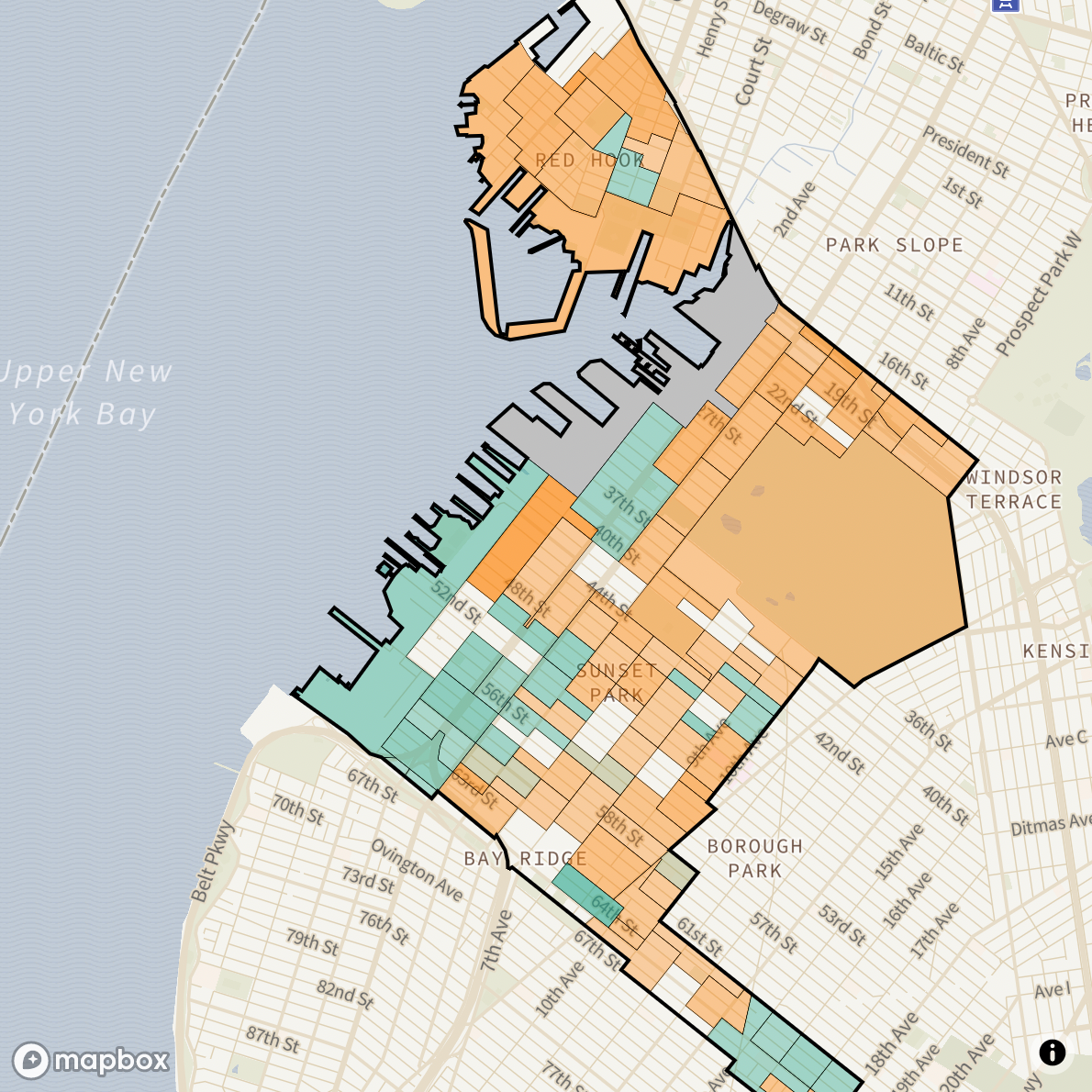 During his tenure, Menchaca positioned himself as a progressive reformer and an advocate for immigrant rights, authoring legislation that created the IDNYC municipal identification card and committing millions of dollars to the city's participatory budgeting program. And in 2017, he fended off a tough reelection challenge from a more moderate political rival, then-Assembly Member Felix Ortiz.
But he took a political hit during the fight over the massive Industry City rezoning proposal; though he eventually rejected the plan, his delay in doing so frustrated both Industry City opponents who wanted quicker action and more business-friendly Council Members who believed the rezoning would generate jobs. And his short-lived run for mayor attracted relatively little attention before he dropped out and unexpectedly endorsed Andrew Yang.
Menchaca, who is term-limited, has not endorsed in the contest to replace him in the Council. But those vying to replace him will likely have to adopt a similar strategy of collecting votes across constituencies and geographies while dealing with the aftermath of a new crisis, the coronavirus pandemic, that has also hit the district hard. And this time, ranked-choice voting could play a role.
Three of the Democratic primary's seven candidates have maxed out on public matching funds and received the majority of endorsements: foundation staffer Alexa Áviles, nonprofit director Rodrigo Camarena and Brooklyn Community Board 7 chair Cesar Zuniga.
---
Not a paying Bklyner member? If you found this newsletter valuable, you can support our work for just $6/month or $60/year here.
---
Billy Richling | Jun 17, 2021 • 3 min read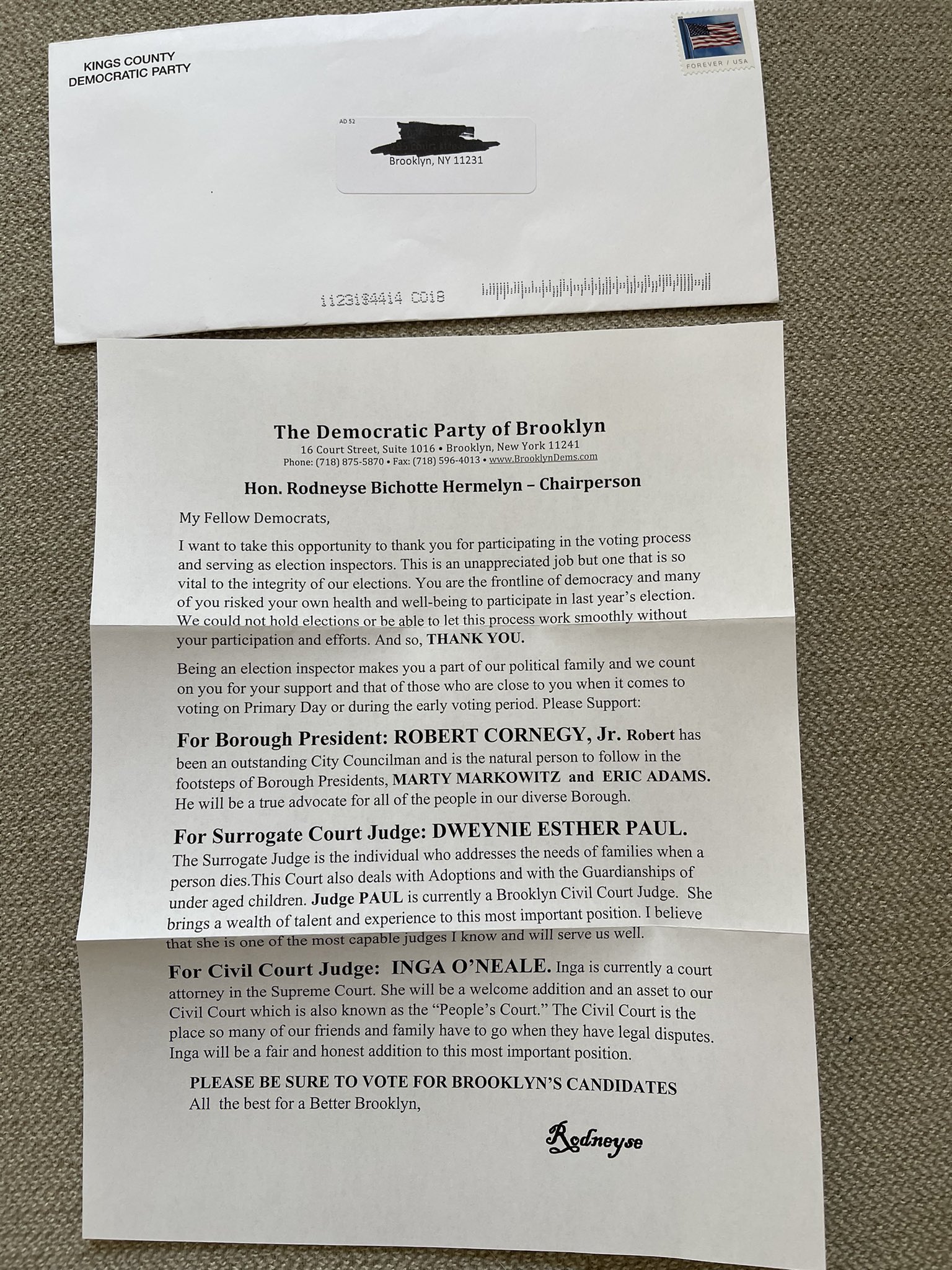 Some Brooklyn poll workers received a letter this week instructing them to support candidates backed by Brooklyn Democratic Party leadership, including one that never received an official vote of party support. The party's chair, Flatbush Assembly Member Rodneyse Bichotte Hermelyn, says she didn't approve it.
The letter, seemingly signed by "Rodneyse," was first shared by Democratic party District Leader Jesse Pierce on Twitter. In it, the recipient is thanked for serving as an election inspector and encouraged to vote for three candidates involved in competitive Democratic primaries: Robert Cornegy for Brooklyn Borough President, Dweynie Paul for Surrogate's Court judge, and Inga O'neale for Civil Court Judge.
"Being an election inspector makes you part of our political family and we count on you for your support and that of those who are close to you when it comes to voting on Primary Day or during the early voting period," the letter reads.
The Brooklyn Democratic Party's executive committee, which is made up of elected District Leaders from across the borough, voted earlier this year to endorse Paul and O'neale, though the process was heavily criticized by reform-minded District Leaders who said they were given no information about the candidates. But the committee never voted to endorse Cornegy, who had only received the backing of Bichotte Hermelyn as an individual.
---
You've made it to the end of today's edition. We love hearing from our readers! Please email editor@bklyner.com with any questions, tips, or concerns.‌
---