Mickey Heller: Serving Brooklyn With Pride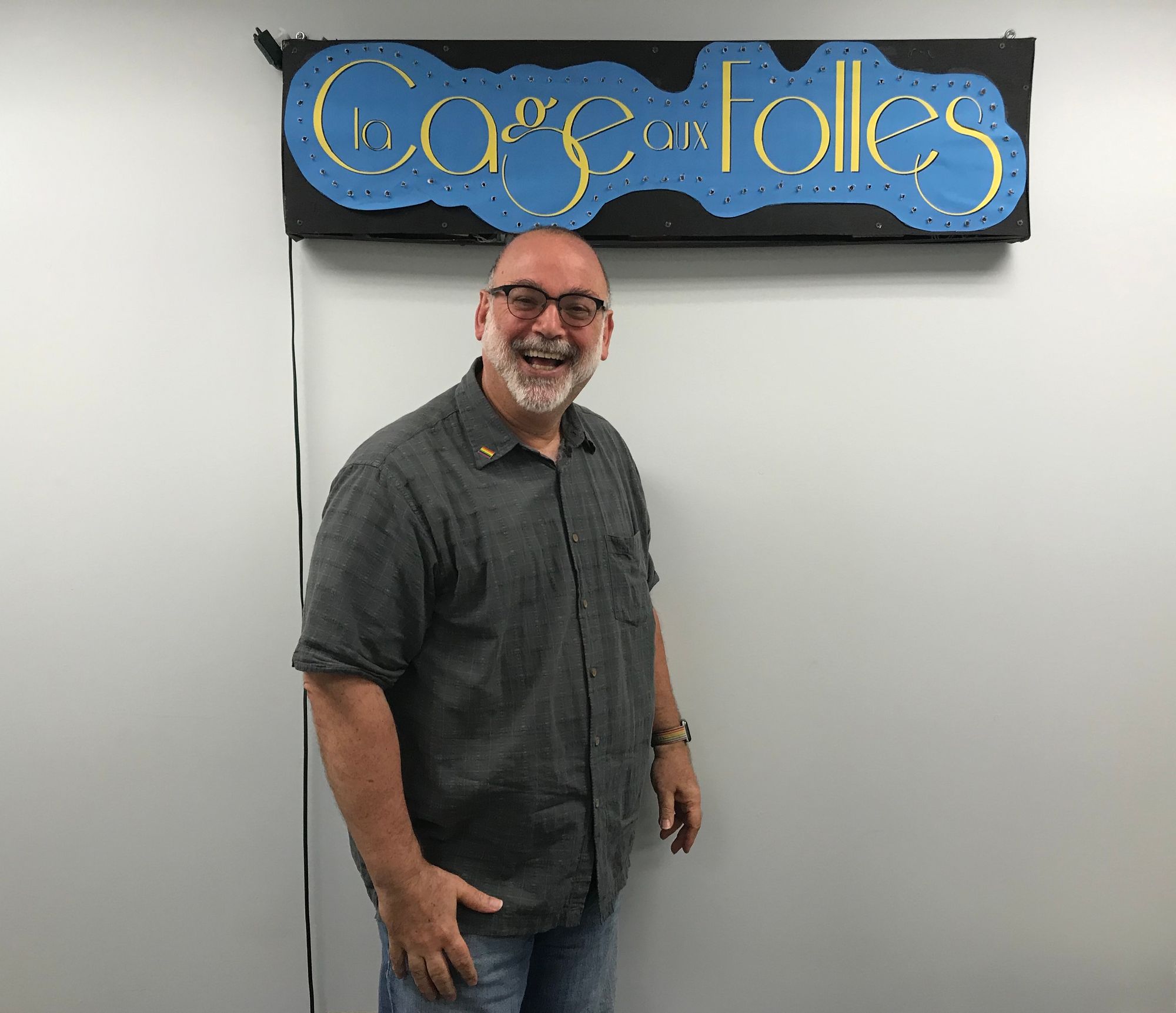 PARK SLOPE – The 23rd annual Brooklyn Pride Parade will kick off at precisely 7:30pm on Saturday, June 8 under the meticulous direction of Mickey Heller. The  Parade Coordinator since 2010, Heller ensures the procession's punctual start and maintains its flow and exuberance.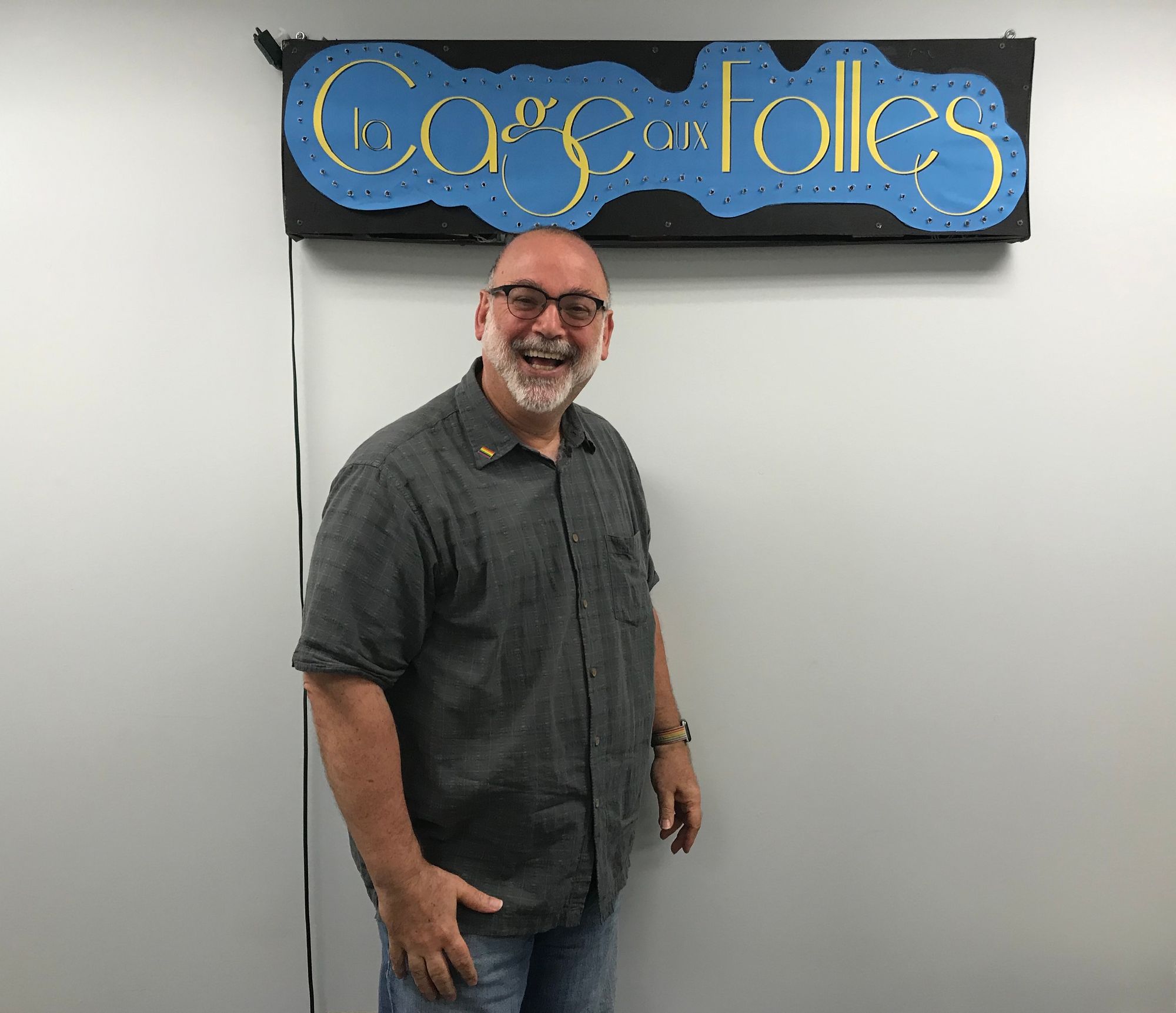 "No other parade that I know of anywhere in the city starts on time," said Heller, who also serves as Co-Chair for Brooklyn Pride. This is no small feat considering the parade, as well as all the Brooklyn Pride Week festivities—including a 5K run, a multi-cultural street festival, and more—take a full year to organize. In conjunction with NYC's World Pride commemoration of the 50th anniversary of the Stonewall Uprising, this year's Brooklyn Pride events will be even bigger and better than years past.
"It's very exciting. The energy is so high all over the city, you're feeling it and you're seeing the NYC World Pride information everywhere," Heller said. "Everywhere you go you're seeing this excitement and I think it's being felt as well throughout Brooklyn."
"Proud Past, Prouder Future" is the theme of this year's Brooklyn Pride parade. "We know those who came before us and we celebrate them, but then we also look towards the future and where we're going…despite number 45," he said with a hint of defiance.
At least 1,000 people from more than 60 organizations will march in the Brooklyn Pride parade, with approximately 40,000 spectators cheering them on.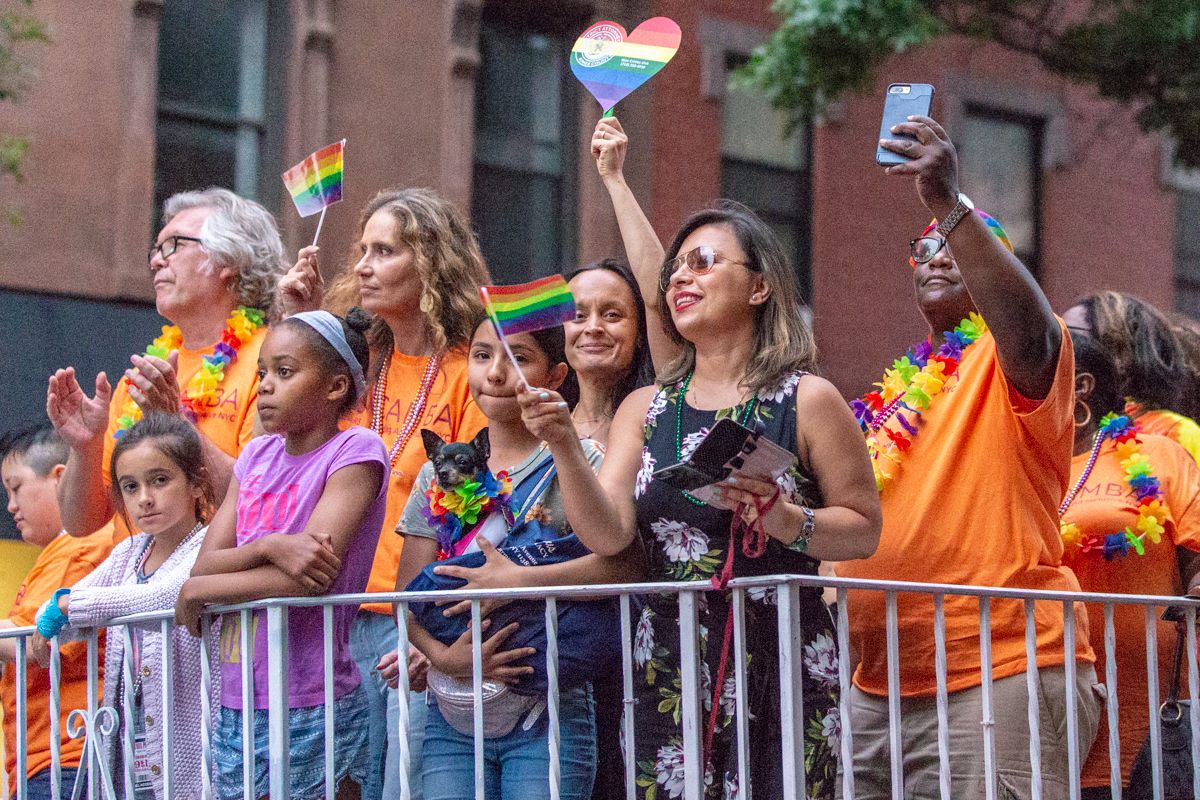 "Somebody said to me a couple of years ago—and I think it sort of sums it up—you go to New York City Pride to see the show and you go to Brooklyn Pride to see your people," said Jamie Farnam, who has been working alongside Heller for eight years as Brooklyn Pride's Co-Chair. "I think people connect with one another at our events in a way that I've not seen happen at other Prides. I'm incredibly proud of that because that's very much what we want the community to feel like at Brooklyn Pride."
"And they also become part of the show, which is fun," Heller added. "At the end of the parade, and even during, people start to join in…it's much more intimate. There are no barriers blocking people from the stages or from any of the events at the festival, everyone can partake…."
"For me it's a labor of love and for me there's a lot of hateful rhetoric out in the world right now, and I think it's incredibly important for people to see the other side of that coin and to see the love and acceptance and community that exists," Farnam continued. "Every Pride is somebody's first pride and that's the reminder that gives me the energy to keep going…that we need to make it special for that person who's coming for the first time and see that there's a community out there that supports them and loves them."
"We celebrate being part of the LGBTIQA+ community but we also celebrate everyone together and it is wonderful that we are one big family," Heller added. "We make people know they are not alone." That loneliness is something Heller experienced himself while growing up in the Bronx.
"There are so many people out there who feel that they're alone, and I know what that's like, when you think you're the only person," he recalled. "I always felt different. I always wondered why I didn't feel like the male figure that my brother was, but I never really questioned it." Heller said his older brother was very involved in sports growing up. "Being a year younger, and fairly overweight and not very athletic, my father tried to push me into sports, but I was more attuned to hanging out with the girls and learning how to knit, crochet, sew, and cook," he remembered. "I think in some respects I got the better side of the deal because while I'm not as gifted—my brother is a great athlete—I can cook rings around him!"
While his family was always supportive, Heller did not come out to his parents until his 20s. "It wasn't until my last year of high school that I first experienced who I was, but even then I was president of the student council of my high school student government…. Back in the late 60s, early 70s, you didn't come out in your school unless you were prepared [to be ostracized] and I wasn't, sad to say," he noted.
Even in college Heller was only "quasi-out," as he put it, noting he "came out, went back in, and came out again."
"I was able to work my way through undergraduate school by working as a bartender in a gay bar in Manhattan," he recalled. "That's how I supported myself and my partner. I was out to that community." Heller majored in music education at Hunter College with a minor in drama. "When I started my career as an actor, I was afraid to be openly gay," he noted.
After eight years working as an actor, Heller decided on a more stable profession. "There was no Hollywood Walk of Fame or Academy Award or Tony Award nominations yet," he said jokingly. "A friend of mine in Florida was in a similar situation and she told me that she was going to apply to law school." He decided to do the same. Though his friend quickly changed her mind, Heller passed the LSAT and went to Brooklyn Law School. During his time studying there, he also found it difficult to come out.
"I went back in that closet and I actually got married to a woman for eight years," he recalled. "I was very much in love with her. At that time I thought I didn't go back in the closet, I thought that I had decided to leave the gay life and I decided to become straight. Foolish. Youth. You don't decide that. You are who you are but I couldn't find that in myself."
"After 8 years of marriage I recognized that I did not leave that lifestyle, I just suppressed it," he continued. "We ended the marriage amicably and I went back full throttle…. I started to meet people in the LGBT community in politics and that's when I got involved with Brooklyn Pride."
Heller's first two years participating in Brooklyn Pride consisted of driving the float for then Brooklyn Borough President Marty Markowitz. One of the perks he enjoys in coordinating the event is getting to know politicians. At the start of each Brooklyn Pride Parade, local elected officials are each given a minute to address the audience. "It's important because people need to know who their elected officials are," Heller noted, "who supports them and who doesn't, because it's just as obvious who's not there as who is there."
Heller is no stranger to politics, having run in the Democratic primary for the 20th Senate District in 2002 against Carl Andrews. "That was one of the most amazing experiences of my life," he remembers fondly. "I learned the hard lesson that you hardly ever, if never, run against an incumbent…. You learn to talk to people and listen, listen to their hurts," he said.
"There is something that I refer to as the servant's heart, where you feel you just want to give and give back and you're so grateful," he explained of his work for Brooklyn Pride, his full-time job as an Administrative Law Judge for the NYS Office of Temporary Disability Assistance (OTDA), and even acting as the Park Slope 5th Avenue BID's Santa Claus for the past six years. Heller says he does it all it to serve the community.
"The servant's heart—he lives that. That's not just something that he says," confirmed Farnam. "And that is one of the things that inspires me to keep working as hard as I work on Brooklyn Pride. Just to see his dedication and passion for the mission of the organization is one of those things that inspires others. It's a joy to work with him."
Following law school, Heller worked as Chief Counsel for a large ministry in Brownsville (which later moved to East New York) for 13 years handling landlord-tenant and elder law cases among other issues. He then ran his own private practice for eight years where he focused on helping first time real estate buyers. Heller is now in his seventh year working for the OTDA office in Downtown Brooklyn. "It's an honor because again, in our job, we are serving the public, the people who most need help, the people on public assistance, on Medicaid, on SNAP…. We're here making sure that everyone gets their fair shake." The office assists individuals whose public assistance benefits "are being challenged, whether they're being reduced, or discontinued, or denied," he explained.
Park Slope residents may recognize Heller as the Santa Claus who merrily poses for photos with kids and spreads holiday cheer each year at businesses along 5th Avenue. His commitment to the role is undeniable, and last year he even sported a real beard.
Heller grew the facial hair for Piper Theatre's production Wendy Darling & Peter Pan last summer at Washington Park in which he played the Pirate Smee. "I said, 'You know something, I'm just going to keep it.' I kept growing it and it was a real big hit," he recalled. After a 30-year break from the stage, Heller dusted off his Actors' Equity Association card in 2017 to play Bob the Mechanic in Piper's production of Priscilla Queen of the Desert. The Old Stone House's Kim Maier, who is also the Executive Producer for Piper Theatre, suggested that Heller audition for the stage adaptation of the hit 1994 film, The Adventures of Priscilla Queen of the Desert.
"Kim said to me, 'You have to audition.' I hadn't done theater in 30 years, but if Kim tells you to do it, you do it," Heller said. "I was so honored to come back [to the stage] and I guess something must have clicked because they asked me to join the board of Piper Theatre." Heller works with the theater company on its summer youth program.
When asked how he manages his busy schedule, he replies, "There's this expression, 'attitude develops your altitude.' It's a high that you get when you're able to serve people, when you make people smile, when you're able to give information that really can't come from any place else. When you're helping people, when you're giving of yourself, any chance I get, I just do it."
He notes the "wonderful people" he's blessed to work with regularly including Farnam and the Brooklyn Pride board, Maier, the Park Slope 5th Avenue BID, Piper Theatre, and all the local business owners. "It's such an honor and a privilege," he said.
Going back to his role as Parade Coordinator, Heller said, "On the day of the parade…it gets to be a little like a chicken with its head cut off." After months of organizing, on the day of the parade, all groups must be ready by 7pm when the politicians start their speeches. After that, a moment of silence takes place "because we never can forget where we came from," Heller says. Then Cheer New York "gets us all revved up" followed by the roaring engines of the Sirens Women's Motorcycle Club who lead the parade each year.
While the opening rituals of the parade are familiar to those who attend frequently, one noticeable difference this year will be how Heller addresses attendees. As the "barker of the parade" Heller in the past has addressed the crowd saying, "ladies and gentlemen," however he recently learned "you don't say that anymore because it's offensive," since some individuals do not identify as either. "So now I'm learning [to use] words like family, friends, and loved ones…" he said, "and I'm happy to because people who are set in the old ways and refuse to acknowledge the new, wind up stifling themselves. You never stop growing, you never stop learning."
After approximately two hours of colorful, family-friendly festivities along 5th Avenue, the Brooklyn Pride team closes the parade, inviting spectators to join them at the end of the march. Heller walks arm-in-arm with his partner of eight years, Oluyai Haynes. "I really like being able to walk the parade length at the end. By then…I'm a sweaty mess, I'm exhausted and tired, but I do it because the people give you the energy."
Heller appreciates the outpouring of community support each year at Brooklyn Pride. "It is an incredible honor and it's something that I don't take lightly, the responsibility of helping to put all this together," he said. "I want to encourage everyone to come out, bring somebody with you because the more people the better. We want to show everybody that not just the LGBTIQA community, but everyone, comes out to support our events and our community."