Neverland In Park Slope: Piper Theatre Presents 'Wendy Darling & Peter Pan'
PARK SLOPE – After years of performing spectacular and campy musicals like Xanadu, Psycho Beach Party, and, most recently, Priscilla Queen of the Desert, Piper Theatre has revisited its mission to be "committed to being theater for all" for this year's more family-friendly production of Wendy Darling & Peter Pan, explains Piper's Artistic Director, John McEneny.
This year marks Piper's thirteenth annual outdoor show at the Old Stone House & Washington Park in Park Slope. Performing en plein air, the ten actors of Wendy Darling & Peter Pan will tell the story of Peter Pan using a script and stage directions adapted by McEneny from J. M. Barrie's 1904 play Peter Pan, or The Boy Who Wouldn't Grow Up and his 1908 sequel, When Wendy Grew Up.
Barrie's plot and Piper's production cater to the diverse audience that Piper Theatre and the Old Stone House aim to attract. "We wanted to do something that was relatively family friendly this year. John was focused on something that would be not only impactful to families with children but would also make sense with adults to a certain extent," said Kim Maier, the Executive Director of the Old Stone House and Executive Producer of Piper Theatre. "You have Peter Pan, which is such a well known story and it's very fun and swashbuckling, but also there's this whole idea of lost boys and the lost parents; the separation of families and Wendy's role in saving the boys," Maier continued.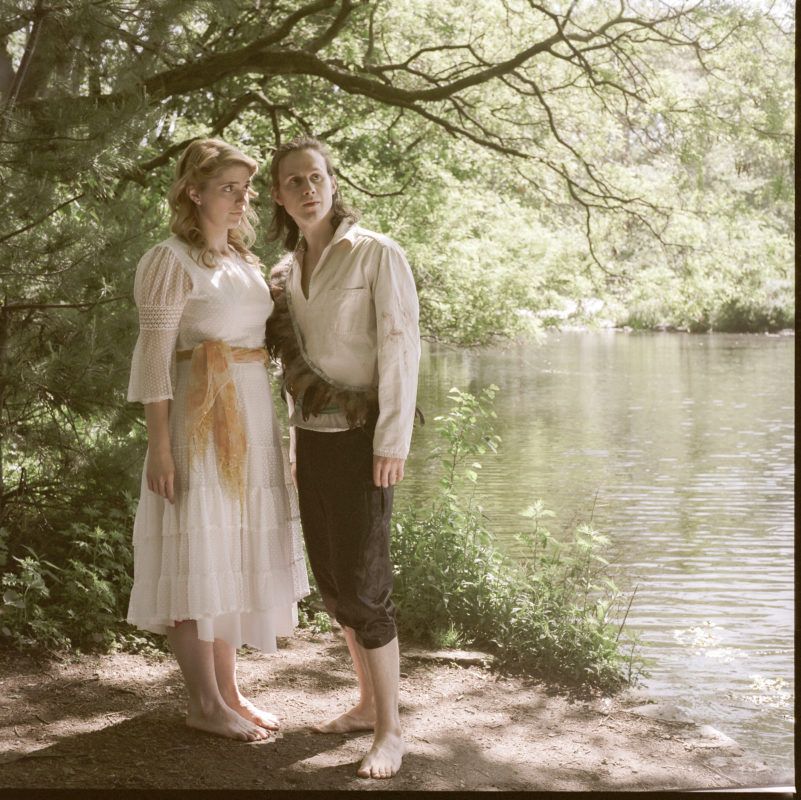 Contemporary and more adult themes lie latent in Barrie's original work, McEneny explained: "The stage directions offered such interesting psychological wit to all the characters. There's this great emphasis on memories and the fear of losing memories throughout the entire piece; it's something that haunts Barrie and something that the adults in our audience will be able to appreciate." A few aspects of the original work had to be modified for a Brooklyn audience, however, with Barrie's sections on Native Americans being replaced by native wild flowers—Tiger Lily is an actual tiger lily flower in Piper's production.
The cast of Piper's Wendy Darling & Peter Pan will reflect the diverse crowd that attends Piper productions and utilizes the park. The children's story will resonate with the kids in the audience, and a child actor, thirteen-year-old Eva Sheehy Moss, will play Tinkerbell and Jane. The cast spans ages 13-65, with actors coming from all backgrounds. Mickey Heller, playing Curley and Smee, is the Co-Chair of Brooklyn Pride, and Eiko Kawashima, playing John and Skylights, speaks English as her second language. "She's going to have broken English on stage, and in order to have an Eiko in our world, we're all going to have to understand where that performer is coming from," said McEneny.
McEneny follows the principles of Polish theater director Jerzy Grotowski's "poor theatre"—the show is an ensemble-based production with minimal but versatile props and set structures. Facilitated by the work of set designer Dallas Estes, lighting and puppet designer Cody Grey, musical composer Mark Galinovsky, and costume designer Madeline Wall, the ten actors in Piper's production will capture the many characters and worlds of Barrie's Peter Pan. The stage and field behind the Old Stone House will be transformed into Wendy's house, Neverland, and the nursery, complete with a moving Nana puppet designed by Grey. À la Grotowski, the show is very physical, and all flying is done by lifting and pacing. Kawashima adds another element of dynamism through her background in Butoh, a Japanese dance theatre.
While donations are appreciated, Piper's productions are free and "fully accessible in a way that a lot of theater is not in New York City," Maier said. "You could spend $100 on Broadway, or see something really great for very little money in your own neighborhood."
Piper's production of Wendy Darling & Peter Pan will run Thursday through Saturday from July 5-21. The show is an hour and a half with one intermission. You may bring a picnic (no alcohol allowed in the park), and concessions will be sold by Sweet Pistachio. The play is appropriate for all ages, although dogs should stay at home. The field in Washington Park is handicap accessible, and public bathrooms are available. If there's impending weather, check the Old Stone House website or call (718) 768-3195.