Drag Extravaganza 'Priscilla Queen Of The Desert' Brings Fun, Music & Glamour To Park Slope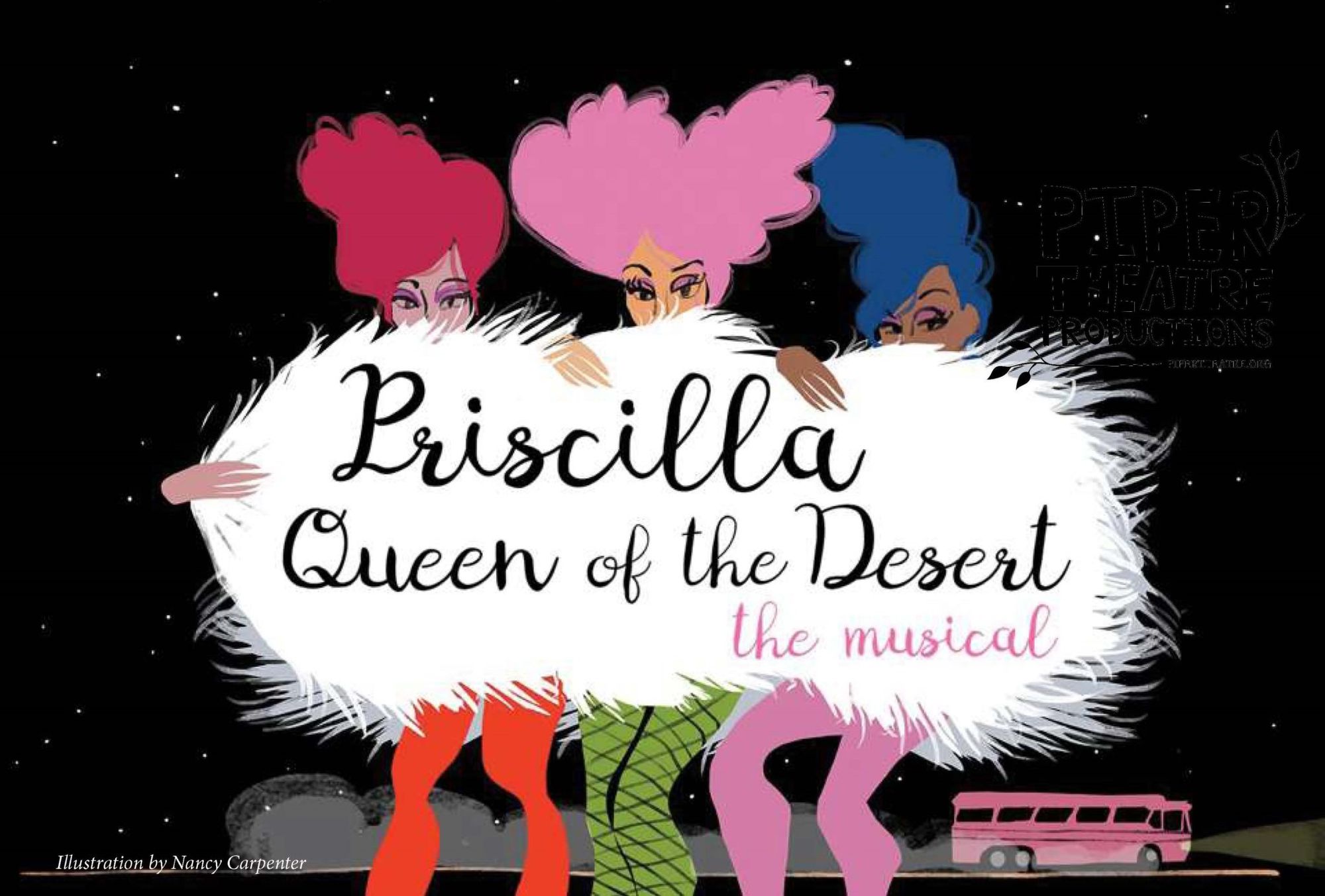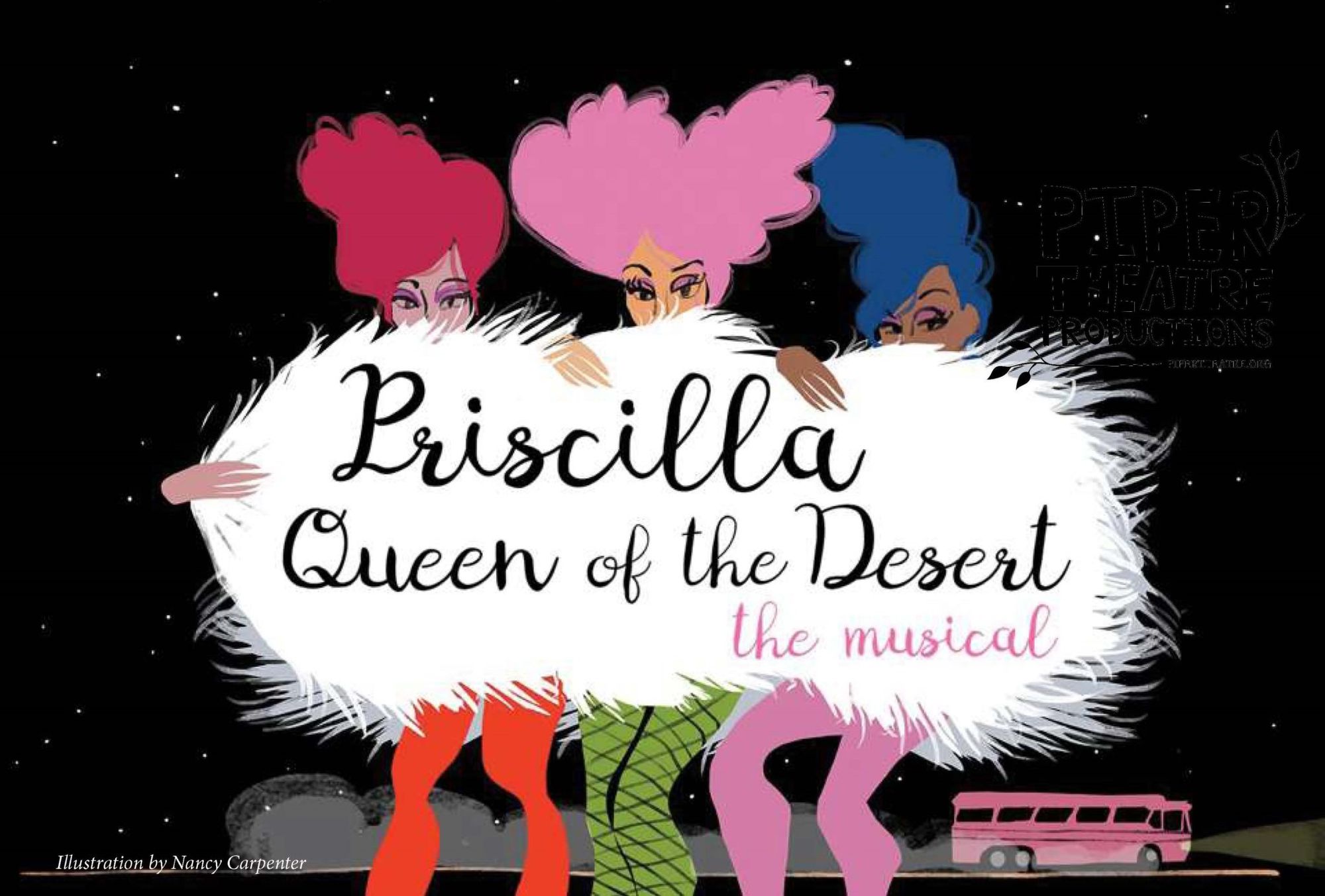 Since 2005, Piper Theatre has presented free, high-quality theater productions outside of Park Slope's The Old Stone House in Washington Park, including Shakespearean classics as well as musicals like Xanadu (on rollerskates!), Bloody Bloody Andrew Jackson, Sweeney Todd, and Psycho Beach Party. This year the company brings the dazzling drag queen delight, Priscilla Queen of the Desert to the park.
Adapted for Broadway by Simon Phillips from the hit 1994 camp comedy film, The Adventures of Priscilla Queen of the Desert, the stage production of Priscilla moves the trio of traveling drag performers from the 1990s Australian outback to today's Trump-era America, addressing themes of transgender rights, homophobia, and gay parenting.
"We're pushing boundaries with this show and creating positive portrayals of LGBTQ+ folk. We want to give audiences something to smile about," said John McEneny, the director of Piper Theatre's production of the play.
"They're going from Brooklyn all the way to Arizona," McEneny told BKLYNER last week. "They're going to be encountering all different types of Midwest values."
"The interesting thing about the script is that these human elements are the same the world over, and it becomes a particularly relevant story in terms of building community, respect, dignity and the support that people bring to friendships," adds Kim Maier, the Executive Director of The Old Stone House and Executive Producer of Piper Theatre.
"There are only certain shows that work outside," Maier explains. "What's going to be fun? What's going to be big? There has to be an element of spectacle to it. We had talked about Priscilla for quite a few years and this was the year that we were able to get the rights."
"And then after the election, Kim and I talked and we were like, 'Oh, this makes sense,'" McEneny adds.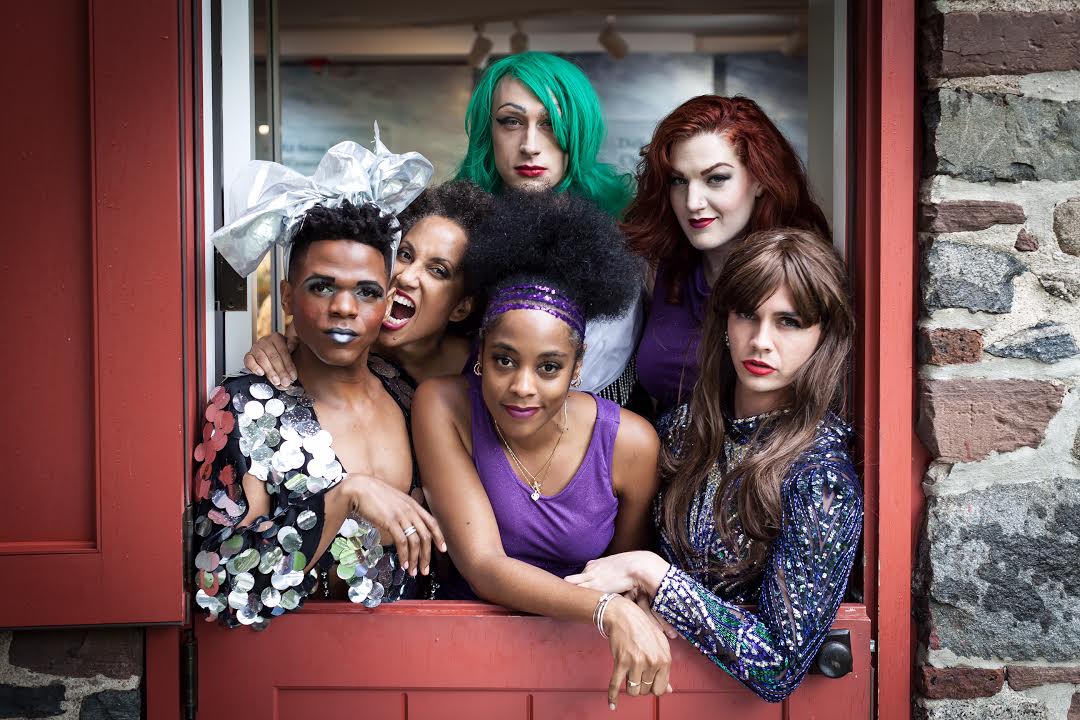 After earning his masters degree from NYU's Steinhardt School 20 years ago, McEneny went on to become the Director of the acclaimed drama program at Park Slope's William Alexander MS 51, where he's been ever since.
He founded Piper Theater in Yonkers with his sister, Rachel, in 2000. Piper joined forces with Maier at The Old Stone House in 2005. The two initially met when Maier's daughter was in McEneny's drama class at MS 51. "She's the mother of a Lady MacBeth," McEneny says of Maier.
Piper Theatre has been committed to producing innovative theatre for the community and providing a showcase for emerging actors and artists since its start. Piper also has an intensive summer youth education program for approximately 200 students that introduces children to the theatre arts.
"It's an immersive, process-based program that starts July 5 [this year]," Maier explains. "The kids will arrive at 9:00 in the morning. There's a stage out here on the patio. They divide into groups, they go through an audition, and then they are cast and immediately divided into companies," she says of the first day of the annual program.
"Each of the companies has 12 to 15 kids in it. They have ownership of that piece that they're working on and then they're working 9am to 5pm every day until they get to the last week of July," she adds. During this week, the shows are performed in the evenings, leading up to Saturday, July 29, when Piper will present every show in one day, "starting at ten in the morning until eight at night."
"[The kids] really have that feeling of being part of a company," Maier explains.
The child actors are at The Old Stone House from 9 to 5 every day with the professional actors coming in at 3pm for rehearsal, creating an overlap. When the adult productions go live, the kids watch from the audience, gaining lots of exposure to the more experienced performers.
"The interesting thing about Piper is that it really is from 8 to 80," Maier says. "You have these children who are just starting out as performers, starting out in theater, getting a sense of who they are as people. Then having the opportunity to see and meet professional actors who have been doing this kind of work for most of their adult lives. It's a really wonderful experience."
Along with teaching kids about theatre and bringing fun and elaborate musicals to locals for free, the Piper Theatre company has helped to transform Washington Park and the neighborhood. "One of the things that Piper's also accomplished here is creating a wide appreciation for The Old Stone House and the park as a place of history and sort of the town square in Park Slope," Maier says.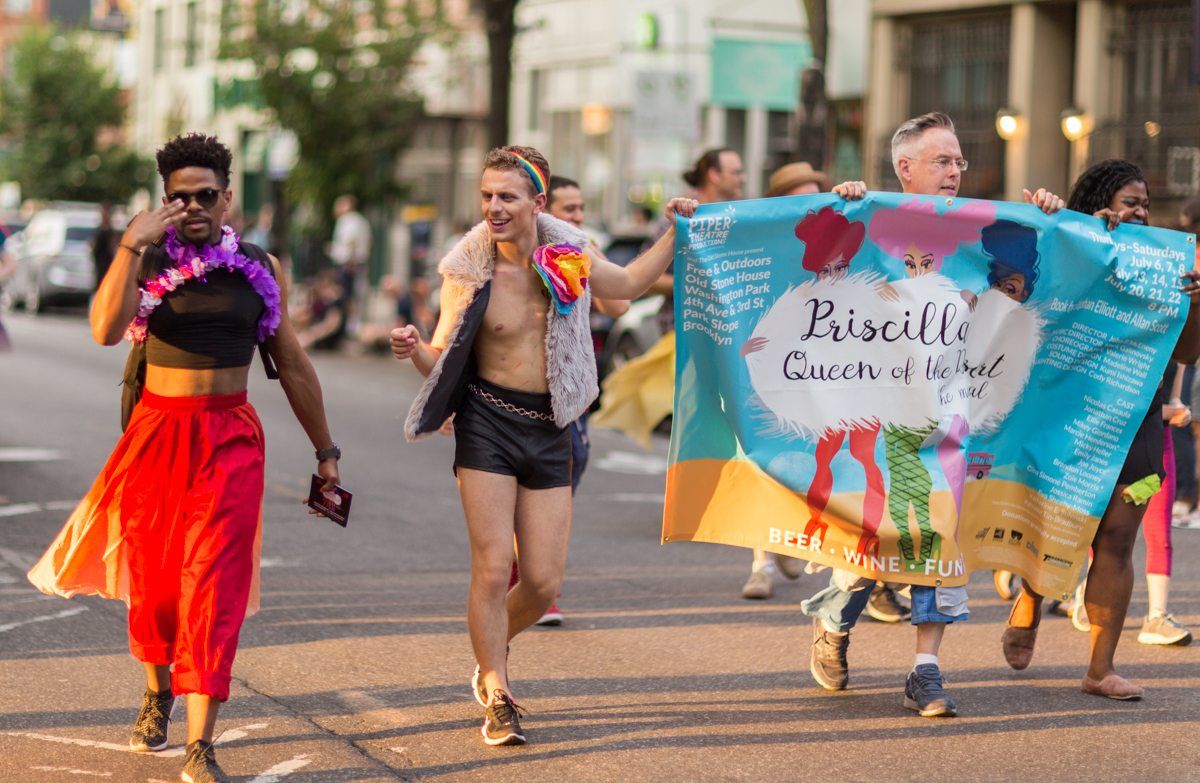 Returning to Piper's adult production, McEneny says the auditions for Priscilla Queen of the Desert took place over three days with 120 actors trying out.
"It's a great cast of performers," he says. "The actors come from all over. For some of them it's their first stage role and some of them are returning cast members who have worked with the Piper company in the past." McEneny notes that the actor playing Bernadette (made famous on screen by Terence Stamp) commutes in from New Rochelle every day. "He's fantastic," he adds.
He also mentions that Brooklyn Pride's Mickey Heller is "returning to the stage after ten years," as Bob, the love interest of Bernadette.
With dance favorites including I Will Survive, It's Raining Men, Hot Stuff, and I Love the Nightlife, the show will also showcase more than 88 outfits by costume designer Madeline Wall, who is hard at work stitching colorful creations for Priscilla's glamorous characters.
Another key component to the show is the bus that the three friends travel in cross-country. "We have not skimped on the bus. It's a full-size former school bus," McEneny promises.
One of McEneny's former MS 51 students, Took Edalow, is loaning Piper the bus for the production. "We're going to paint it. It's going to be absolutely beautiful," McEneny muses.  "That's going to be our main onstage element that will be living there all summer long. It will be public art," he says of the bus that will remain at Washington Park throughout the show's run.
BKLYNER spoke with Edalow as she prepared the school bus for its transformation. "It's going to be multi-colored and have these faces that are called 'ieekgoogeekgoo,' these creatures I made up when I was young that live in their own Utopic world," she says.
As for the future of the bus, she adds, "It's Priscilla for the month [and then] it's going to become a zine library/art collective," used for various creative projects.
Piper's production schedule for Priscilla is remarkably short and intense, "It's vigorous. We're trying to do an entire musical in four weeks," McEneny says. He describes the experience as "completely joyous."
McEneny gushes about his team, "You have all these different people, all in the same room. There are some people there who are very, very experienced. My choreographer [Valerie Wright] has done countless Broadway shows. I have a music composer [Mark A. Galinovsky] who's 25 and he's a rock star," he says.
"They're so prepared, they have done so much homework," he continues. "It's people really appreciating each other's time, taking care of each other. There's a lot of laughter in the room."
"The divas, in particular, are going to blow you away," he promises. "They are just unbelievable."
Priscilla Queen of the Desert opens July 6 and plays July 6, 7, 8, 13, 14, 15, 20, 21, and 22 at 8PM.