Mayor De Blasio Waxes Nostalgic At Park Slope Town Hall (VIDEO)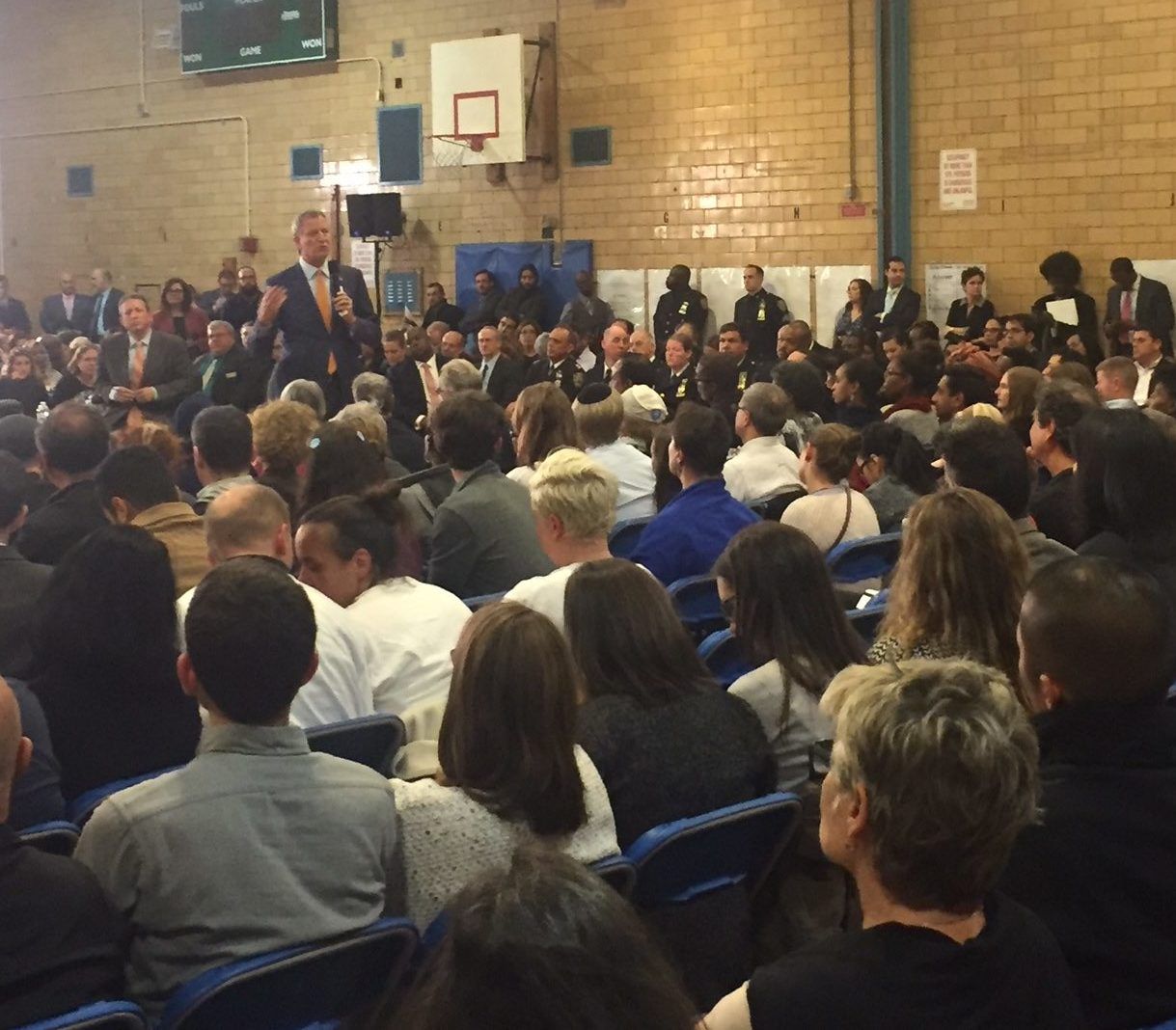 PARK SLOPE — Mayor Bill De Blasio held another town hall in Brooklyn last night, this time in his home neighborhood, the 39th District. It was held at the William Alexander School MS 51 at 350 5th Avenue in Park Slope. Hundreds of residents of all ages turned out, eager to ask questions, or to voice their concerns or frustrations over many issues.
The night began just before 8pm, with State Assemblymembers Joanne Simons and Robert Carroll greeting the Mayor, while City Councilmember Brad Lander introduced him to a home crowd.
"That spirit of organizing," Lander said. "I think explains why this neighborhood has been such a good fit with Bill De Blasio."  He mentioned how the Mayor and his family hail from the area, his children having gone to MS 51. Lander talked about De Blasio being on the local school board, being a councilmember, and even made a playful jab at the Mayor's use of the local YMCA gym.
When it was time for the Mayor to speak, he spoke of the "wave after wave of nostalgia" being in the gym of MS 51, adding, "it is so good to be home."
From there, the Mayor told the crowd about the recent developments and announcements for the district, such as the banning of cars from Prospect Park and the updating of all the park's ballfields. He also touted crime being down 5% in all of Brooklyn, and robberies down by 30% in the 78th Precinct.
After the applause, it was time for the town hall questions to begin.
Many hands were eagerly raised throughout the night, though only a few were given the chance to speak. Earlier, De Blasio had explained for questions to keep short. When some asked a few questions at once, he insisted that he'll answer only one.
"We want to get to as many people as possible," he explained. "It is one per person out of fairness."
Most questions were regarding overcrowded schools, speeding and housing. Others were about participatory budgeting, lowering the voting age to 17, and securing landmarks in Carroll Gardens. One audience member even handed De Blasio a report on street vendors for him to read. Another complained about a sinkhole in a nearby play yard.
Some of the attendants were not even from the 39th Council District, such as one woman from Crown Heights who had questions about her children's school. Other attendants were middle school students, expressing their wanting of a speed camera in front of their school, or whether there would be better support for students from learning disabilities.
As the clock got closer to 10pm, the designated ending time of the town hall, De Blasio was more wont to cut off people asking him questions by saying, "I got it! I got it!", or rush them to finish their inquiries.
The final question came from an elderly woman who told De Blasio that she called the mayor's office regarding a housing issue, but was hung up on by a staff member. The Mayor apologized to her, but directed her question to the HPD Commissioner. When that happened, the woman told the commissioner, "And your office stinks too!"
Other than that incident, it was a civil night.
At times, some audience members seemed eager to debate their point of view to the Mayor, which made him say, "We can't keep going back and forth. This is not a debate club."
Often, the Mayor would turn the answering over the city officials. Some seemed surprised to see their Mayor not fully know what was happening with their issues. "It's a strange bureaucratic world we live in," he said. "You'd think we know, but we don't."
This was the 42nd town hall meeting for De Blasio, as he seeks to hold town halls in all of the city's 52 districts before the end of his first term. Last night's event was sponsored by Community Board 6, Community Board 12, 5th Avenue BID, Gowanus CDC, Old Stone House, Park Slope Civic Council, Park Slope Neighbors, 5th Avenue Committee, and the Cobble Hill Association. The 39th District includes Park Slope, Boro Park, Kensington, Windsor Terrace, Gowanus, Carroll Gardens and Cobble Hill.
To watch the town hall, check it out on YouTube: