Lotus Cafe Spices Up Their Menu With Mediterranean Cuisine
Lotus Cafe — the longtime bagel shop that looks out on the bay from the corner of Neptune and West End avenues — has revamped its menu with Mediterranean cuisine and is looking to renovate the restaurant to accommodate its new dishes.
The cafe has long been a favorite of students from I.S. 98, located about a block away, as well as neighbors who stop in after stroll along the waterfront. Lotus has stayed in the neighborhood for four years, and is one of the many waterfront restaurants to come back after Sandy, by offering freshly-baked handmade bagels at their store.
However, owner Larisa Aronov recently partnered with her chef friend Vladimir "Billy" Greveni to add gyros and other Mediterranean foods to the menu. Greveni learned much of his craft working at the Astoria gyro house BZ Grill — which received shining revues from the New York Times and Daily News when he worked there in 2006.
He later left the United States to spend 10 years working at Italian and Greek kitchens in Toronto. Now that he's back in New York City, he's brought his love of Mediterranean cuisine to Lotus Cafe.
"Billy does everything from scratch," said Aronov. "I've tried gyros at many kitchens, and his are the best. We use the actual meat, it's not ground, and we marinate it for extra flavor."
Greveni, who got started at Lotus Cafe in November, said Sheepshead Bay seemed like the perfect neighborhood to bring his food.
"This area is very multi-national and people here love Mediterranean food. The Russians like it. The Turkish people like it. Everyone likes it. So we try to make everybody happy," he said.
Lotus Cafe recently treated me to some of their new offerings. When I arrived, I wasn't feeling famished, but as soon as the plates started arriving and the aroma of spiced meat, cooked on a charcoal grill, reached my nose, my belly started to ache. Greveni's care for the meat in his gyros, which are bought fresh daily and marinated overnight, certainly shines through. The crispy beef in lamb drips with fat when you shovel it into your mouth, and the cuts of chicken and pork, with that fierce charcoal taste, are wonderfully tender. (All of the gyros go for $6.95)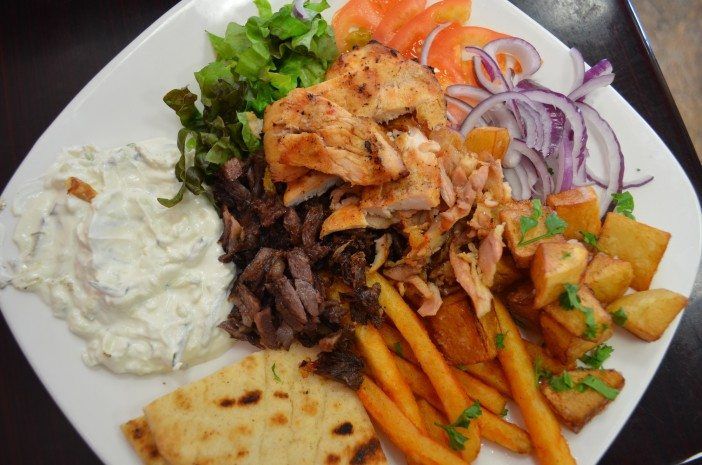 And while the gyros are certainly the centerpiece of the new menu, the side offerings are also quality. I was particularly happy with roasted potatoes. They're well-seasoned with salt, nicely crisped in the outside with a pillowy center. I liked to add one or two inside my pita bread, with the meat, onions, and scoop of Tzatziki yogurt and cucumber sauce before shoveling the whole thing in my mouth.
Another standout on the menu is the falafel ($4.95), which are perfectly fluffy inside their crispy crust. The spice hits your tastebuds like a Merengue band. But the eye-popping dish, that made my tongue almost wag out of my mouth, was the ground lamb and beef kebab ($7.95). Stuffed with mellow Havarti cheese, which goops out of the meat when you slice into, it will sit in your belly like a warm hearth.
Lotus Cafe, also let me try one of their appetizers. The mixed spreads ($9.95) comes with four pita bread pieces, beat salad, hummus, Tzatziki, babaganoush, and a spicy feta cheese. I'm not sure what was the standout in this dish, as it each dip was equally delicious, but I found it fun to mix each one with the beet salad — adding an intriguing earthiness to the otherwise, semi-sweet spreads.
Aronov and Grenevi said they are planning to make some renovations to the shop during the summer, in order to align the atmosphere with the new food. They said the hope their quality food and reasonable prices will make the restaurant attractive for everyone.
And don't expect the bagels to go anywhere. They're still baked fresh everyday and served during breakfast from 7am to 10am.
Lotus Cafe
Where: 2 Neptune Avenue, at the corner of West End Avenue
Hours: 7am – 10pm, 7 days a week
Phone: 347-554-8811