Local Pols And Shorefront Y Release Russian-Language Immigrant Manual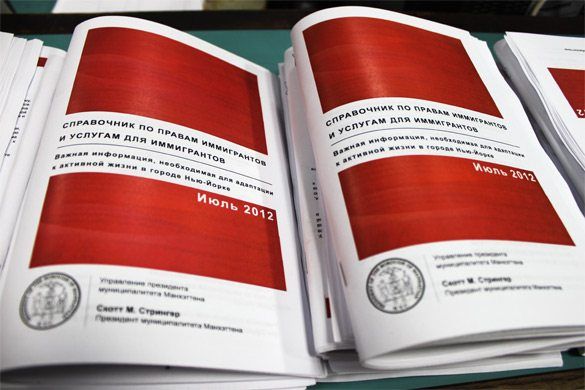 Local Assemblymembers Alec Brook-Krasny and Steven Cymbrowitz, and Manhattan Borough President Scott Stringer released the Russian-language edition (pdf.) of the Immigrant's Rights and Services Manual on Friday at the Shorefront YM-YWHA in Brighton Beach.
This pamphlet serves as a resource that educates New York immigrants on their rights, government benefits, and programs. New York City already provides translations in Chinese, Spanish and Korean.
"I am proud to stand here today with my friend, Borough President Scott Stringer as we present this amazing and much needed resource to the Russian-American community," said Brook-Krasny. "As an immigrant myself I first hand understand the trials and tribulations of assimilating into the mainstream American community, it is my hope that this guide will serve as a stepping stone to many others who are striving to reach the American dream."
Brook-Krasny himself is the first Russian-born, Russian-language speaker elected to public office in America. He emigrated from Moscow in 1989, and was elected to represent to 46th District in the New York State Assembly in 2006.
A community education effort led by Stringer's office along with Brook-Krasny will help distribute the pamphlet to those interested. Workshops will also be held to hand out and clarify aspects of the manual.  Organizations that wish to host a community workshop should call the Borough President's office at (212) 669-8300.