Latin Fusion Empanada Loca Opens, And It May Drive You Wild
Last Sunday morning was oddly warm and surprisingly pleasant for mid-December. We sat down inside the newly opened Empanada Loca (606 5th Avenue, between Prospect Avenue and 17th Street) and stared out at the Grand Prospect Hall in all its sun-drenched glory. And we were in for quite a surprise, because – as opposed to GPH – it was what soon arrived on our plates that would make our dreams come true.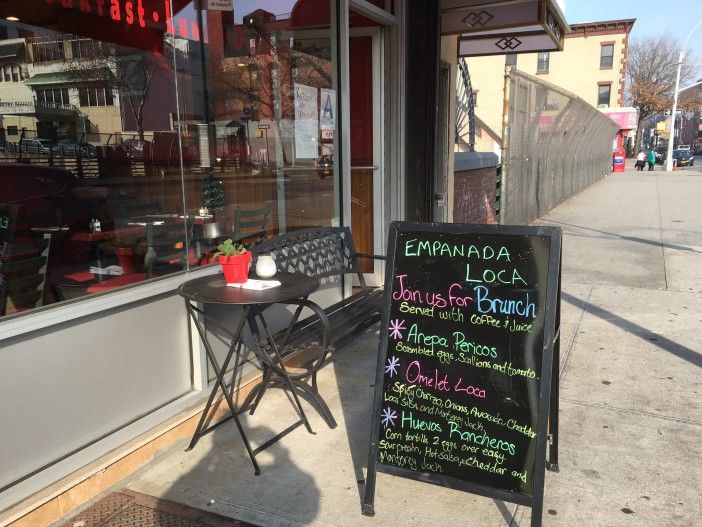 With very little fanfare, the Latin fusion Empanada Loca invited customers in a few weeks back — and are we ever lucky that they've arrived.
Empanada Loca is a brand new restaurant that took over the space from the former Stoop Diner, and previous to that — Lindos. Unlike the previous two, we're pretty sure that this new establishment will have a lot of staying power.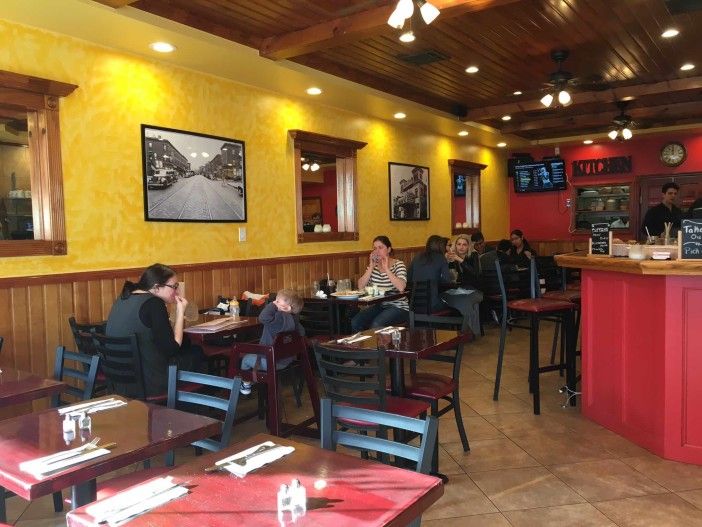 The casual restaurant has an expansive menu, including over 30 types of wheat flour and cornflour empanadas ($2.95 each), and about 15 types of arepas ($4.25-$8.50). Sadly, we didn't try them all — but the ones we did were simply a knockout.
The feel of the restaurant is relaxed and casual, as well as very family-friendly — similar to the personality of the co-owners of the place, George Kontolios and Tommy Keskinis. Both are born and bred in Brooklyn.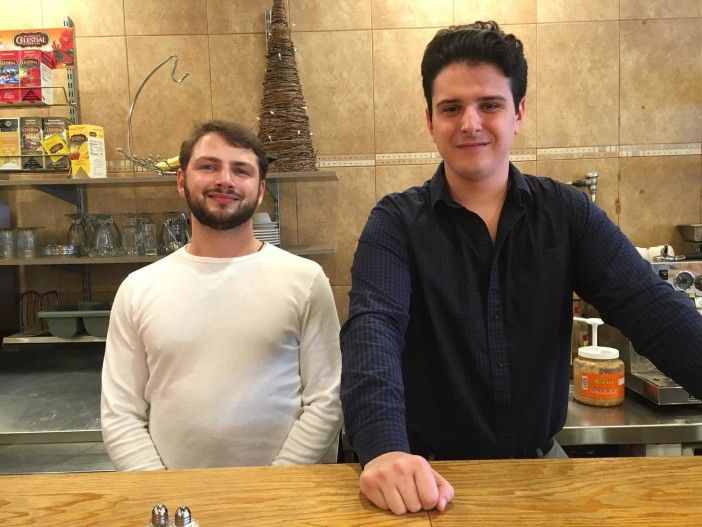 Specifically, Keskinis grew up in Bensonhurst, while Kontolios hails from Bergen Beach. However they are rather familiar with the neighborhood, as both have attended Kimisis Theotokou Church (224 18th Street, between 4th and 5th Avenues) around the corner for a long time.
And they come from a line of experienced restaurant business owners. Kontolios' father owns The Mirage Diner (717 Kings Highway) in Gravesend.
The kitchen is run by chef Rosa Suarez, who really brings a home-cooked flair to an array of Latin dishes.
The empanadas that Suarez cooks up are lightly crisp and brown. And the tastes range from your basic cheese-filled order to the creative "Chew" empanada which consists of Swiss chard, beets, and goat cheese.
They also serve "Dessert Empanadas" ($3.25) should you crave something sweet. So if you want yours stuffed with Nutella and banana … well, come on down.
The arepas are soft and comforting, with a light corn taste. You can go simple with the Arepa Huevo ($5.75) or bite into the savory and warm Arepa Camarones (shrimp) ($8.50).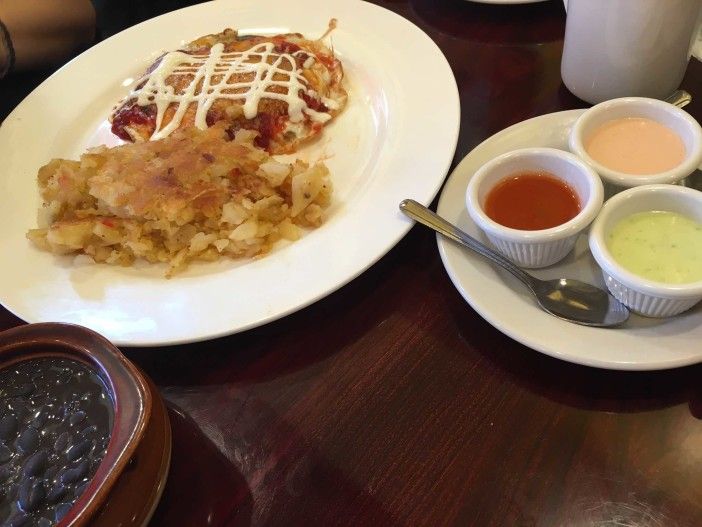 The menu is sweeping — covering quesadillas, burgers, paninis, sandwiches, and a great breakfast menu. While we came in for brunch, the menu has the diversity for breakfast, lunch, and dinner.
The Huevos Rancheros ($9.75) is a breakfast menu staple, and it comes with a soft corn tortilla with homemade Spanish salsa — which is a must.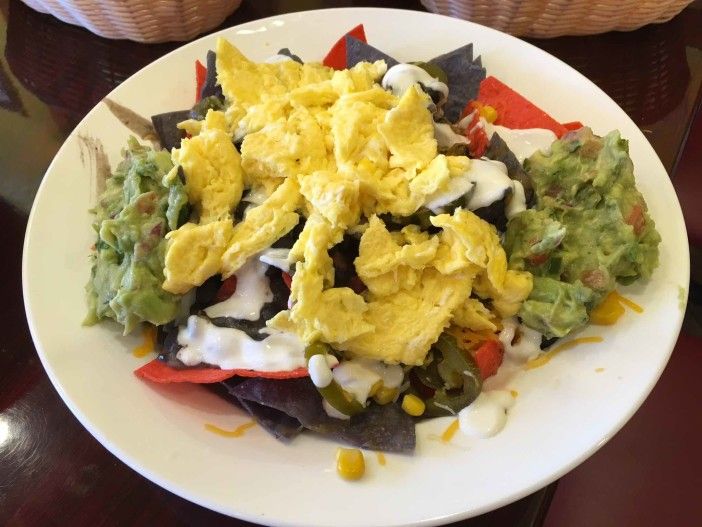 We also gave the nachos with eggs ($8.95) a try — a dish that straddles the fence between breakfast fare and a mid-afternoon snack. The guacamole was excellent.
For a restaurant that opened weeks ago, the service and food feel as if the place had more time to get into this comfortable rhythm.
In addition, some the customers are already dedicated and returning. Neighbor Jeff Cadavid lives around the corner and he has returned several times — bringing his neighbors along.  "This is a welcome addition to neighborhood, with a deep and interesting menu," says Cadavid. "And you get great service."
We're happy to call Empanada Loca our new neighbor. But be warned — you're going to crave those arepas and empanadas once you've given them a try.
And we wouldn't blame you at all if you came back later in the day for a few more.
The Restaurant Rundown: Empanada Loca
Where: 606 5th Avenue (between Prospect Avenue and 17th Street)
Phone: 718-369-2118
Brunch Hours: Mondays-Fridays, 6am-11pm, Saturdays, 8am-11pm and Sundays, 8am-10pm
Who To Bring: This space is great for couples, families, and groups up to six (if seating is available).
Kid Friendly? Yes. High chairs are available, and the wait staff cares about the kids. Your kiddo may enjoy Arroz Moro, a simple rice and black beans side ($3).
Best Bites: The empanadas and arepas are a must. You'll do fine with any selection. The Arepa Huevo (with egg) is $4.25 and the Arepa Camarones (shrimp) runs $8.50. All the empanadas ($2.95 each) are delicious. The Huevos Rancheros ($9.75) had a wonderful soft tortilla. The nachos ($8.95) are decadent and well-priced.