Late Night Brawl Prompts Call for Enforcement Changes on Emmons Ave [VIDEOS]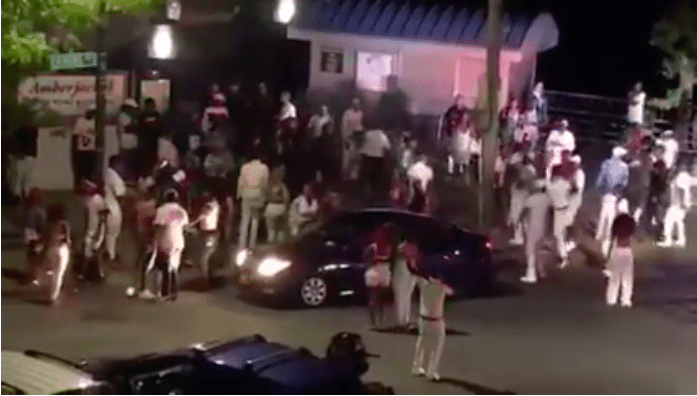 To all:   09/14/2017.Today we had meeting with Mayor Bill de Blasio. I can proudly announce that , with huge help and support of Chaim Deutsch , Sheepshead cruise ? boats will be shut down starting next summer…. A+ to Chaim DeutschPLEASE SHARE!!!!!!It happen on August 6, 2017 at 4am.To all people who like our jewel of Sheepshead-bay and near by neighbors .As we all know for passed many years big cruise ships depart from Emmons Avenue with people from other neighborhoods for short time as ( party boat). During this time those congregations brought to the Sheepshead bay nothing but the problems , gun shots, fight and drugs. Most of the local businesses losses profits and clients because of knowing congregation of uncontrollable amount of people ( gangsters). We all want to walk with our kids and families on Emmons Avenue and fell safe and secure. Owners  of local business where most of us have food , hookah and more started to take action regarding most recent incidents that you can see on this video, where 900 people got off of 3 different boats and started the fight. As you see NYPD officers not taking a lot of actions to come them down. We will start to gather signatures for petitions to Remove  them unconditionally from our Bay. I will keep you updated when he will start the petition. http://www.brooklyndaily.com/stories/2017/25/bn-more-party-boats-problems-emmons-avenue-2017-06-16-bk.htmlLETS KEEP OUR NEIGHBORHOOD CLEAN AND SAFE…
Posted by Aram Dzhamgarian on Sunday, August 6, 2017
Party boats and their clientele have been a long-time nuisance for many neighbors along Emmons Avenue, with complaints that patrons treat the area like a dump, urinate on lawns, leave behind broken bottles, and incite violent brawls.
Less than a week after Assembly member Steven Cymbrowitz announced a new parks enforcement detail to address quality-of-life issues surrounding Sheepshead Bay party boats , a large brawl broke out in the early hours of Sunday, August 6. Video of the event neighbor Aram Dzhamgarian took around 4:00am and posted on Facebook has gone viral with more than 100k views.
In its first weekend, the Parks enforcement patrol was scheduled to enforce the party boats and piers Friday, Saturday and Sunday from 4:30pm – 1:00am, according to a statement on Cymbrowitz's Facebook page. The new enforcement effort is in coordination with the 61st precinct, which is responsible for handling safety on the street, according to the statement.
Party Boat Brawl on Emmons Ave and E 21st St
A brawl on Emmons Ave and E 21st St (Video courtesy of Aram Dzhamgarian)—story coming shortly!
Posted by Bklyner on Tuesday, August 8, 2017
While it is clear from the videos that the NYPD was present, DCPI said they had no record of the incident.
Assembly member Cymbrowitz has twice introduced legislation to ban party boats from the Emmons Ave piers, but pushback on both bills prevented them from reaching a vote. On Monday, the Assembly member posted on Facebook to address the brawl: