Sheepshead Bay Booze Cruise Critics Dispute Racism Claims, Proposed Ban Gains Senate Sponsor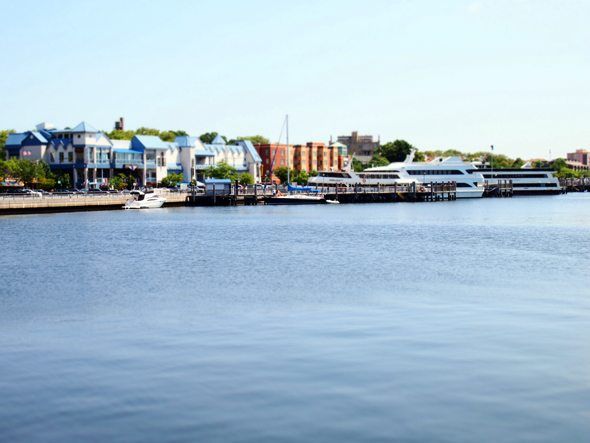 A proposed ban on booze cruises in Sheepshead Bay gained a Senate sponsor in Albany, while critics of the local industry fight back against allegations that the ban is fueled by racial tensions.
Assemblyman Steven Cymbrowitz introduced a bill on February 20 prohibiting boats that throw late-night, alcohol-fueled parties from docking at Sheepshead Bay's piers, operated by the New York City Parks Department, claiming that they're ruining neighbors' quality of life.
"Look at the problem from a resident's perspective," Assemblyman Cymbrowitz said."People drink and get rowdy even before they board the party boats. They urinate and defecate on people's property when they disembark. On top of that you have loud music on the boats that drowns out neighbors' TVs and keeps them up at night."
The bill, which can be found here, would ban ships 14-feet or longer that are rented out for a recreational event of more than six passengers – and exempts fishing boats. The boats would not be permitted within 750 feet of Sheepshead Bay's shore, or 100 feet of any dock. It also limits the volume of music or other sounds except for emergency horns or sirens.
Though the Assembly version has no other co-sponsors to show support, State Senator Diane Savino introduced a Senate version last week. Both versions have been referred to their respective committees, where leadership will determine whether to bring it to a vote.
The boats and their clientele have been a long-time nuisance for many who live south of the Belt Parkway, with neighbors complaining at local civic meetings that patrons treat the area like a dump, urinating on lawns, leaving behind broken bottles, and are prone to violent incidents.
The proposed ban has garnered headlines in citywide media, including WNYC. It's received criticism from boat owners and others who say it's neighborhood snobbery, and that the mostly white residents of Sheepshead Bay don't care for the largely Caribbean clientele who rent them out.
WNYC reports:
"In Sheepshead Bay, 90 percent of the party boat [clientele] is West Indian," said Captain Gregory Pelletteri, who helps operate [boats including the Sheryll Princess]. "You might not want to say that, but that's the reality of it — there are not a whole lot of other parties going on."
Captain Joe Lind, owner of the The Golden Sunshine, agrees. "There is a desire by the people who are pushing this to get rid of the blacks in the neighborhood," said Lind.
Those patrons are hopeful they can work out the quality of life issues, but agree that there are racial undertones.
[Party ogranizer Quincy] Liverpool said he thinks the quality of life issues in Sheepshead Bay can be worked out but he wishes the community as a whole could be more supportive of Caribbean New Yorkers like him, rather than view them as outsiders.
"The culture that they're bringing to the pier is different than the people that live at the pier and I think that's where the disconnect is," observed Liverpool.
Tom Paolillo, who lives near the water on Bedford Avenue, and a vocal opponent of the booze cruises who frequently raises the issue and shares photos of trash left in front of his home by patrons, flatly rejected the claims that it's a race issue.
At a Sheepshead Bay / Plumb Beach Civic Association (SBPB) meeting last week, Paolillo bought the topic up in response to Lind's claims, saying that the boat owner is hoping to squash debate by reducing it to ethnic tension.
"What still sort of repeating in my head like a broken record is Captain Joe Lind, who said Sheepshead Bay residents just don't like black people in the neighborhood. I think that's just outrageous and it's not the case" he said. "I don't care who they are but they're breaking the law. You're not allowed to drink out of the back of your car with an open container, and you're not allowed to litter," he said, passing around a photo of men he claimed were patrons doing just that in front of his home.
SBPB President Kathy Flynn agreed, saying it's not about race or even the boats – it's about whether or not they're a nuisance. She pointed to similar concerns neighbors had with the now defunct OPM Lounge at Bragg Street and Emmons Avenue, which had similar troubles and a largely local clientele.
As for the boat ban, Paolillo said he's not sure if one is necessary.
"I think it's a policing issue," he said.
Community Board 15 Chairperson Theresa Scavo agreed, saying that some boat owners are trying to be amenable.
"Who is supplying the security? Who is supplying the metal detectors?" she said, pointing out that it's the boat owners. "They're paying for it out of pocket. They are trying to do the right thing. But it comes down to NYPD and Parks police. Those piers are under Parks jurisdiction; when was the last time you saw Parks police there? Never."
Scavo also noted that NYPD policing of the piers has been scaled back under more recent commanding officers.
Cymbrowitz, for his part, told the Bay News that this proposal is being made at the request of the NYPD and Parks.
Cymbrowitz said the police and the Parks Department, which controls the docks, wanted him to push this law.
"We've worked with the 61st Precinct and Parks Department for many years to deal with the quality-of-life issues and have been encouraged by them to introduce this legislation," he said.
Locals who work for the boats told Sheepshead Bites that they understand the quality of life concerns, but they do all they can while keeping Sheepshead Bay's boating industry alive.
"Ten years ago they had to change, they had to do these parties, otherwise they were going to lose their boats because the fishing industry went downhill. People sold their boats, they got out of here," said Richie Arneman, who works on both fishing and booze cruise vessels. "You have to come up with a happy medium. You can't just say, 'Oh, let's ban them.' There's people here who work here, I work here, I depend on making a few bucks here. My family has been here working the boats all my life."