J'Ouvert & West Indian Day Parade: Labor Day Monday 2017
CROWN HEIGHTS — Every year on Labor Day weekend Brooklyn celebrates Carnival.  Just before sunrise on Labor Day Monday – it's time for J'Ouvert on Flatbush Avenue. After J'Ouvert winds down, the West Indian Day Carnival Parade starts on Empire Boulevard.
About one million people come into the Crown Heights for the celebration, the city estimates. Every flag comes out, of every island represented. The West Indian Day Parade came to Brooklyn in 1960s, after the one in Harlem lost its permit in 1964, and celebrates 50 years this summer.
J'Ouvert by Philip J Bell is a lovely, nuanced documentary about the pre-dawn part of the Carnival, and why it is such an integral part of the festivities.
J'Ouvert means "dawning of the day" in Creole. It has two parts – masquerade – that historically makes fun of the ruling classes, the politics, and the suffering of the year past; and is accompanied by percussions – the steel pans. It starts before sunrise, and ends before noon.
Around 11am the "pretty masquerade" starts to proceed down Eastern Parkway from Schenectady Avenue ending at the Grand Army Plaza – celebrating a new beginning.
Brooklyn Historical Society released a podcast this week looking at the Carnival in Brooklyn, and what it means to the Crown Heights community, we'll let you listen for yourself:
Every year many of the news stories focus on the violence.
Before the festivities last year, Errol Louis wrote in the Daily News: "My great worry about the upcoming J'Ouvert middle-of-the-night celebration is that thousands of New Yorkers will once again be needlessly exposed to proven, preventable danger in the streets. For a variety of reasons — including sheer political cowardice — too few elected leaders seem willing to challenge or rethink the wisdom of holding an event at 4 a.m. in parts of Brooklyn where gang activity and gunplay are not under control."
During the 2016 Carnival, four people were shot — two fatally — around 4am on the day of the event. The violence ensued despite the 3,400 police officers posted on the parade route and surrounding streets, doubled from 2015, including counter-terrorism units, K-9 dog patrols, 42 newly-installed surveillance cameras and 200 light towers.
This year J'Ouvert, the colorful, pre-dawn parade will assemble as usual at Grand Army Plaza on Labor Day, and proceed south on Flatbush Avenue, turn east on Empire Boulevard, then turn south on Nostrand Avenue, ending at Midwood Street in Prospect Lefferts Gardens.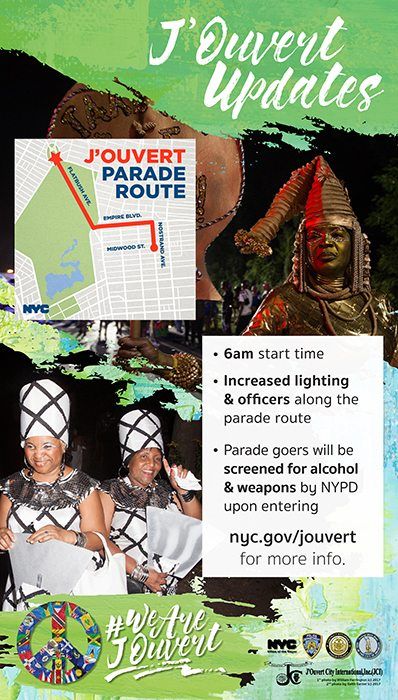 However, the start time has been moved from 4 am to 6 am (just 26 minutes before sunrise) in hopes to quell the violence. The NYPD is promising security as tight as that of Times Square on New Year's Eve. About 50,000 people are expected to participate in J'Ouvert.
There are a few events taking place leading up to the parades, at the grounds of the Brooklyn Museum, organized by the West Indian American Carnival Day Association. Check them out: