J'Ouvert Festival Will Move To Daylight Hours, Organizers Say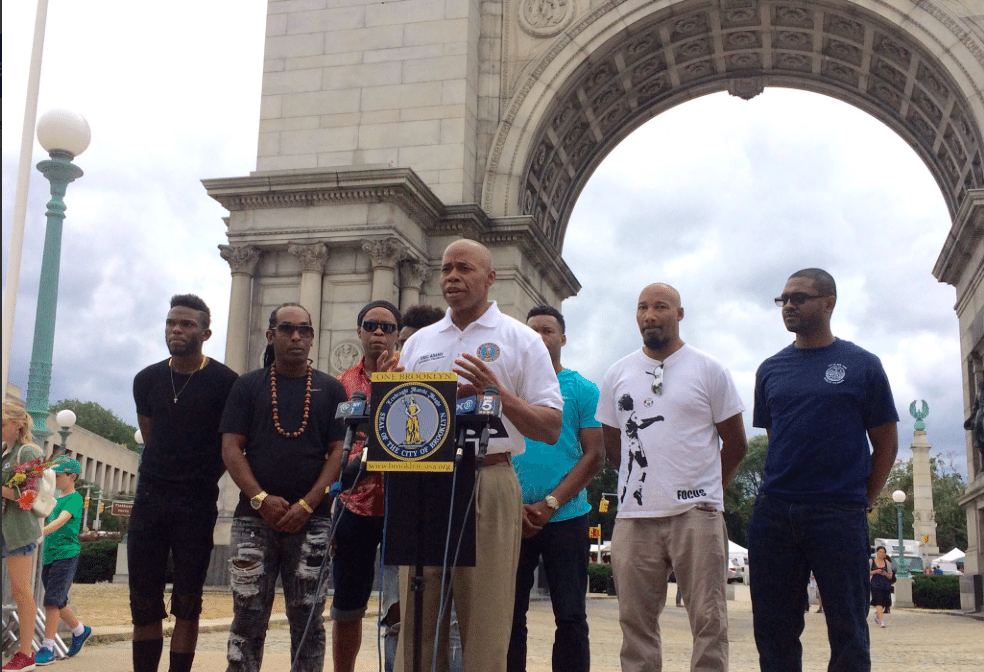 The annual J'Ouvert parade will change its start time to 6am  in an effort to curb violent outbreaks that have plagued the event for the past few years, said organizers and police.
Starting this year, the new hours will be 6am to 11am, instead of the previous 2am start time, J'Ouvert City International President Yvette Rennie told the Daily News.
"We are extremely concerned that darkness is when everything [bad] happens," she told the Daily. "Based on what happened in those consecutive years, we felt that it was very important that we bring it more into light."
Last year, four people were shot — two fatally — around 4am on the day of the event. The violence ensued despite the 3,400 police officers posted on the parade route and surrounding streets, doubled from 2015, including counter-terrorism units, K-9 dog patrols, 42 newly-installed surveillance cameras and 200 light towers.
The colorful, pre-dawn parade traditionally marches from Grand Army Plaza on Labor Day, hours before the West Indian-American Day Parade on Eastern Parkway (the two events are run by different organizations).
The parade route from Grand Army Plaza, down Flatbush Avenue and Nostrand Avenue, is not set to change at this time, reports DNAinfo.
After violence in previous years, some officials have proposed ending the celebration altogether, while others countered that the celebration is a cultural milestone for the Caribbean Brooklynites.
"We have in our community a violence problem, not a J'Ouvert problem," said State Senator Kevin Parker, whose districts include Flatbush and East Flatbush, countered, last year.
Brooklyn Boro President Eric Adams has also been an outspoken supporter of the multi-faceted event and convened a task force to help prevent the recent crime spike.
J'Ouvert, or "day break", is a tradition that dates back more than 200 years, according to Council Member Diana C. Richardson. It began as a huge celebration where French plantation owners imitated slaves and was later re-appropriated by the freed slaves to mock their former captors and celebrate their freedom. Many would often smear paint and oil on their bodies to avoid recognition — a practice that continues at festivals today.
In Brooklyn, J'Ouvert and its previous incarnations began in the 1980s, said organizers.