It's The Perfect Weather To Celebrate National Grilled Cheese Sandwich Day
One of the great joys of being a kid is sitting down to a grilled cheese on a rainy day. We all know you don't need to be a kid to groove on this classic sandwich, and today it is the perfect rainy day to have one.
Today is the most holy of all things grilled cheese — It's National Grilled Cheese Sandwich Day!
According to our cheesy, gooey, yummy experts at the GrilledCheesery:
"Some scholars point to Roman cookbooks that included combining bread and cheese at mealtimes. The precise origin of grilled cheese is rather lost to time. However, scholars speculate that it was in the 1920's that some enterprising mind came up with the idea to not only combine bread with cheese, but also to grill it as well."
Here are some of our picks in the area:
Green Mountain Grilled Cheese at Corner of Vermont (374 5th Avenue between 5th and 6th Streets) is Grafton Village Cheese Company Smoked Cheddar with Maple caramelized onions on Sourdough or Multigrain. You can choose from six grilled cheese options (The Cheese & Chutney is a must as well).
Grilled Cheese & Creamy Tomato Bisque at Pork Slope (247 5th Avenue between Garfield Place and Carroll Streets). The combo always does the trick.
Grilled Cheese & Tomato Soup at Flatbush Farm Bar (76 St Marks Avenue near Flatbush Avenue): We can't resist the super-comforting combo of a classic grilled cheese alongside some tomato soup — but this is well beyond the Campbell's of your childhood, with fennel adding an extra bit layer of depth.
Kielbasa & Jalapeño Grilled Cheese at South (629 5th Avenue between 17th and 18th Streets): It's always good to stop by South for a pint and some good conversation. Co-owner Paul Molnar also recommends "The Hot Ryan," which is a grilled cheese with jalapeños. After its grilled, it's topped off with strawberry jam.
Melter Skelter at MeltKraft (442 9th Street near 7th Avenue): It's got Raclette-style cheese, pickled green tomatoes, jalapeño, watercress, and BBQ potato chips (inside the sandwich, yes!) which leads to "an all-time-great grilled cheese experience," they write.
Taleggio, Salvatore Ricotta, and Kale Pesto at BKLYN Larder (228 Flatbush Avenue near Bergen): You'll forget the cliche that is kale when you try this sandwich with its house-made kale pesto, a nice match to two cheeses — tallegio and Salvatore Ricotta, which they note is not only "one of the the world's best cheeses, but it's also made right here in Brooklyn."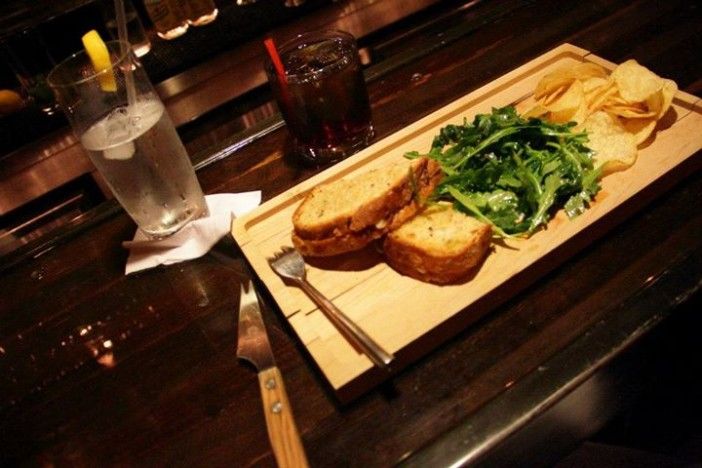 Truffle Grilled Cheese at Wolf & Deer (74 5th Avenue at St Marks): This one is classed up a bit with a dash of truffle oil — and it hits the spot when you're looking for a snack after having a few drinks, and a lot of the other grilled cheese joints are closed.
Diner Grilled Cheese: Finally, we get a bit nostalgic for a straight-up grilled cheese every once in a while, and our local diners never fail us. Belly up to the formica counter for one at: 7th Avenue Donuts (324 7th Avenue), Daisy's Diner (452 5th Avenue), Dizzy's (230 5th Avenue & 511 9th Street), Fifth Avenue Diner (432 5th Avenue), Little Purity (390 7th Avenue), Park Cafe (82 7th Avenue), Purity Diner (289 7th Avenue), South Slope Eatery & Juice Bar (486 5th Avenue), Windsor Cafe (220 Prospect Park West).
Have we left out your favorite? Let us know in the comments below!
Additional reporting by Donny Levit