It's The Great PUPkin, Fort Greene! Beloved Dog Costume Contest Returns For 20th Year
[UPDATED: Wednesday, October 24, 2018 at 2pm] Due to expected rain on Saturday, the 20th Annual Great PUPkin Dog Costume Contest has been rescheduled for Sunday, October 28 at 11:30am. More info at fortgreenepups.org.
FORT GREENE – Twenty years ago, Fort Greene resident and Fort Greene PUPS founder, Kath Hansen, got together with a group of friends, dressed their dogs up in Halloween costumes, and paraded their festively-attired pooches around the neighborhood. Little did they know that this fun outing would blow up into a beloved annual tradition.
As she prepares to bring the 20th Great PUPkin Dog Costume Contest back to Fort Greene Park later this month, Hansen confirms that this will be her final year organizing the dog-friendly Halloween event, saying she thinks it is "time for some fresh blood." Hansen, who works in marketing for a non-profit organization, says it takes months to coordinate the event. She corrals her team of more than a dozen volunteers as early as July to begin applying for the various permits and $2 million insurance policy required, as well as promoting the event, updating the website, and handling all the other details needed to make the contest happen each year.
For whomever takes over the reins for next year's contest, Hansen advises them to "start early," adding "it takes a lot longer than you think."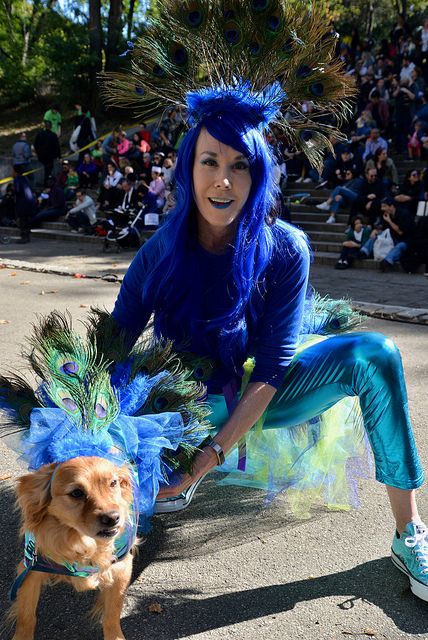 For this year's Great PUPkin, scheduled for Saturday, October 27, Hansen says it will be more of the funny, crazy costumes and adorable contestants as seen in previous years, however with the cancellation of the popular Tompkins Square Halloween Dog Parade this year, she anticipates more fans of dogs in costumes will cross the East River and join the fun in Brooklyn. She notes that Fort Greene PUPS upped the number of pre-registration slots this year from 60 to 80, to motivate the "best of the best" to bring their "A game" and impress this year's judges and crowds with their outrageously dressed dogs. (NOTE: Pre-registration has sold out. On-site registration will be available for 40 dogs starting at 10:30am on the day of the event.)
This year's panel of judges include: Dr. Bill Farmer, owner of Heart of Brooklyn Veterinary Hospital; Matt Duncan, Art Director for Sesame Street; Jen LaPorta and Megan LaPorta, owners of Hudson Jane, and celebrity judge Meredith O'Connor, pop star and anti-bullying advocate.
The competition serves as an outlet that "really brings out people's creativity," Hansen notes. While she loves seeing inventive costumes complete with wheels and working parts—a dog showed up as a working water fountain one year—she also enjoys costumes of "inane and obvious things," like a dachshund wrapped in paper product masquerading as a roll of paper towels. She adds that over the years entire families have gotten in on the action and team costumes have become really elaborate, such as groups dressed as the casts from Hamilton or The Warriors.
Hansen launched the canine costume event officially in 1999 to encourage locals to join Fort Greene PUPS (Fort Greene Park Users and Pets Society), a non-profit group she founded to maintain the park and unite neighborhood dog owners. She recalls the park being an "overgrown mess" and not exactly "a place to go with your kids" when she started the group. The Fort Greene Park Conservancy launched a year after PUPS and since 2001 the Great PUPkin Dog Costume Contest has been held in conjunction with the Conservancy's Halloween Festival each year.
An unexpected snow storm almost cancelled the event all together in 2011, when all NYC Parks closed due to the weather. Hansen remembers "everybody pulling together and wanting to make it happen." They succeeded by relocating the event to 313 Clinton Avenue, the former home of Halloween 313, who for 20 years put on elaborate, family-friendly shows for neighbors every October 31. Hansen is friends with Halloween 313's Janna Kennedy-Hyten, and the two agreed that the dog show must go on and moved all the furry contestants to the stage that had already been set up in front of Kennedy-Hyten's Clinton Hill home.
The team posted messages on social media alerting entrants and attendees of the location change and the event went on as planned. "We all pitched in and made it work," Hansen says. "We had a blast."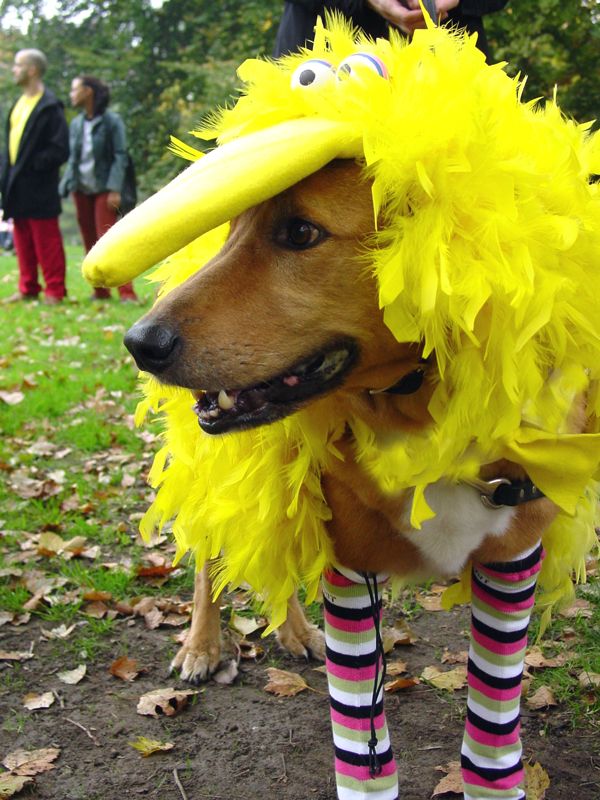 Hansen has had three dogs over the 20 years that the Great PUPkin Dog Costume Contest has taken place. She has held on to all of their costumes and lends them to friends when they are in need of a last-minute getup for their pets. Her dog Cameron dressed up as a cheerleader for the first ever costume parade, and Hansen dressed him as a very convincing Big Bird the following year.
Some of her other personal favorites include dressing her dog Bobby, "the best costume-wearer of all time," as Lady Gaga in a meat dress, or wearing a Ghostbuster costume herself and transforming Bobby into the Stay Puft Marshmallow Man. One year, Hansen recalls laughing, she dressed him as Sonny to complement her Cher.
Last year, she dressed herself and her small dog Stanley as colorful peacocks. This year she will be Peter Pan and he will be Tinkerbell.
"Even if you don't dress up your dog, come and watch the show," Hansen insists. "It's a great neighborhood event, a truly unique event."
While this may be Hansen's final year organizing the Great PUPkin, she definitely plans to stay involved—as a contestant. "You are never too old to have fun with your dog," she says. "I'm going to win some prizes!"
20th Annual Great PUPkin Dog Costume Contest
Saturday, October 27, 11:30am to 1pm (rain date: Sunday, October 28)
Fort Greene Park (by the Prison Ship Martyrs Monument stairs)
Need costume inspiration? Click here for BKLYNER's images from last year's event and check out photos from all the previous years at Fort Greene PUPS Flickr page.