It's Not About Buses, It's About Respect: A Heated Meeting Over Church Avenue Parking
PROSPECT PARK SOUTH — The city's Department of Transportation (DOT) is moving ahead with its plan to speed up B35 along Church Avenue by taking away parking, DOT Brooklyn Borough Commissioner Keith Bray told a Temple full of congregants and residents angry about how the community was consulted: "Yes, we are planning to move ahead with this project."
Mathieu Eugene, the local council member who said he found out about the plan "a few weeks ago," got an earful, too, for what people said was bringing the community here and wasting everyone's time under false pretenses – presenting the meeting as an opportunity for engagement and discussion knowing full well DOT would be going ahead with the plan.
The plan calls for dedicated bus lanes between 7 am and 7 pm between E16th Street and Ocean Parkway six days a week, except Sunday, eliminating 113 parking spaces during those hours.
The B35, which services 45,000 riders per day, moves in both directions at an average speed of 4.25 mph during peak hours on weekdays — significantly slower than the Brooklyn bus speed average of 6.75 mph. A DOT survey of shoppers on Church Ave. showed that just 7% percent of respondents use personal cars to get there, while 55% sometimes take the bus and 49% use the subway.
For B'Shert (Beth Shalom v'Emeth) Reform Temple, the only reform congregation south of Prospect Park, the parking restrictions adjacent to the synagogue would make it difficult for much of the congregation to get to services on Friday night and Saturday morning, when the bus lane would be in effect.
"If you're going to shut [the bus lane] down on Sundays for church, then you need to address this synagogue that's been here for 106 years," said the synagogue's religious school chair Madeline Jonas following the DOT's presentation. Jonas, who lives in Mill Basin, said in a subsequent interview that she and other congregants of the temple who live in southern Brooklyn don't have an easy way to get to services via public transit, so they drive and need parking on Saturday. She asked why the bus lanes were in effect during the Christian Sabbath on Sundays but not on the Jewish one.
"We have a large number of elderly congregants who come in from out of the area," she explained. "We have elderly congregants who can't find parking."
Many questions were raised about how thorough the analysis of the needs of those affected by the plan was – many of the businesses along the stretch did not know about the plan nor were consulted, despite DOT claiming otherwise. Neighbor Robert Grafton asked passionately whether any individuals with disabilities were asked for input.  From replies, it seems the answer was "no".
B'Shert Rabbi Heidi Hoover said that the questionnaire they received from DOT only asked about deliveries, completely failing to consider the needs of a religious institution with Friday and Saturday services to over 200 families that has served the area for over 100 years.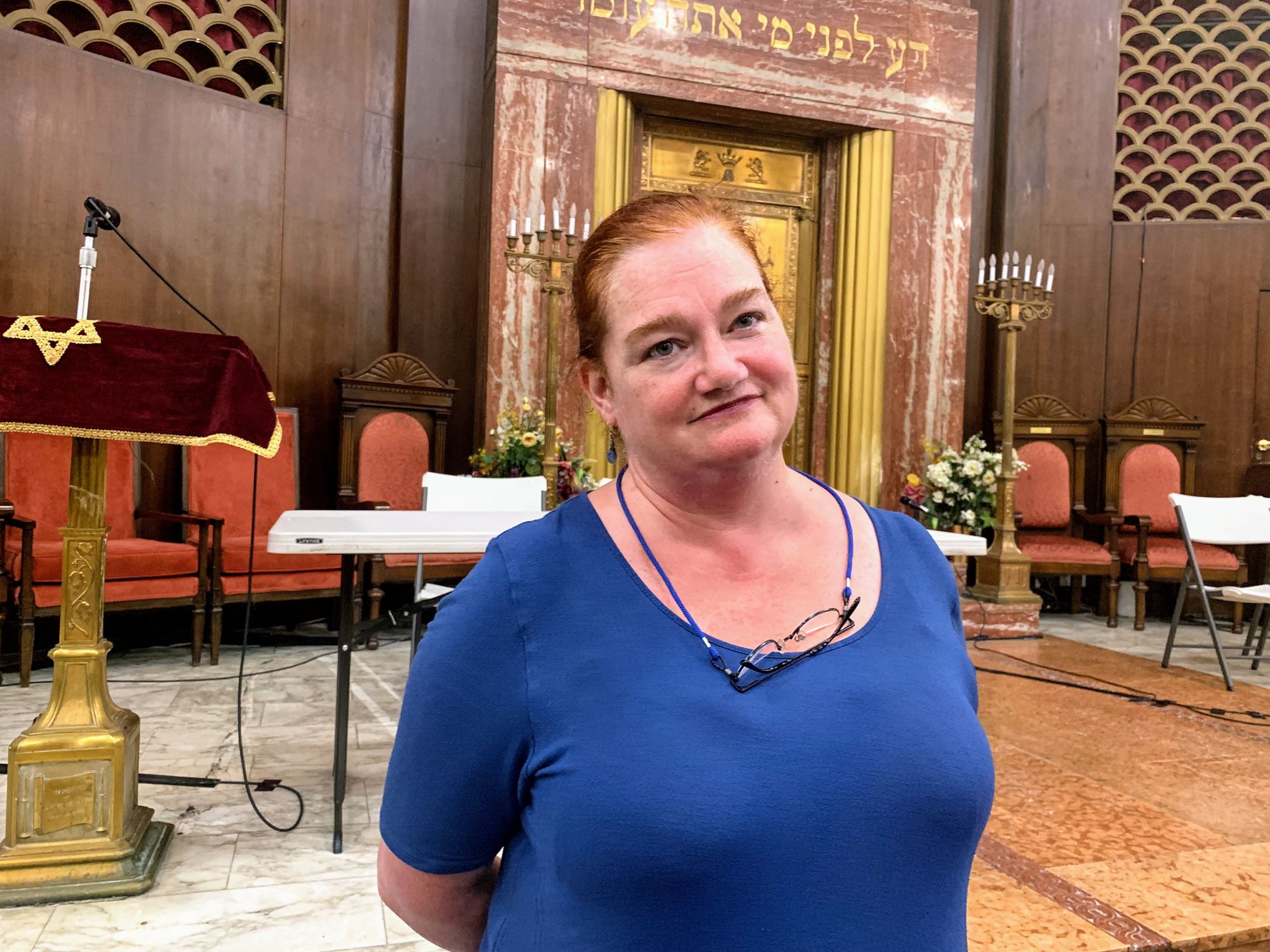 "I'm very concerned. They have a very narrow focus in terms of what they think the needs might be and that's what they asked about. They did not ask about other issues. And they did not ask us at all. They sent us a survey that asked questions that had nothing to do with what our needs and concerns are – all of their questions were about deliveries. Right now, adjacent to our building, on Church Avenue, there is a no-parking zoning, and that is frequently used by our congregants who are handicapped and have handicapped permits," she went on. "It's hard enough to park in this neighborhood already and it's going to get harder."
"They never once considered the Synagogue. They never asked and they obviously do not care. But Sunday is fine, Sunday you can park anywhere," Barbara Katz, who lives in Ditmas Park and attends the temple with her grandchildren, fumed after the meeting.
"This was presented as a discussion, not a done deal. How can you not expect people not to fly off the handle? It was not pretty," her husband Barry Katz chimed in. "And our councilmember – to be speaking for 20 minutes about how we all should come together, and then take another hour and 15 to finally get around to our subject. How can you not expect people to fly off the handle."
While concerned over lack of consideration for Synagogue's needs, not everyone was opposed to the plan, and people acknowledged that the bus speeds were in need of improvement.
"I think DOT put a lot of thought and a lot of effort into this plan, and fundamentally, what they're trying to do is the right thing to do, because the vast majority of people who use this street use public transit or walk," said Billy Richling, a Community Board 14 Member who lives in Flatbush and is a frequent B35 rider. "Reshaping the limited public space that we have to more accurately reflect how people in this neighborhood get around is really important."
Richling said that he favors the plan in part because he hopes the crawling B35 will be sped up if a bus lane is installed on Church Ave.
"So often, that experience is incredibly frustrating, especially on this line, where I'll be sitting on this bus watching people walking faster than the bus is moving," he said.
Eugene, who represents Kenginston, parts of Flatbush as well as Prospect Lefferts Gardens, declined to come down one way or another on the DOT's plan, saying in an interview "I don't have a position." Eugene also said he was glad he organized the meeting, which he said was productive.
"I think it was a positive meeting, because if the meeting didn't happen my constituents wouldn't have the opportunity to raise their issues and raise their concerns," the Council member told Bklyner, specifically citing worries about parking. "My concerns are their concerns."
Additional reporting by Sam Raskin
UPDATED to reflect that Commissioner Bray said "Yes, we are planning to move ahead with this project" in response to question from the audience "Is this a done deal?". Our apologies for misattributing the quote. The substance of the exchange is unchanged.