DOT Proposes Dedicated Bus Lanes And Parking Changes Along Church Avenue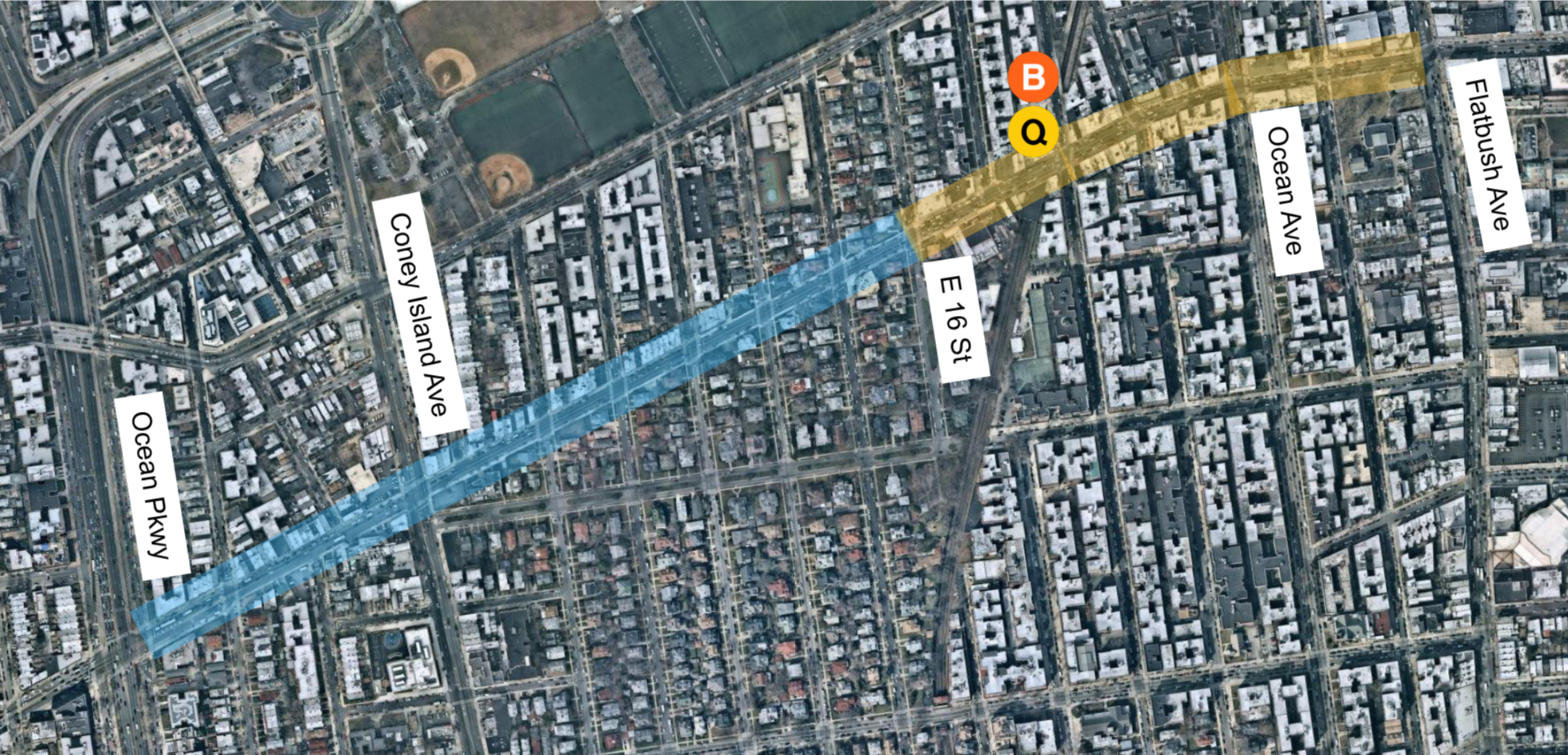 DITMAS PARK/FLATBUSH – Congestion along the 3rd busiest bus route in Brooklyn, B35, that traverses the length of Church Avenue from Kensington to Brownsville transporting over 29,000 passengers daily has gotten so bad that often you'd be better off walking.
B35 buses average only 4.25 mph during peak hours on weekdays in both directions (Brooklyn average is 6.75 mph), Department of Transportation (DOT) representatives told the Community Board 14 (CB14) Transportation committee last week, as they presented a plan to fix it.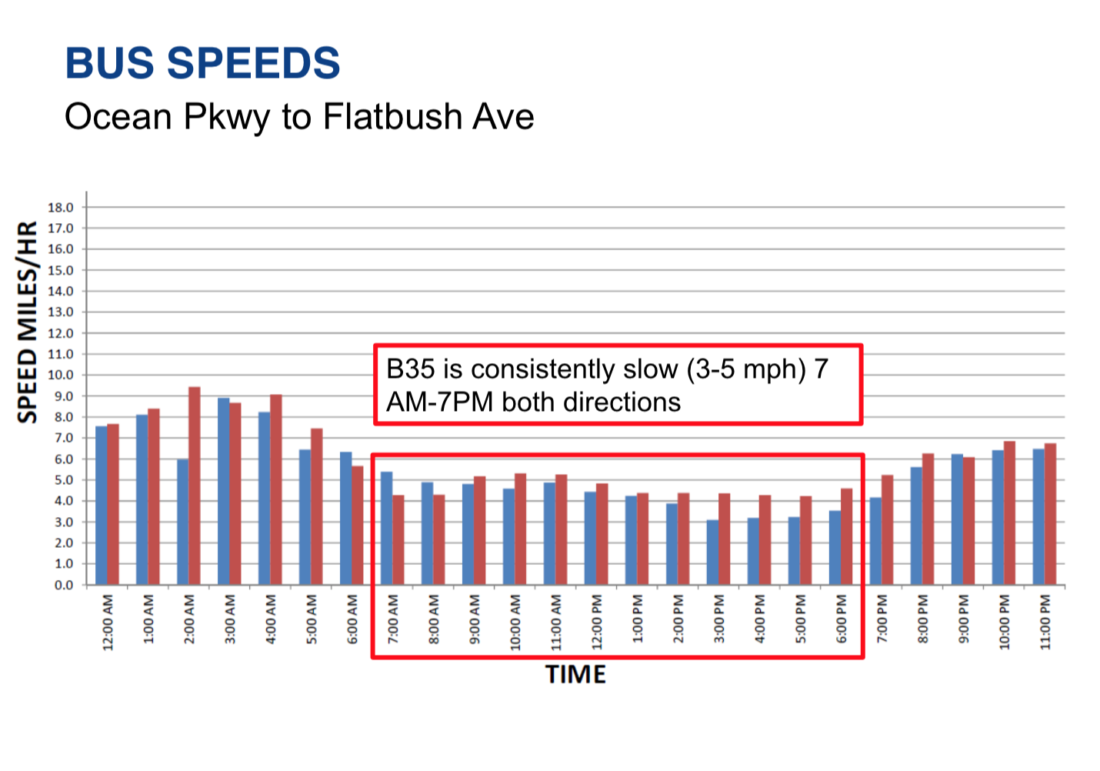 The plan affects Church Avenue between Ocean Parkway and Flatbush Avenue. Church Avenue is a local truck route, with a dense commercial zone in the heart of Flatbush (in yellow in the map below) and commercial establishments along the northern side of the street between E16th and Ocean Parkway. At the Western end, it is also along the route of B103 and BM3 and BM4 express buses between Coney Island Avenue and Ocean Parkway. The proposed changes would link up with the planned improvements at the Church Avenue-Prospect Expressway/Ocean Parkway intersection that are slated to be implemented later this summer.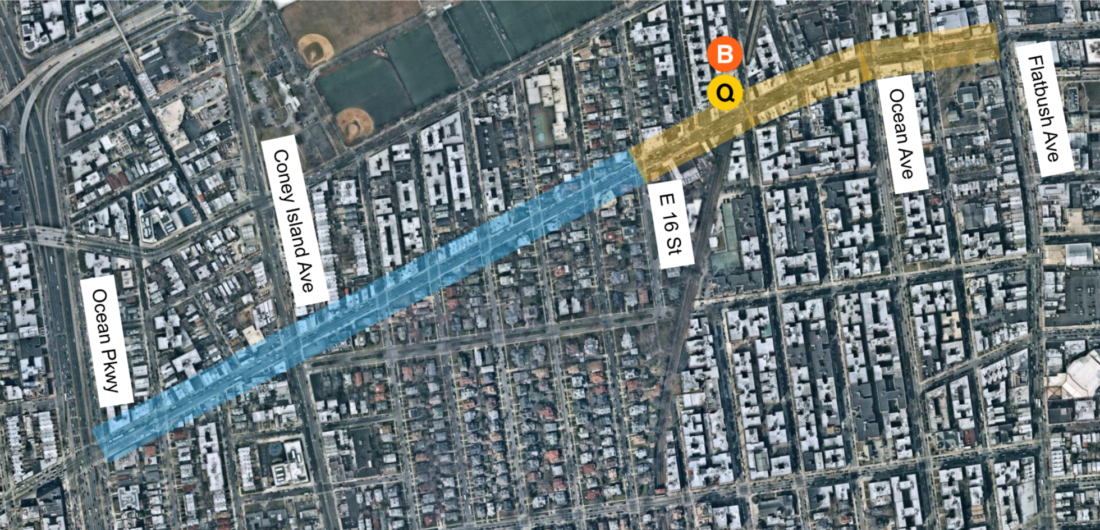 Between E16th and Flatbush:
Currently, along Church Ave, there is 1-hour metered parking with loading zones with some 2-hour parking on side streets just-off Church Ave. During the study period, DOT found there was a high curb demand, with frequent double parking & illegal parking along the street where just 1-2 double-parked vehicles can shut down traffic.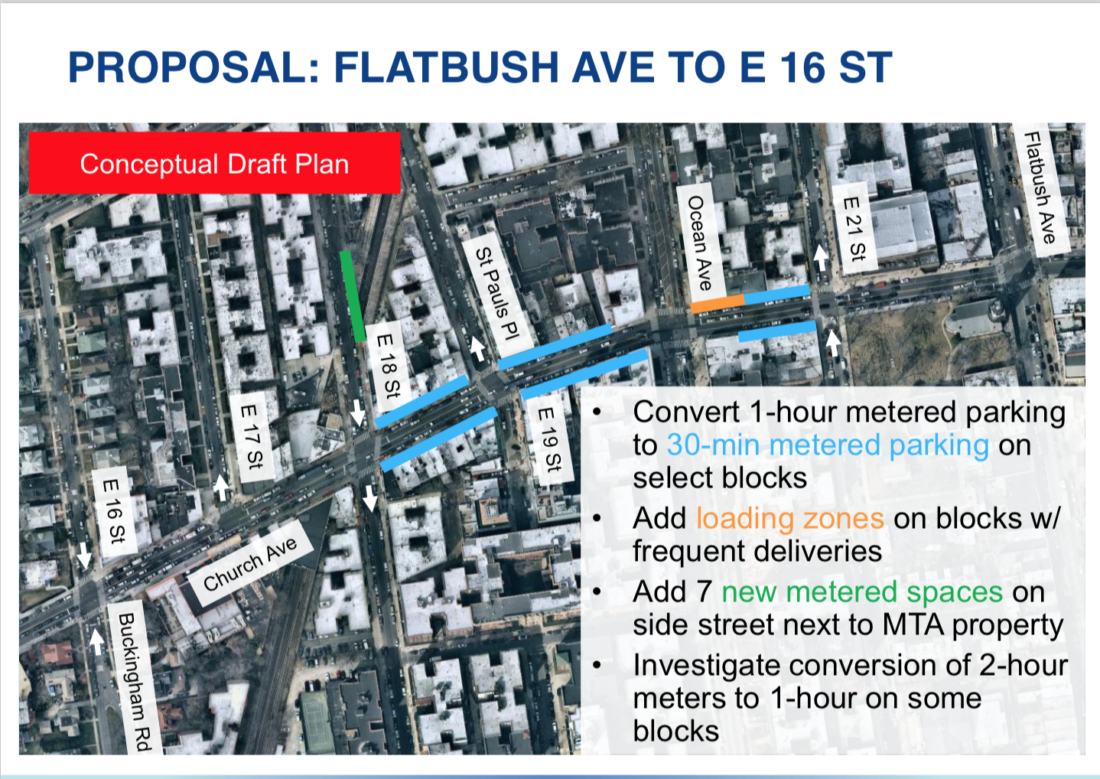 DOT is proposing to:
Convert 1-hour metered to 30 minutes from E 21 St to E 18 St (3 blocks)
Add/extend loading zones on blocks with frequent deliveries
Add 7 new metered spaces on side street next to MTA property
Investigate conversion of 2-hour meters to 1 hour on side streets
Church Avenue congestion issues between E16th and Ocean Parkway are different. Along the southern side, the street is flanked by residential side yards with frequent driveways, hydrants and frequent bus stops. On the north side, there is 2-hour metered parking along the commercial shops. Though there is little double parking, the short blocks and turning traffic back up in what DOT described as "one long traffic queue".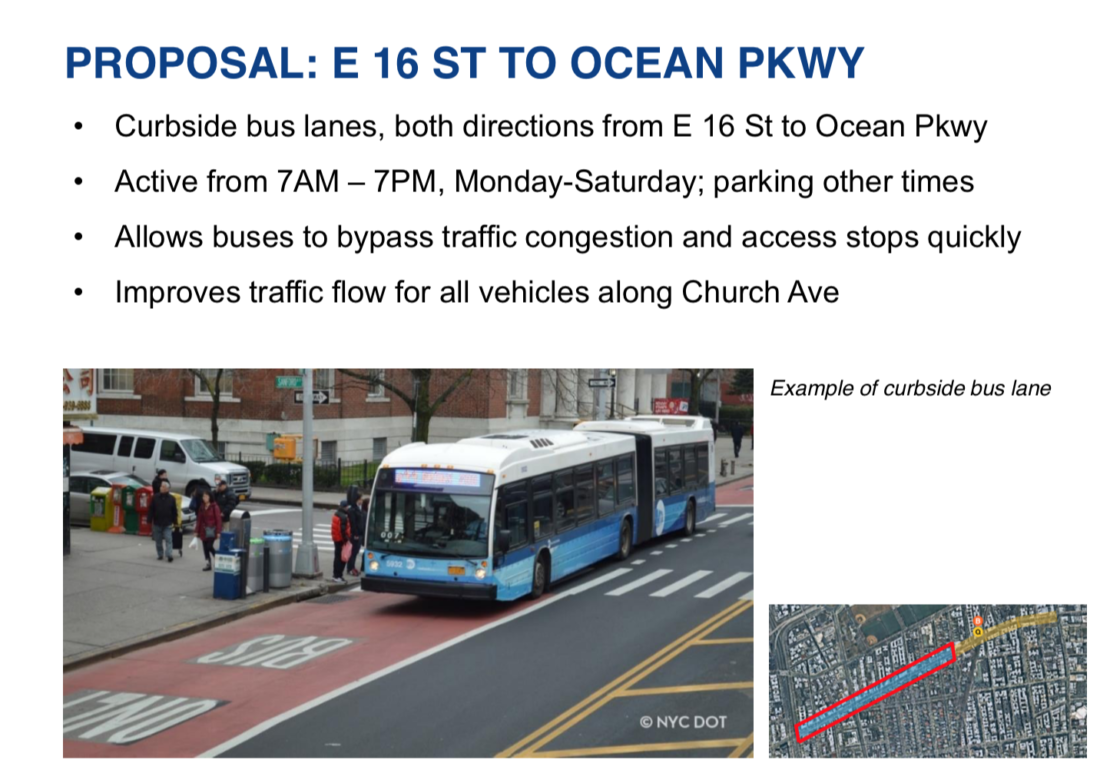 To improve the traffic flow DOT is proposing to implement curbside (dedicated) bus lanes in both directions from E 16 St to Ocean Pkwy between the hours of 7AM to 7PM, Monday-Saturday, parking at other times.
The bus lanes would repurpose 113 spaces from 7AM-7PM, of which currently 61 are metered, 52 unmetered spaces, mitigated by additional meters on side streets.
What this means for particular blocks: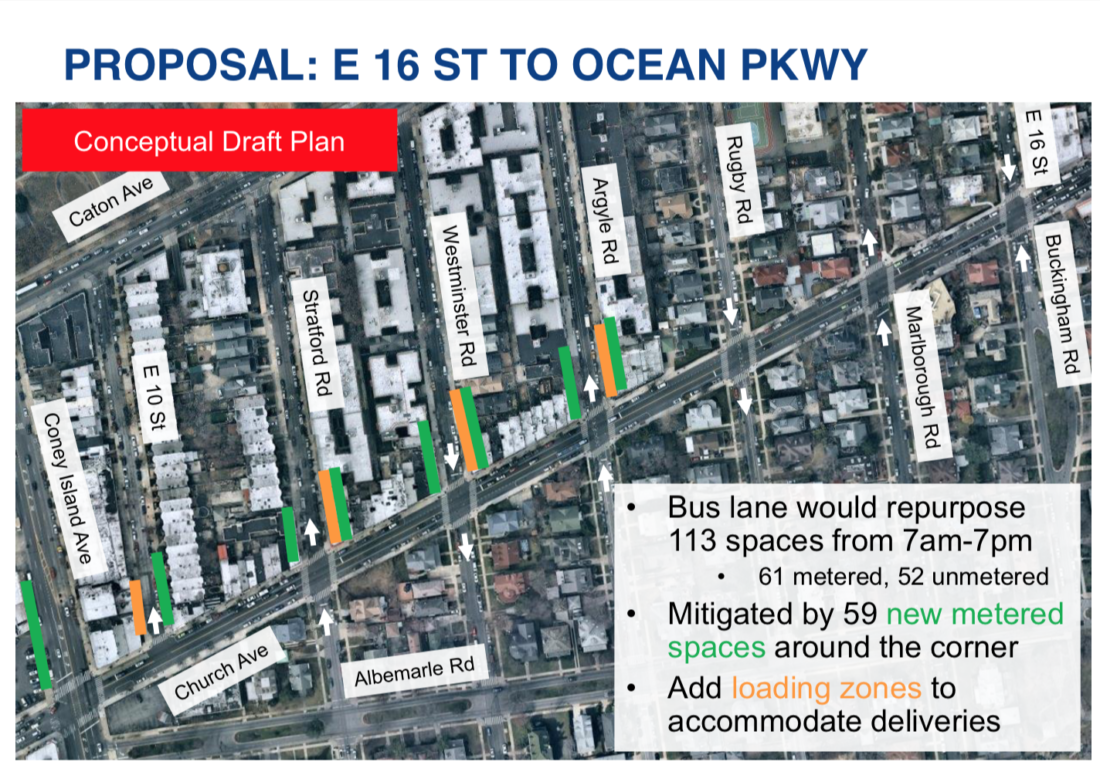 Between E16th and Coney Island Avenue. To help those visiting shops and doing deliveries, DOT proposes adding loading zones on E10th, Stratford, Westminster and Argyle Roads, along with new metered spaces on those blocks as well as Coney Island Ave.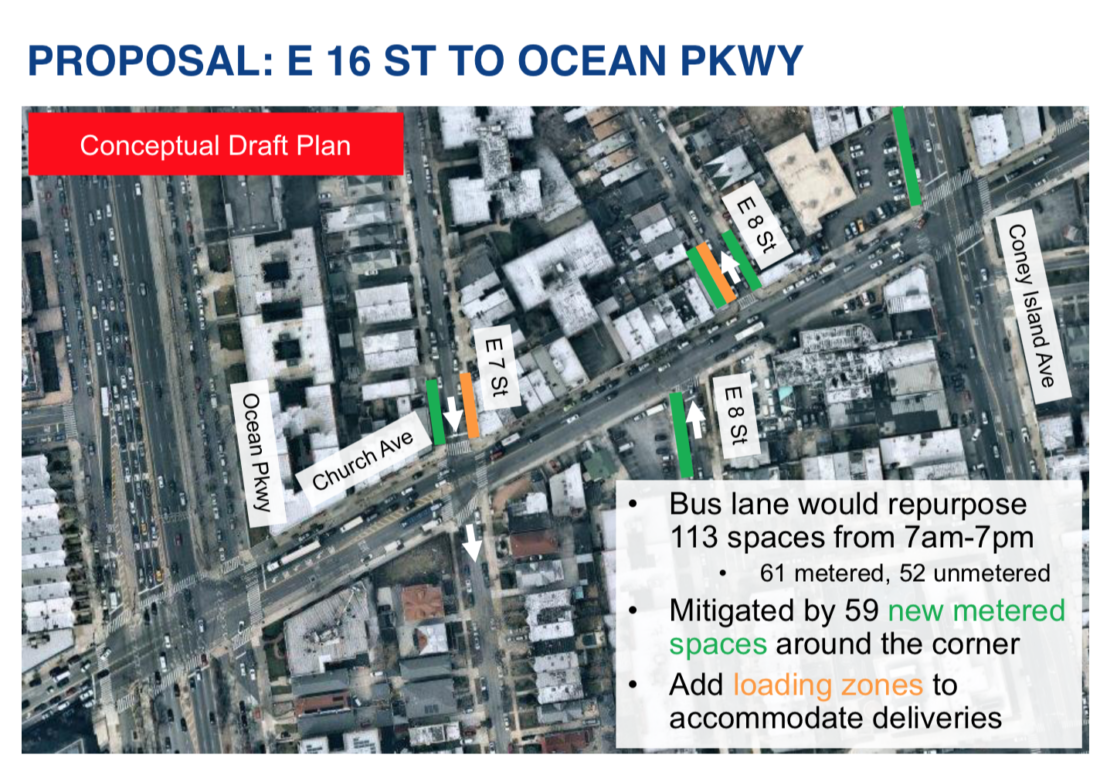 Between Coney Island Avenue and Ocean Parkway, the DOT would add loading zones to E 7th and E8th, as well as metered parking along the western side of E7th north of Church and on both sides of E8th north of Church and on the western side of E8th south of Church Avenue.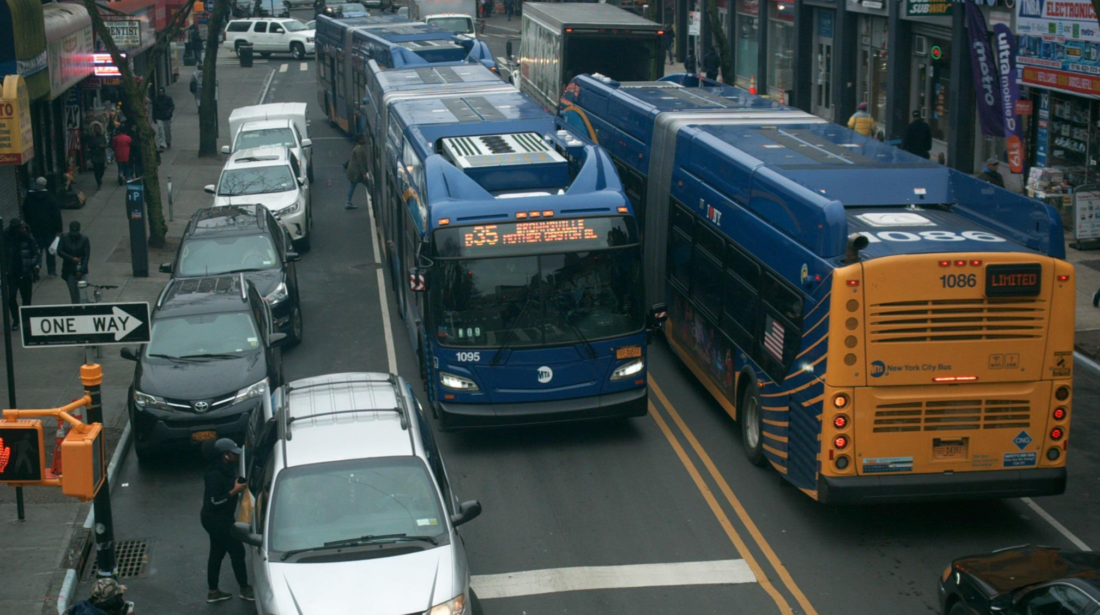 Church Avenue.Transit signal priority would also be implemented at the same time.
One member of the CB14 Transportation committee suggested that DOT consider implementing the proposal in two phases, first introducing the changes along E16th to Flatbush Ave stretch to see if that may be sufficient to solve the issues, without taking away parking in the area.
Another asked why DOT decided to restrict parking on Saturdays, as that is when Parade Grounds are busy and there is an increased demand for parking. DOT said there seemed to be demand for bus service on Saturdays due to shopping and business patterns, but said they will look at it again.
Concerns were raised about trucks on side streets, that are narrow. DOT said most local deliveries are by small box trucks, which should be fine.
Concerns about metered parking on side streets were raised, especially as they would be placed on blocks with larger apartment buildings already suffering from lack of parking to begin with. DOT responded that metered parking can only be put next to commercial properties and that parking would be free overnight.
DOT will be presenting this proposal to the full CB14 board at their general meeting on June 17, and to CB12 in June, and plan to implement changes later this summer.